Best Soft Serve Ice Cream: Our Top 5
Because summer's here, soft serve's on my mind and National Ice Cream Day is coming.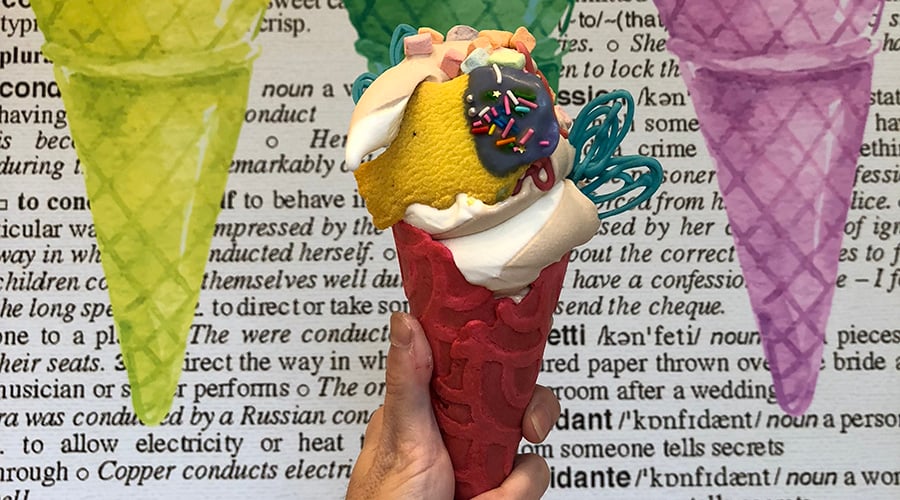 Soft serve ice cream is synonymous with summer. With these ultra humid days and sweltering nights, it's all I can think about eating. As it would be, July is national ice cream month and national ice cream day is this Sunday, July 21. Instead of rounding up standard ice creams, I'm going soft … serve that is, especially since it has been trending hard as of late.
Soft serve is ice cream only softer in texture and it should not be confused with its look-alike cousin, frozen yogurt. Soft serve has the same ingredients as traditional ice cream, 10% milk and 20% cream, but it's made in a special machine that incorporates air into the dessert to achieve that iconic, smooth swirl.
There are a many soft serve shops around town. To make my list, they had to make their cream base in-house, have a velvety smooth texture (none of that icy, melty stuff) and be unique or stand out above the rest. "Unique" is a subjective term but these soft serves are far from your typical scoops of ice cream loaded into a sugar cone.
I tried soft serves from the following shops to come up with this ranking:
Honorable mention: Samurai, Inc.
Samurai, Inc. gets an honorable mention because each cup of Hawaiian Frost takes me back to my childhood. As a kid, we didn't come to this Kalihi stand for the soft serve – we got the pre-packed Hawaiian Frost cups when they were on sale at the local market.
Samurai is famous for its Hawaiian Frost dessert which is more of a soft serve-shave ice hybrid, kind of like guri guri. The creaminess of soft serve combined with the fine texture and refreshing flavors of shave ice makes it tough to not include. Flavors change daily and include strawberry, blue vanilla and coconut to pineapple and Kona coffee with the latter two being examples of their premium flavors. Only two sizes are available — small (10 ounces) and large (14 ounces) — but the small holds a substantial amount of soft serve. Both include a thin, crunchy oatmeal raisin cookie.
My go-to is the strawberry-blue vanilla combo, Samurai's most popular. The blend is the perfect balance of refreshing, slightly fruity and creamy.
Insider tip: Samurai added a Samurai Parfait to its menu this summer. This option includes two soft serve flavors with layers of cornflake cereal on between and it comes topped with whipped cream, hot fudge and more cornflakes.
738 Umi St., Kalihi, (808) 833-4779, samurai-inc.com
---
SEE ALSO: 8 Top Spots For Soft Serve Desserts in Honolulu
---
No. 5: Ube + Vanilla (inside Chocolate + Vanilla)
Ube + Vanilla is the soft serve arm of Chocolate + Vanilla Bakery in Kaimukī that's been serving ube, vanilla and ube-vanilla swirl since April. You can get a small or large cup ($4.99 or $6.49, respectively) or treat yourself to the bakery's dessert special of the day — which could be anything from red velvet cream cheese brownies a la mode with ube soft serve to ube bread pudding with ube soft serve on top. I love swirls, but the ube flavor's so delicious here that I get straight ube every time. The soft serve's delicate and creamy in consistency, and it won't melt fast if you eat your dessert inside the store but it will melt at an alarming rate once you go outside.
1115 12th Ave., Kaimukī, (808) 737-2462, @chocolateandvanilla808
No. 4: Easy Que
I first heard about Easy Que's soft serve from Frolic associate editor Thomas Obungen, when he went to check out the new Kailua barbecue spot. He had my full attention once he said to order the soft serve first — even before the barbecue platters. They're made daily and flavors change nearly every other week. There will always be two featured flavors and the option to order a swirl. But this is no ordinary soft serve. Instead of coming in a cone, it comes topped with buttery slabs of pie crust which also changes weekly. During my visit the featured flavors were the ultimate soft serve swirl flavor combo: Cheesecake and graham cracker, complete with blueberry pie topping. Oh. Em. Gee.
The luscious, creamy soft serve is love at first bite, but the flaky pie crust takes this dessert to the next level. I could really taste the cheesecake and graham cracker flavor in each bite. It was truly indulgent cheesecake in creamy soft serve form. Even if this particular flavor combo isn't available when you go, I'll guarantee the soft serve will be just as addictive. Get the swirl so you can try both featured flavors at the same time.
767 Kailua Road, Kailua, (808) 762-3089, easyquehi.com
No. 3: SomiSomi
When I lived in So Cal, I remember seeing SomiSomi at various shopping malls, but never had the chance to go. It wasn't until the L.A.-based chain opened in Ala Moana Center's Makai Market food court last October that I finally got to try it. Flavors change weekly so it's best to check Instagram to see what's featured. My fave swirl is Ube-Oreo, which is remarkable because ube usually isn't my go-to soft serve flavor. But this combo delivers the perfect balance — there's a hint of ube and a hint of cookie in each bite. The Ah-boong soft serve comes with unlimited toppings, including rainbow sprinkles, Fruity Pebbles, Oreo and more. The low price (about $6 each) is definitely a plus.
SomiSomi's soft serve is creamy and not icy, and having your dessert in a fish-shaped cone is instantly more appealing, not to mention super Instagram friendly. When SomiSomi Hawaii first opened, the soft serve melted at an alarming rate but it has gotten better (and slightly less messy) since then.
Insider tip: You'll have the option to get your Ah-boong soft serve right side up, or in a cup with the fish upside-down atop the soft serve. The latter isn't as Instagrammable, but you get the more bang for your buck when it comes to soft serve.
Ala Moana Center, 1450 Ala Moana Blvd., (808) 206-8997, somisomi.com
No. 2: The Pig & The Lady
The P&L soft serve is a staple on the dessert menu, featuring your choice of frozen custard, soft sorbet or swirl with a salted feuilletine crunch on top. But get this — the custard and soft serve flavors change weekly, so even if you're a P&L regular, there's always something new to try. Previous soft serve flavors have included everything from mascarpone custard and guava sorbet to orange hibiscus sorbet and white chocolate custard.
The soft serve is delicious in and of itself. At other stores, chocolate is my go-to, but I appreciate P&L's fruitier and unconventional flavor pairings, like apple pie sorbet and butterscotch miso custard or watermelon sorbet and Calpico custard. This soft serve isn't as creamy as some of the others on this list but offers the right balance to the fruity or citrusy soft sorbet.
If you really want to indulge, go all-out with the $12 P&L Sundae Funday, which includes a mountain of the week's featured frozen custard and sorbet swirl topped with Valrhona chocolate crack sauce served in a coconut waffle bowl. The waffle bowl is next-level and holds up to all the soft serve without being overly crunchy or hard. that chocolate crack sauce is just as magical and addictive as its name implies. Case in point: I've eaten one of these sundaes by myself, and it's happened more than once.
83 N. King St., Chinatown, (808) 585-8255, thepigandthelady.com,@pigandthelady
No. 1 (tie): Aloha Confectionery
When Aloha Confectionery opened last year, I made a video comparing its soft serve to the one I found at Foodland Farms. I've tried many other soft serve cones since then, but this store's dessert is my fave.
Aloha Confectionery's cones are worth the $8 price tag because of the generous soft serve portion and unique features. The fresh whole milk flavor is creamy and similar to vanilla. It doesn't melt quickly so you can actually enjoy the dessert at your leisure. The toppings and shortbread cookies are made from scratch daily, and the selection always changes, giving regular customers the chance to try something new.
One of my favorite things about this cone: There's a small chocolate malt ball at the bottom of each cone that'll prevent any leakage.
Ala Moana Center, 1450 Ala Moana Blvd.,  (808) 943-8550, @alohaconfectionery
No. 1 (tie): Kokoro Café
With a menu featuring mochi pops, Dole Whip floats and shaka waffle cones, Kokoro Café is a go-to destination if you want cute, Instagram-worthy desserts. Its soft serve is just as delicious as it looks.
While the mochi pops and Dole Whip floats are delicious, the Shaka-Boom ($6.50) is the star of the show. The shaka-shaped waffle cone's loaded with soft serve and your choice of any filling and two free toppings (50 cents extra for each additional topping). Fillings include chocolate cream, sweet red bean and chocolate haupia while soft serve flavors range from Pineapple Dole Whip (a crowd favorite) and creamy coconut to the refreshing super acai berry and classic vanilla bean. Choose toppings like cereal, fresh fruit, cookie bites or a variety of sauces to customize your dessert.
This sample-size Shaka-Boom looks small, but don't be fooled. The mini size is roughly one-third of regular serving sizes. Besides Kokoro's consistently generous portion size, its soft serve's velvety texture keeps me coming back. The smooth, fragrant, creamy vanilla bean is my fave but I always check the menu for the rotating selection.
Kokoro's twist on taiyaki is this soft serve's 'extra' factor. It's not thin or crepelike, nor is it bready or dense. It's actually like a crunchy, crispy waffle cone in the form of a taiyaki.
Royal Hawaiian Center, 2201 Kalākaua Ave., Waikīkī, (808) 388-6552, kokorohawaii.com,@kokorocafehi