Best Poke: Our Top 5
Our picks for the best poke on O'ahu.
Poke is as contentious as it is popular. Who makes the best? Since poke is my favorite food, I took it upon myself to scour the island for the best preparations.
The first time I ranked my top 5 poke picks, back in 2013, the list featured Alicia's Market, Corner Cafe and Bar, Local Cravings, Tanioka's Seafoods and Da Pokeman Fish Market. Three of these have since closed. Our new list only features one returning veteran, a longtime townie favorite and three newcomers that opened in the last five years.
No. 5: Kyung's Seafood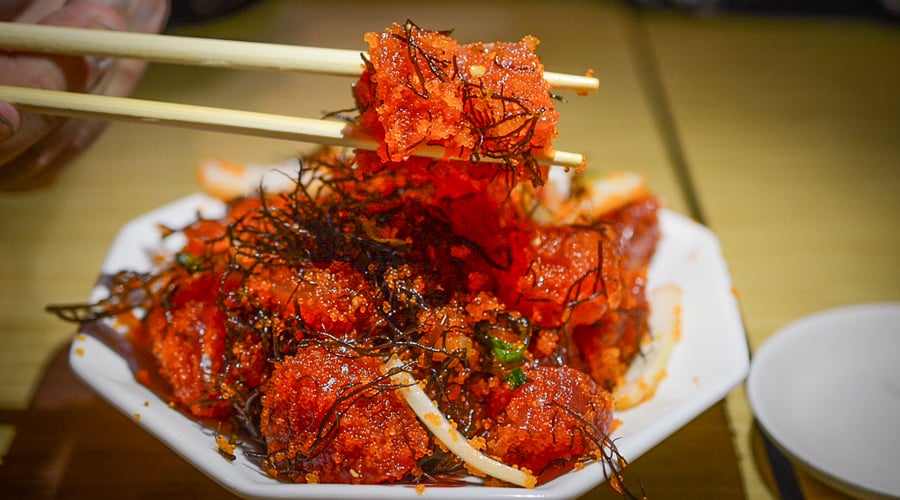 Kyung's Seafood is a hidden gem in the world of poke. This shop is disguised as a Korean food restaurant but also has an impressive poke selection. You get to choose between shoyu, spicy, a house special, Hawaiian style, hot masago, tako, 'ahi + salmon, sesame oil or Mama's Special. My go-to is Mama's Special: 'ahi poke loaded with Hawaiian red salt, onion, green onion, ogo, sesame oil, masago and Hawaiian chili peppers. The generous helping of masago coats the poke and gives it a satisfying crunch while the peppers give it a nice kick.
1269 South King St., Pawa'a, (808) 589-1144
No. 4: Da Hawaiian Poke Company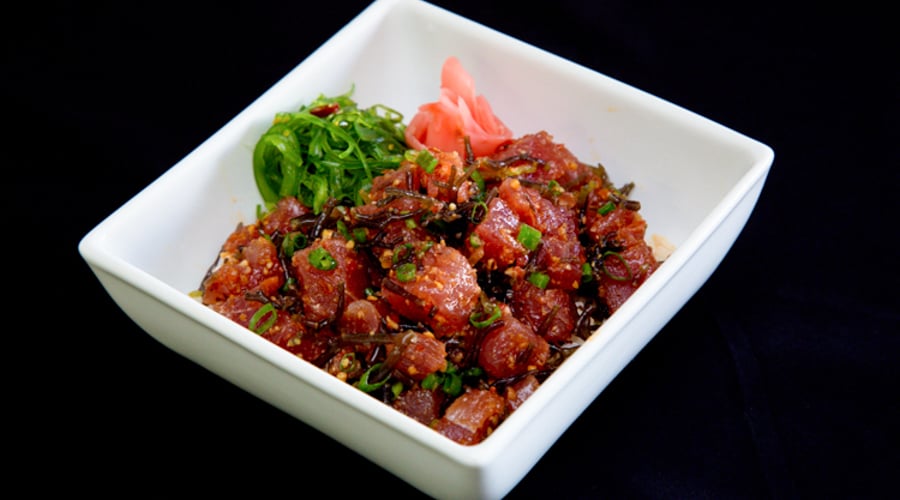 A relative newcomer on the scene, Da Hawaiian Poke Company's impressive selection includes Hawaiian style, spicy, wasabi, da works and sesame poke. They also have a create-your-own option where you choose any of their many toppings to customize your poke bowl. I always order a large bowl with sushi rice and half Hawaiian style and half spicy 'ahi. The Hawaiian style has your traditional seasonings with 'inamona, Hawaiian salt, sesame oil and some chiles. The spicy poke is lightly creamy and their excellent spicy aioli is the differentiator from most other spicy 'ahi pokes around the island.
870 Kapahulu Ave.,  Kapahulu, (808) 425-4954
No. 3: Maguro Brothers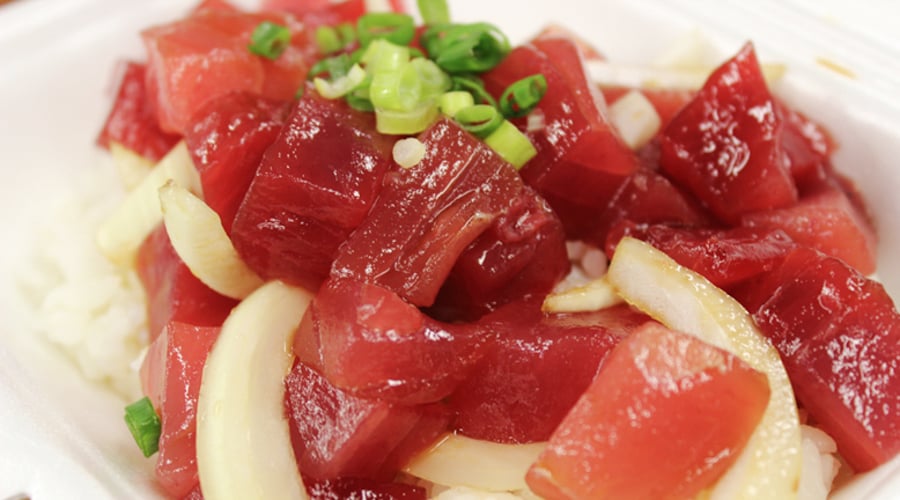 Fishmongers and owner-brothers Junichiro and Ryojiro Tsuchiya opened up their small poke shop in the back of Kekaulike Mall in Chinatown at the end of 2014. Since then they've garnered a loyal following, drawing downtown workers to the far end of Chinatown at lunchtime. The poke menu is smaller than most with only a handful of flavors, but they also offer excellent sashimi donburi.
The non-traditional ume shiso poke is my favorite. If your mouth is puckering and watering a little bit thinking about it, this is the poke for you. I have always been a fan of the sour and herbaceous elements from ume and shiso; paired with pristine, fresh-from the-auction fish, this is no exception.
1039 Kekaulike St., Chinatown, (808) 259-7100
No. 2: 'Ahi Assassins (closed)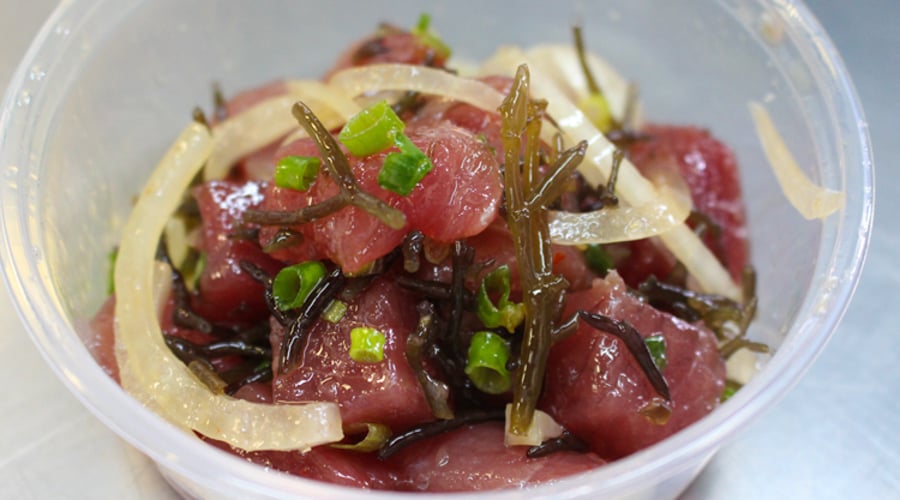 'Ahi Assassins' motto is "caught here, not brought here." If you're looking for the freshest ocean-to-counter poke, this is your spot. Owners Josh Schade and Erika Luna used to sell their poke and fresh fish straight off the back of their boat and opened their first poke shop in 2014. Since then 'Ahi Assassins has become a staple in Mō'ili'ili.
I stick to the classic Hawaiian style 'ahi poke dressed with onions, Hawaiian salt, 'inamona, limu and Hawaiian chile peppers. The generously cut cubes of 'ahi are seasoned with the perfect amount of salt and oil. If you enjoy a little bit of spice in your poke bowl, be sure to try the Lunatic poke. If you want to try something new, get the Pake, a cold ginger chicken treatment of the fresh fish.
2570 S. Beretania St., Mō'ili'ili, (808) 439-4045
No. 1: Tanioka's Seafoods and Catering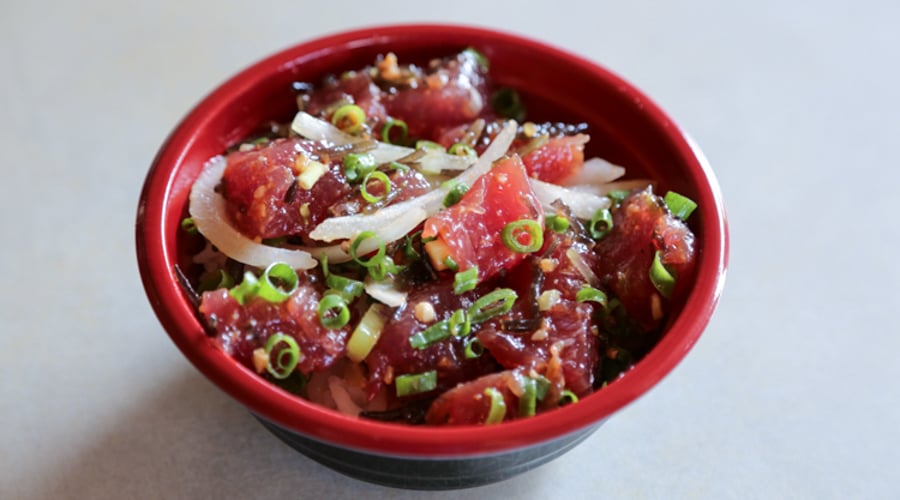 Tanioka's is an institution in central and west O'ahu, where poke shops are few and far between. If I had to choose a single poke to eat for the rest of my life, it would be their 'ahi onion limu poke. The white onions marinating in the poke sauce add a nice crunch and nostril-flaring punch. The limu brings a nice salinity, and the perfectly sized 'ahi cubes complete the perfect poke.
Tanioka's also makes a spicy marlin poke that you can order by the pound and in pre-packed trays over rice. This is the one poke that you need to try if you haven't had it before. On days when I'm especially hungry, I grab a tray of spicy marlin in addition to my onion limu poke bowl. I love that you can order a poke bowl with sushi rice and furikake. Whenever I'm away from home, Tanioka's is what I crave most.
94-903 Farrington Highway, Waipahu, (808) 671-3779, taniokas.com
Check out more rankings on Our Top 5 page.