Best new eats at Waikiki Yokocho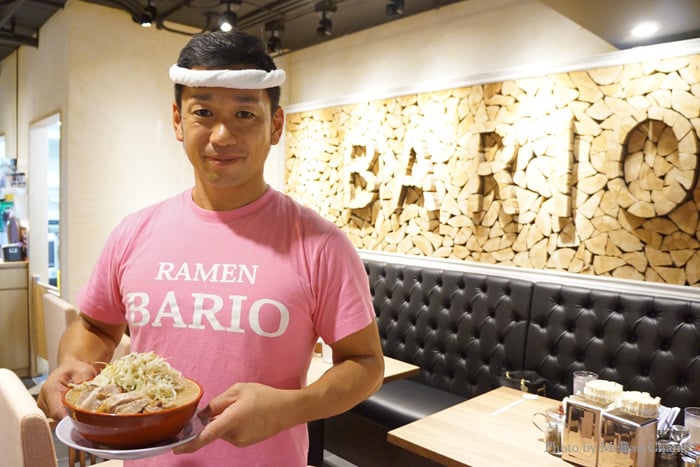 A few months ago, we put up a guide to upcoming Waikiki Yokocho eats and gradually the 16 restaurants in Waikiki's biggest Japanese food cornucopia opened their doors to a hungry public. Well, the last five spots are now open, and it was worth the wait. We got a taste of their offerings at a media event last night (and, admittedly, we've been eating our way through the Yokocho all week), so we thought we'd show you what they are and why they were worth the wait.
If you want to try these places, this Saturday is the perfect time to do it. In a grand unveiling, Beniya, Baikohken, Tsujita, Nin Nin Curry and Hannosuke Kaneko will each be offering free meals to the first 300 people. The catch? You have to be following Waikiki Yokocho and at least the restaurant at which you're eating, on Instagram. The restaurant Instagram handles and the meals they're offering on Saturday are listed at the end of this blog.
Baikohken
Hokkaido is famous for their ramen, but Baikohken is a notch above the rest — its claim to fame is its Michelin-rated shoyu ramen, and they've brought that famous broth to Hawaii so you can enjoy it whenever you want. The odd thing, though, as many Michelin-rated Asian restaurants go, is that a lot of their customers (including me) prefer their shio ramen. The shoyu is good, but the shio has an addicting saltiness that had me going for seconds.
This ramen house started in 1969 in Asahikawa, which is just outside of Sapporo. It's now a chain in Japan and is in other countries, but this is their first U.S. restaurant.
I also really liked the menma (seasoned bamboo shoots), which they import for the restaurant. See how it's thicker and darker than the menma we usually have here? It's got more crunch and flavor, and it adds to the whole experience.
Bario
There's nothing subtle about the ramen at Bario. They're known for their thick, creamy tonkotsu broth, full of pork fat and garlic. Their noodles are also thick and al dente — locals may be put off by it at first, but it's very popular and nostalgic with Japanese diners. The bowls themselves aren't dainty; in addition to char siu, a soft-boiled egg, and menma, it's piled high with a mound of bean sprouts. You can add more garlic, pepper, and chili powder if you want, as well. To be honest, the bowl is so filling, I'd be surprised if the average eater can make much of a dent before they get very full. It's probably going to be very popular with manly athletic types who can chow down on something so heavy.
My favorite, though, was the tsukemen, which features noodles that are not as dense. The broth has a lovely balance of flavors with the rich tonkotsu, a slight twist of tartness and a light spiciness. No matter which ramen you choose, go hungry.
Hannosuke Kaneko
It's hard to find good tempura in this town, so once word got out that Hannosuke Kaneko was serving great tempura, there's been a constant line to get in. It's fresh and made to order, with key ingredients and techniques perfected in Japan. Whether you order the tempura plate or bowl (which has everything piled into one bowl, including tempura sauce), you get perfectly crisp, non-greasy tempura — and you'll wonder how something so light can be so filling.
Here's a little fun fact: The premium bowls and plates include large fillets of anago (sea eel) tempura, and they seem to be extremely generous portions. The owner's high school classmate owns the anago fishery (factory?), so he's able to get them at a good price.
The meal prices are pretty good, too, with bowls starting at $9.98 and plates at $10.98.
Aside from the regular fried delicacies, one of our favorite items is the tempura "lava egg," which is a perfectly runny, poached egg cooked tempura-style with a crispy outer covering.
Nin Nin Curry
I love Japanese curry, especially in the midst of the cold weather we've been having. Nin Nin Curry is rich and comforting, with a bit of sweet spiciness. Theirs is different in that they put a dollop of espuma — like a potato foam — over the top that seems to add richness and balances out the spice.
What, espuma? Why so European? Nin Nin's manager/chef Shohei Nakamura trained in France, and was a chef at the French Embassy in Tokyo, so he transferred his skills to this restaurant for a touch of fusion.
My personal favorite is the tonkatsu curry, but if you want to feel like you're back in Hokkaido, go for the soup curry. Be sure to take a bite with the pickled vegetables and pickled baby onions that are provided on the table to wake up the flavors.
The prices are nice, too: Bowls start at $9.50. They're working on a special grab-and-go curry malasada, which is similar to the curry fry bread you see at Japanese bakeries, but with their curry filling.
Tsujita
Many foodies have already tried Tsujita in Japan or Los Angeles, and love it. This restaurant also specializes in a rich, tonkotsu broth and tasty char siu, and you can even order extra back fat to add more richness to your broth. I haven't seen or done it, but I'm told they use a strainer to distribute the fat into tiny, non-threatening bits.
Even without that extra goodness, you'll still love the ramen here, especially the tsukemen. Be sure to squeeze some lime onto the noodles to add a layer of complexity to the bowl!
Waikiki Yokocho
2250 Kalakaua Ave, Lower Level 100
808-926-8093
waikiki-yokocho.com
Sunday-Thursday 11 a.m.-12 a.m.
Friday-Saturday 11 a.m.-2 a.m.
No validated parking; the lot's flat rate is $7 on weekends and after 6 p.m. weekdays.
For Saturday's free meals:
@tsujita_hawaii – ajitama tsukemen
@ramen_bario – ajitama ramen
@baikohken_hi – shoyu ramen
@hannosuke_hawaii -selection of tempura Bowl
@curry.waikiki – pork katsu curry