Best Kalihi Plate Lunch: Dad's Top 5
Part 2 of Frolic's father-daughter series spotlights Kelli Shiroma's dad's fave local plates.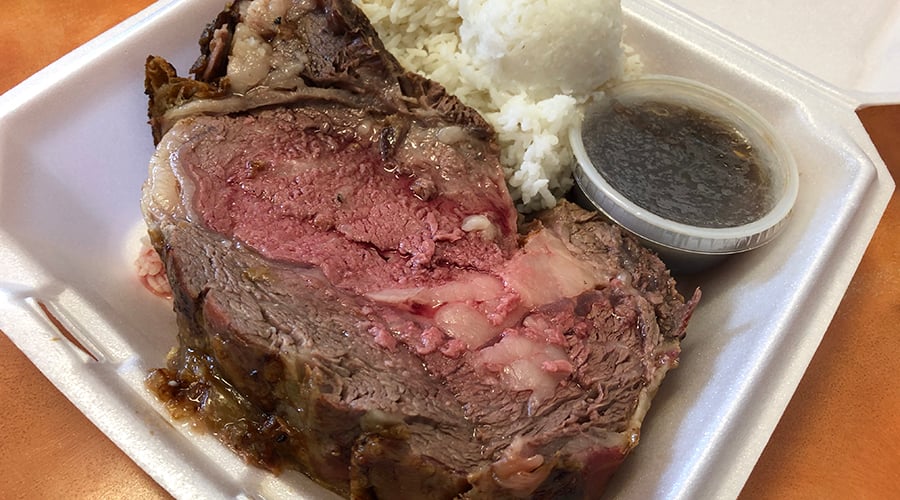 Kelli Shiroma's dad, Carl, owns a welding shop in Kalihi. Every Friday he takes his crew out for a tasty, filling lunch. Also scouring Kalihi for plate lunches was Kelli, who worked off Sand Island Access Road. When the two compared notes, none of their choices matched.
Part 1 of Frolic's first father-daughter rankings spotlighted Kelli's Top 5 Kalihi plate lunches. Here's part 2: Carl Shiroma's go-to plates.
---
SEE ALSO: Our Top 5 rankings
---
My dad's welding business has been in Kalihi for more than 20 years, which means he's been eating his way around the 96819 for that long. Dad swears by these fast, delicious local grinds that won't break the bank and are hearty enough to satisfy his hard-working crew.
No. 5: Prime rib plate, Ray's Cafe, $19.25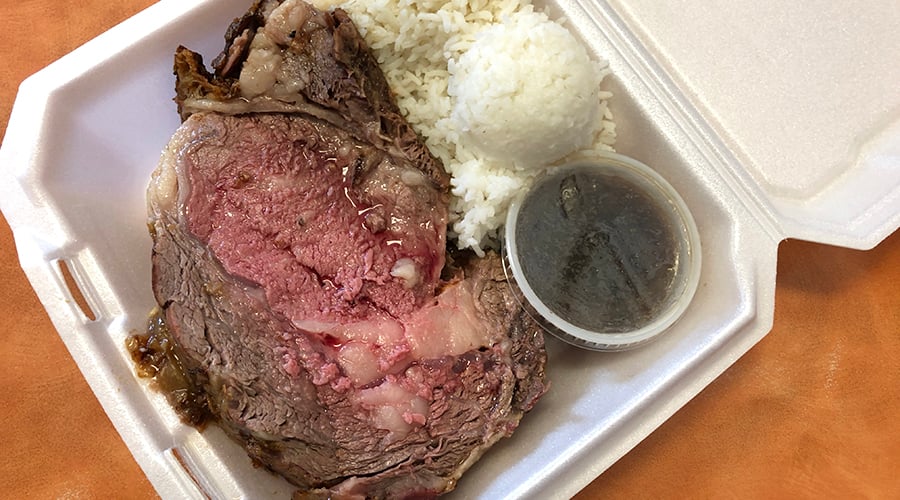 Ray's Cafe may be known for golden-brown fried chicken that gives Colonel Sanders a run for his money, but it's this prime rib plate that you need to try. It's available Monday to Friday, but call if you're making a trip specifically for this—sometimes they sell out.
This hefty plate features a 16-ounce slab of meat, two scoops of rice and side salad for $18. I know $18 isn't cheap, but we're talking one full pound of prime rib.
Dad orders his medium, and it's always tender and juicy.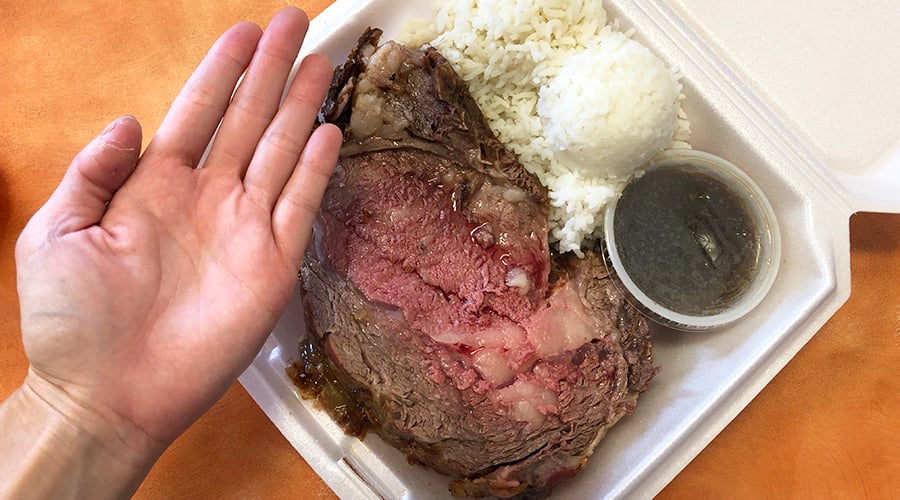 If you're at Ray's on the weekend, check the board for specials. Sometimes the prime rib is paired with king crab legs or lobster tails for the ultimate surf and turf.
Ray's Cafe • 2033 N. King St. • (808) 841-2771
---
No. 4: Mixed plate, L&L Hawaiian Barbecue, prices vary by location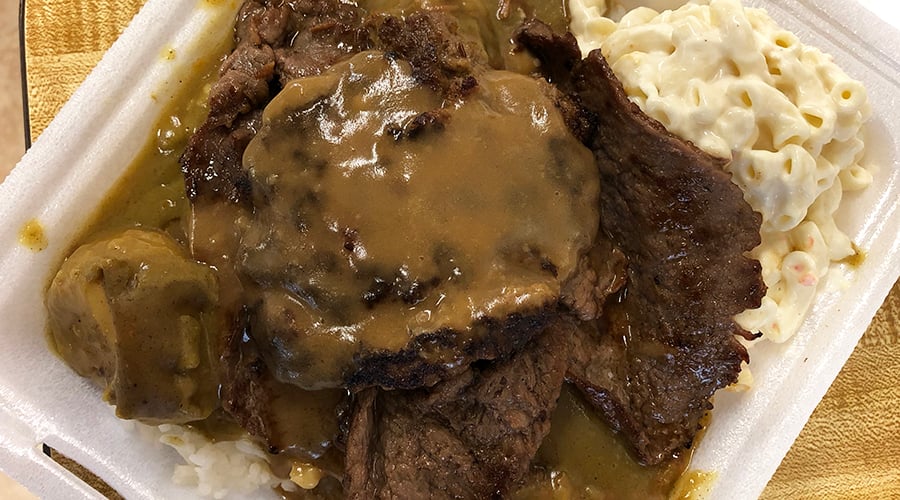 The $10.45 mixed plate at L&L's original location is a meaty trifecta: flavorful hamburger steak, slightly sweeter teri steak and a choice of beef curry, beef stew or chili. Dad always gets the savory Hawaiian-style curry and says it never disappoints. This is a serious meat and carb fest that's more than enough to keep Dad going through his afternoon site jobs.
L&L Hawaiian Barbecue • 1711 Liliha St. • (808) 533-3210
---
No. 3: Kalbi plate, Best Drive In, $14.25 (regular)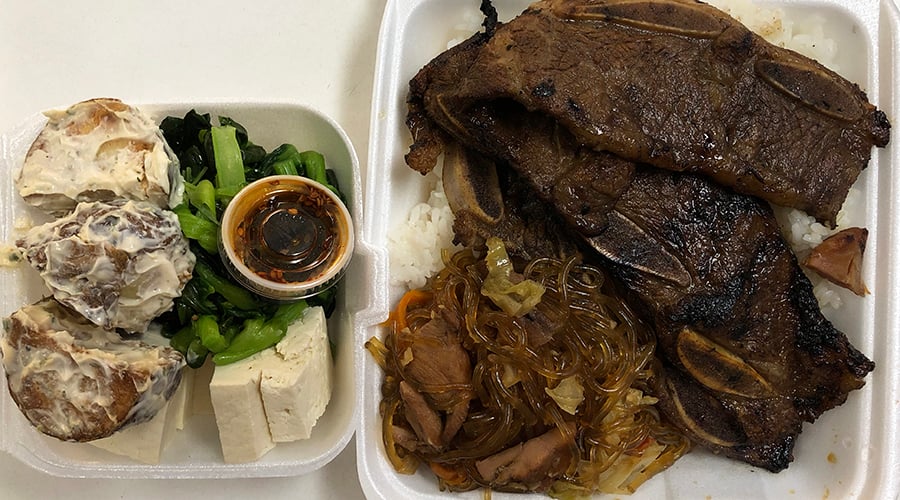 Best Drive In's $14.25 BBQ short ribs plate, aka the kalbi plate, is one of its best sellers. It's easy to see why. The kalbi is succulent and there's a generous portion of it. Regular plates come with two scoops of rice and your choice of four Korean-style sides like tofu, shoyu potatoes, mayo potatoes, corn, japchae, seaweed, kimchee and mac salad. If you're getting takeout, the friendly auntie behind the counter will pack the cold sides in a separate container.
Check your wallet before you go: This place is cash only.
Best Drive In • 111 Sand Island Access Rd. • (808) 847-2378
---
No. 2: Chicken katsu plate, Kalihi Bar-B-Q, $9.75 (large)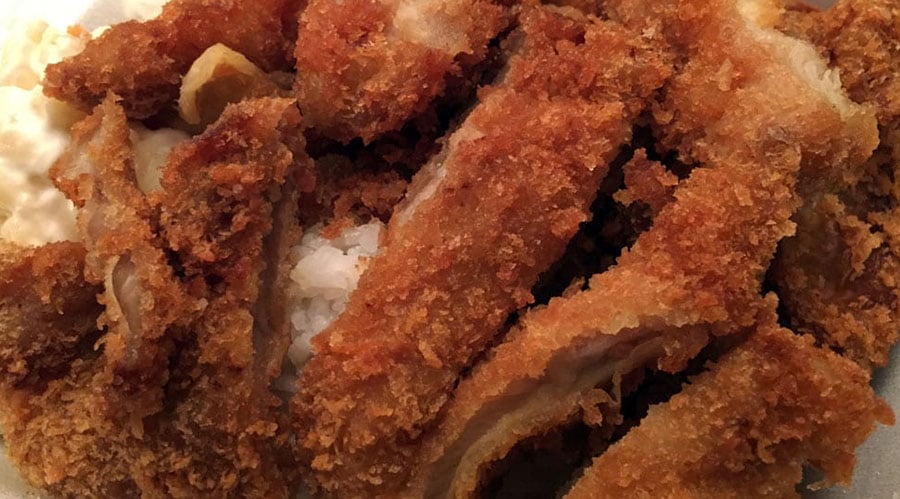 When it comes to reasonable prices and generous portions of mouthwatering katsu, Kalihi Bar-B-Q is one of Dad's favorite places on the island. The crispy chicken katsu has a delectable golden-brown crust. The whole thing is so flavorful you almost don't need the thick, slightly tangy katsu sauce.
Kalihi Bar-B-Q Drive-Inn • 2011 N. School St. • (808) 847-3398
---
No. 1: Boneless chicken plate, Richie's Drive Inn, $7.99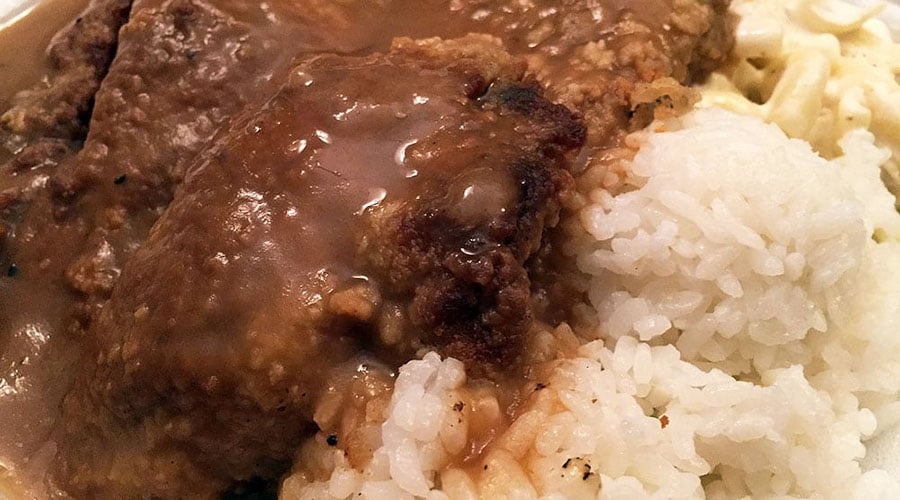 Richie's has been Dad's Kalihi plate lunch favorite for a while. When he takes his workers out for lunch on Fridays, this ends up being their go-to.
It's all because Richie's boneless chicken plate has withstood the test of time. Dad always orders his with gravy all over for no extra charge: two massive chicken thighs in a savory pool of gravy goodness, with mac salad underneath. While it's enough for two meals, by end of day there usually aren't any leftovers.
Tip: Dad and his crew beat the lunch crowd and are there around 11 a.m. Dad says anytime after 12 p.m. the place will be packed. If they're in a rush, they use the drive-through.
Richie's Drive Inn • 1188 N. King St. • (808) 842-4004
---
Missed Part 1 of our father-daughter Top 5 Kalihi plate lunch series? Here's Kelli Shiroma's ranking.