Recipe: Best-Ever Meatloaf
Need a quick family dinner? Try this no-fail recipe.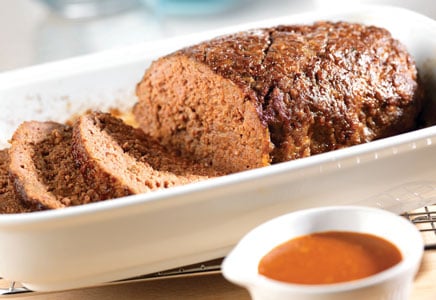 Best-Ever Meatloaf
A simple, tasty classic
Ingredients:
2 lb (Pound) ground beef
1 (Unit) can Campbell's Condensed Tomato Soup (10 3/4 ounces)
1 (Unit) envelope dry onion soup and recipe mix
0 c (Cup) dry bread crumbs
1 (Unit) egg, beaten
0 c (Cup) water
Instructions:
1. Thoroughly mix the beef, 1/2 cup tomato soup, onion soup mix, bread crumbs and egg in a large bowl. Place the mixture into a 13 x 9 x 2-inch baking pan and rmly shape into an 8 x 4-inch loaf.
2. Bake at 350°F for 1 hour, 15 minutes, or until the meatloaf is cooked through. Let the meatloaf stand for 10 minutes before slicing.
3. Heat 2 tablespoons pan drippings, remaining tomato soup and water in a 1-quart saucepan over medium heat until the mixture is hot and bubbling. Serve the sauce with the meatloaf.
Preptime: 10
Source: Family Features
Cooktime: 1 1/2 hours
Ready time: 2 hours