Best Downtown Honolulu Power Salads: Our Top 5
Frolic's latest reader Top 5 ranking is all about the lightness of being.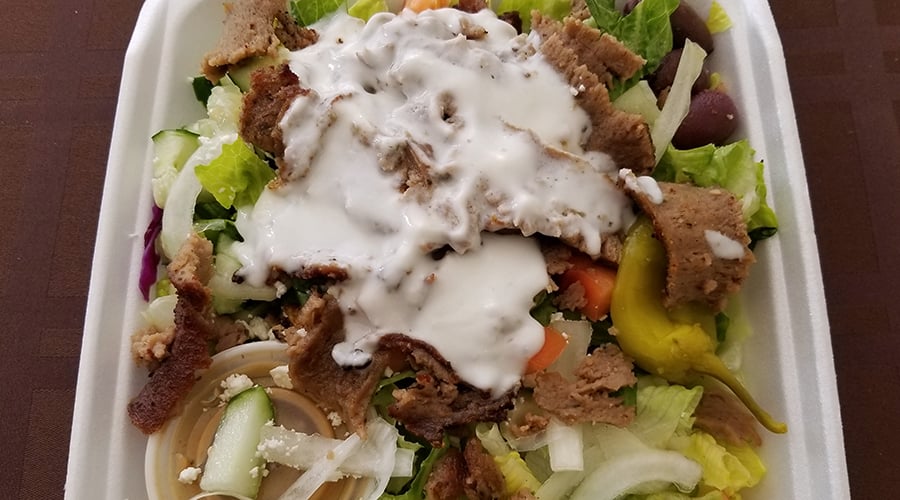 My criteria for salad downtown are price (I usually try to hit $8-$9), quality of ingredients, good size and obviously flavor.
No. 5: ʻAhi & Vegetable
I like to order the Spicy ʻAhi Vegetable ($10) here. The fish quality is very good (they have a source at the auction) and it's served over salad with some banchan and pickled ginger. The house dressing is pretty tasty.
1126 Fort Street Mall, Downtown, (808) 599-3500
No. 4: Alakea Steak
I get the steak plate (regular $7.49, large $11.78) with all greens, no rice. You get a decent amount of pink-in-the-middle steak over hearts of romaine lettuce. Literally two ingredients in the Styrofoam—but that tender steak is rich with the smoky flavor of the grill. No frills, no fuss, dress it how you want with the condiments provided.
201 South King St., Downtown, (808) 533-4666
No. 3: That Place Subs and Salads
This place is amazing. New sandwich shop with a great salad menu. I usually order the Buscette (turkey and ham) or the Hill (tuna and guac). The salads are huge, especially for the price—they're all $8.25 except for the Gravano ($10.25), which has a ton of meat. Ingredients are quality and you get a nice mix of stuff like hard-boiled eggs, almonds, tomatoes, cucumbers, cheese, etc. And their creamy garlic dressing is pretty tasty.
1150 Bishop St., Downtown, (808) 524-7827
No. 2: Doner Shack
Another semi-hidden gem. Get the lamb or chicken salad ($9 each). Doner is the traditional-style rotisserie meat you see in gyros, shwarma or doners. It's cooked on a huge vertical spit so the fat renders off onto the meat as it cooks. They shave off the meat with a power tool and put it in wraps or over salad. At Doner Shack, salads come with greens, tomatoes, cucumbers, onions, peperoncino, olives, yogurt sauce and dressing. Real Mediterranean/Middle Eastern flavor, good size, great price.
79 S. Pauahi St., Downtown, (808) 286-0110
No. 1: Fresh Garden Deli
This is my favorite place for a number of reasons. The two women who run it are super friendly and the salads are amazing, even if they don't meet all of the criteria on the list (a couple dollars more and not necessarily guilt-free). The OMG Egg salad ($11) on Wednesday and the shoyu pork fiesta salad ($11) on Friday are fantastic! The OMG egg salad is made with eggs, blue cheese, avocado and bacon. The shoyu pork on the fiesta salad ($11) is super tender and delightfully fatty, and the hint of star anise reminds me of my childhood and many dishes from Taiwan.
212 Merchant St., Downtown, (808) 524-8242
Hungry for more Frolic rankings? Check out our fave loco mocos, chicken katsu, poke and more on Our Top 5 page.
---
Frolic reader Chris Tu works for the state Department of Health's Executive Office on Aging. He's lost 30 pounds in the last few years, partly by walking around downtown and eating protein- and flavor-packed power salads three or four days a week. These are his favorites.

We love it when readers contribute Top 5 rankings! Email your idea to editor@frolichawaii.com.