Best chocolate chip cookies: Our Top 5
Here are the cookies you need for National Chocolate Chip Day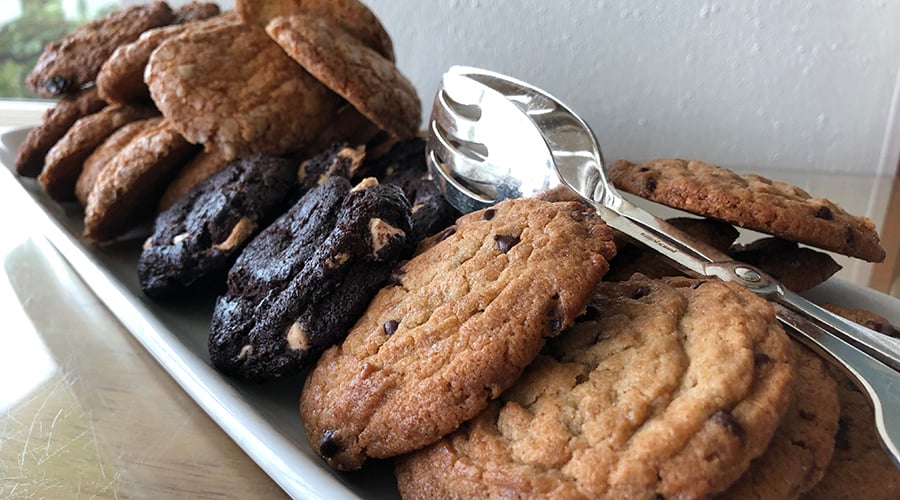 The world of chocolate chip cookies is an ephemeral one: Cookies come and cookies go as the delicious memories of yesteryear make way for the new.
For National Chocolate Chip Day two years ago, I did a full-on roundup featuring 12 of my favorite cookies. Since then, several bakeries on the list like CC Cookies & Cream have closed or moved. Other cookies are no longer available (RIP salted chocolate cookie from Piggy Smalls and the Compost cookie from Scratch Kitchen). Happily, I've also discovered new faves.
In honor of National Chocolate Chip Day 2019, here's an updated list of scrumptious chocolate chip cookies. My criteria:
Overall taste
Addictiveness: Would I get it again?
Chocolatiness: The chocolatier, the better
Cookie texture: I like soft and chewy
Location: They have to be available on Oahu
Here are the chocolate chip cookies I tried for this ranking:
Olena by Chef Ron Simon: Chocolate chip cookie
Nico's Pier 38: Chocolate chunk cookie
The Girls Who Bake Next Door: Chocolate chip mac nut cookie
Stage Café: Oatmeal chocolate chip cookie
Coffee Gallery Haleiwa: Chocolate chip cookie
Piggy Smalls' salted chocolate chip cookie (discontinued)
Scratch Kitchen's compost cookie (discountinued)
CC Cookies & Cream (closed)
Sweet Marie's Hawaii: Gluten-free chocolate chip cookie
Aloha Bakehouse: Chocolate chip scones
Kalapawai Café: Salted chocolate chip cookie
Cookie monsters, read on for the rankings.
Bonus: If you feel like baking your own batch, here are some tips from pastry chef and fellow Frolic Hawaii blogger Ed Morita for how to make an even better chocolate chip cookie. Ed is the executive pastry chef at Leoda's Kitchen & Pie Shop on Maui. Though I haven't had his cookies yet, I hear they had a cult-like following whenever he baked them on Oahu.
Honorable mention: Origin Hawaii's chocolate chip, rose and cardamom cookie, $3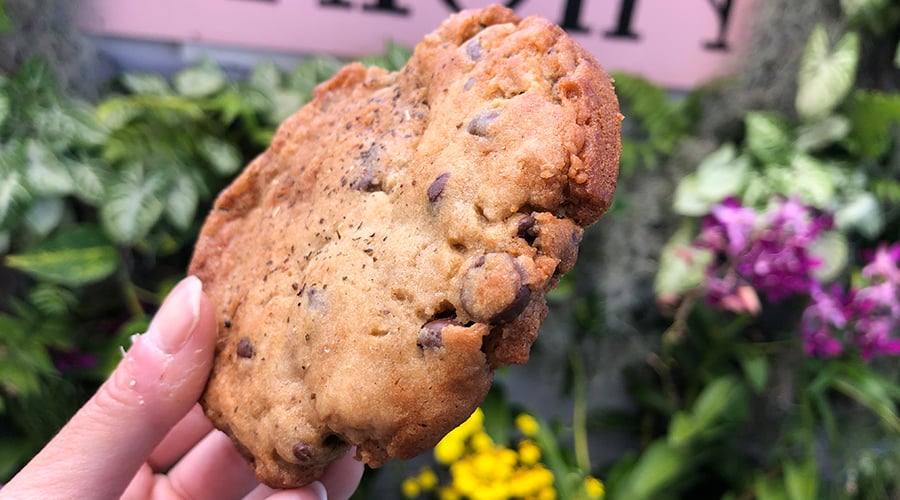 I first heard about Waikane bakery Origin Hawaii from fellow Frolicker Thomas Obungen, who knows my love for pastries and desserts. He told me it was worth the trek to Waikane, and I took his word for it.
Origin is a French bakeshop specializing in pastries like caneles, scones and cookies. The chocolate chip, rose and cardamom cookie is different from the traditional chocolate chip: Dried rose petals give it a slightly gritty texture and cardamom a more complex taste. It's sweet and earthy with an herbal tinge, and its fragrance leaves a lingering taste that's mysterious and intriguing.
On a completely unrelated note, if you love chocolate, get the tiramisu cookie ($3). No chocolate chips, but this brownie-like cookie has an espresso crème center. I think it's better than an actual tiramisu dessert.
48-449 Haupoa St. • Waikane • 239-8535
No. 5: Burgers on Bishop's campfire cookie, $3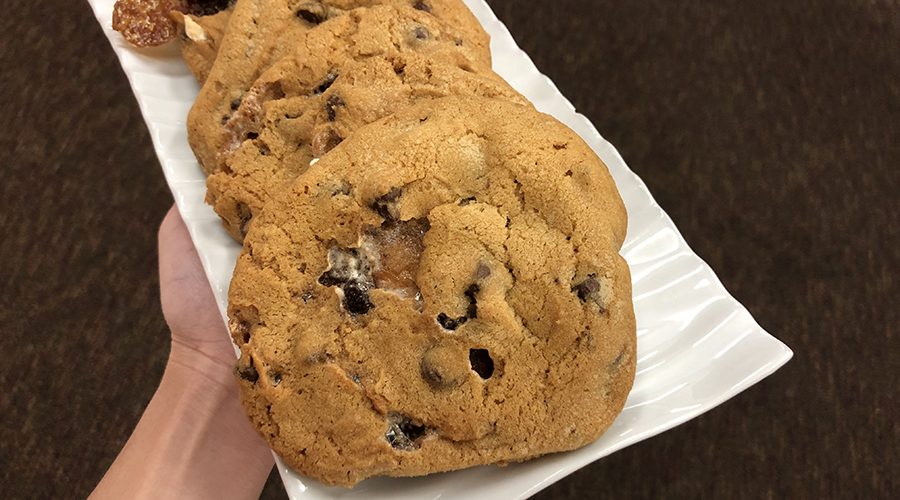 Burgers on Bishop's beloved campfire cookies are so addictive, I have to get there before the lunch rush or they sell out. This is a less-messy version of the classic s'mores, with dark chocolate chips, marshmallows, graham crackers, macadamia nuts and chunks of milk chocolate. While the gooey marshmallow is the star, the medley of large milk chocolate chunks interspersed with dark chocolate is spot on. I love how the graham cracker square makes up the cookie's base. This cookie is crispier than the others on this list, but the sticky marshmallows balance it out with it chewiness.
Tip: If you're getting these to go, microwave them for 20 seconds to recreate your own personal campfire experience. And if you miss the original cookie from Burgers and Things, which had mac nuts for extra crunch, you can special order them.
745 Fort St. • Downtown • 586-2000
No. 4: Forty Carrots' chocolate chip cookie, $2.50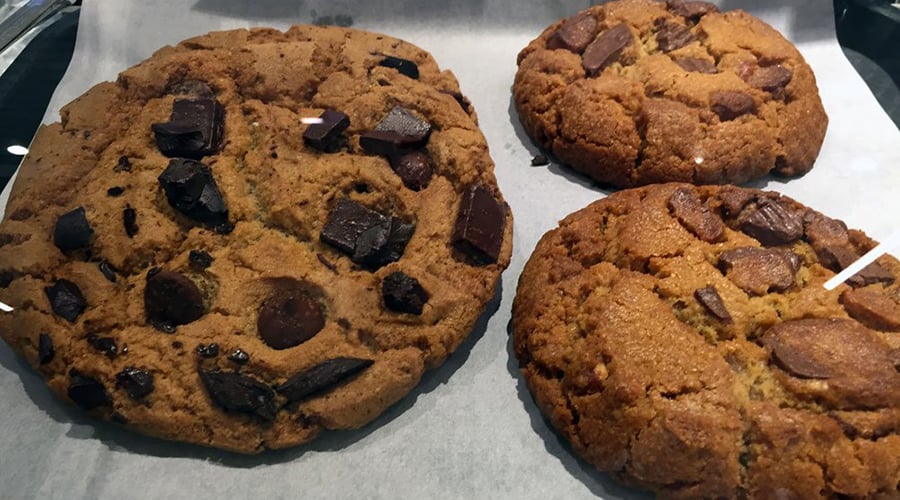 I was at Forty Carrots to get soft serve when the mega-sized cookies in the display case caught my eye. Talk about getting sidetracked. These huge cookies boast equally huge milk chocolate chips. I ended up ditching the soft serve and ordering one of these instead.
OMG. OMG. OMG. That's all I can think once I start eating. This thick, chewy monstrosity is cookie nirvana, with ample chocolaty chunks in each mouthful. Once I start eating, I can't stop. Now I go to Forty Carrots for soft serve and a cookie to go. Sometimes it doesn't make it out of Bloomingdale's.
Tip: Forty Carrots rotates cookie flavors, so if you want chocolate chip, call before you go. The chef bakes the day's last batch around 4:30 p.m.
1450 Ala Moana Blvd. • Ala Moana • 800-3638
No. 3: b. patisserie / Kona Coffee Purveyors' chocolate chip cookie, $4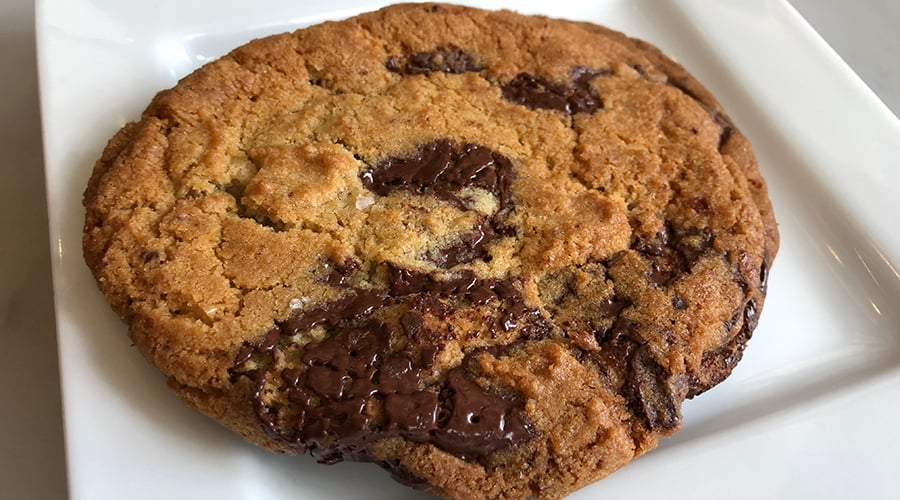 Until a friend told me about the chocolate chip cookies, b. patisserie's signature kouign amann was my go-to treat. Now I get both. *insert praise hands emoji here* This cookie is available daily and is made with sea salt and lots of dark chocolate chips. It's thin but soft, chewy and perfect for an afternoon pick-me-up, especially when you score one from a fresh batch and the chocolate chips are molten and oozing.
International Market Place • 2330 Kalakaua Ave. • Waikiki • 450-2364
No. 2: Kahala Hotel & Resort's chocolate chip and double chocolate chip cookies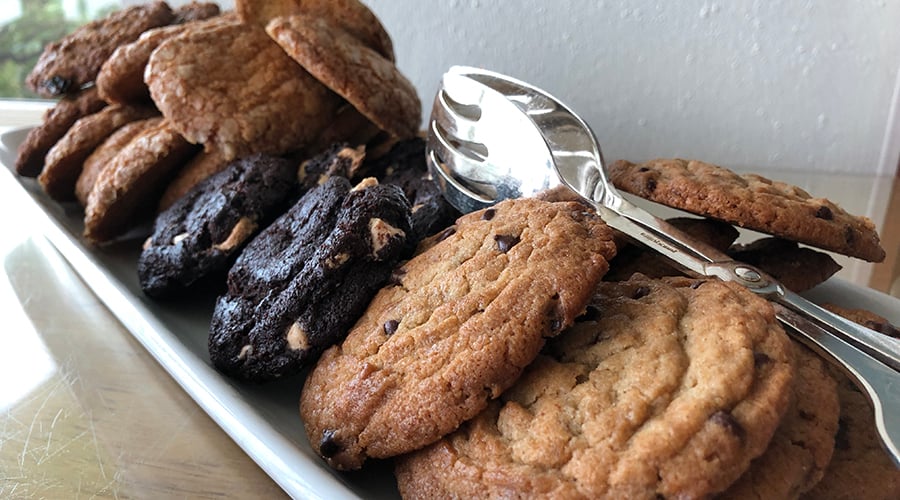 I have a hard time deciding which one I like more. The chocolate chip cookie is moist, buttery and loaded with chocolate chips; it's ideal for the traditionalist. The double chocolate chip cookie has a stronger cocoa flavor. It's actually a brownie cookie that's chockful of white chocolate chips.
These are available at the brunch buffets at Hoku's and Plumeria Beach House and at the latter's Wednesday lunch curry buffet and Thursday kamaaina buffet. If you're a guest, lucky you, you can order them through room service. And if you're not, and you're not having brunch or lunch buffet, you can order them through the hotel's Dining Reservations for pickup or as dessert after a meal.
5000 Kahala Ave. • Kahala • 739-8888
No. 1 (tie): Aloha Confectionery's triple chocolate cookie, $3.50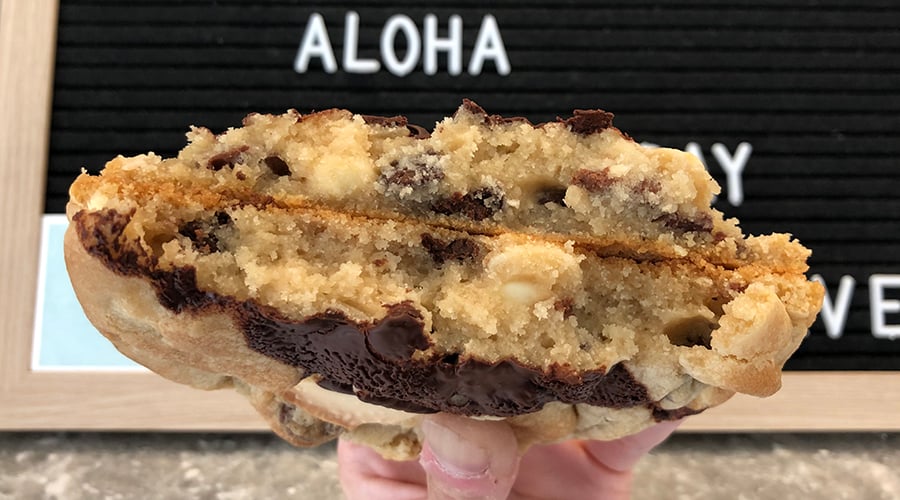 I go to Aloha Confectionery for the luxe, Instagram-worthy soft serve, but their cookies should not be overlooked. The Triple chocolate cookie ($3.95) is my fave. It's made with an indulgent trifecta of white, dark and milk chocolate, which also makes it thick and heavy — I struggled to take a photo without dropping half of it. I like how you get a different chocolaty flavor with each bite.
1450 Ala Moana Blvd. • Ala Moana
No. 1 (tie): Cookie Corner's double chocolate chip with walnuts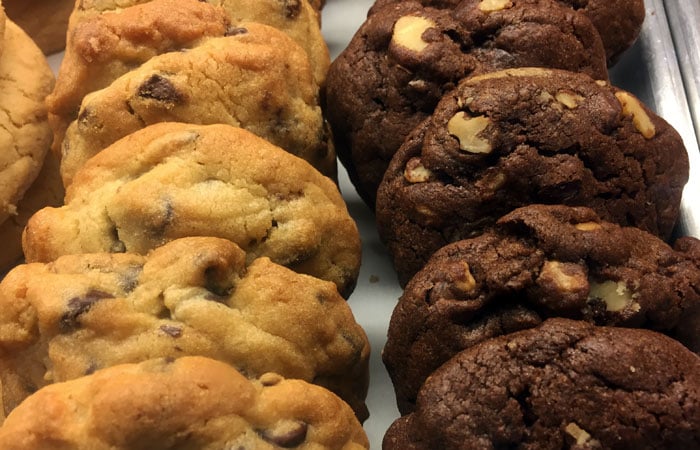 I've tasted many good cookies in my life, but these Cookie Corner cookies have always held a special place in my heart. Part of it is nostalgia — when I went shopping with my mom, good behavior meant a chocolate chip cookie reward.
While the cookies have shrunk in size over the years, their taste hasn't changed. The traditional chocolate chip is crumbly and incredibly chewy, with Ghirardelli chocolate chips that are large and in charge. The double chocolate chip is more indulgent, with walnuts providing a crunchier texture that offsets the smooth, fudgier cookie dough.
A single cookie costs around $1.70, depending on its weight. I always hope for a slightly bigger cookie from the batch. It's always worth the extra.
Various locations