Best brunch buffets on Oahu
Refillable mimosas, seafood, DIY acai bowls and more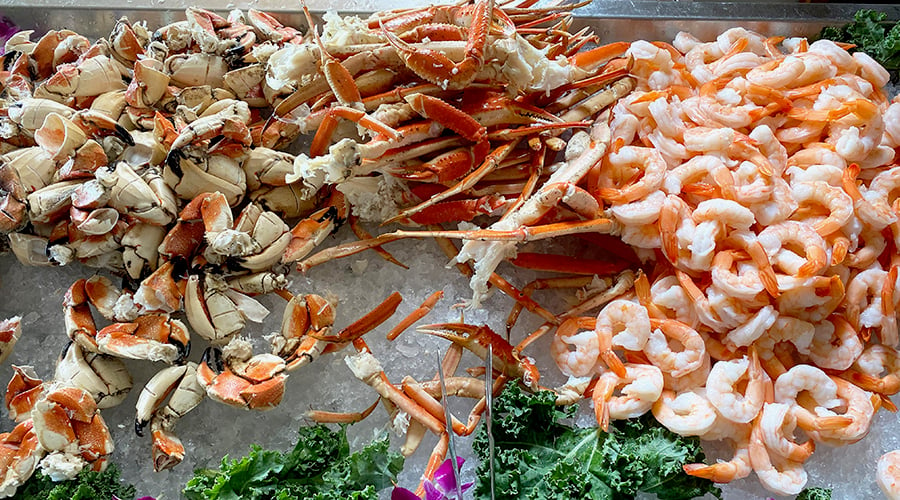 While there are numerous options for dinner buffets in Waikiki, brunch is special. I love brunch and variety, so the bigger the spread, the better. Large dessert bar with unique sweets? Check. Bountiful seafood assortment? Check. A mouthwatering selection of eggs bennies, bacon and pancakes? Check, check and check.
Brunch buffets usually warrant a special occasion, but they can also be a luxe way to celebrate the weekend. So whether you're staycationing or want to celebrate your birthday in a bougie way, here are the best brunch buffets on Oahu.
Hoku's Sunday Brunch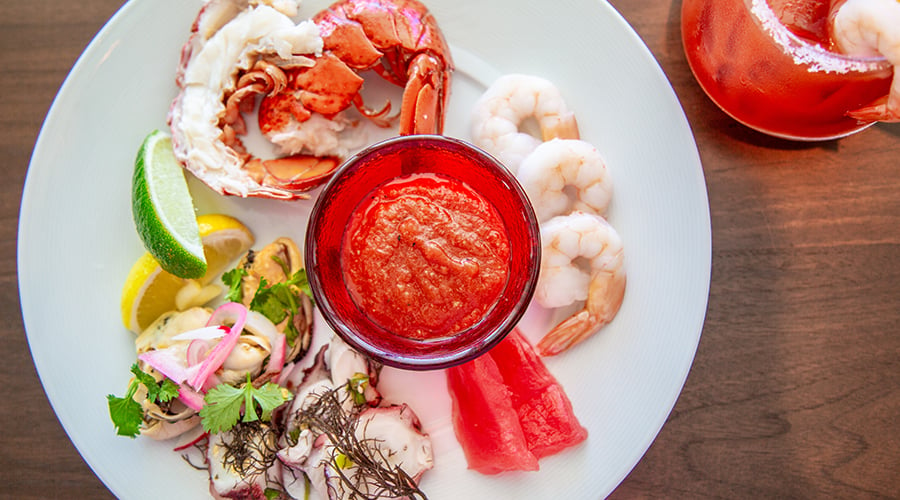 Where: The Kahala Hotel & Resort, 5000 Kahala Ave., Kahala, 739-8760
When: Sundays, 9 a.m. – 3 p.m.
Cost: $78 per adult; $39 for children ages 6-12 years
Kamaaina discount: None
Highlights: Hoku's Sunday Brunch is known for two things: seafood and an extensive dessert selection. Maine lobster, poke, king crab legs chilling on ice; platters of miso-glazed butterfish, smoked salmon benedicts; a carving station with New Zealand rack of lamb and beef rib roast; and a dessert extravaganza with sweet bread pudding with crème anglaise, coconut cake, matcha profiteroles, flourless chocolate cake, assorted cookies and much more.
See Also: Best chocolate chip cookies: Our Top 5
Orchids Sunday Brunch
Where: Halekulani, 2199 Kalia Rd., Waikiki, 923-2311 or 844-288-8022
When: Sundays, 9 a.m. – 2:30 p.m.
Cost: $76 per adult; $34 for children ages 5-12 years-old
Kamaaina discount: None
Highlights: Halekulani's Sunday Brunch at Orchids is known for its extensive, high-quality selection. Feast on an assortment of sushi, smoked ahi, poke and sashimi; action station sushi bar; assorted cheeses; omelet station; carving station with Waimanalo-raised suckling pig, prime rib and sage-roasted turkey; brunch dishes like classic eggs benedict and apple crepes; and a dessert table with bread pudding, Halekulani's famous coconut cake, candied apple panna cotta, ice cream station, hazelnut financiers, rum raisin oatmeal open-face ice cream sandwiches, assorted gelato and more.
La Hiki Kitchen Brunch for All Seasons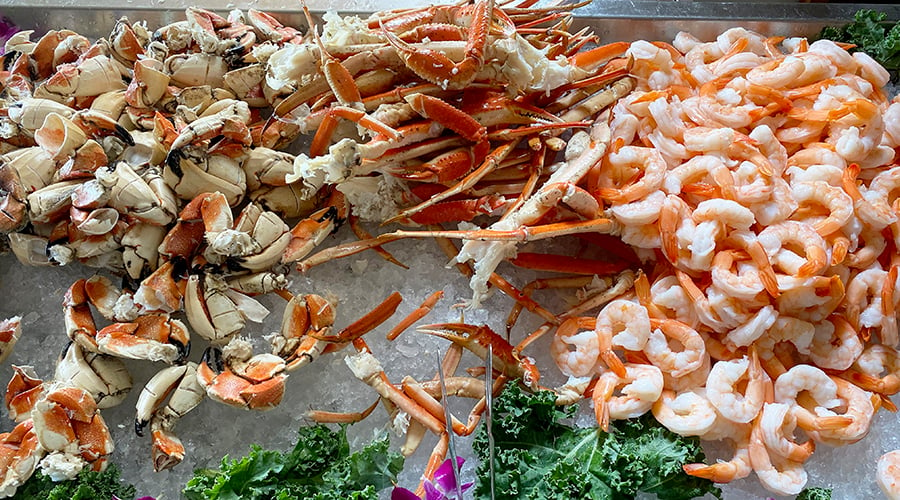 Where: Four Seasons Resort Oahu at Ko Olina, 92-1001 Olani St., Kapolei, 679-0079
When: Saturdays and Sundays, 11 a.m. – 2 p.m.
Cost: $75/adult, $25 for children ages 5-12, $15 for children ages 4 and under
Kamaaina discount: None
Highlights: La Hiki Kitchen's Brunch for All Seasons at the Four Seasons Resort Oahu at Ko Olina used to be a Sunday-only event but the brunch became so popular, it was extended to Saturdays. Enjoy a design-your-own mini poke bowl station and fresh sashimi; grilling station with steak, chicken and grilled lobster tails; meat carving station; chilled seafood on ice, including oysters and shrimp; omelet bar; brunch staples like eggs benedict, bacon, tater tots and croissants; and a huge dessert bar with assorted cookies, mini donuts, cheesecakes and more.
Pro tip: The $75 price tag includes water, soft drinks, coffee/tea and a Bloody Mary per adult. If you prefer a glass of wine, beer or cocktail, you can sub the Bloody Mary for one of those. If you're thinking about making reservations for this weekend extravaganza, don't wait until the last minute – brunch is often booked three weeks in advance. AYCE oysters, lobster tails and crab legs? No wonder it's so popular.
See Also: Oahu's best brunch buffet is at Ko Olina
100 Sails Restaurant & Bar Sunday Brunch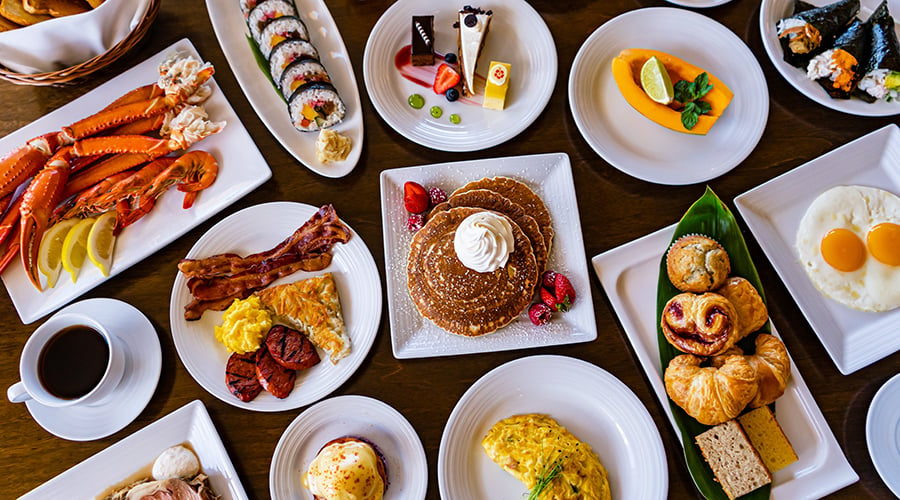 Where: 100 Sails Restaurant & Bar, Prince Waikiki, 100 Holomoana St., Waikiki, 944-4494
When: Sundays, 10:30 a.m. – 1:30 p.m.
Cost: $56 per adult; $28 for children ages 6-12
Kamaaina discount: 10% off for Marukai members and Mahalo Club members (Prince Waikiki's discount program)
Highlights: 100 Sails Sunday Brunch at Prince Waikiki offers brunch with panoramic views of the Ala Wai Boat Harbor. Take your pick from an omelet station, chilled crab legs, maki sushi, clam poke, lomi lomi salmon; and a carving station with prime rib, Chef's daily fish creation, assorted breakfast meats, Portuguese sausage eggs benedict with hollandaise sauce, dessert station with bread pudding with vanilla sauce, chocolate macadamia nut pie and pastry chef's selection of assorted desserts.
Deck Queen's Brunch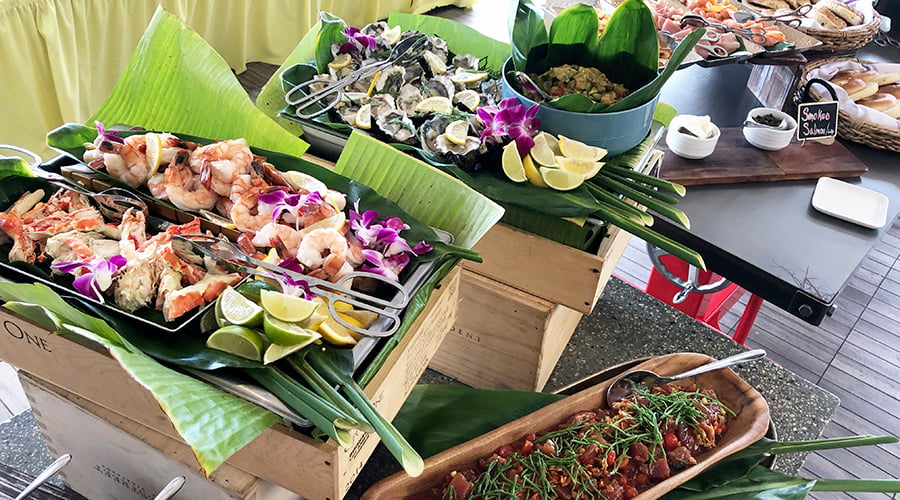 Where: Queen Kapiolani Hotel, 150 Kapahulu Ave., Waikiki, 931-4488
When: Sundays, 11 a.m.-3 p.m.
Cost: $55/adult plus tax and gratuity; $25 for children ages 12 and under plus tax and gratuity
Kamaaina discount: None
Highlights: Peruse a raw bar with shucked oysters, crab legs, jumbo shrimp cocktail, prime rib roast carving station with prime rib, scallops, and barbecue ribs; pancakes with Deck's signature macadamia nut sauce; expanded dessert bar with homemade donuts, macarons, cheesecakes and more. Mimosas by the bottle ($50) come with a bottle of champagne and carafes of pineapple, lilikoi and guava juice. You can also get forever mimosas (unlimited refills) for $25 each.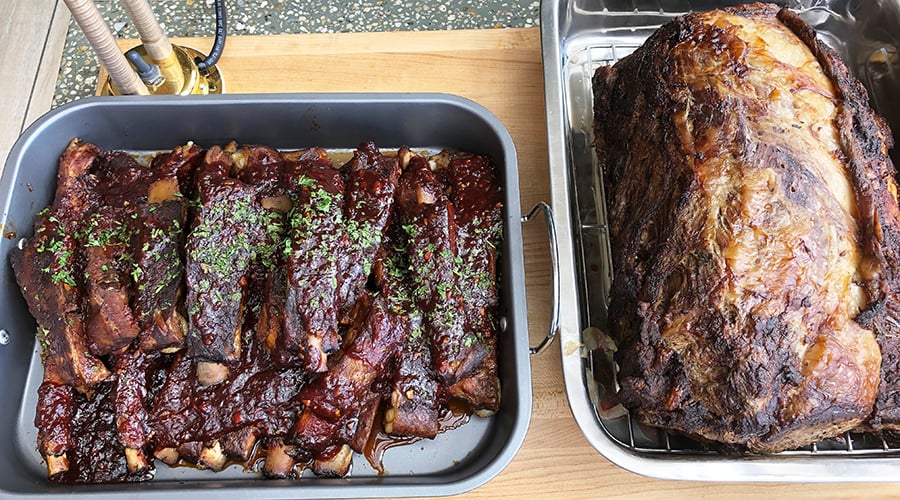 Note: Queen Kapiolani Hotel recently started the Queen's Brunch, available every Sunday in the open-air Deck restaurant. This brunch is designed to be an indulgent experience fit for royalty, especially with the picturesque views of Diamond Head in the background. Starting Nov. 10, diners at the Queen's Brunch will get to experience a seasonal Tamago egg station featuring eggs imported from Japan and designed to eat "TKG" style (raw egg over rice). Every Sunday, there's a weekly lineup for live music to complete the brunch experience.
Alohilani Resort Sunday Club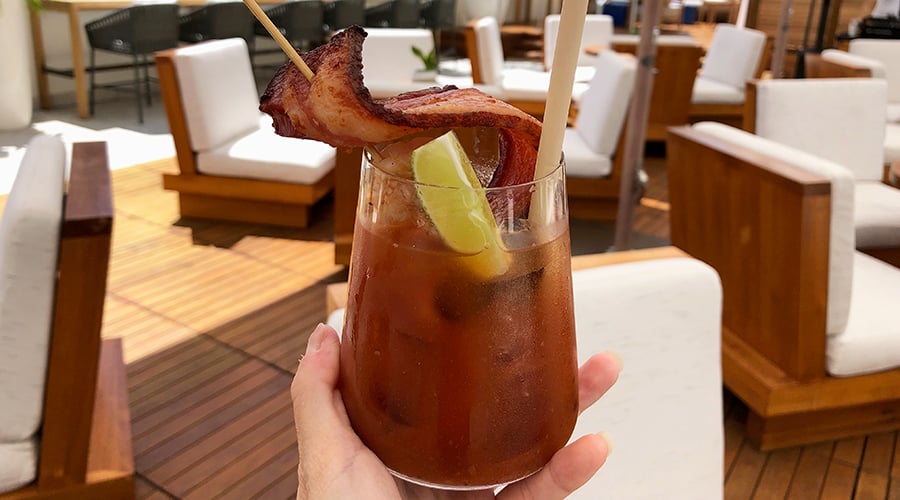 Where: Longboard Club (on the 5th floor adjacent to Swell Pool & Bar), Alohilani Resort Waikiki Beach, 2490 Kalakaua Ave., Waikiki, 294-4108
When: Sundays, 11:30 a.m. -3 p.m.
Cost: $49/adult; half off for children ages 6-12 and free for children ages 5 and under
Kamaaina discount: None
Highlights: Design-your-own acai bowl bar, signature pastries like croissant-malasadas, chicken and waffle bites, fresh catch of the day, "Big Bucks Bacon" with candied gold glitter, coddled egg with bacon, shaved parmesan, truffle coulis and brioche, homemade protein energy bars and more all in the comfort of the hotel's indoor Longboard Club.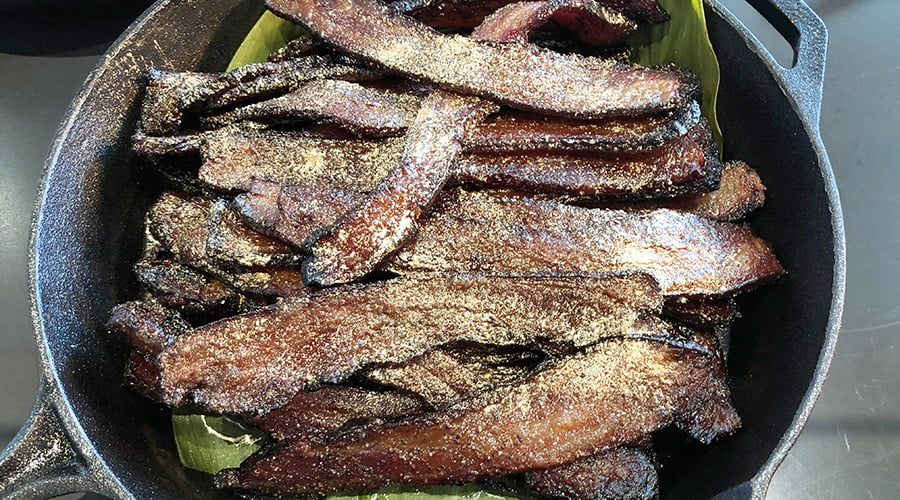 Alohilani Resort's Longboard Club is usually reserved for hotel guests only, but now this Sunday Club brunch is open to the public. This isn't your typical brunch buffet; Sunday Club features a rotating lineup of exclusive, upscale pupus in a brunch format. The $49 price includes tea, coffee, water and juices; alcoholic drinks like spiked seltzers and mimosas, Bloody Marys, white or red sangria and Honolulu Beerworks beers are $10 each. If you're feeling bougie or plan on indulging, the all-access drink option is available for $30.
Note: The brunch price includes access to indoor and outdoor Longboard Club's amenities like private cabanas and the heated saltwater infinity pool at Swell. The Sunday Club brunch also includes three hours of self or valet parking.