Best Açaí Bowls: Our Top 5
Cool off with the berry best any day, any time treat.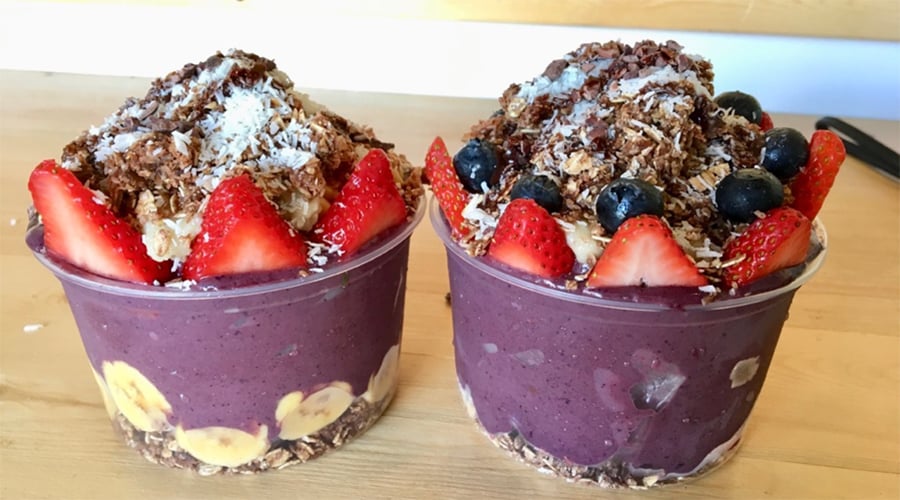 Açaí bowls are the perfect any day, anytime treat. Enjoying them is one of my favorite ways to cool down after a hike, workout or day at the beach. I'll even have it for breakfast to kickstart my day. I just love that I don't feel guilty for indulging in one because açaí is super healthy.
My criteria for this best açaí bowl roundup are:
The açaí needs to have the perfect amount of sweetness and a firm consistency
An ideal balance between açaí and granola
Must have a creative element or topping.
I prefer my açaí less sweet because I enjoy the taste of the berries instead of the added sugar. I also look for Goldilocks consistency – it shouldn't be too icy nor too liquidy but smooth like sorbet. Last but not least, I check to make sure the amount of açaí and granola matches: it makes me sad when I finish the açaí but there's still some leftover granola.
Here are my picks for the best açaí bowl in Hawai'i.
---
SEE ALSO: HONOLULU Staff Favorites: The 9 Best Açaí Smoothie Bowls on O'ahu
---
No. 5: Nalu Health Bar & Cafe, Nalu Bowl
There are few Nalu Health Bar & Café locations on O'ahu but I usually go to the Ward location for the Nalu bowl. It includes organic açaí topped with bananas, strawberries, blueberries, granola, bee pollen and honey but you may add more toppings if you like. I get the 16-ounce bowl ($10.25) when I'm hungry or if I want a small snack, the 8-ounce ($5.95) is enough. Their açaí is earthy and isn't sweet, which is how I prefer it. It's also not as viscous compared to most bowls but it gets my fifth spot because I love the flavor and the granola-to-açaí ratio is perfect.
1170 Auahi St., Kaka'ako, (808) 597-8871, naluhealthbar.com
No. 4: Kokonuts Shave Ice & Snacks, Açaí Supreme
The Açaí Supreme with soymilk ($10) comes with organic granola, bananas, honey, crispy coconut flakes and strawberries. You can actually choose to mix your açaí with apple juice if you prefer it sweeter. I always add their super soft mochi balls for an extra dollar. The açaí melts quickly but the flavor is great. The balance between the açaí and granola is perfect but when I add mochi, I could use a little extra açaí to balance it out.
7192 Kalaniana'ole Highway, Koko Marina Shopping Center, Hawai'i Kai, (808) 396-8809
No. 3: Hawaiian Aroma Caffe, Berry Bowl
Update: As of September 2020, this shop is temporarily closed.
The berry bowl ($13.95) comes topped with chocolate chips, strawberries, blackberries, raspberries, honey and bee pollen and I add on their special peanut butter topping for $2. I love this bowl because it has a great selection of fruits and toppings. The peanut butter is smooth and creamy but makes this a $16 açaí bowl. This açaí isn't sweet and has a firm, sorbet-like consistency. The granola is crunchy and I finish the granola and açaí at the same time! Perfect açaí-to-granola ratio.
1777 Ala Moana Blvd., Waikīkī, (808) 256-2602, hawaiianaromacaffe.com
No. 2: Island Vintage Shave Ice, Haupia Moana Bowl
The Haupia Moana bowl ($10 small, $13 large) comes with frozen haupia cream, shaved coconut, Big Island organic honey, bananas and granola. I like to add on housemade almond butter for an additional $1.50. The creamy haupia sorbet is super refreshing and the almond butter adds a bit of luxe. Island Vintage's Cacao Moana and Liliko'i Moana bowls are just as amazing and if I deviate from haupia, it's for one of these. The cacao bowl comes with Waialua cacao nibs, housemade almond butter, local raw white honey, bananas and granola. The liliko'i bowl has strawberry, papaya, fresh housemade liliko'i honey, bananas and granola. The consistency of the açaí is perfectly smooth and firm, however, the quality of the granola is mediocre — it isn't the same high-quality granola I've had in the other bowls.
1450 Ala Moana Blvd., Ala Moana, islandvintagecoffee.com/
No. 1: Well + Proper, Açaí Bowl
Update: As of September 2020, this shop appears to have closed.
This Downtown spot has my favorite açaí of all time. They blend nut mylk, cacao nibs, blueberries, bananas, housemade granola, coconut, strawberries, mac nut butter and raw cacao drizzle into one fabulous bowl ($9.50). The best thing about this place is the housemade granola that's unlike any other I've had before. This bowl has cacao overtones and the mac nut butter makes it rich and decadent.
Just keep in mind that Well + Proper isn't always open during normal business hours: You'll have to check Instagram for updates. Take a chance — it's worth it for this amazing açaí bowl!
918 Smith St​., Downtown, (808) 319-7544
I tried 23 açaí bowls across the state to arrive at my final ranking:
O'ahu
Hale'iwa Bowls
Bogart's
Hawaiian Aroma Caffe & Bar
Da Cove Health Bar
Down to Earth
Well + Proper
Makai Bowls
Kahuku Farms
Kokonuts Shave Ice & Snacks
Lanikai Juice
Jewel or Juice
The Sunrise Shack
Island Vintage Shave Ice
HI Cravings
Nalu Health Bar
Kaua'i
Ha Coffee Bar
Anake's Juice Bar
Aloha 'Āina Juice Café
Eat Healthy, Kaua'i
Liittle Fish Coffee
Maui
Pā'ia Bowls
Big Island 
Makani's Magic Pineapple Shack
Bare Foot Zone

Yurika Shigemoto is a full-time nurse that loves to eat, lift, and travel. Follow her foodie adventures on her Instagram page, @fitfoodiehi.
Frolic is looking for contributors! If you love to eat, know the local food scene and have an idea, email editor@frolichawaii.com.