Beermap: Where to drink craft beer in Honolulu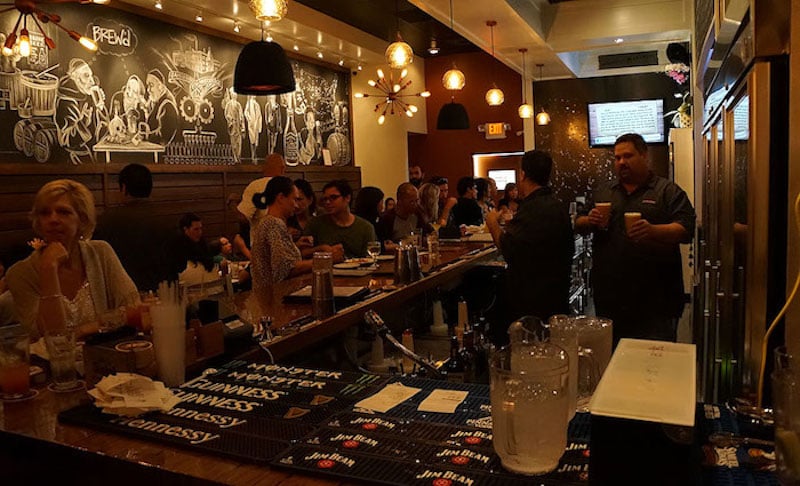 By Will McGough
Special to Frolic Hawaii
Five years ago, Whole Foods might have been your best bet for craft beer in Honolulu. Then came REAL a Gastropub and Pint + Jigger, and craft beer rolled in like a foamy amber wave.
The island's beerscape now is a hopping (pardon the pun) scene. Here are the brewpubs, tasting rooms, bars and beer-centric restaurants where you can drink craft beer.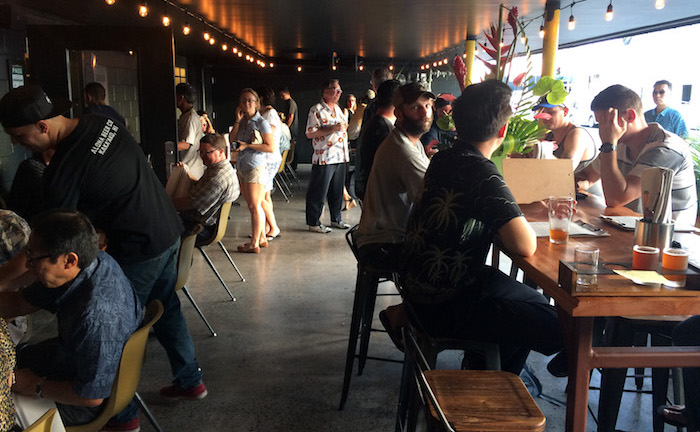 ALOHA BEER CO.
What: Brewpub and restaurant
What to try: Hop lovers should try the Hop Lei IPA, whose gentle aroma envelops you like a "hop lei" as you drink
Food: Full menu
Formerly on Nimitz, the new and improved Aloha Beer is armed with a new location in Kakaako and a fresh lineup of 10 new beers created by revered local brewer Dave Campbell. The taproom is rustic industrial, and the outdoor seating pays tribute to the tradition of having a cold one in the carport. A drydocked food truck inside the warehouse is run by local pork purveyor Robert McGee and serves sandwiches, sausages and steak fries.
700 Queen St. • Kakaako • 544-1605 • free parking in adjacent lot after 5 p.m.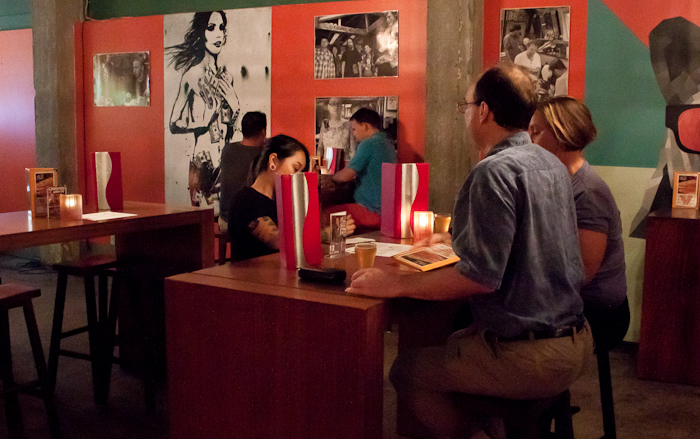 BAR 35
What: Bar/restaurant
What to try: Handmade thin-crust pizzas are the ultimate bar food. Try the French Kiss
Food: Pizzas and pub snacks
This granddaddy among Chinatown nightlife spots is also one of the most beer-centric, with more than 200 brews, ales, porters, lagers and beyond from 20 different countries, nearly all of them in bottles and cans. At 11 years old, Bar 35 is still a popular pau hana spot known for its beer wall, outdoor patio bar and artsy entertainment.
35 N. Hotel St. • Chinatown • 537-3535 • street parking and nearby municipal lots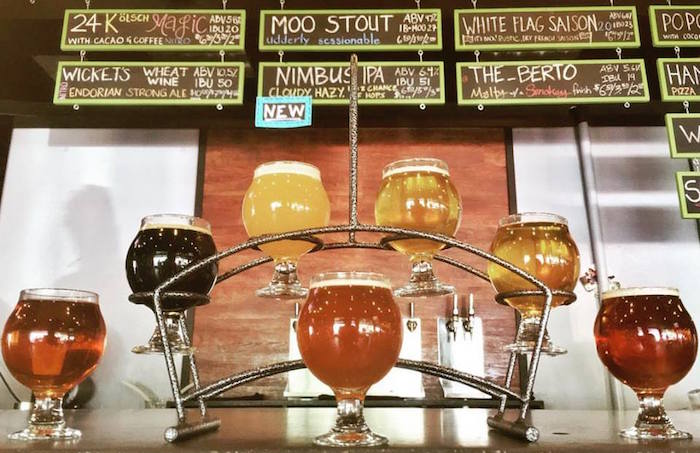 BEER LAB HI
What: Taproom
What to try: The beer list at this small-batch brewery changes often, and the experimentation is strong. Ask the bartender for a small sample before diving into a pint
Food: Popcorn for purchase + bring your own
Beer Lab pours a good amount of experimental beers as well as house-made kombucha and sake. It is the place to go if you are looking for something nontypical, such as a coffee kolsch or a "smoked" ale.
1010 University Ave. • Moiliili • 888-0913 • free parking on site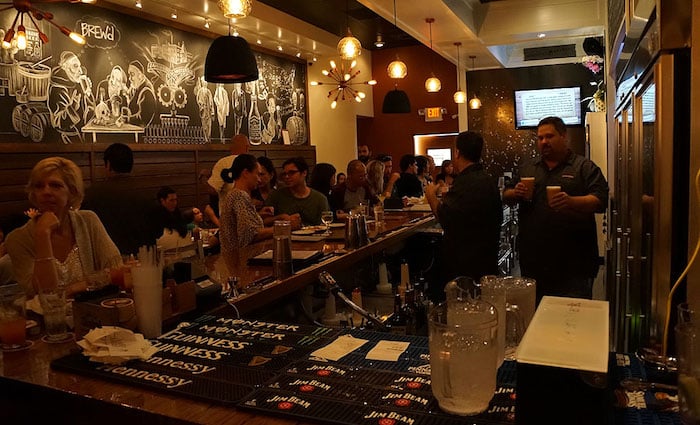 BREW'D CRAFT PUB
What: Gastropub
What to try: The fries are a big hit as a sidecar to the beer. Choose from Dirty Fries cooked in bacon fat with parmesan, herbs and banana peppers or the Beer Braised Brisket Poutine with cheese curds
Food: Full menu
The second gastropub from the owners of REAL, serving a large selection of draft (25) and bottled (90ish) beers with an extensive bar food menu. Brew'd was recognized as a finalist for Hawaii's Best Beer Program in 2016 and 2015.
3441 Waialae Ave. • Kaimuki • 732-2337 • street parking
EIGHT50
What: Bar/restaurant
What to try: Monday nights from 8 p.m. are Industry Nights, when draft and other selected beers are half off
Food: Full menu
The selection of 100 craft beers includes 12 on tap. Plus whiskeys, cocktails and a menu that includes everything from the bar burger with tempura onion rings to kapakahi fried rice and simple cold tofu. Right next to Leeward Bowl.
850 Kamehameha Hwy • Pearl City • 454-1850 • parking on site next to Leeward Bowl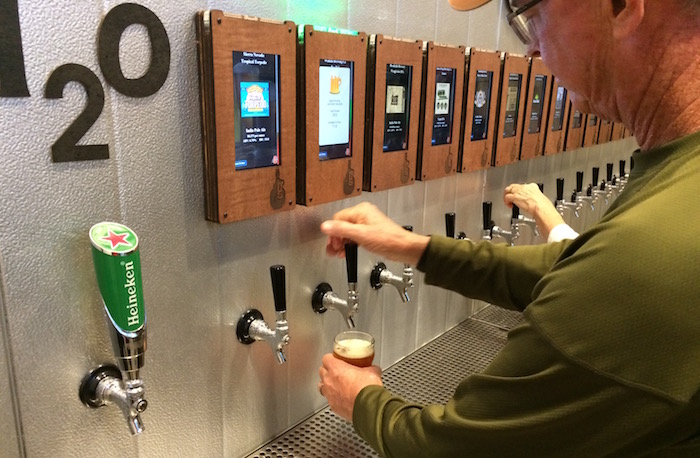 GRACE IN GROWLERS
What: Tasting room
What to try: The island's first electronic self-pour system that allows you to pour your own beers. Use this freedom to sample small amounts across a bunch of different styles
Food: Bring your own
Kailua's newest craft beer tasting room offers a neighborhood pub feel, with a bunch of local beers on tap and a bring-your-own-food philosophy. Even better is that all profits go to the ONEninetynine Initiative, a local non-profit that among other things provides laundry services to the homeless on the Windward side.
143 Hekili St. • Kailua • 975-9317 • free parking behind shopping center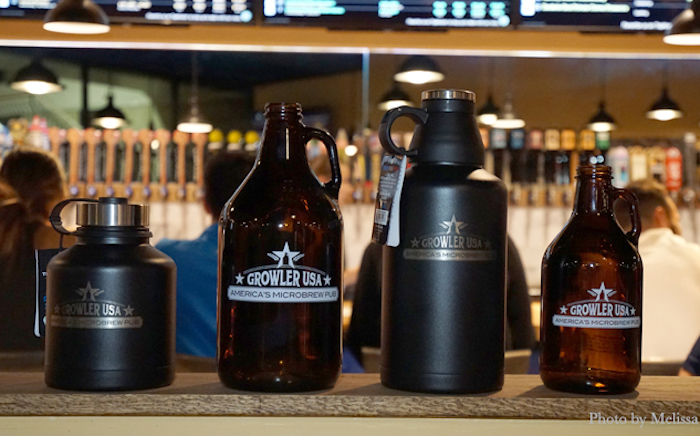 GROWLER USA
What: Bar/restaurant
What to try: Whereas most bars have one or two choices per style, the beer board here offers up to six options for each style, so you can compare different brands' take on a particular style
Food: Full menu
While it is a chain, Growler USA has a lot to offer local beer drinkers. It has the largest selection of craft beer on the island with nearly 100 beers on tap, making this a great place to go with a theme in mind. Variety and selection are the name of the game here.
449 Kapahulu Ave. • Kapahulu • 600-5869 • paid parking in building
HOME OF THE BRAVE BREWING
What: Taproom
What to try: The Pilot Pale Ale or the Remember Pearl Harbor Mighty American Ale, a barleywine brewed in cooperation with Lanikai Brewing
Food: Free popcorn in Brewseum; free pretzels in speakeasy
Home of the Brave Brewing pairs craft beer and World War II history. Each beer at this tiny museum, aka the Brewseum, is named after a war story. The recently opened speakeasy inside the Brewseum is open on Fridays and Saturdays from 5 to 8 p.m.
901 Waimanu St. • Kakaako • 799-2796 • street parking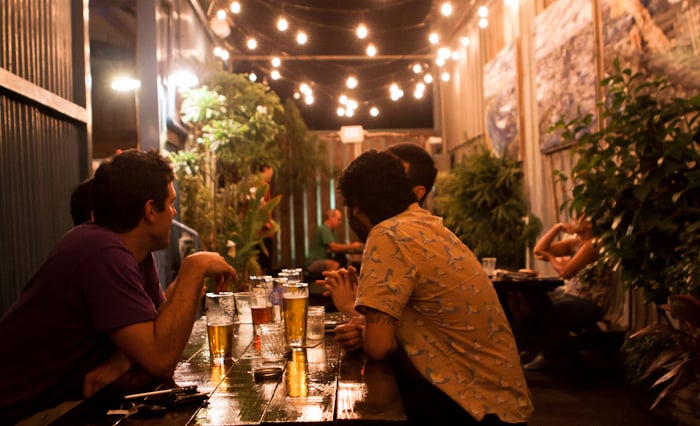 HONOLULU BEERWORKS
What: Brewpub and restaurant
What to try: Beerworks might make the best IPAs on island. Those who like big, hoppy beers will want to give the Sheltered Bay IPA and the Hop Island IPA a try
Food: Full menu
This is the best example of a neighborhood brewery in all of Oahu with its chatty atmosphere, onsite brew tanks, full food menu and impressively deep beer list.
328 Cooke St. • Kakaako • 589-2337 • street parking
KONA BREWING CO.
What: Brewpub and restaurant
What to try: Since Kona's core beers are widely available in stores, be sure to look deeper on the menu for lesser-known ones. The two dozen taps reveal a few hidden gems, like the Kua Bay IPA, which is the original recipe for the Castaway IPA
Food: Full menu
Though by far the most commercialized brewery in Hawaii, as well as the largest, Kona Brewing offers a solid, extensive lineup of beers at reasonable prices, with a regular assortment of off-list beers written on a chalkboard. The Koko Marina pub has full lunch and dinner menus and gorgeous waterfront seating.
Koko Marina Shopping Center • 7192 Kalanianaole Hwy • Hawaii Kai • 396-5662 • free parking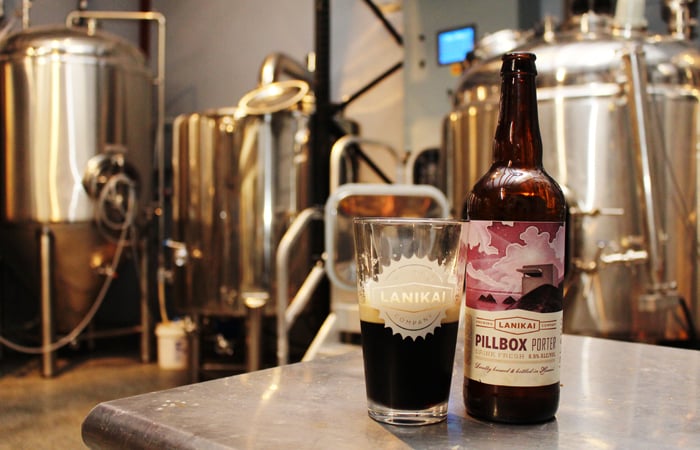 LANIKAI BREWING CO.
What: Tasting room
What to try: Keep an eye out for the bottle-only Mauka to Makai series from Lanikai, available in stores and at the brewery: The Okole Maluna (Chocolate Haupia Imperial Stout), the Mahina (barrel-aged barleywine) and the Forever Summer Pog (sour ale)
Food: None
Lanikai is Kailua's garage-style brewery, offering $1 and $2 samples in its tiny tasting room between Hamakua Drive and the marsh preserve. It specializes in fun and childlike flavors, such as the "Lime in the Coconut." It is a standing-room-only establishment with no tables or chairs, so eat before you go. The price is right for these generously poured samples, which you can enjoy without being rushed along.
175 Hamakua Dr. • Kailua • 261-5681 • street parking or free parking across the street at Safeway (with purchase)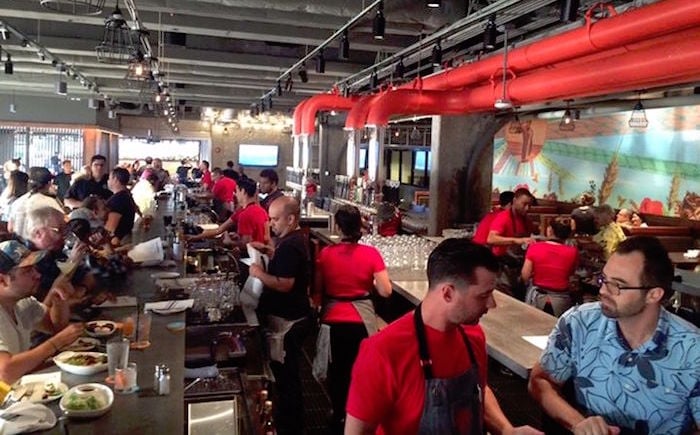 MAUI BREWING CO.
What: Brewpub and restaurant
What to try: The brewpub features the full lineup of Maui Brewing's beers, including specialty beers previously only available at the brewpubs on Maui. Be sure to ask for daily off-list options
Food: Full menu
Maui Brewing's first location outside of Maui opened in Waikiki in early 2017. The large space features a big rectangular bar, large outside patio and game room. Lunch and dinner are served. Beers are reasonably priced at $6, but expect to pay Waikiki prices for run-of-the-mill food.
2300 Kalakaua Ave. • Waikiki • 843-2739 • nearby lots and street parking, no validation for hotel parking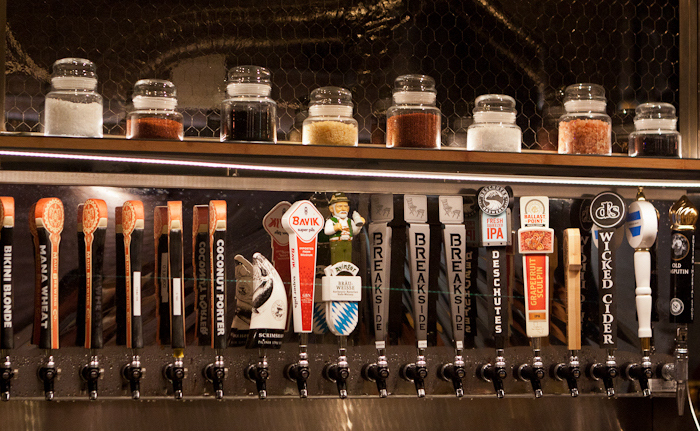 MOKU KITCHEN
What: Bar/restaurant
What to try: Moku is the first Honolulu outpost of Hawaii Regional Cuisine icon Peter Merriman, so don't leave without trying things like the kabocha ravioli and the bulgogi or pork tacos
Food: Full menu
Early happy hour runs from 3:30 to 5:30 p.m., with half-off beer and great discounted pupu: think $4 fries, reasonably priced wings and pizza. You won't find any bottles. Instead there are 36 beers on draft, including a good selection of local brews, and even two nitro taps – all flowing at a cool 29 degrees Fahrenheit. You'll find amber/brown ales, sours, saisons, porters, stouts and ciders. At least three of the taps are changed out monthly.
660 Ala Moana Blvd. • Kakaako • 591-6658 • validated parking at SALT complex
MONKEYPOD KITCHEN
What: Bar/restaurant
What to try: Peter Merriman's crazy saimin combines kalua pig, roasted peanuts and fresh herbs with Maui-made noodles
Food: Full menu
Brews from Honolulu Beerworks, Maui Brewing, Kona Brewing and Big Island Brewhaus are prominent on the menu of 36 beers on tap. At Monkeypod, these are delivered via a Blizzard system that keeps the beers at a chill 29 degrees. Since this is a casual Peter Merriman restaurant, the food menu is fun and full of hand-tossed pizzas, small bites and luscious pies, heavily sourced from local farms.
92-1048 Olani St. • Ko Olina • 380-4086 • free parking on site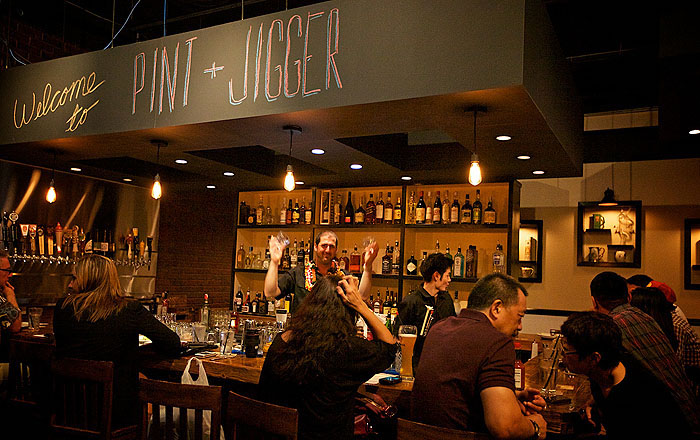 PINT + JIGGER
What: Gastropub
What to try: If you're feeling lucky, try out one of the mystery taps. You won't know what you get before you order, but it makes decision-making easy and the beer is always of quality
Food: Full menu
Nearly two dozen beers on tap with communal picnic tables and a shuffleboard table. There's also handcrafted cocktails and well-reviewed bar food, like sliders and scotch eggs.
1936 S King St. • Moiliili • 744-9593 • garage and street parking
REAL A GASTROPUB
What: Bar/restaurant
What to try: According to local beer expert Tim Golden, REAL is one of the only bars in the Pacific to carry beers from Cantillon Brewery in Belgium, which exclusively makes Lambic beers
Food: Full menu
With three dozen taps that are constantly rotating, a large selection of bottles and nicely plated, reasonably priced bar food, REAL has been one of the pioneer venues for craft beer in Hawaii since it opened in 2012. Don't be fooled by the "gastropub" tag—this is much more of a beer bar than a restaurant.
Keauhou Lane • 506 Keawe St. • Kakaako • 200-2739 • onsite parking structure and street parking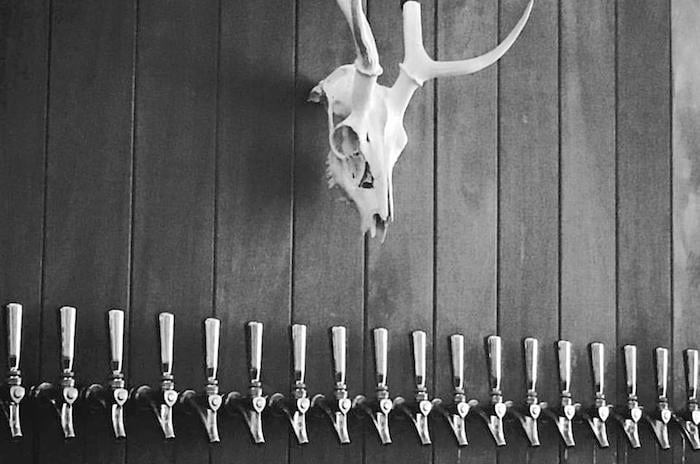 SQUARE BARRELS
What: Bar/restaurant
What to try: Burgers, beer and sports. Square Barrels is a great place to catch a game with a group thanks to a bunch of televisions and a big community table
Food: Full menu
Craft burgers and craft beers are the name of the game at Square Barrels. Twenty-plus beers on tap will help you wash down the Square Barrels signature Drive-Thru Burger or the Venison Burger, made with fresh house-ground Maui venison.
1001 Bishop St. • Downtown • 524-2747 • validated garage parking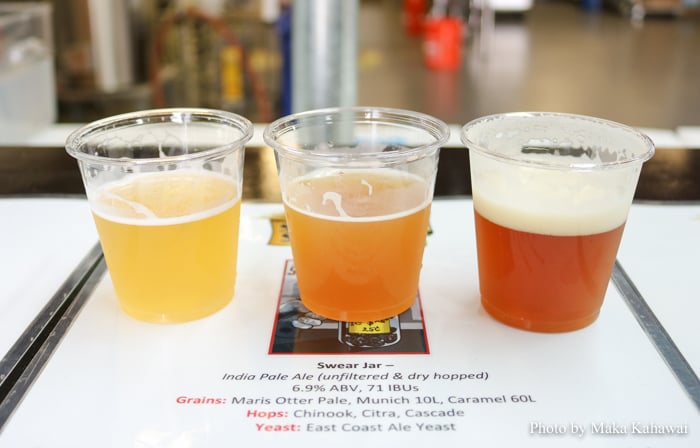 STEWBUM & STONEWALL BREWING CO.
What: Tasting room
What to try: Try one of the staple beers: Swear Jar IPA, Batch 518 Pale Ale or the Makana Island
Food: None
Stewbum & Stonewall is a true nano brewery, a garage-door style, one-man operation with the tasting area and brewing tanks all tucked into a small and humble industrial space. Owner and brewer Darren Garvey fills free samples and sells growlers to go. He's looking to move to a bigger location that will allow for a larger brewing capacity. That is great news, but it also means the time to experience the brewery in its infancy is limited. Pop over to the small garage and pay Garvey a visit.
46-174 Kahuhipa St. • Kaneohe • 664-6684 • free parking on site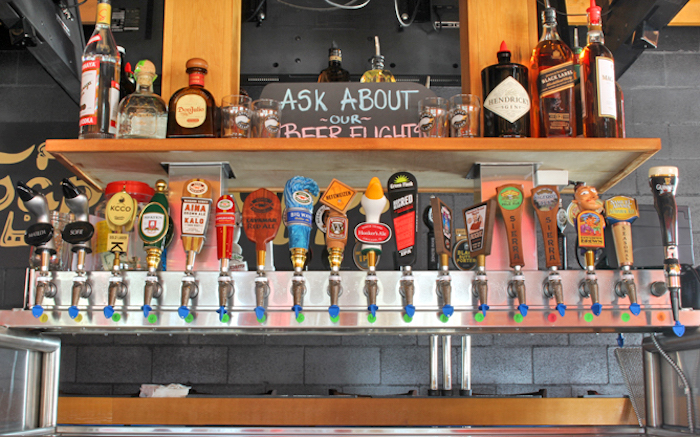 TAPS & APPS
What: Bar/restaurant
What to try: Taptails (yes, Taptails) are cocktails made with beers like guinness and hefeweizen
Food: Full menu
Mililani's watering hole has 35 craft beers on tap plus more in bottles and cans. Plus live entertainment, trivia nights and karaoke nights.
The Gateway at Mililani Mauka • 95-1830 Meheula Pkwy • Mililani Mauka • 626-8277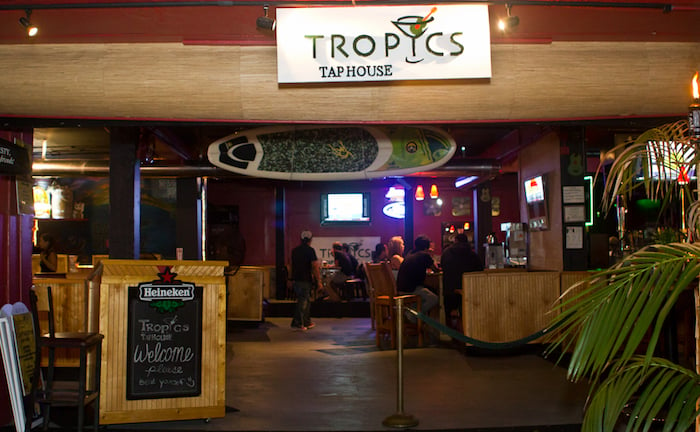 TROPICS TAP HOUSE
What: Bar/restaurant
What to try: Sundays after 6 p.m. are Service Industry nights. Draft beers are 25 percent off and other drinks and pizzas are 50 percent off
Food: Pizzas and bar snacks
There are 54 rotating taps at this University spot, including PBR on tap, over a dozen craft IPAs from all over the country, 10 local craft beers and two nitro taps, plus more beers by the bottle. The atmosphere is casual and there are big screens to watch sports and a food menu with a gourmet twist.
1019 University Ave. • University • 955-5088 • parking in back lot, enter on Coyne Street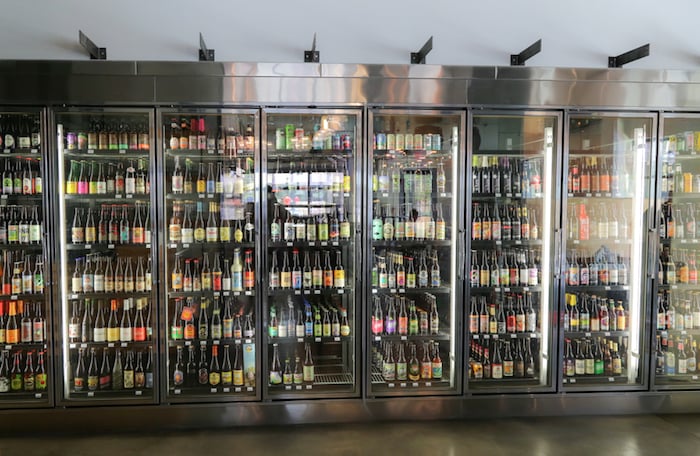 VILLAGE BOTTLE SHOP & TASTING ROOM
What: Tasting room
What to try: Village is often the first to access new beers entering Hawaii's market, so keep your eye out for special events, like the launch of new brands or tap takeovers
Food: Small premade potpies + bring your own
Co-owner Tim Golden developed a strong following as Hawaii's go-to craft beer resource before opening the island's first tasting room and bottle shop combo. Modern and sleek, the tasting room offers a mashup of local and mainland pints for onsite consumption, while an adjacent bottle shop sells more than 500 beers. A simple food menu features premade local potpies.
675 Auahi St. #121 • Kakaako • 369-0688 • validated parking at SALT complex
WAIKIKI BREWING CO.
What: Brewpub and restaurant
What to try: Take-home beer is very affordable at Waikiki Brewing. Every day from 5 to 6 p.m., 64-ounce growler fills are only $12 (regular price $16)
Food: Full menu
Until the arrival of Maui Brewing this year, Waikiki Brewing was the only local brewery represented in Waikiki. It has a leg up on its new competitor in terms of its location, though—it's at edge of Waikiki at the corner of Kalakaua and Ala Moana, allowing for easier accessibility. Of course, it is still Waikiki's only onsite brewing operation, so convenience shouldn't be the only reason you pay a visit.
1945 Kalakaua Ave. • Waikiki • 946-6590 • limited onsite parking, garages and street parking nearby
YARD HOUSE
What: Bar/restaurant
What to try: The Chalkboard Series is a monthly rotating selection of draft beers from local, U.S. and imported brewers
Food: Full menu
Before Maui Brewing Co., before Growler USA, before Waikiki Brewing Co., there was Yard House. This chain organizes its massive beer menu by flavor profiles and posts info on rotating taps on its website in real time.
226 Lewers St. • Waikiki • 923-9273 • validated parking at Wyndham Hotel in Embassy Suites