Battle of Ala Moana Center's afternoon teas
Mariposa or Vintage Cave Cafe: Who has the better deal?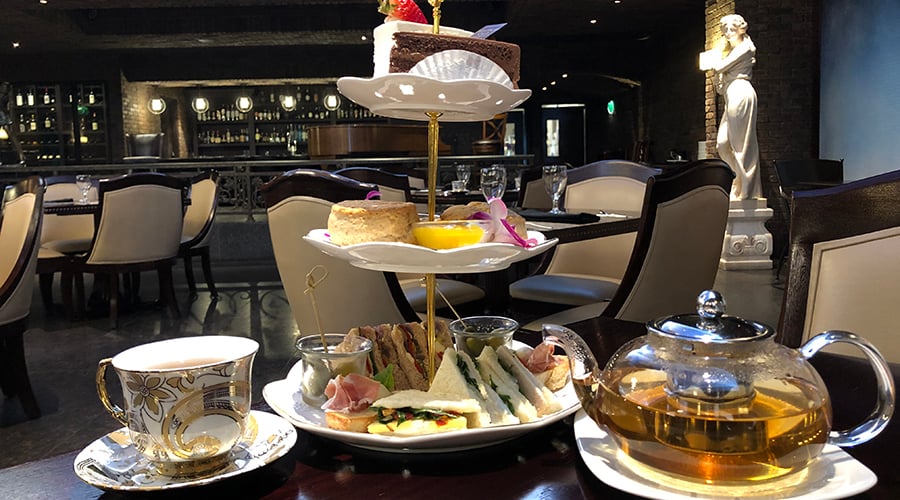 Q: One's $18, the other $35. Which is the better deal?
I love the idea of lounging in a relaxing environment with a fresh pot of tea and exquisite pastries. But let's be real: Afternoon tea in Hawaii is usually found at resorts and at $45 and up, isn't exactly budget friendly, so I don't indulge often. But two restaurants in Ala Moana Center recently started tea menus — and both are well under $45.
Affordable high tea? I was intrigued. I set out to try the options at Vintage Cave Café and Mariposa in Neiman Marcus.
Vintage Cave Cafe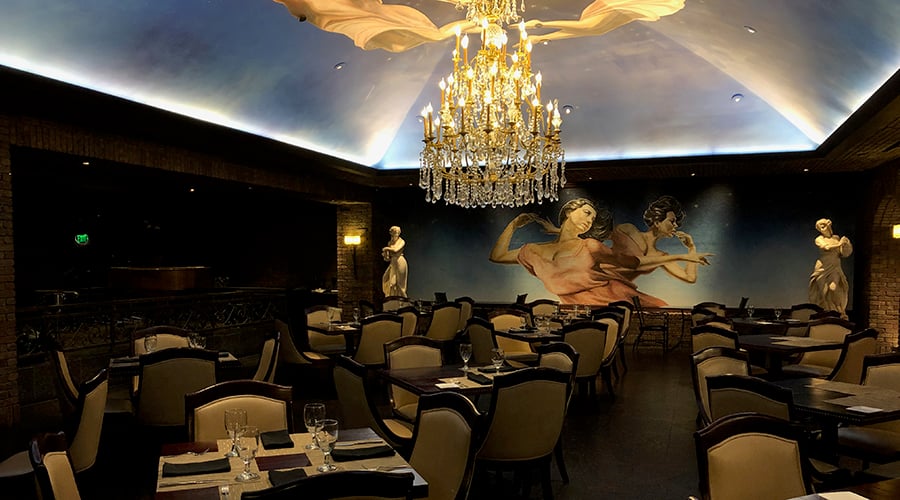 Vintage Cave Cafe started its tea menu at the end of last year, but it's only recently gained traction. The afternoon tea now attracts regular customers, so the menu changes slightly every quarter to feature a different dessert from the cake cart or new savory options.
Cost: $18 per person
Hours: Daily 11 a.m.-3:30 p.m.
What you get: Choice of tea or coffee, five savory items, four sweets (exact numbers and choices may change daily)
Tip: Although reservations aren't required, they're highly encouraged for afternoon tea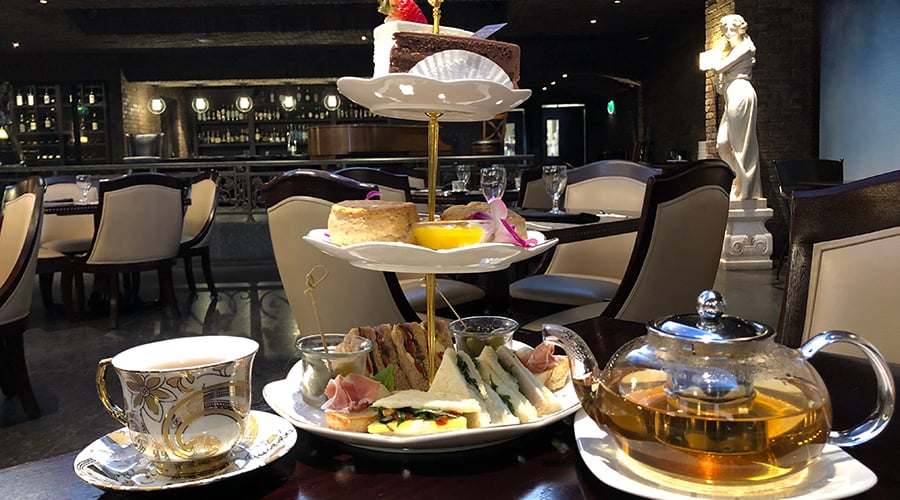 The current afternoon tea food menu includes:
Savory items: Clubhouse sandwich, quiche Lorraine, salmon rolled tortilla with ricotta, mini croissant sandwich with shrimp tartare, chilled creamy corn soup and housemade pickles and olives
Sweets: Financiers, panna cotta, petit cake of the day, scone, blueberry jam and mascarpone cream
On my first visit back in March, the spring menu had a choice of smoked salmon, jidori chicken or portabello mushroom finger sandwiches along with prosciutto crostinis and mini antipastos. What hasn't changed is that you always get to pick a dessert from from the cake cart. This selection can include mouth-watering treats like gateaux chocolate, matcha tiramisu or Herren chocolate cake garnished with a chocolate Vintage Cave logo.
Everything on the tea tray is Instagram friendly, and with the restaurant's atmospheric ambiance, opulent chandeliers, plush seats and great service, you'll feel posh as you're sipping your tea … and even better once your bill comes and the whole thing cost less than $25 with tax and tip.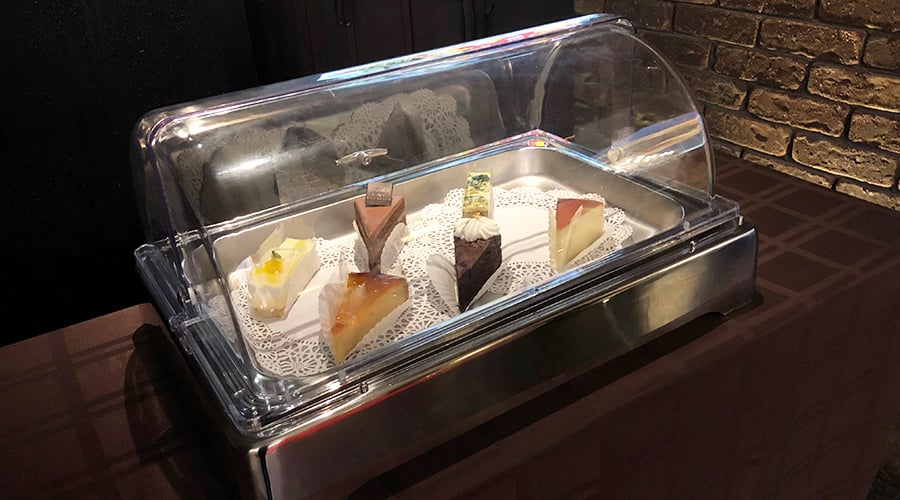 Mariposa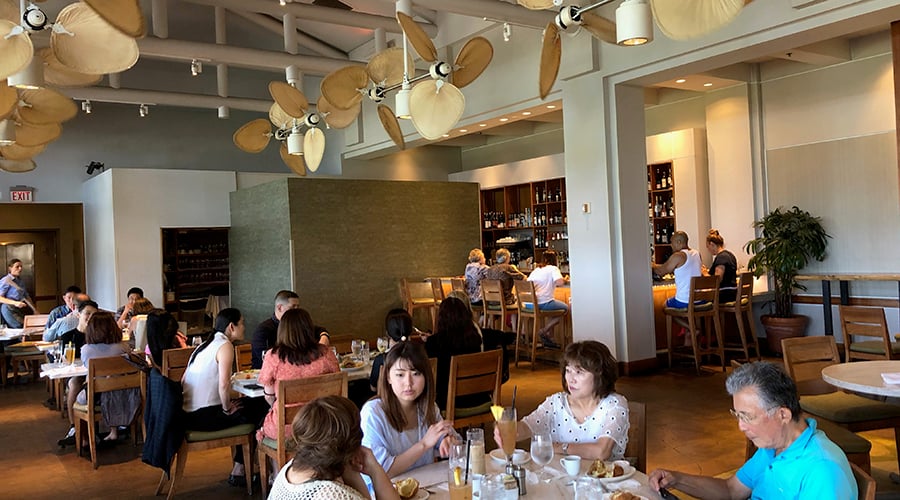 I went to Mariposa to check out the new happy hour, and that's when I learned there's a new afternoon tea. Well, sort of. Mariposa used to have Sunday afternoon tea, but two months ago, that became a daily thing. You'll need to make reservations. Note that Mariposa's afternoon tea is almost double the price of Vintage Cave Café's. It's Neiman Marcus, after all.
Cost: $35 per person
Hours: Daily 2-4 p.m.
What you get: Two tea sandwiches, three savory selections, six assorted sweets
Tip: As with lunch and dinner, a visit for tea starts with Mariposa's complimentary and addictive popovers with strawberry butter. If you want more, just ask one of the friendly servers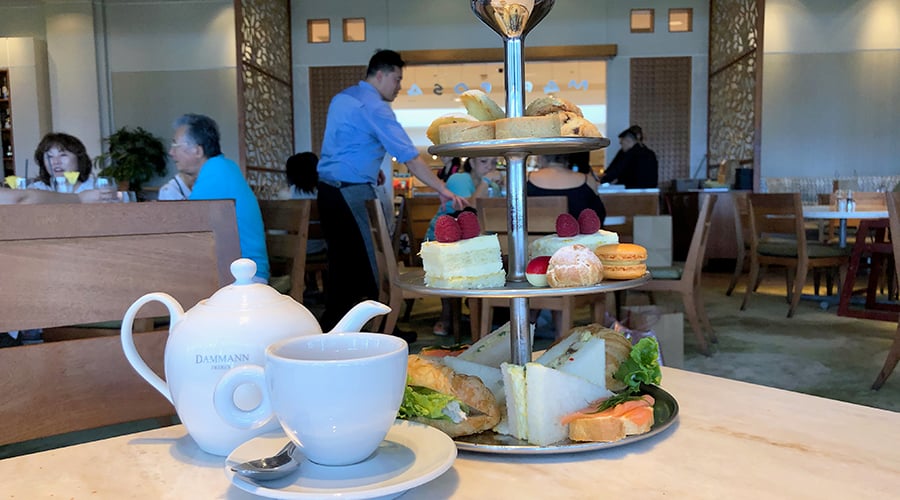 Mariposa's afternoon tea includes:
Tea sandwiches: Egg and chive salad and asparagus, curried chicken salad
Savory items: Smoked salmon with herb cream cheese and cucumber crostini; spinach, mushroom and parmesan quiche; crab salad in croissant
Sweets: English scone with guava butter, lemon madeleines, tea cake, profiterole, chocolate candy, French macaron
There's a variety of loose-leaf teas to choose from, including Earl Grey, Jardin Bleu, Yellow Lemon and Rooibos Citrus.
On to the food. The quiche is creamy and cheesy with a buttery crust, but you won't feel guilty about indulging because the portion is so petite. There's a generous amount of smoked salmon atop the crostini; it's completely reminiscent of bagels and lox. The croissant comes with a good amount of refreshing crab salad, and the bite-sized chocolate candies are the perfect way to finish off tea. If you have a sweet tooth, the tiny macarons and profiteroles also won't disappoint.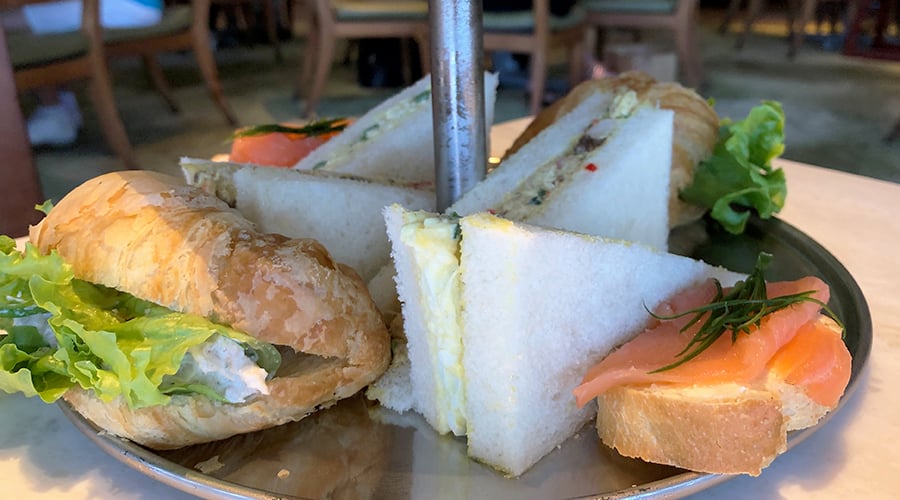 Here's what the afternoon teas have in common:
There's a good balance of savory and sweet treats
You get unlimited refills of tea
Parking is easy since both restaurants are at Ala Moana Center
Here's how they're different:
Mariposa's is almost double the price of Vintage Cave Café's
Vintage Cave Café's tea is available from 11 a.m. to 3:30 p.m., making it a good option for a light lunch; Mariposa's is only available from 2 to 4 p.m.
Vintage Cave Café's tea selection is more extensive than Mariposa's loose-leaf tea selection
Vintage Cave Café's menu changes slightly every quarter; Mariposa's will stay the same for the foreseeable future, but may change seasonally
A: Mariposa
I was actually full, thanks in part to popover refills, and this more expensive menu offers more variety. Though the sandwiches are cut in dainty halves, they are more filling overall, and the sweets are small enough to satisfy a sugar craving without being over-the-top decadent. I even took some leftover tea cakes and madeleines home.
That being said, Vintage Cave Café's afternoon tea is a good option if you feel like treating yourself but not splurging. But it's more of a snack than a meal. Three hours later, I was hungry again.
If afternoon tea is your cup of tea, Mariposa is worth the relative splurge. It feels special occasion — I'm tempted to make any occasion a special occasion just to justify going back.
Vintage Cave Cave
1450 Ala Moana Blvd.
441-1745
Mariposa – Neiman Marcus
1450 Ala Moana Blvd.
951-3420