Bao Boys to make its Eat the Street debut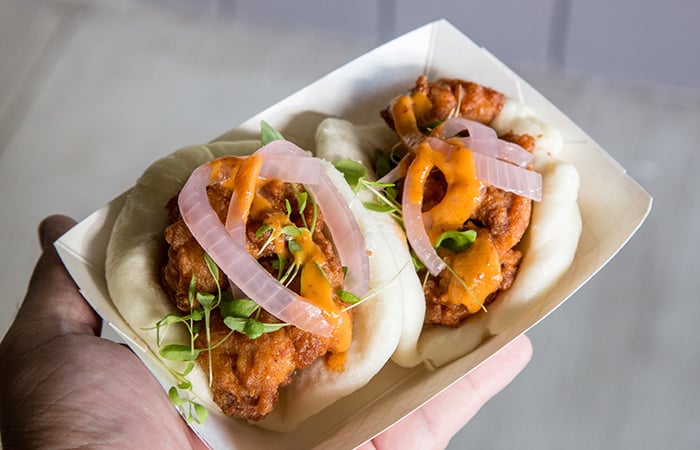 Back in June, @BaoBoysHI started following me on Twitter. The logo promised bao and bowls, two things I love, so I sent a direct message to find out when they were opening.
"Thank you for reaching out. Bao Boys is a project that myself (Tony) and Masa (Sauder) are looking to bring to the Hawaii scene soon. We make baos with a modern twist on the old fillings. We pride our self on using local produce and keeping everything fresh," co-owner Tony Hollinrake wrote back.
Hollinrake invited me to taste his bao and talk story at his commercial kitchen at the Oahu Veterans Center in Salt Lake. Born and raised in Hawaii, he's a front-of-house veteran of Sam Choy's at Diamond Head, California Pizza Kitchen, Wolfgang's and Yard House. He then moved around on the mainland from California to New York.
While in New York, Hollinrake worked an event with Eddie Huang of Baohaus and experienced the East Village chef's modern spin on the traditional bao. When he moved back home, Hollinrake decided to create Bao Boys, a pop-up aimed at simply creating fun, tasty food that's portable.
Bao Boys aims to use as many local ingredients as possible and to support local farmers. They already have served at such events as Art + Flea and the Wounded Warrior Project. Now they're ready for Eat the Street, which takes place tonight (Friday) from 5-10 p.m. at the Makers & Tasters in Kewalo Basin (1011 Ala Moana Blvd.). Here's the full menu for tonight's Eat the Street, which has a Korean theme.
Their bao are one for $5, two for $9 or a trio for $13.
Bao Boys
www.BaoBoysHI.com