Ballin'
Robert McGee's new spot, Meatball Hawaii, does one thing and does it well.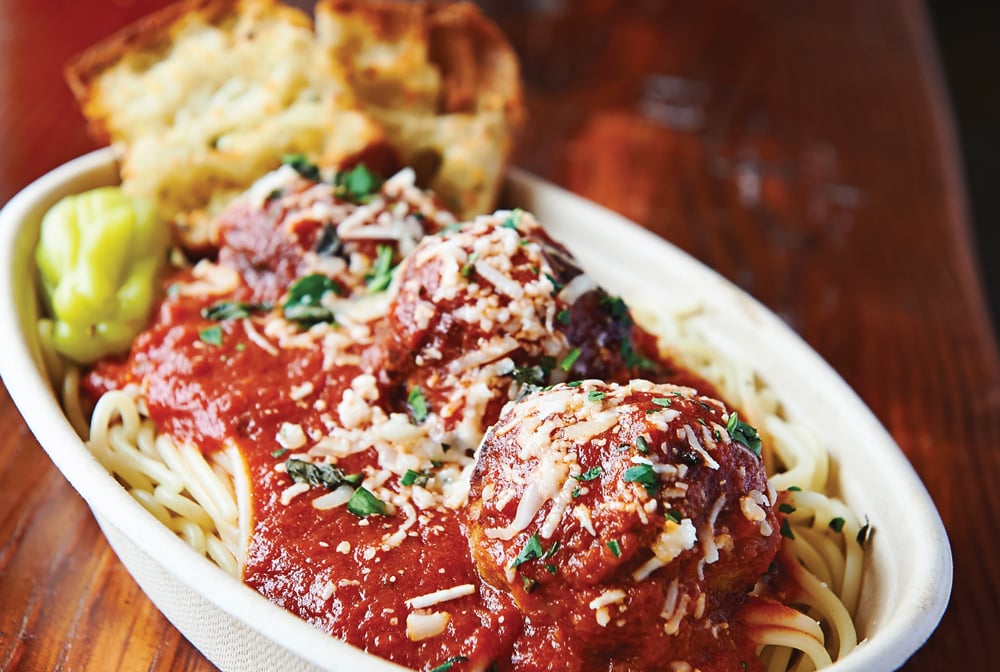 From the minute word got out that chef Robert McGee was working on a meatball-themed eatery, we couldn't wait to get our balls on. Because if the burger at his former restaurant, The Whole Ox, was any indication, we knew we were in for some seriously delicious balls of meat.
Meatball opened in March on Kapahulu Avenue in the former home of Mac Nut House (and, before that, La Bamba) as a tiny, white-washed, casual dining restaurant that does one thing well. The concept goes like this: You pick your kind of meatball (beef, spicy pork, chicken, seafood or veggie), sauce (marinara, kimchee marinara, mushroom gravy or bacon alfredo) and starch (spaghetti, shells, risotto, polenta, fries, rice or a hoagie), and any add-ons (calamari, fried eggplant, wings or crispy rice balls). You can even build a meatball loco moco by adding a fried egg to your dish.
After a few visits to Meatball, the approach to the grind is less about all the individual components, and more about finding the perfect combo. Not that the individual components aren't good, but the good chicken balls are extra good when smothered in the bacon alfredo sauce.
Winning combo No. 2 turns out to be the spicy pork balls with the kimchee marinara on a hoagie with provolone cheese. It's New York by way of Honolulu—super East-Coast hoaginess with the familiar bite of kimchee. Rounding out our top three favorite Meatball combos is the seafood balls with spinach pesto, an off-menu sauce that we hope becomes a regular. We got ours with the risotto, but next time we'll match it with spaghetti or shells. We like risotto rich and creamy, though still light, with al dente rice and a good hit of cheese. This risotto wasn't quite there, and left us wishing instead for its perfect polenta counterpart. Have we mentioned that the polenta at Meatball is downright dreamy?
All the balls, the meaty ones and the not-so-meaty ones, are savory and flavorful (we especially dug the tarragon-rich seafood balls and the smoky-spicy pork balls). The secret to any meatball is finding the balance between keeping the meat pure, risking dryness, and adding non-meat elements such as bread or milk, risking mushiness. Here, McGee seems to have found a happy middle ground. The sauces and starches—and starch-free options that include greens and salads—complement the balls beautifully and, if you can stand to add yet another element to your meal (you know what they say about too much of a good thing, though we don't ascribe to it), add the crispy calamari, because Meatball tosses pepperoncinis in the fryer with the calamari, and it is so, so good.
Meatball Hawaii, 847 Kapahulu Ave., balls and sauce from $8.50, hoagies from $11.25, add-ons and side dishes from $3, meatballhawaii.com