Awesome eats this Friday: The Pig and the Lady party mix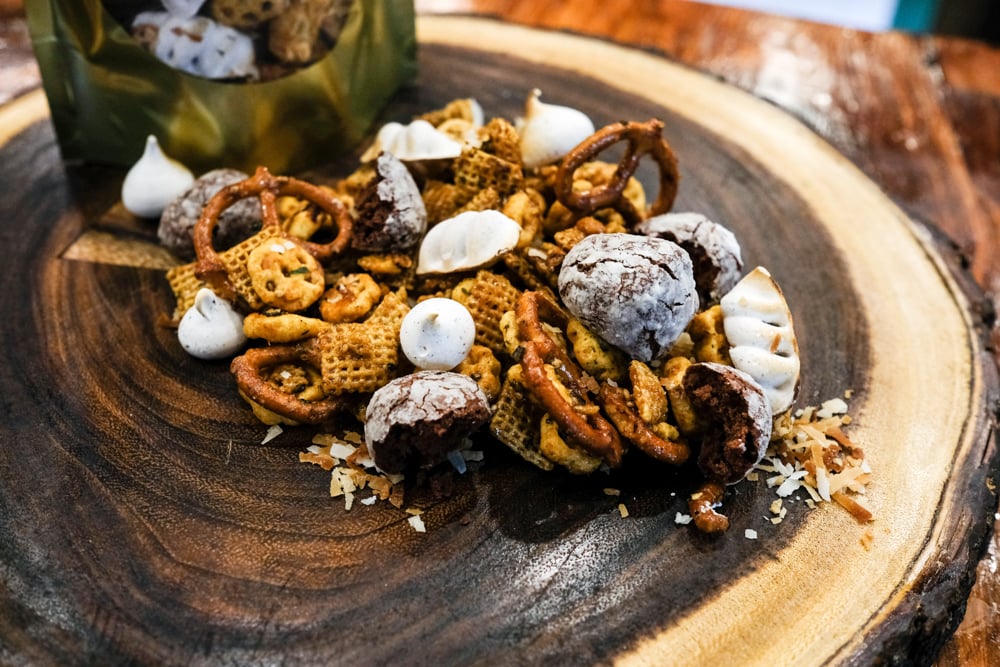 Are you as excited for Halloween as we are? Well, the spooky season just got better: Chinatown's Pig and the Lady has created a gourmet party mix for grownups that will make you forget those bags of supermarket candy.
We're talking about a crunchy, sweet and salty treat that packs a little heat. Pumpkin spice meringue, black pepper meringue, chocolate crinkle cookie bits mixed with Honeycomb cereal, Chex mix, toasted coconut and pretzels. It's coming to the corner of Bishop and King this Friday for Awesome eats' three-hour downtown lunchtime pop-up.
We got to sample last week and we were instantly hooked. The pumpkin spice meringues are addicting and a hint of sriracha adds a mild heat that burns so good.
As always, you can pre-order below to reserve your dessert for pickup, or come to the corner of Bishop and King streets to buy:
Sriracha party mix with Honeycomb, Chex, toasted coconut, pretzels, black pepper meringue, pumpkin spice meringue and chocolate crinkle cookie bits., $10
See you on Friday!
Here's our November lineup:
Nov. 4 La Tour Cafe – Tan tan ramen with pork belly, half pho-ggie (sliced beef, pho garnishes in a banh mi) and a macaron for dessert.
Nov. 11 Breadshop HNL
Nov. 18 Tanioka's
Nov. 22 (Monday) Hawaiian Pie Company's special pre-Thanksgiving pie pop-up
Pickup information:
Don't forget to bring your pre-order receipt when you pick up!
Friday, Oct. 28, 2016
Corner of Bishop and King streets (in front of 24 Hr Fitness and Territorial Savings Bank)
10 a.m. – 1 p.m. (or until sold out)