Awesome Custom-Made Hats By Illikoi Goods
Owner Anthony Duong creates stylish and unique bucket hats, caps and more.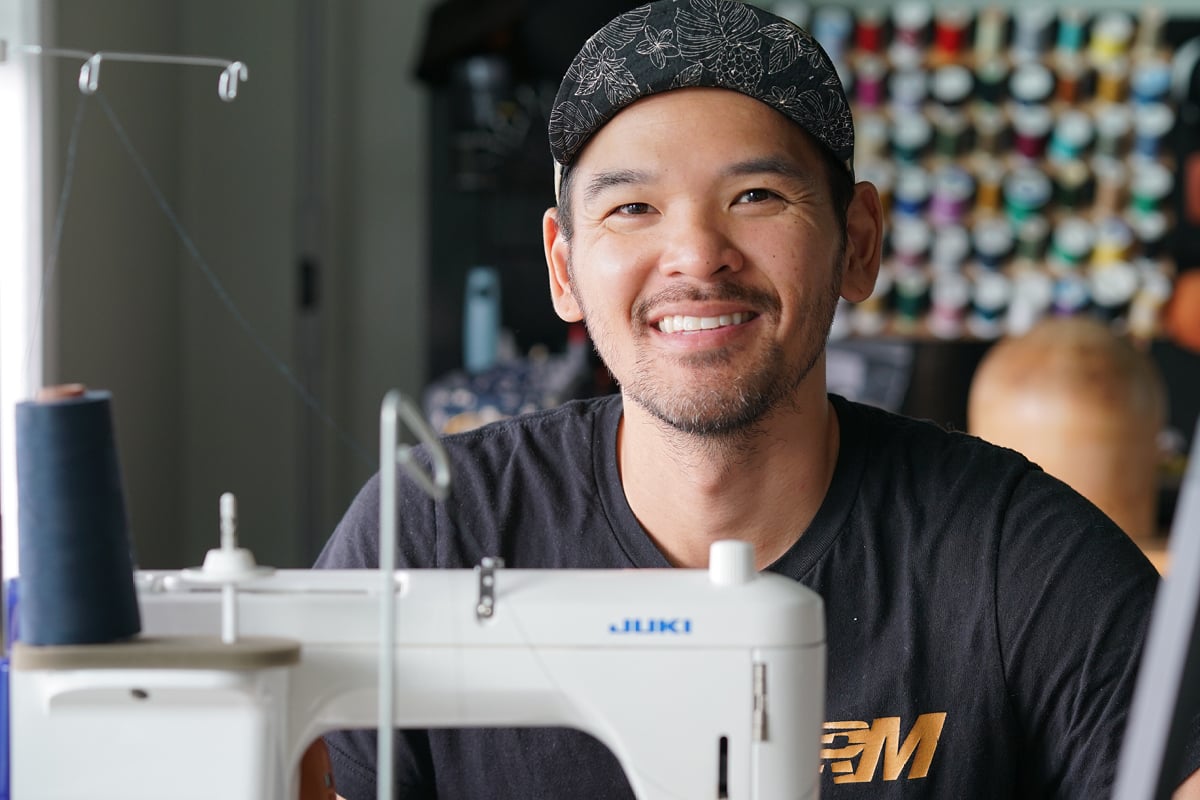 Anthony Duong started hat company Illikoi Goods in 2019, the same year he learned to sew and moved to O'ahu with his now-wife, Kristine. He had been living in San Francisco, where his nighttime job as a DJ got in the way of his plans to start a family. He yearned for a fresh artistic outlet, normal workday hours—and a sewing machine. "I spent days driving around Honolulu in search of one," he recalls. Then he met an older Filipina lady who worked at a sewing shop and chatted with her about his newfound passion. A few days later, she gifted him his first sewing machine, a bag full of thread and a stack of fabrics. She also gave him her spot at a weekend sewing class. Hats were his thing, since "I have super thick hair and if I don't comb it, it sticks straight up and looks crazy," he says.
After meeting up with Duong, it's apparent why people root for him—including the aunties at Kuni Island Fabrics and Kaimukī Dry Goods, who give him the inside scoops on fabric deliveries. His eyes twinkle and a radiant smile (including his darling dimples) pops up when he talks humbly about past projects, present life and future goals. "One of the most interesting, and challenging, hats I created was a bucket hat made from 20 bandannas," which belonged to a customer's grandfather, father and uncles, he says. "He wanted it all to be quilted together in a triangle formation and turned into a reversible bucket hat. I had no idea how to do either." The project sat for more than a year until Duong felt confident enough in his skills to take it on. "It took four days, a bit of math and lots of coffee," he says. "The result was exactly what he wanted, and I added quilting to my arsenal!"
Other custom projects have hit Duong in a different way. His voice softens when he recalls a couple dropping off a Home Depot apron that had belonged to a family member who passed away while on shift. "When they came to pick up the hat, immediately they started tearing up."
Duong also gravitates toward repurposing unique materials—Foodland grocery totes, USPS flat-rate envelopes, vintage Kāhala aloha shirts and Ralph Lauren plaid textiles—into six- and five-panel hats, the latter having a softer brim. "I love wearing five-panel hats, and the flexible brim doesn't poke my daughter's face when I kiss her," says the work-from-home dad of 7-month-old Leila. She snuggles up against him in a baby sling while we talk. "There are tough days when I need to be in the creative zone and there's a screaming toddler next to me who's refusing to nap," he says with a loving laugh as he looks at her. But, "I love being able to take my daughter on walks and spend bath and bedtime together." He wears his girl-dad hat proudly.