At last there's pizza at Appetito Craft Pizza & Wine Bar
Light, airy crusts smothered with toppings were worth the wait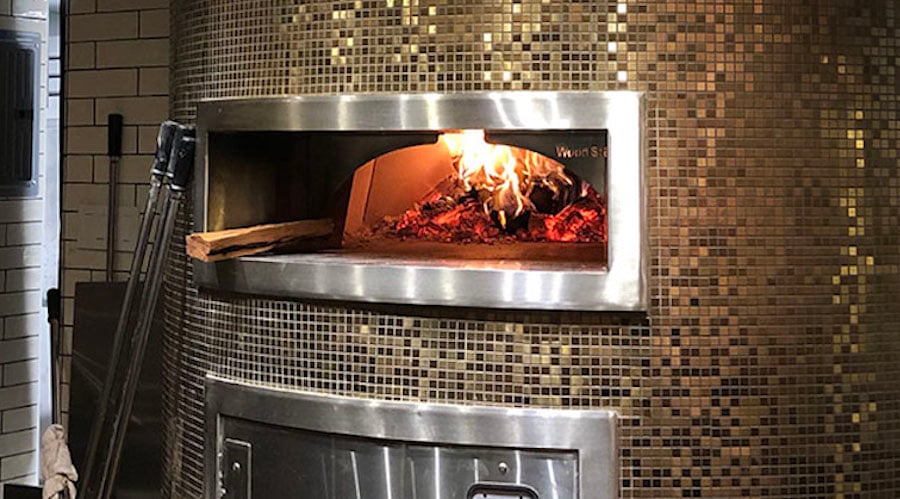 When Appetito Craft Pizza & Wine Bar opened in Waikiki last fall without pizza, I held off. I love pizza, so I decided to wait until they were done testing out their pizza ovens. Now those ovens are fired up and cooking.
It turns out Appetito has a plethora of appetizers, some meaty entrees and several pastas in addition to pizza. Plus there are happy hour discounts (daily 3 to 6 p.m.) like crispy fried portobellos ($6)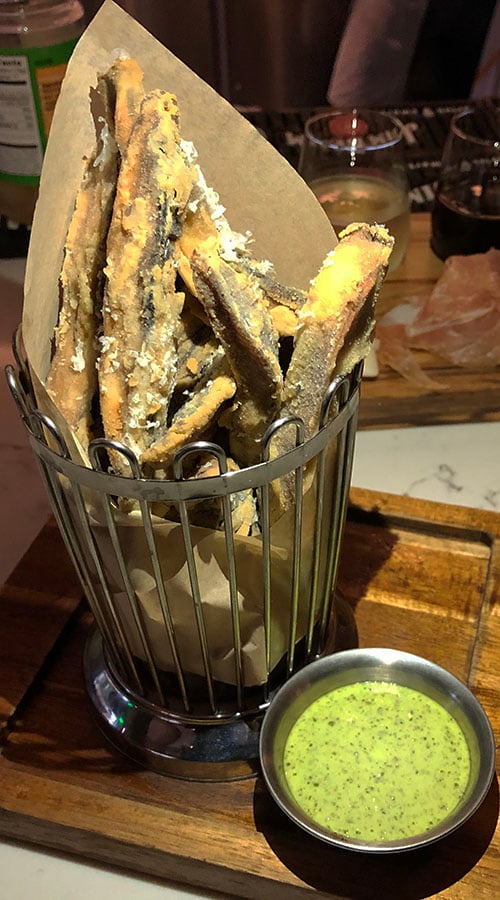 If you're there during happy hour, get more than one order of the fried portabello. You'll thank me later. Each piece is lightly coated with tempura batter and sprinkled delicately with Parmesan cheese. Dunked in the accompanying basil pesto dip, each one is a tantalizing umami experience. The only reason I don't get two orders is because I want to save room for dinner.
Our server's recommendations: Naomi's spicy meatballs ($12), Ewa corn fritto tower ($14) and cauliflower fritto ($9) for apps, prosciutto ($21) and quattro formaggi ($18) pizzas, bistecca alla fiorentina ($48) if we feel like sharing a meat entrée, and garlic shrimp casarecce ($23) for pasta. We decide to try a little bit of everything.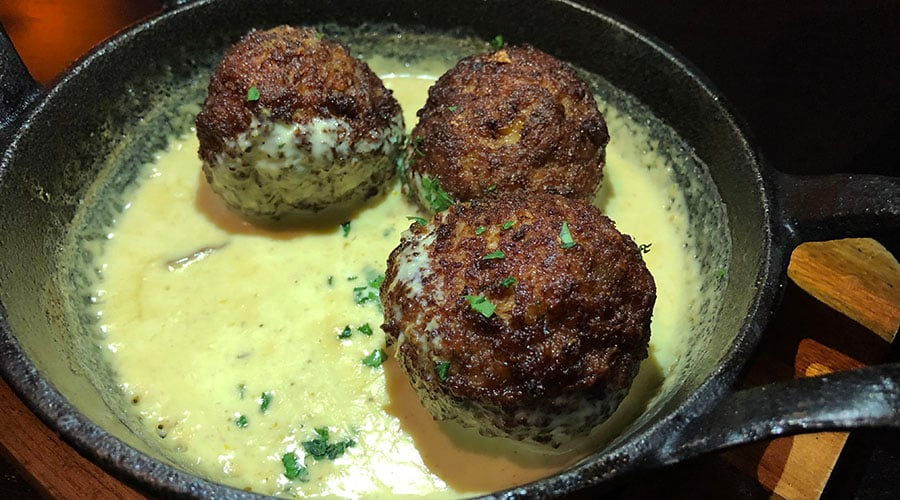 Naomi's spicy meatballs are tender and bursting with flavor. They come in a green curry sauce that packs the perfect amount of spice — it won't burn your taste buds, but leaves a lingering kick.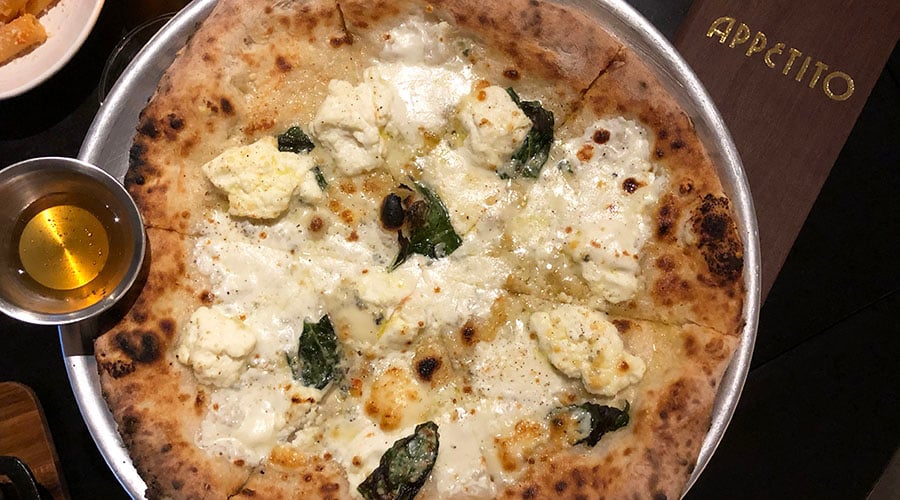 There's a specific way to tackle this pizza — take a bite, enjoy the savory flavors, then drizzle honey over the rest of the slice. I love the pizza as is, with lots of stringy, melted cheese (the ricotta's my fav). But the taste is amplified with the honey — sweet and sticky, it offsets the strong cheese flavors.
The pizzas have a mozzarella and San Marzano tomato base and are hand-tossed, Neapolitan-style, and cooked in a kiawe wood oven. Also, I'm told that chef Hiro Mimura of sister restaurant Taormina Sicilian Cuisine, who deveveloped the pizzas, worked in Italy for a few years to learn how to make them the right way. The crust is so light and airy that you can easily down slice after slice without feeling stuffed … until you're like me and go past the point of no return.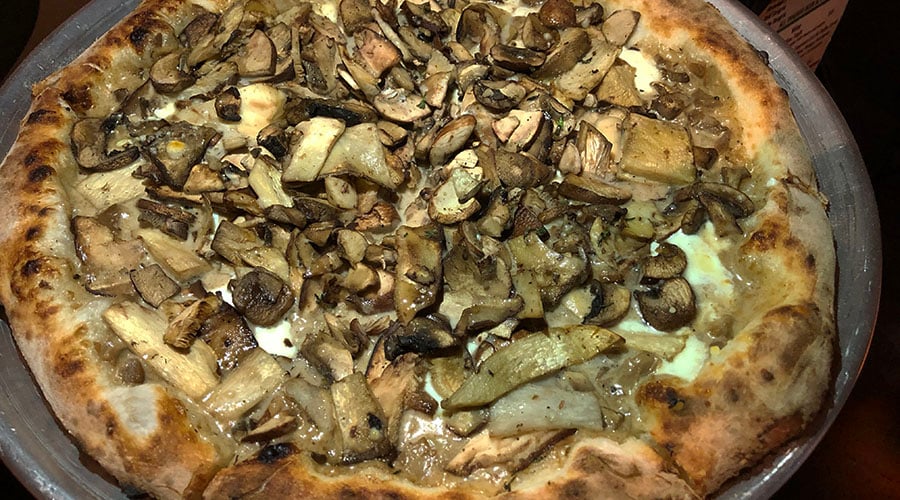 I don't think I've ever seen as many mushrooms as on the funghi pizza. This one's a little soggier than the quattro formaggio, but still cheesy and delicious. This is a great way to get your fill of veggies and carbs.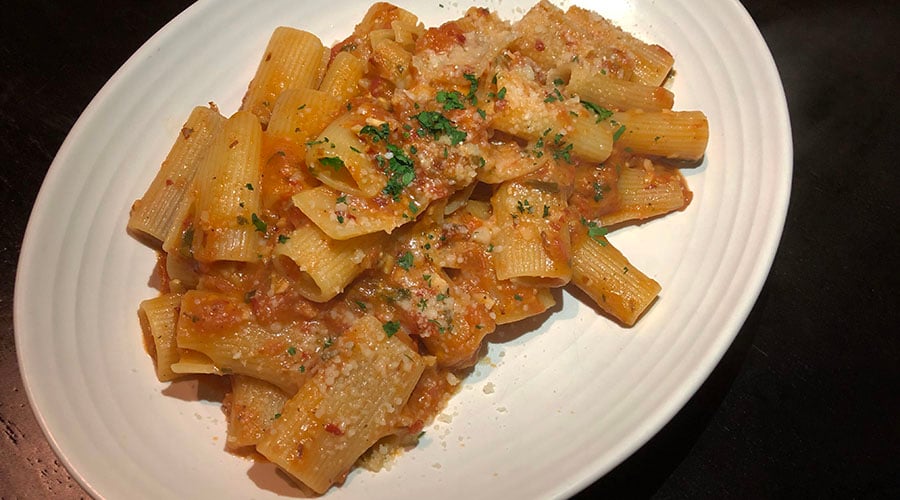 The pesto rosso pasta features a pesto made with sun-dried tomatoes and almonds and not the green version I'm more familiar with. The noodles are chewy and slightly firm, and I like the slightly nutty flavor from the almonds. Now I know not to assume that pesto = green. I'm not mentally prepared for so much tomato in the sauce, but my tomato-loving boyfriend is delighted with this entrée and mops up my leftovers.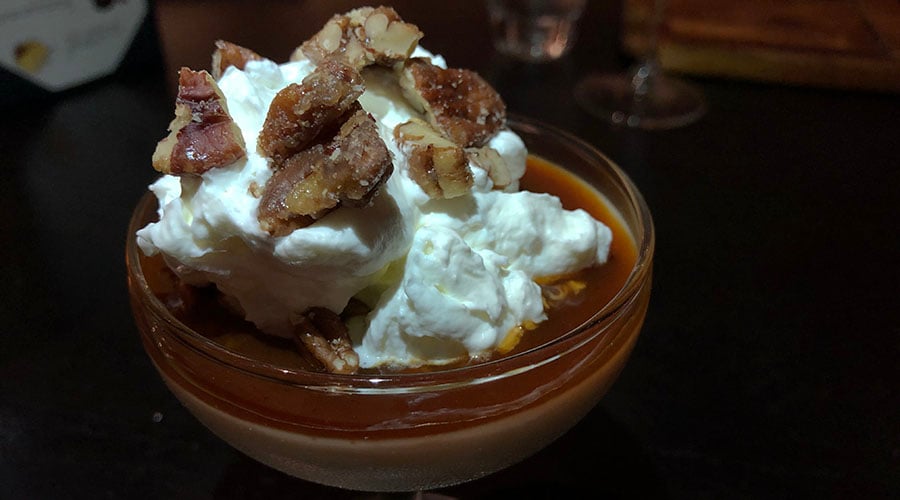 For dessert, buddino turns out to be the perfect salty-sweet treat to finish our feast. The creamy butterscotch pudding is indulgent and sweet but not overly rich, thanks to the salty aftertaste from the caramel. Pecans add a nice contrasting crunch. I wish there were more.
I'd return to Appetito for the pizza alone — that quattro formaggio with honey is my new favorite pie. But if you go for dinner, expect to be there for a while — the servers are nice, but service is slow. Still, it's not something that can't be fixed in coming months, and for the pizza, it's worth it.
Appetito Craft Pizza & Wine Bar
150 Kaiulani Ave.
Waikiki
922-1150
Validated parking at Ohana East ($6 for four hours)