An interview with Micky Fitz of The Business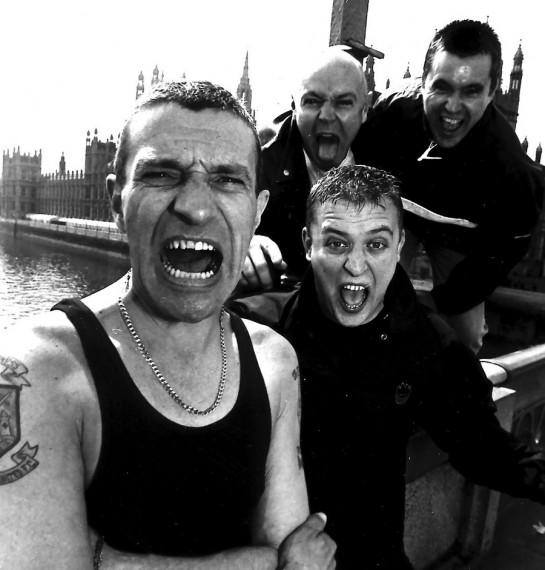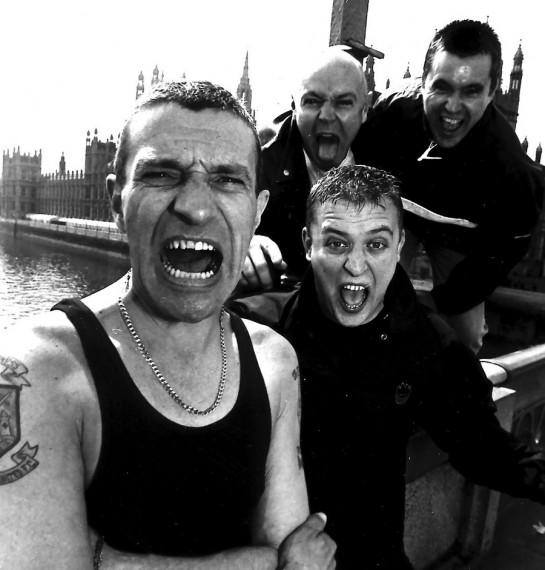 Veteran UK Oi punks The Business have been around since 1979, making music, stirring up crowds and giving voice to the issues of working class punks and skins everywhere. Their style has been referred to as "pub rock," "street rock" and "punk n roll," and their songs tell colorful tales of sports team triumphs, motorbike excursions, bar room theatrics, factory life blues and the eternal fight against authority. The current lineup consists of original member Micky Fitz (singer), along with Steve Whale (guitar), Lol Proctor (bass) and Micky Fairbairn (drums). Together with legendary ska band The English Beat, they'll be headlining Jet Setter Productions' Cafe Blue Hawaii, the new vintage scooter rally happening this weekend. We got a chance to speak with The Business frontman Micky Fitz about everything from food to the state of the punk scene to the scars he rocks from a teenage scooter accident.
The Business
(with opening bands Siblings, 13th Legion & Hooligan's Harp)
Friday, May 31 at 7 p.m.
Loft Gallery and Lounge
$15, 18+ (Tickets available here)
Have you ever been to Hawaii before?
No, never. That's why I'm looking forward to it so much. A couple of friends have been there, and we've heard it's fantastic. We're here for the show and then we've got a couple days to see the Islands. I wouldn't mind getting some color!
I'm excited, though. Even though it's part of the USA, it's still Hawaii. Growing up as a boy, (I know this is going to sound corny), I watched the original "Hawaii Five-0" with Jack Lord, and that made quite an impression. Hawaii is different from the rest of the US because it's across the water and has better weather, different people, different food. I'm actually looking forward to trying the food. I love food, the more traditional and multicultural the better. We'll eat anything.
What's the punk rock scene in the UK like now?
Very good, as strong as it's ever been. Europe, America, it's all leveled out now. It's not like the early days, where there was ska and there was punk rock, it's just always going to be there. It's like rock & roll, or funk, punk is always going to be there.
You've been all over the US on tour; any other countries?
My mother always said, "Don't ask he's what countries he's been to, ask him what countries he HASN'T been to."
You guys have been at the heart of the Oi punk movement since the beginning. Have the issues changed, as the world changes?
Some of them are the same. People out of work…is an old problem, but it's relevant now. Computers have put people out of work. There's so much work that can be done on the computer now that used to take 10 people now. I'm actually a technophile, I love technology, have to have the next new phone. I love cinema and TiVo, but I am not a social networker because I think it's taken away personal touches, and privacy. I'd rather use the telephone.
What is The Business up to musically these days?
There's a new single we released last December, and we're on a couple recent Oi compilations.
I'm very proud of singles nowdays. It's the way I buy music, and the way my son (he's 22) buys music. Most people I know listen to iPods when they're driving, and singles work for that. I think singles are the forward thing…also the reverse thing, because when I was a kid, I'd buy singles on vinyl.
What are we going to hear at the show? Classic stuff? New stuff?
Haha, that's something we've discussed. I do know that if I paid good money to see a band, I certainly do not want to hear their new album. I think what we're going to do is focus on the stuff that people have had access to for a while.
Have you played with The English Beat before?
You know what, I'm not sure… I don't think so. But we've bumped into them at different airports throughout the world. We know who they are, and they know who we are. We don't know them personally, but we know them as a band. It was different scenes back in the day. They were of course more mainstream, and they were a lot more popular than us.
It's nice to watch people you know playing different types of music. If you get boxed in a corner of one particular genre, it's no good.
Since you'll be performing for a scooter rally, have you ever ridden a scooter?
Yeah, I have… I have a scar to prove it.
Before I got a car, when I was a kid, I was into motorbikes. I wasn't a rocker, I was a skinhead, but I loved it. It was fast, reckless. But I went on holiday and I was very drunk. After about an hour of riding, I rounded this corner like I was cornering a motorbike, and the scooter just went straight from underneath me, and I went flying, minus the bike. I ended up in the hospital. I wouldn't mind having another go, but definitely will have to be more careful on a scooter this time.