A Special Valentine's Day Taste Test: We Tried 8 Sugarfina Cocktail Gummies
Cocktails and candy? In one bite? Yes, please! That's what we thought until we tried Sugarfina's cocktail candies. Sorry Ryan Reynolds, you may be hot, but your gin candy is not. Find out which one made it to last call.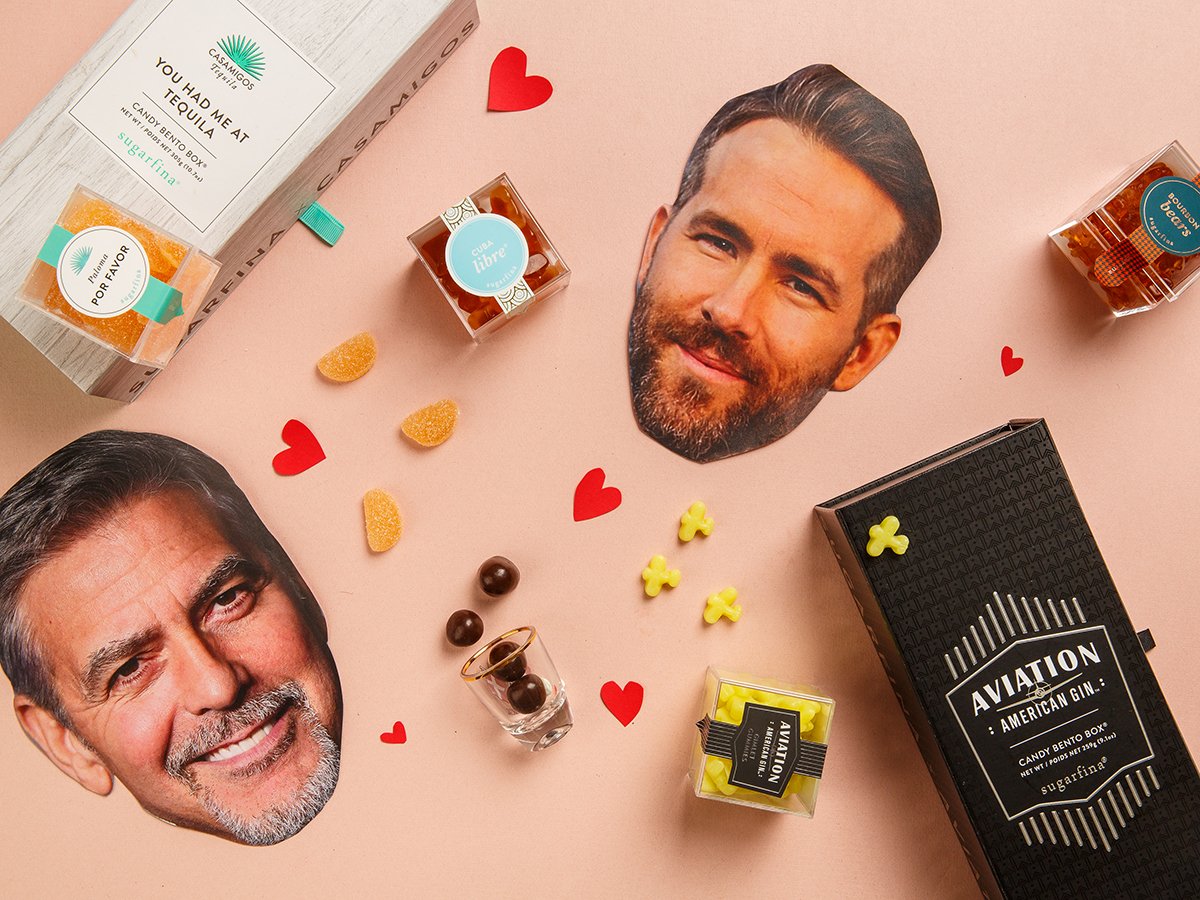 Giving chocolates on V-Day is the yoozh. We wanted to explore more exciting sweets for your sweet that would arouse them, in a PG way. Enter Sugarfina's band of boozy bears, sauced-up gummy sours and spiked chocolate cordials from confectionary collabs with George Clooney's Casamigos Tequila and Ryan Reynold's Aviation Gin. What girl wouldn't want candy from some eye candy? And, while some candies have actual alcohol, (looking at you cordials), some gummies are cocktail inspired giving us something to chew on.
Spirit Tasting Squad:
Marisa, special projects editor: When it comes to alcohol, I'm a simple man. Beer, wine, whiskey, pretty much anything easy and straight from the bottle. Nothing too sweet—bourbon, liqueurs, moscatos and mixed drinks are a hard no. And vodka … we are not on speaking terms.
Stacey, senior fashion editor: Vodka is my friend. Tequila shots make me violent. Never really had gin, but Ryan Reynolds is definitely a tall glass of water I would drink EVERY DAY! Oh, and I'm a gummy freak. I can down a whole bag of Haribo colas in one episode of This Is Us.
Brie, managing fashion editor: Vodka and gin are more my jam—I love me a nice Aviation cocktail or Gin Fizz. And most of my GNOs involve some sort of tequila, whether straight up or in an icy margarita.
Katrina, managing editor: My go-to drinks are an Old Fashioned if I'm feeling classy, and a rum and coke if I'm in the mood to dance. Vodka, tequila, mezcal, whiskey, beer, wine, whatever. Just not gin—tastes too much like the smell of cleaning supplies.
8. Bourbon Bears
Small cube, $8.95.
SM: It's a long, slow death of something that tastes like leather doused in simple syrup. Hard to explain, but it's beary, beary bad from smell to finish.
BT: Oh nooooo. A terrible toe jam-like odor wafts out as soon as you pop open the box. And the taste isn't far off—it's like a really awful butterscotch candy.
KV: DO NOT SMELL THIS. But honestly, the taste is fine, like a typical gummy. I enjoy bourbon but don't find it here.
---
SEE ALSO: Mid-Late Summer Has Made More than a Hundred Flavors of Ice Cream
---
7. Gimlet Gummies: Aviation American Gin Bento Box
Part of three-box set, $28.
SM: The favorable tart, citrus flavors fly away after three seconds. What's left? A (very) bitter, medicine-y ending.
BT: At least the Gin Fizz Bears had the decency to let you enjoy the sweet lime-y flavor for a bit before going bad. These plane-shaped gummies beelined for the bitter and stayed there. Until they landed in the trash, that is.
MH: These are lime-y for sure. I don't taste any gin, but I'm also not getting that bitter taste the others are talking about. It's just a mildly sweet, citrusy gummy.
---
6. Gin Fizz Bears: Aviation American Gin Bento Box
Part of three-box set, $28.
BT: Ugh. I'm calling these the Bad Chews Bears. They trick you by luring you in with a yummy lemony flavor at first and then take a sudden unexpected turn for the ultra-bitter. Then they mock you from the napkin you spit them out in.
KV: The citrus is a nice bright start, but it's like chewing all the way through the lemon to the pith. This tastes like pith!
---
5. Gin and Tonic Cordials: Aviation American Gin Bento Box
Part of three-box set, $28.
KV: This is why I don't like gin. This candy tastes like Windex at first. However, once the alcohol mixes with the chocolate in your mouth, it mellows out and is actually pretty good!
MH: At first bite, BAM! The gin explodes your taste buds with the bitterness of a thousand scorned exes. Then the chocolate takes over, which balances the flavor out a bit. I don't like chocolate, so not for me.
---
SEE ALSO: We Tried (Almost) Every Flavor at Via Gelato in Kaimukī
---
4. Give It A Shot: Casamigos Tequila: You Had Me at Tequila Bento Box
Part of three-box set, $28.
SM: Put the whole dang thing in your mouth. Unless you want a waterfall of liquor spilling down your face. Separately the choclate and tequila hold their own smooth, full-bodied flavors; together, it'll te-KILL-ya tastebuds.
KV: Yum! This was the first one I tried and might be my favorite. Because if I'm getting alcoholic candies, I want to be able to taste the alcohol. I didn't find the tequila overpowering at all and I like that crunch you get from the layer of crystallization between the alcohol and chocolate.
---
3. Paloma Por Favor: Casamigos Tequila: You Had Me at Tequila Bento Box
Part of three-box set, $28.
MH: I love grapefruit! I can get behind these. It's not too sweet, even with the granulated sugar coating.
SM: The slight grapefruit taste doesn't sucker punch you and there's a sugar-crystal crust like those found on ol' school gum drops. Biting it requires some tough tuggin' though—think beef jerky kind of yanking.
---
SEE ALSO: We Tried Every Mini Pie at Hawaiian Pie Co.
---
2. Shake Your Margarita: Casamigos Tequila: You Had Me at Tequila Bento Box
Part of three-box set, $28.
BT: Yum! The alcohol taste is much stronger in this one than others—it's like a tiny tequila Jell-O shot. All that's missing is a rim of salt and some lime tortilla chips on the side.
MH: Again, lime-y. Not a bad flavor, but I don't taste anything else, tequila or otherwise. Am I an alcoholic?
---
1. Cuba Libre
Small Cube, $8.95.
KV: Like I said, my go-to is a rum and coke. I'm totally getting lime and cola here, but where's the rum flavor? These nonalcoholic gummies really don't have much flavor from the alcohol they're using.
SM: YUM-EEEEE GUMM-EEEE! Haribo, you're no longer needed! Our winner is a squishier, stronger-tasting gummy cola with a perky pop of citrus. All it needs is some lemon peel to make it local li'dat.
BT: Mmmm. These are super addictive—super soft and silky in texture, like big gummy cola pillows with just a hint of rum. For me, the lime is really faint, but they're so good I don't really miss it.
---
Casamigos Tequila Candy Bento Box, Bloomingdales, Ala Moana Center, (808) 664-7511; Aviation American Gin Bento Box, Bourbon Bears and Cuba Libre, Neiman Marcus, Ala Moana Center, (808) 951-8887.