No Name BBQ Sandwich: A Quirky Banh Mi Shop Sprouts Up in Kaimukī
No Name BBQ Sandwich is making a name for itself with flavor-packed banh mis on housemade bread.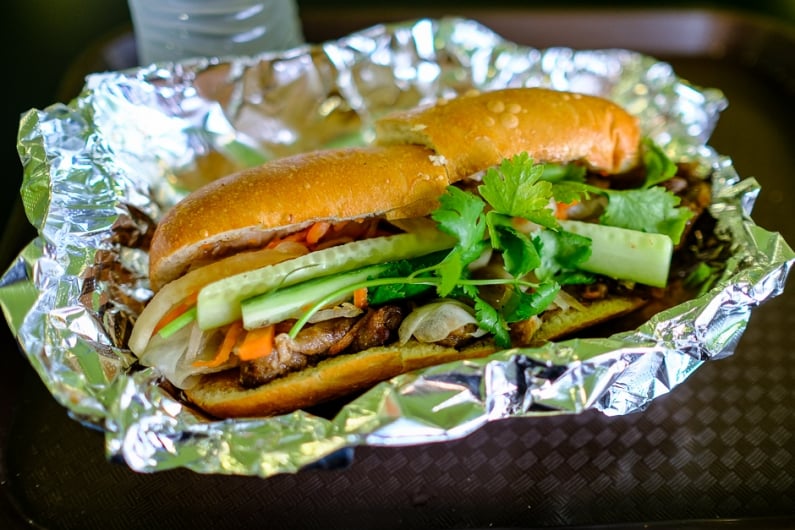 Note: Prices have been updated as of April 2021.
For the first month that I lived in California, I lived in Little Saigon. Home to the largest Vietnamese community outside of Vietnam, it sprawls out of Westminster and across the neighboring cities of Garden Grove, Fountain Valley and even Anaheim. Signs are bilingual, incense fills the air and banh mi sandwiches are buy two, get one free.
I posted this photo two weeks after moving to California. It was $2.50 for 1 banh mi.
It might have been a crime to pay more than $3.50 for one and because of this, I think I averaged at least one banh mi a day. My wallet was happy and so was I. Truthfully, if I had to eat one sandwich for the rest of my life, it would be banh mi.
A warm, crusty baguette slicked with Vietnamese mayo and layered with thin strips of sweet barbecued pork, pickled daikon and carrot and fresh cucumber and cilantro. If you were blinded by hunger, you might miss the strip of jalapeno (seeds and all) lurking in the greens. A couple of bites in and you were sharply aware of its presence.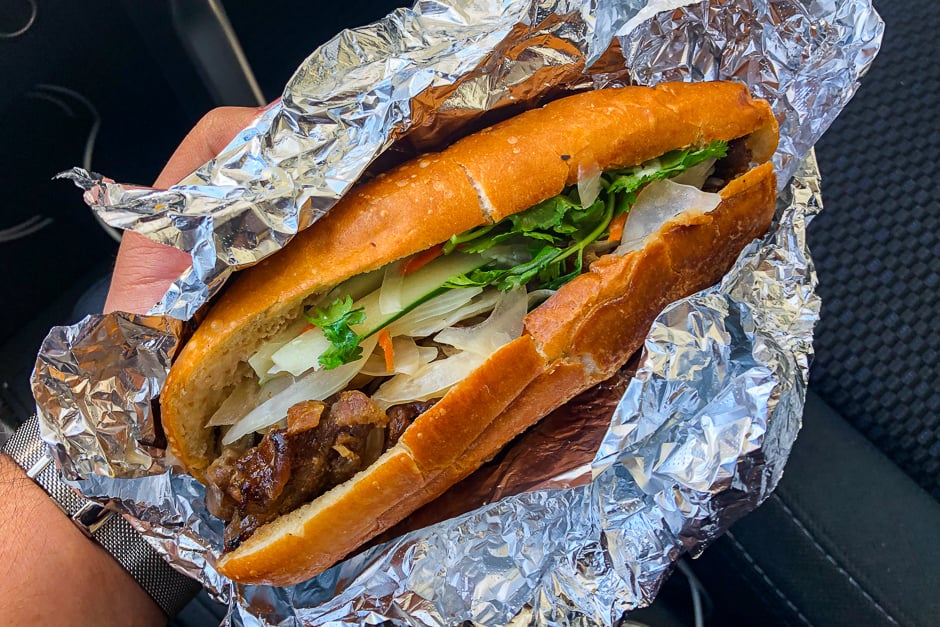 Sitting in my car parked on Wai'alae Avenue, I munch in silence on my barbecue pork banh mi from No Name BBQ Sandwich. It's my third sandwich from No Name and it brings me right back to those days as a homesick 22-year-old comforted by a warm sandwich on the cheap. No Name's bread is uniquely airy and soft: somewhere between a crusty baguette and a wheaty country loaf. A banh mi artist named Annie confirms that they're baked on-site while noting that the pickles, pate, ham and even the mayo, which skews more creamy and sweet like Kewpie, are also made in-house. That's legit.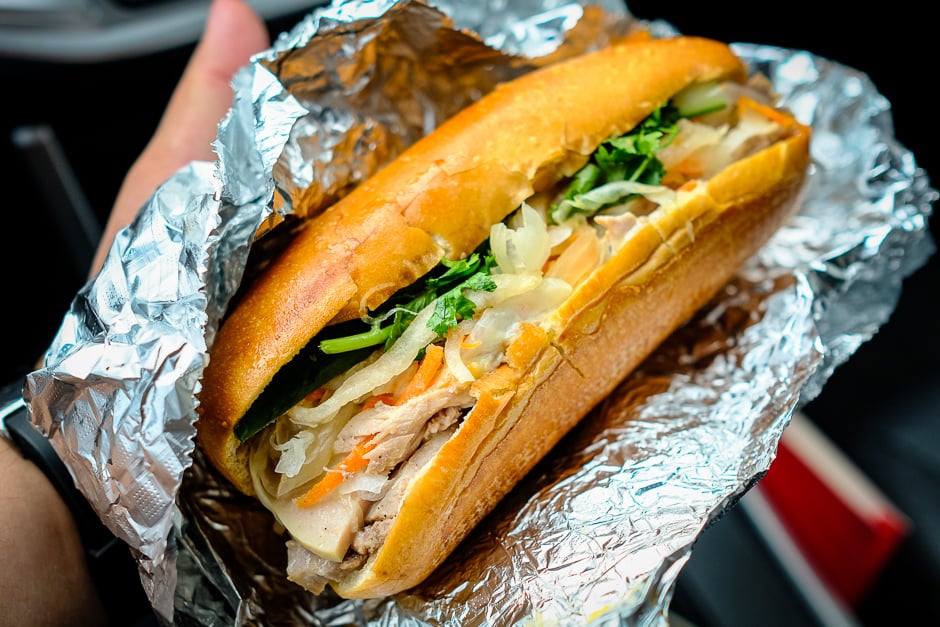 It's a solid sandwich in any book. Other options include a breakfast banh mi with a fried egg, bacon and mayo, a roasted chicken banh mi and two veggie options.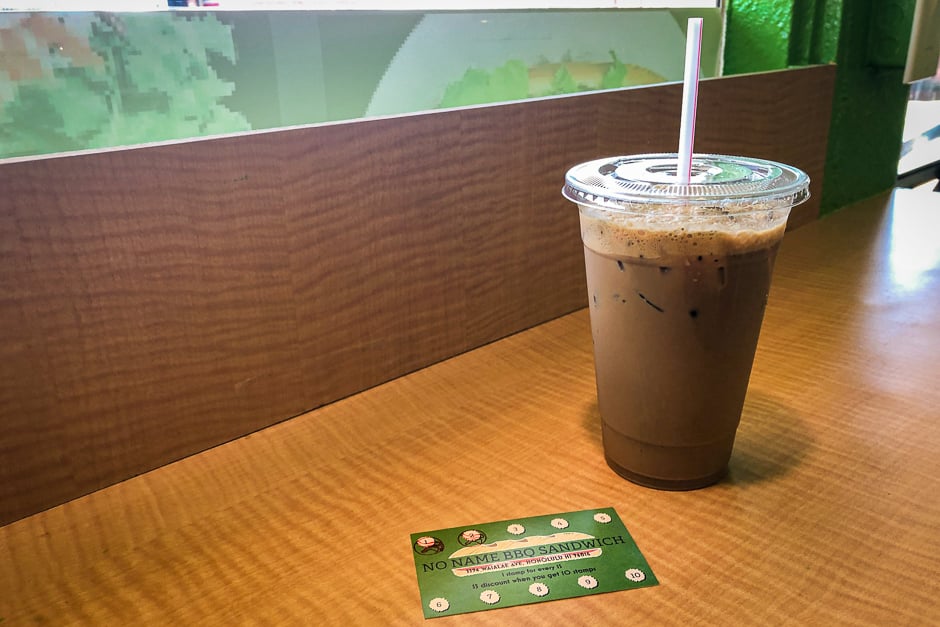 Vietnamese-style iced milk coffee or ca phe sua da is notoriously strong and No Name BBQ's is no exception. It has a remarkably nutty note but I don't mind. A small is $2.99 while a large is only $1 more.
No Name BBQ Sandwich opened in late June next door to Juicy Brew Kaimukī on Wai'alae Avenue. I saw my friend enjoying a banh mi on her Instagram story and immediately sought it out because if there's a shortage of anything in Hawaii, it's good banh mi. They also offer a loyalty stamp card—you earn a stamp for each $5 spent and receive $5 off when you've collected 10 stamps.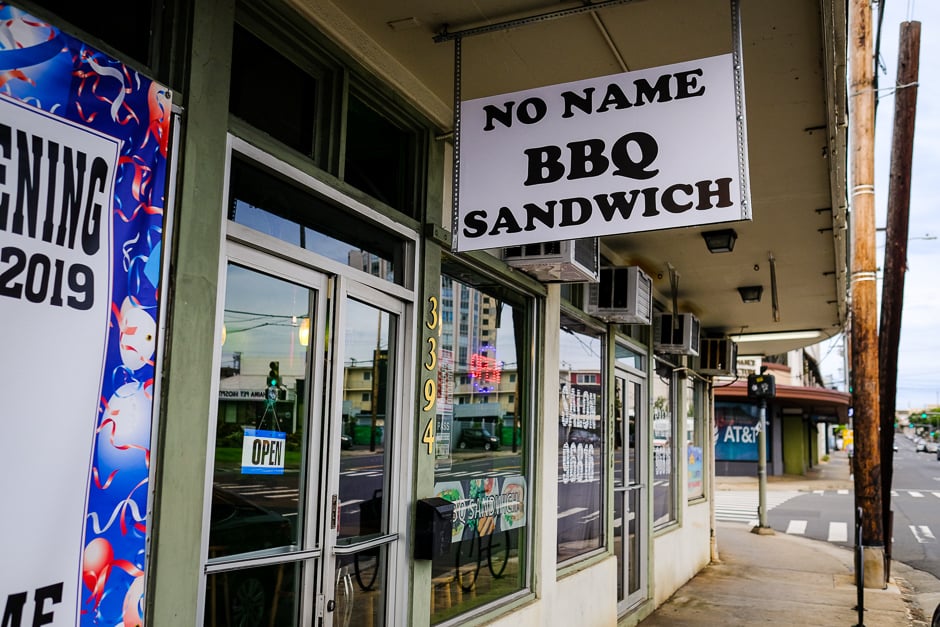 And about the shop's name, or lack thereof, it's as quirky as the shop itself—the interior is painted lime green, features framed photos of sandwiches and also offers shave ice. Like, what? I chuckle it off as a Vietnamese thing. I'd argue that the only part that's missing is the number "19," to commemorate opening in 2019.
3394 Wai'alae Ave., (808) 200-1268