A Must for Your To-Do List: Wahiawā Botanical Garden
It's wild and wonderful out there.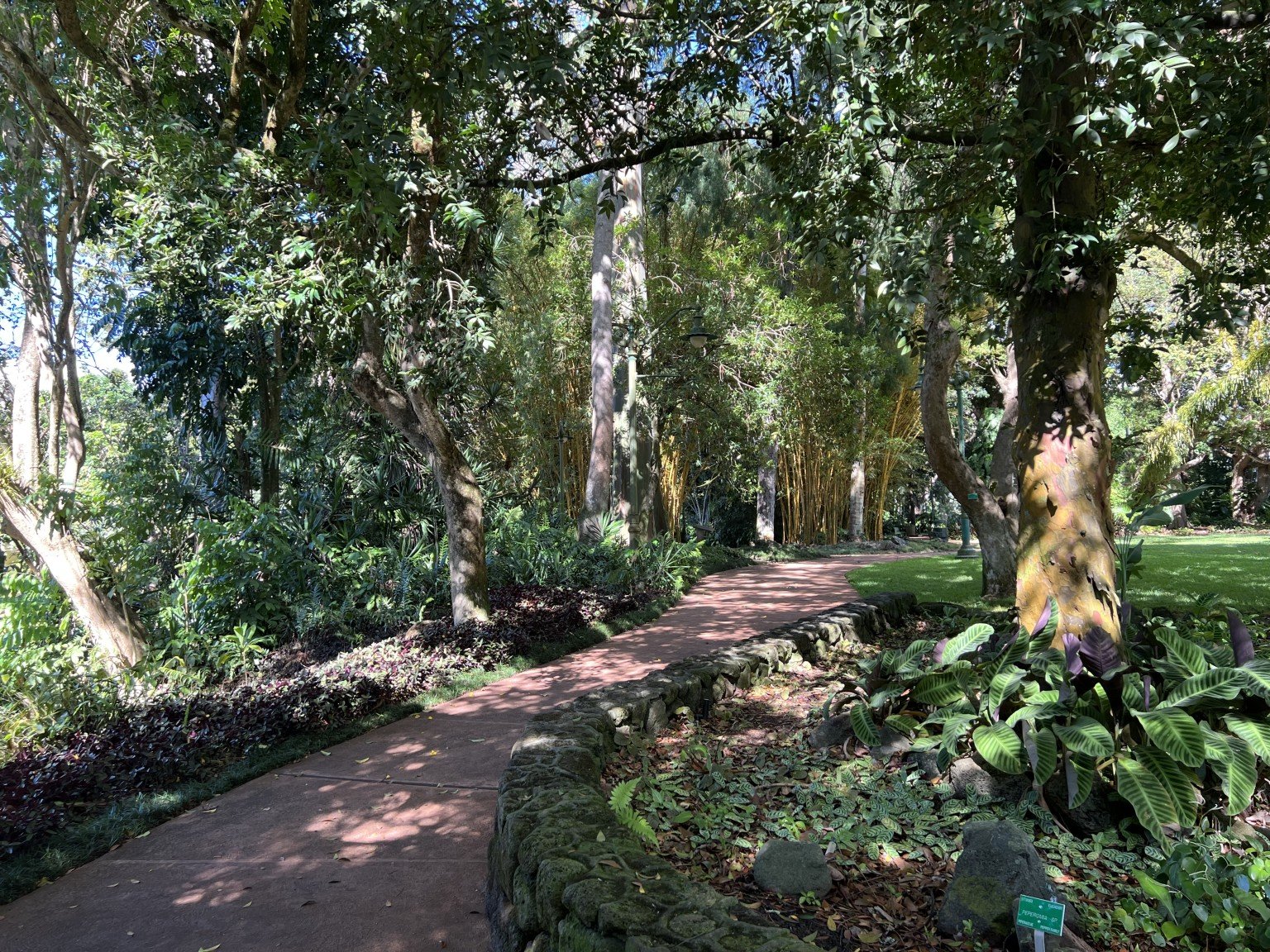 It's a bit off the beaten path, between the Wai'anae and Ko'olau mountain ranges in Central O'ahu. But that means you're bound to have a lot of space—27 acres to be precise—to yourself for peaceful wanderings and dreamy, solitary strolls. And who doesn't love an excuse to get out of town, whichever town that might be, to see and do something new? Wahiawā is often seen as just a stop on the road to the North Shore, but we love an excuse to visit some of the unique spots that call this little neighborhood home, including Mānoa Honey & Mead, Uber Factory and Surfers Coffee Bar.
You can get lost in this city-owned garden, which opened o the public in the late 1950s. Before that, starting in the 1930s, it was used as an arboretum for sugar planters. Seriously, this place is like a maze. Just off the parking lot, you'll find a wonderfully landscaped lawn ideal for leisurely picnics, surrounded by peaceful, paved paths. Venture down the walkways to the lower tier of the garden, and you'll find walking trails that take you past clusters of vines and walls of foliage, majestic trees, Native Hawaiian plants, ferns and various plants.
Head even deeper into the garden, away from the parking area and in the direction of California Avenue, and things get even wilder. We're talking rocky, unfinished paths and sunken staircases that lead nowhere like some post-apocalyptic ruin. Follow steps up to solitary lookouts and explore hidden nooks tucked away behind curtains of leaves and suddenly you're in your own personal little fairy tale.
You can go at your own pace. Freedom! The emptiness and wildness lend itself well to solitary time-seeking visitors. If you would like a tour, though, download this self-guided one from the garden's website.
---
SEE ALSO: A Local's Guide to an O'ahu Road Trip: Wahiawā to Salt Lake
---
It's free. Any day of the week, stop by from 9 a.m. to 4 p.m. There's no admission fee, and the place is closed only on New Year's Day and Christmas Day. A tip: Bring insect repellant, and consider wearing long sleeves and pants to prevent mosquito bites.
It's really, really beautiful. Magnificent sky scraping trees, a tiered set up with a valley like feel—this place really gives new meaning to the term "urban jungle." Whether you're a lounger, a peace seeker, a photographer or an artist in need of inspiration, this little garden has a lot to offer!
—Free, 1396 California Ave., Wahiawā, honolulu.gov
---
SEE ALSO: Family Guide to Exploring Wahiawā Botanical Garden
---