A cute French bakeshop now calls an orchid nursery home
These sweet treats of Waikane are worth stopping for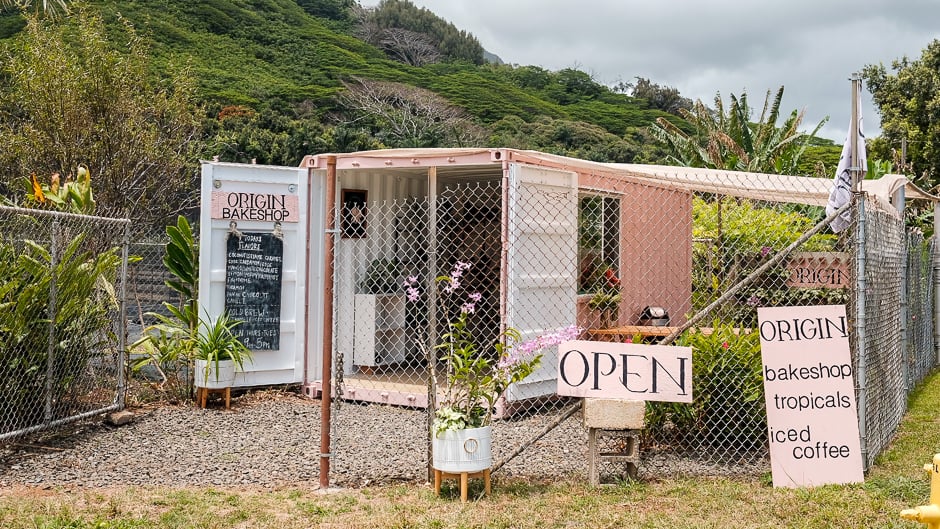 Windows down. Breeze blowing. The meandering drive along Oahu's windward coast is unforgetable. I've done it many times but there are a still a few surprises around each turn.
Rounding the bend from Kualoa Ranch from the North or just past Waiahole Poi Factory from the South, you're greeted by lushness of Waikane Valley. A predominately agricultural part of Oahu for generations, it is home to several nurseries and farms due to its unabashedly lush nature. It is also now home to Origin Bakeshop, a French-inspired patisserie that has taken over two converted shipping containers nestled on the grounds of Nona's Orchids on Haupoa Street.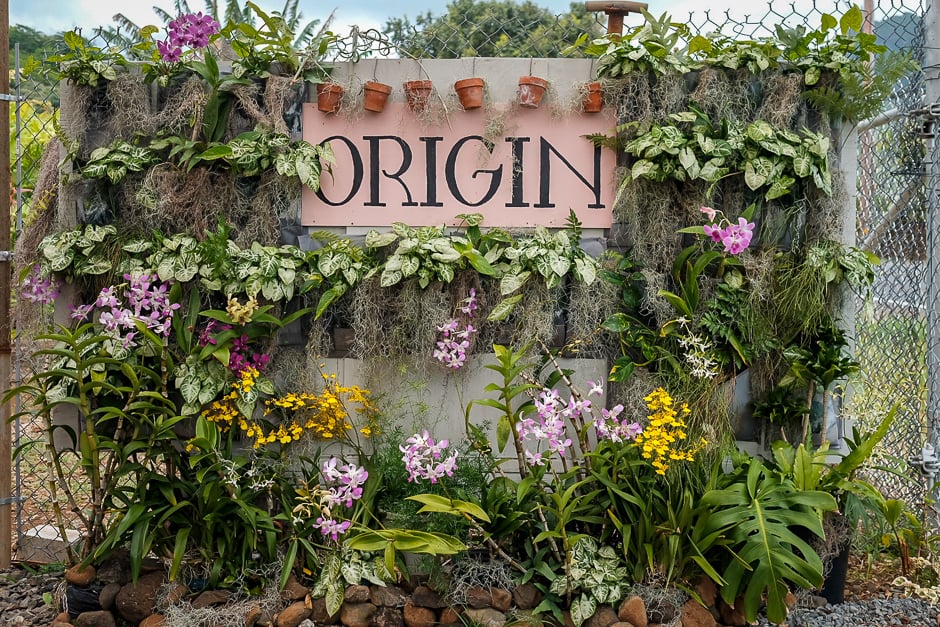 Two questions run through my mind when I pull up to park on the side of the road:
Do they sell canele?
What is a French bakeshop doing out in Waikane?
The baby pink container houses a number of tropical pants for sale in addition to a counter stocked with packaged pastries in a plexiglass display. The vibes are totally casual but it's a bit like shopping for jewelry – befitting of the gems they have been cranking out. I arrived around noon on a Sunday and by then a few of the pastries had been wiped out by folks from the nearby church.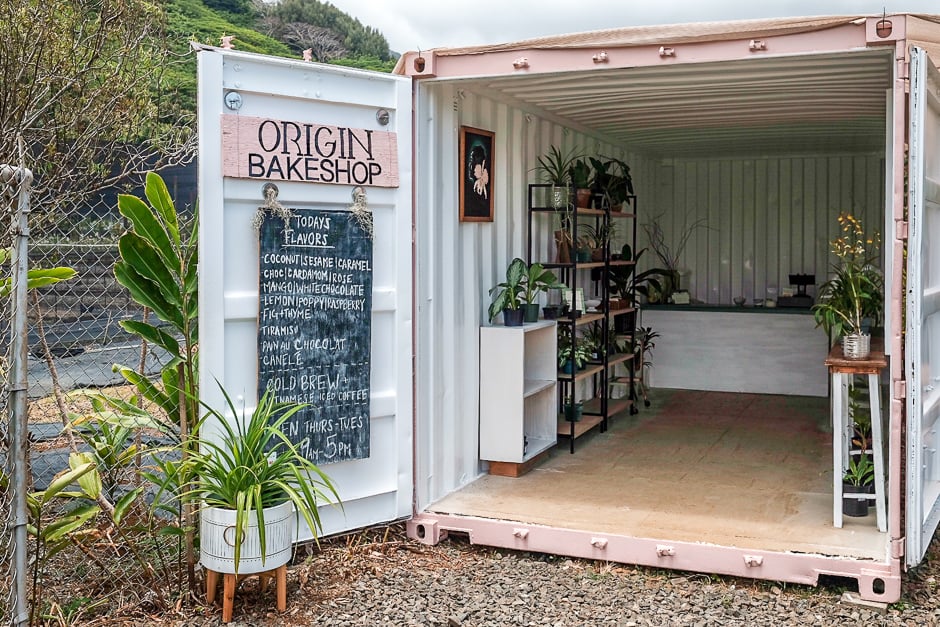 When I peered into the case, I found two remaining packages of caneles and did a happy dance in my head. Hailing from Bordeaux, the canele is a finnicky pastry to master. Made with milk, eggs, sugar and vanilla, their dark and crunchy caramelized exterior gives way to a chewy custardy center. Like kouign amann, they're a challenge to perfect in our tropical climate but a growing number of patisseries on Oahu are starting to make them.
The key to mastering canele is all about striking the perfect balance of texture and flavor. They should be uniform in color outside and have a full, almost mochi-like center. At Origin, I think they're still working on perfecting them but they are close.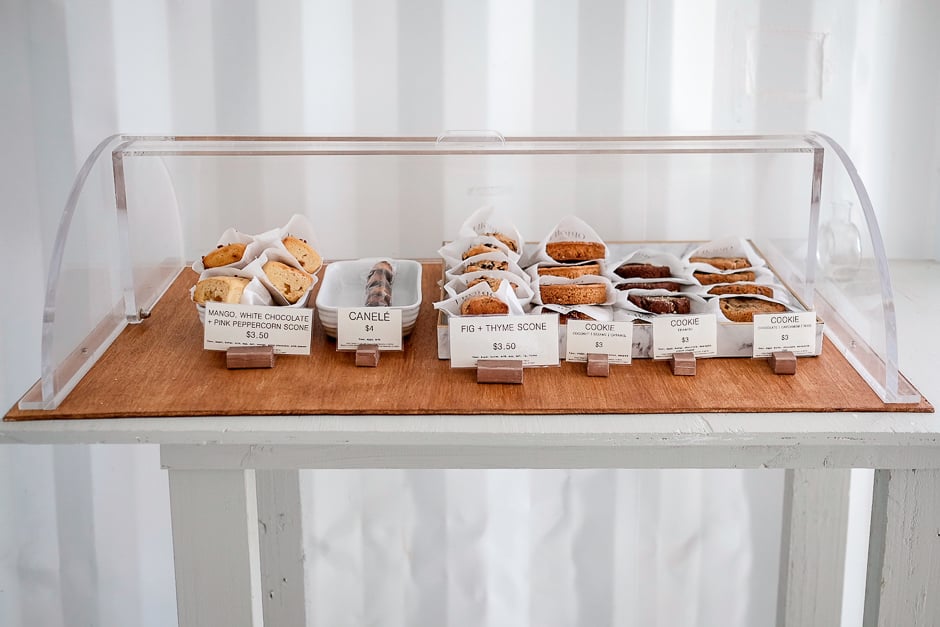 I stuck around to try the first batch of cookies and scones I had bought. While I was eating, I saw a man carrying a tray of warm goodies packed and ready to be displayed. It seems they're baking throughout the day so you'll just have to be lucky when it comes to timing. Just don't go after I've made a pass … I'm slightly kidding.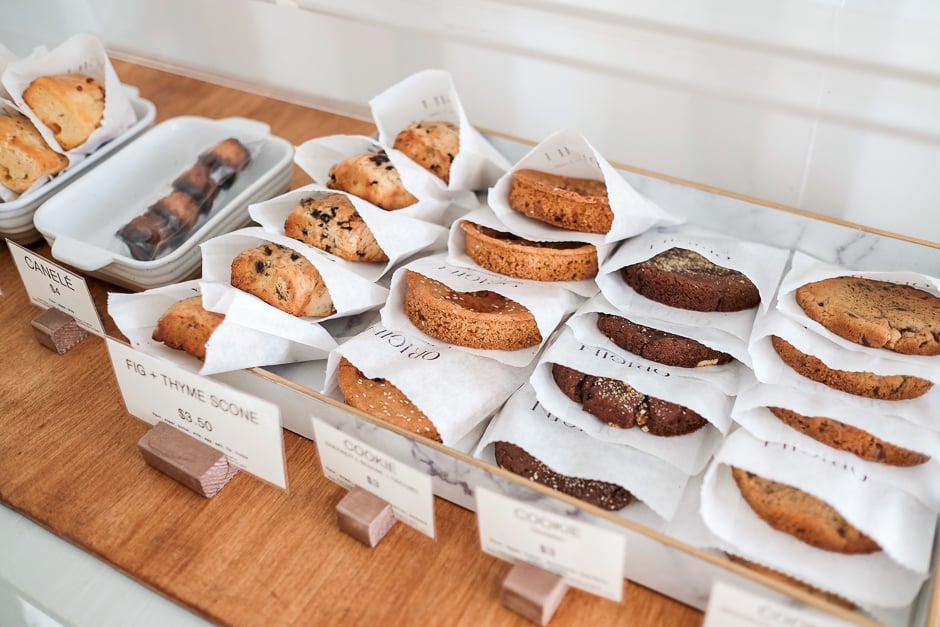 Origin also cold brews coffee that's bottled and chilled in two forms: plain and Vietnamese-style with condensed milk.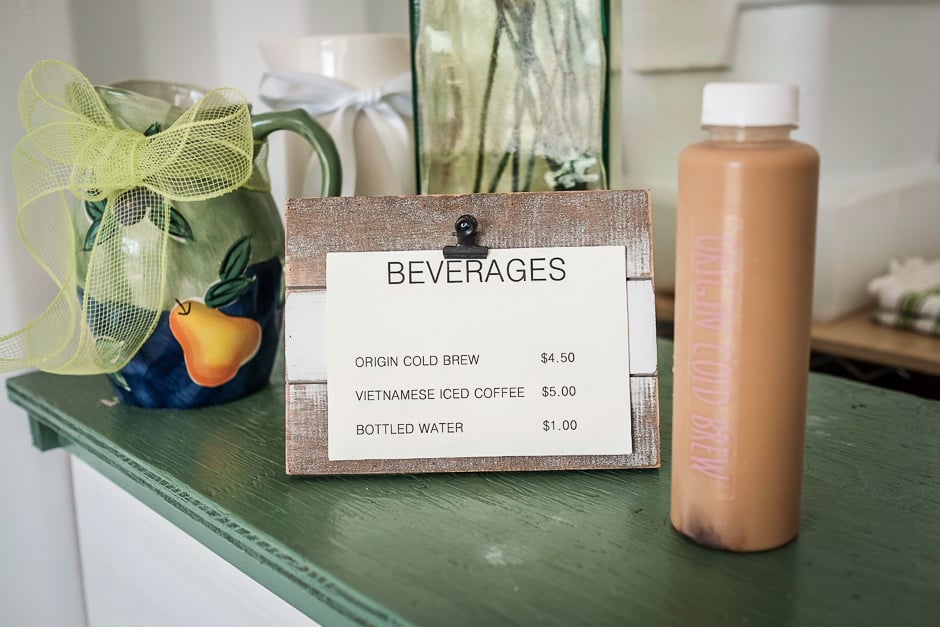 The Vietnamese cold brew iced coffee makes for a nice pairing to the warm pastries. I'm told they use a blend of various medium roast coffee beans and it isn't overpowering nor bitter.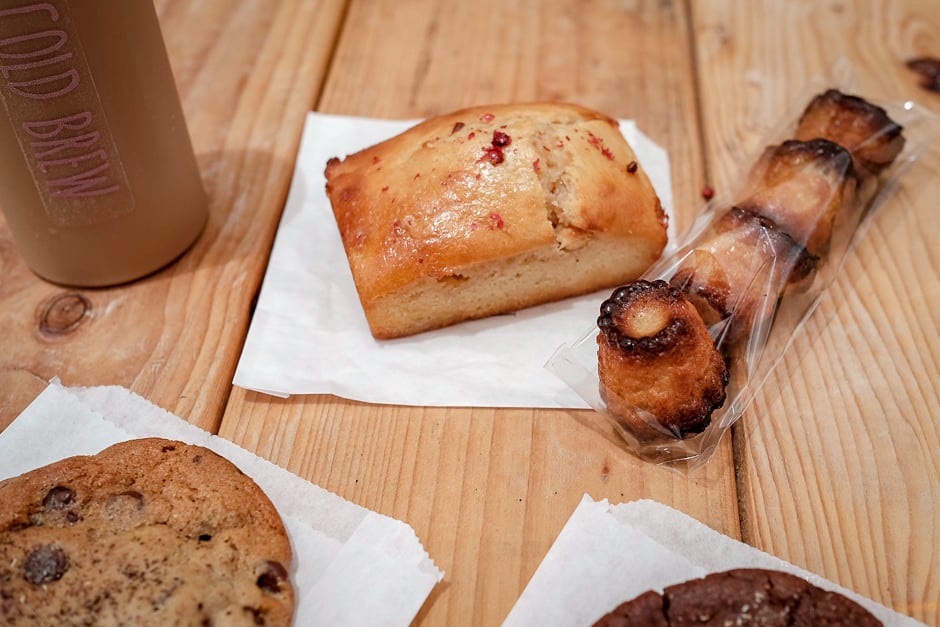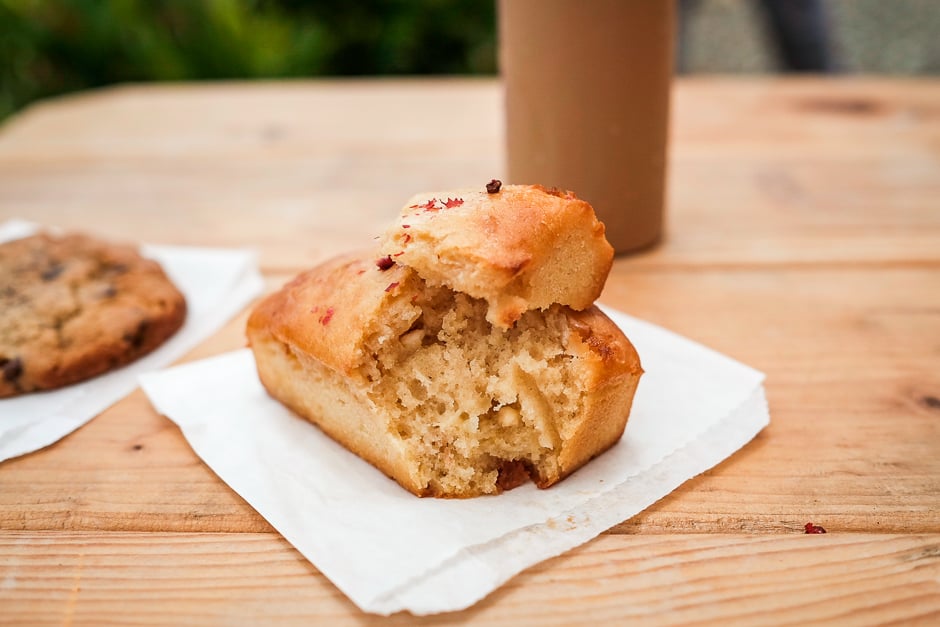 The mango, white chocolate and pink peppercorn scone is incredibly moist and eats more like a buttery slice of cake than anything else. The pops of the pink peppercorn are delightful in the mildly sweet loaf. Normally I'd schmear my scones with curd or a dab of Kerrygold butter but I scarfed this one down as I drove towards Kaneohe. I almost pulled a U-turn to stock up on more but remembered I still had a few more goodies in my bag. The temptation was very strong.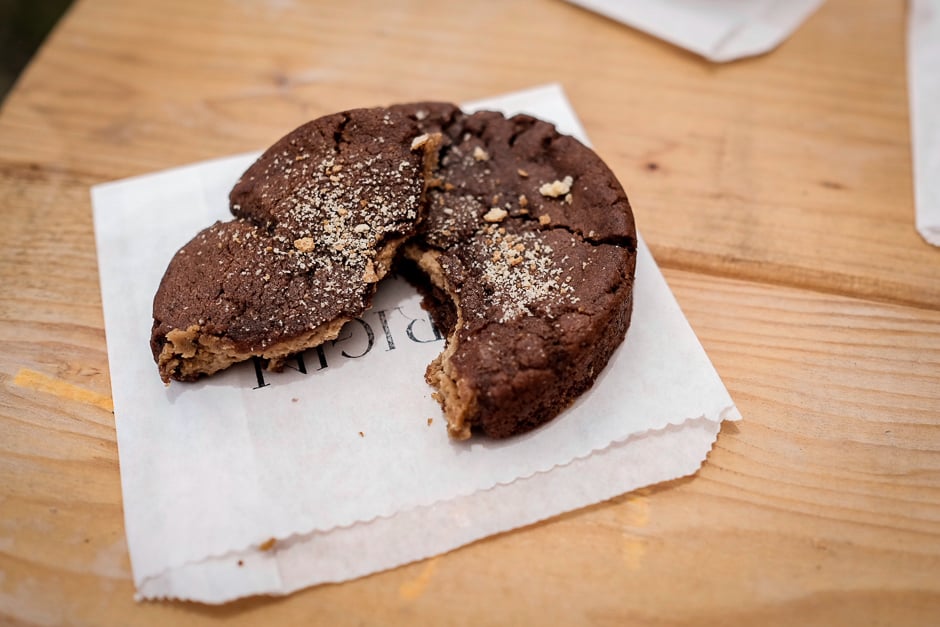 The delicate tiramisu cookie ($3) could pass as a brownie. For coffee and chocolate lovers, it's the perfect pick me up during a long drive.
Most surprising was the chocolate chip, rose and cardamom cookie. It's a familiar treat zhuzhed up with floral overtones of dried rose petals and a refined coolness from cardamom which is the third most expensive spice behind vanilla and saffron. It's one of Origin's defining pastries and fits well with its mature take on sugar and spice. Equally seductive and refined is the coconut caramel sesame cookie, which reminds me most of the crisp edges of a well done butter mochi, where it still has that slight chew but the edges have succumed to its rich butteriness and get a little crunchy.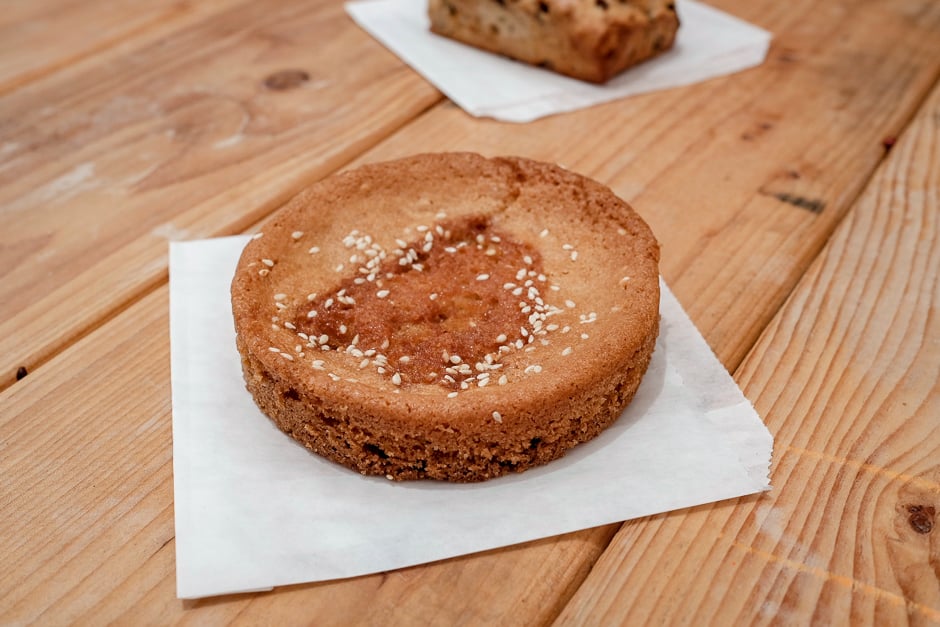 Andrea Hidano, Origin's owner, was raised in nearby Kaneohe and grew up coming to her grandparent's piggery and orchid nursery in Waikane. She attended the University of Hawaii at Manoa before setting off for New York to study culinary arts and eventually found a love in pastry. She met her partner Jeremy Rousselet, who brings over 16 years of pastry training in his native France, while working as a pastry chef at Le District in Manhattan. Inspired to bring their techniques and creations to life with local ingredients and flavors, they returned to Oahu in 2018 to begin building Origin on a corner of her grandmother's orchid nursery.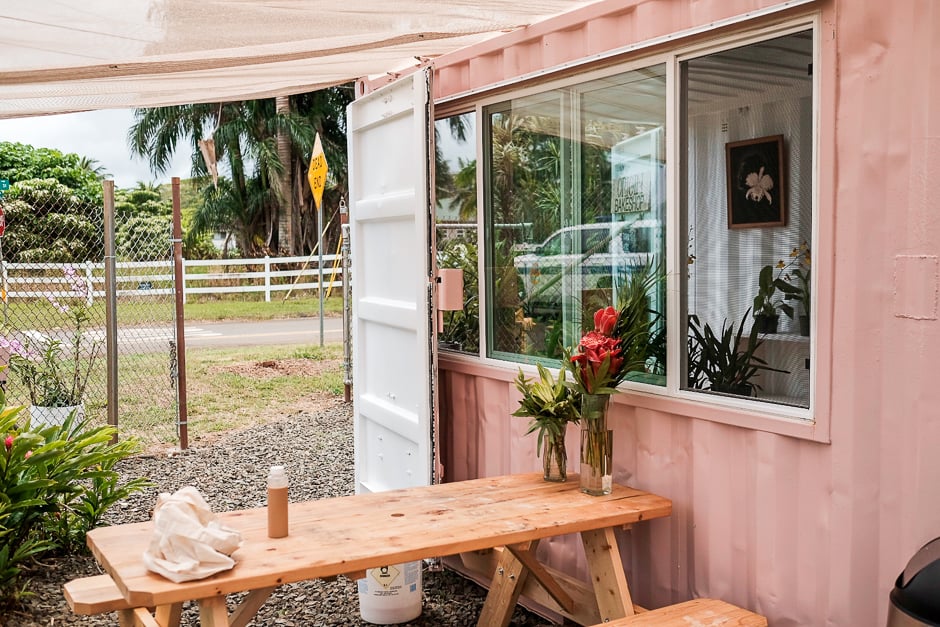 Hidano mans the bakeshop out front while Rousselet bakes in back. She says they're focusing their energy on developing their viennoiserie products which are the family of pastries crafted from laminated dough like croissants and pain au chocolat. I've seen photos of them, as well as the brioche-based chocolate babka but I have yet to give them a try.
I guess that just means one more surprise for me when I make the drive down the windward side. Anyone down for a roadtrip?
Origin Hawaii
48-449 Haupoa St
Kaneohe
239-8535
Thursday – Tuesday 9 a.m. – 5 p.m.
Closed Wednesdays