A chat with John Barrowman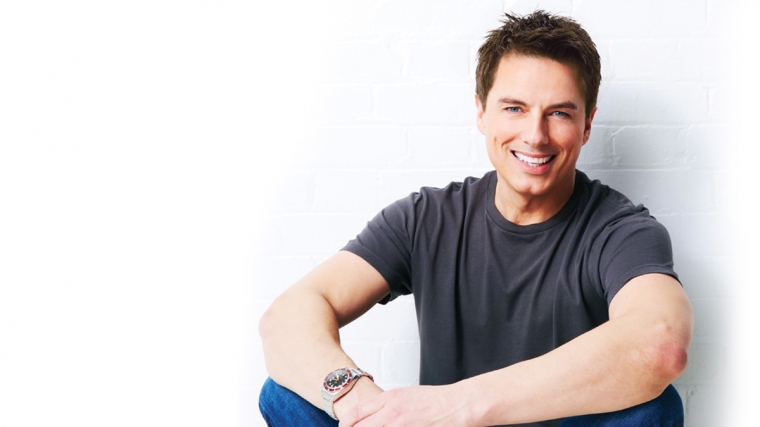 John Barrowman is the consummate entertainer. He dances, he sings, he writes, he hosts TV shows, he acts his heart out. He's known as one of the sexiest, wackiest, most unexpected men in showbiz, but at the same time, he's very serious about his job and incredibly good at it. You might recognize his face from "Doctor Who," "Torchwood," "Arrow," "Reign" or "Desperate Housewives," but he has also played lead roles in West End and Broadway musicals, including "Miss Saigon," "The Phantom of the Opera," "Sunset Boulevard" and "Matador." When it comes to singing, he's got eight studio albums and a few compilation albums under his belt. He's written two autobiographies and is currently working on two different comic book series with his sister Carol.
We got the chance to chat with John by phone as he was on his way to the airport to board a plane for Honolulu, and pick his brain about acting philosophies, his upcoming shows and comic book projects and his talent for being generally outrageous and awesome.
Catch John Barrowman at Comic Con Honolulu this weekend at the Hawaii Convention Center:
Comic Con Honolulu
July 29-31 at the Hawaii Convention Center
At-the-door registration pricing and information available HERE.
Friday, July 29
1 pm: John Barrowman Autographs
Saturday, July 30
11 a.m.: John Barrowman Photo Op
Noon: John Barrowman Autographs
4 p.m.: Getting to Know John Barrowman panel
Sunday, July 31
11 a.m. and 3 p.m.: John Barrowman Autographs
2 p.m.:John Barrowman Photo Op
---
---
Aloha! Is this your first time in Hawaii?
JB: This is my second time coming to Hawaii. I was there about 20 years ago. We're actually staying at the same hotel I stayed in the first time, just because I liked it. We're going to be spending a couple of days after the convention to do the touristy things too. We rented a car and I know the first thing I want to do is see the USS Arizona.
Would you ever consider making a movie in Hawaii? If so, what genre and what kind of character would you like to play?
JB: If I'm asked, of course I would! I think I would love to do an action film, and the character I would hope for… well, I'm open to playing anything, really.
You just wrapped up San Diego Comic Con last week – what was one of your favorite moments there?
JB: I enjoyed the whole thing because every day is different for me at Comic Con, in San Diego in particular. Friday, I was rehearsing and prepping for the Eisner Awards. Saturday was Warner Brothers day for "Arrow" and the WB and CW shows that I'm on. Sunday was John Barrowman's Day, things to do with myself and my other projects. I got to go shopping a little bit. Intertwined with that was stuff for the "Torchwood" comics that my sister and I are writing and "The Dark Archer" (Malcolm Merlyn) comics for DC. I probably get to experience more variety than any other celebrity who goes, because most celebrities go for one thing but I go for a multitude of things.
How do you do all the things that you do?
JB: The way I look at it, this is the entertainment BUSINESS. It's a business, and if you dip your hands into it and find it works, then great. If it doesn't, move on to something else. If you asked a plumber only to plumb sinks, he'd say that's ridiculous, you have to do bathtubs and everything else. It's like any other job. You have to be diverse in it, otherwise you'll only be able to stay employed for a certain period of time.
What's on your agenda for this weekend's con?
JB: I know I'll be doing photo ops, signings, and a panel, which is usually quite a lot of fun.
Are you dressing up at Comic Con Honolulu?
JB: I will still be outrageous and fun, but I don't know how far it will go because carrying things in suitcases is a bit difficult.
I brainstorm during the week and kind of gauge people at my signings and get a feel for how far I can push things. I play it by ear, it just depends on how I feel. One thing with me is that if I say anything goes, anything goes. Nothing is planned. There's no script and if I decide to do something, I decide last minute. What I DON'T want people to expect is that I'll come all dressed up, because you just don't know.
Is it true you're going to be appearing on multiple CW shows next season: "Arrow," "The Flash," "Legends of Tomorrow" AND "Supergirl" as Malcolm Merlyn?
JB: They have told me that I will be appearing in multiple shows. So far we have spoken about "Legends" and "Arrow," but when they say all four, I don't believe it until I see it in the script. We don't know what's going to happen yet.
You're one of the busiest men in showbiz. What do you do to unwind?
JB: I like being at home. When I come home from work, (my husband) Scott calls me a bit of a homebody because I don't like to go out. I like to eat at home, watch movies on Netflix or on iTunes and just chill out. We're lucky that we have a swimming pool in our backyard and we do go out sometimes. Scott is coming to Hawaii with me this weekend because we'll be getting a little bit of a break after the Con.
You're known as much for your appearances on Broadway and your musical talent as your acting. What's your favorite song to sing?
JB: The go-to song if we're doing karaoke is "Rhinestone Cowboy."
The other one that I like is one that I wrote with Stephen Schwartz. We changed the Lyrics to "The Wizard and I" from the musical "Wicked" to "The Doctor and I" to describe how Captain Jack feels about the Doctor. It's on one of my albums available on iTunes, so you can download that. It's really good.
If you could turn any movie into a musical, what would it be?
JB: There's two – "Pillow Talk" (1959) with Doris Day and Rock Hudson. The other one is called "VIP," which is about a group of people who are stranded in an airport VIP lounge.
Two of your best-known roles are as Captain Jack in Doctor Who and Malcolm Merlyn in Arrow. When you're acting, do you prefer the hero roles or the villain roles?
JB: As an actor, I prefer to be cast in any role. I've played a transvestite, a hero, a villain, a murderer, a husband, a dad.
What's most important to me, what I find intriguing is the storytelling element of it all, rather than just the character. As much as I love playing the hero or the villain, there's a lot out there I'd like to play at some point.
I don't actually look at them as characters, I look at them as being branches of myself. The thing that makes the people I play likable is that I put a little bit of my own personality into every single one of them. For instance, Malcolm Merlyn is a real jerk. Everybody likes him but they also hate him, and I think it's because I put a little bit of my personality into Malcolm the same as I did with Captain Jack and the character of Patrick in "Desperate Housewives." It's the little element that makes people like them rather than them just being a stereotypical bad guy or good guy.
When will Captain Jack return to Doctor Who?
JB: I have no idea! Of course I would love to. Perhaps things will change when the new show runner, Chris Chibnall, comes in.
Any upcoming projects, either showbiz or personal, that you're really excited about?


JB: My sister and I are just launching the new "Torchwood" comic – I'm actually bringing some signed copies to Comic Con in Hawaii. I'm also bringing copies of the novel we've written together, "Torchwood: Exodus Code" and also my autobiography, "Anything Goes." I'm bringing stuff that I think you guys will want and like.
Workwise, I've got "Arrow" to focus on, I'm going back to the UK for Christmas and I've got plenty of conventions coming up. There's also the release of the "Torchwood" comic and the Malcolm Merlyn comic book, "Arrow: The Dark Archer" comes out in hardback graphic novel form in August.
---