5 holey reasons to try Kakaako's new donut truck
Kauai's Holey Grail expands to Oahu with gourmet donuts made with local taro and fruits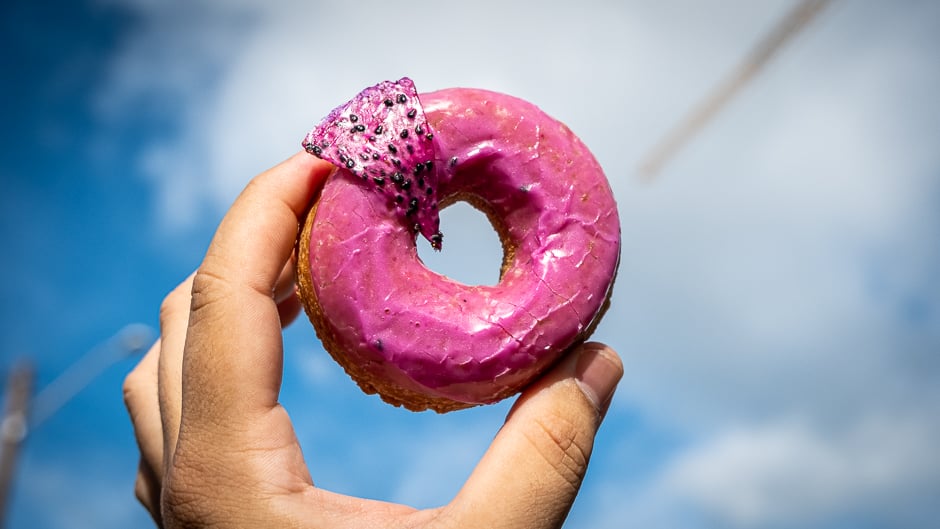 I truly believe people are born loving three things: puppies, kittens and donuts. So when Holey Grail, a Kauai-based donut truck with a cult following, began popping up in Kakaako in late August, donut worshipers made the pilgrimage to Ward Village Shops — myself included. We found an origin story with a twist: Holey Grail was started in early 2018 in Hanalei by siblings Nile and Hana Dreiling, whose quest to create the ultimate donut led to what they call original taro donuts, the basis of all their donut varieties today. Holey Grail quickly rose from an ordinary donut stop to a rock star in the Garden Isle donut world.
Here on Oahu, yes, the lines are pretty long and yes, the donuts are spendy at $4 each, but here are five holey reasons to give them a shot.
No. 5: They're plant-based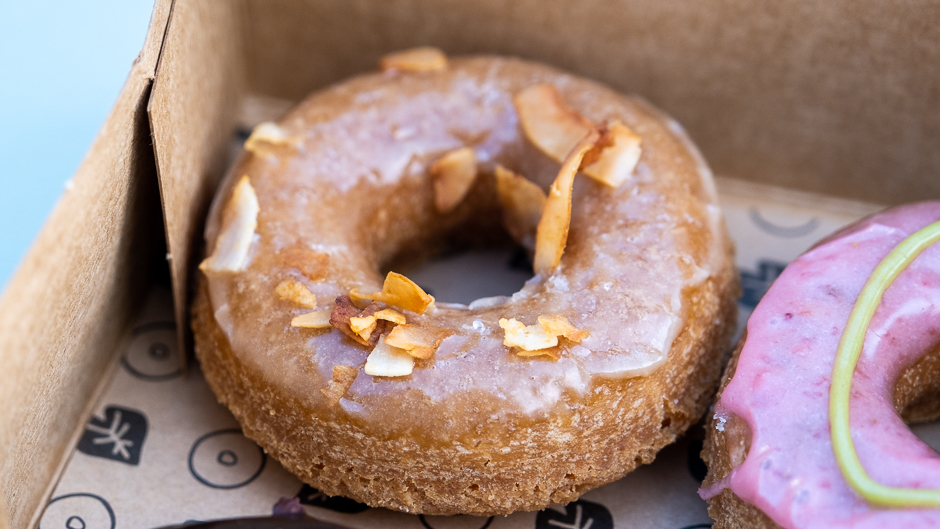 Holey Grail's donuts are 100% plant-based, crafted from a proprietary dough mix that starts much the same way poi is made. Locally grown taro is steamed and pounded to begin the fermentation process. When the starch molecules have broken down, they yield a dough that is bound with wheat flour for texture and fried in organic coconut oil. The donuts are best enjoyed hot and fresh when the exterior is crisp and the interior is light and fluffy — if you're an old-fashioned donut purist, you'll appreciate the texture of these rings.
I particularly like that there's nothing artificial about them. They're not a vibrant purple, nor do they have unnatural additives to up their visual appeal. They're just honest and pure, the way a proper donut should be.
No. 4: They support local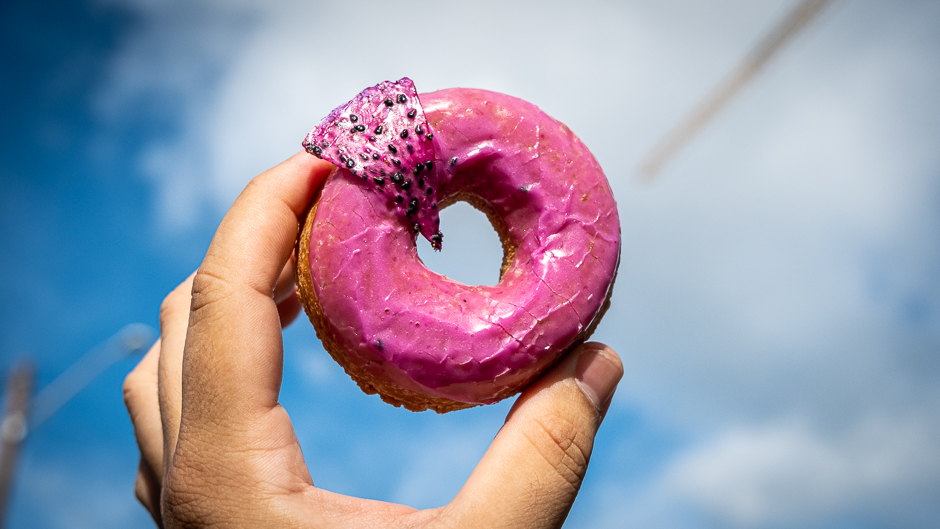 Holey Grail's local taro base comes from Pomai Kulolo in Kailua. The honey on their Hot Single donut is sourced from Waianae's Tolentino Honey. The cacao in the Chocolate Mylk drink comes from Manoa Chocolate. The gourmet citrus caviar, a.k.a. finger lime, and intensely hot pink dragonfruit are grown by AlohaHoneyBee Family Farm in Kilauea.
The list goes on: Holey Grail strives be hyperlocal in sourcing sustainable fruit and products. Their plan is to expand on their farmer and supplier networks as they grow.
No. 3: The flavors are out-of-the-box wild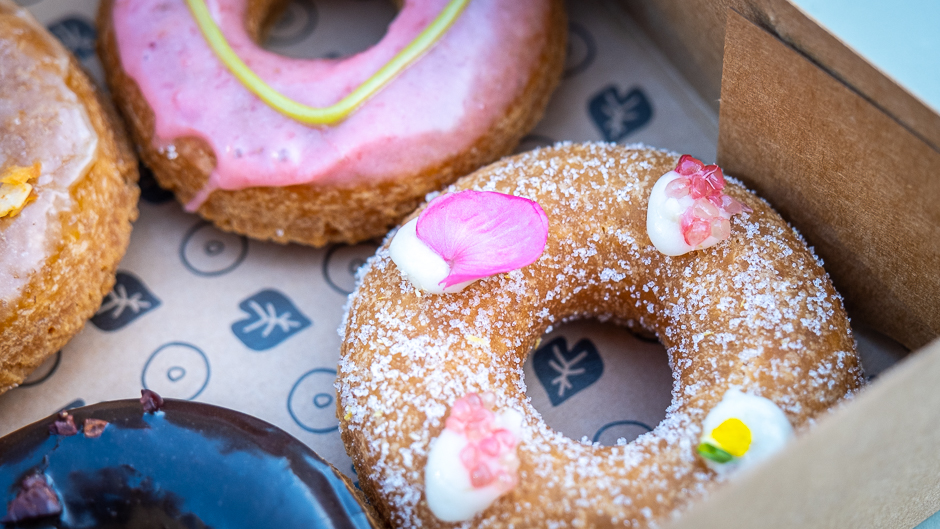 These donuts are gorgeous and the flavors follow suit. All Holey Grail donuts start off looking and tasting the same, with the neutral savory taro base fried in coconut oil. From there, they are dressed up in one of nearly 60 combinations of glazes and garnishes. Only five flavors are made at a time and can be had a la carte ($4 each) or in a tasting box of four ($15). New seasonal flavors rotate into the box each week, but the Reincarnated (see below) is a permanent fixture.
I tried the following:
L&L's Meyer lemon sugar, Tahitian lime curd and finger lime citrus caviar make this is a very pretty donut with lip-puckering notes.
Chocolate Crunch has single-origin Hawaiian chocolate, cacao nibs and sea salt. It is like a dark chocolate bar in donut form.
Strawberry Fields features local strawberry and matcha green tea glazes that are sweet and delicate.
Reincarnated has maple glaze, smoked coconut chips, Hawaiian sea salt and bacon. It ultimately reminds me that bacon cannot be replaced with anything but bacon.
Dragonslayer is glazed with local dragonfruit lemonade that's tart and plays well with the nutty donut base.
Hot Single is dressed simply with Tolentino Honey and flaky sea salt. It's reminiscent of a slice of warm cornbread with melted honey butter and is my favorite.
If you order one or two donuts, bring a container or enjoy them on the spot. If you order three or more, they'll box them up for you.
No. 2: The donuts pair well with the drinks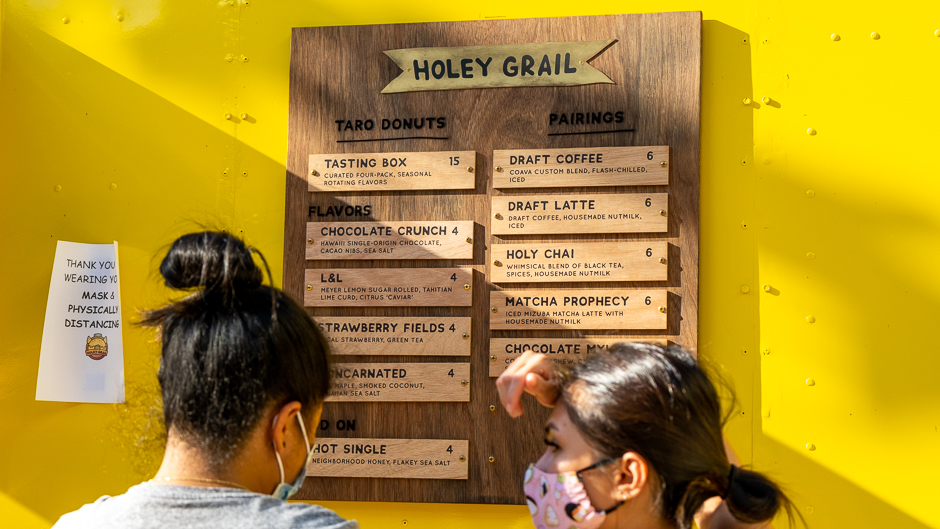 There's no argument when it comes to pairing coffee with donuts. No other beverage comes close, especially if you're balancing out the sweetness with a dark cup of joe. Holey Grail has a custom blend and roast for their beans and serves its coffee on draft. Served black or as a latte made with their housemade nutmilk blend, the iced coffee goes down smooth while the latte is rich and filling.
If you're not a coffee or caffeine drinker, there are options like spiced Holy Chai with black tea and nutmilk, and Matcha Prophecy, which blends Mizuba Tea Co.'s ceremonial grade matcha with nutmilk. Chocolate Mylk is a thick blend of coconut, cashew, cacao, maple and sea salt. All are sold iced for $6 each.
No. 1: They're here on Oahu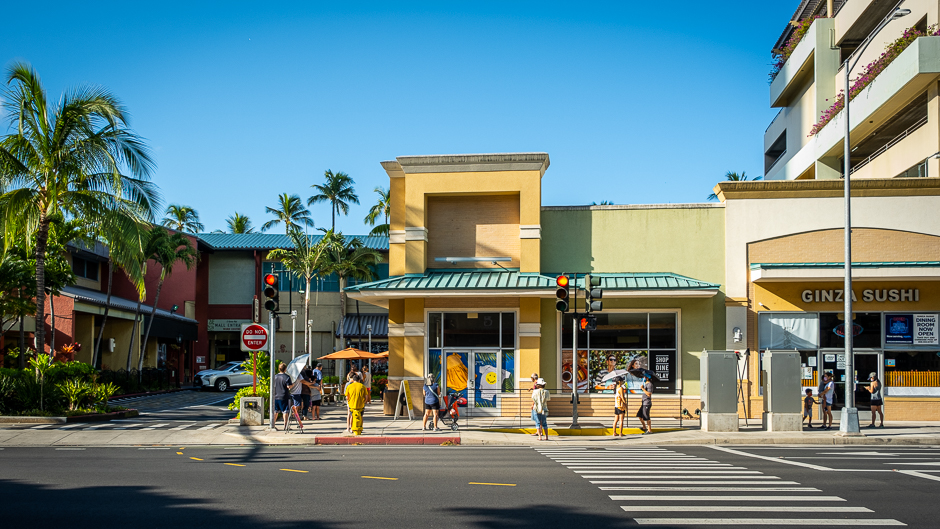 Holey Grail's golden food truck, aptly named Goldie, pops up four days a week at the Diamond Head end of Ward Village Shops. Follow the line of people snaking around the former Paina Cafe, the space Holey Grail plans to eventually take over. After two years of slinging donuts on Kauai, Nile Dreiling made the move to expand the donut crusade to Oahu while his sister Hana manages the Hanalei location. Nearly a month after opening, crowds are still forming 15 minutes before opening — so as the old adage goes, the early bird gets the worm, or in this case the original taro donut.
Ward Village Shops
1240 Ala Moana Blvd
Thu 7:30 a.m.-2 p.m., Fri-Sun 7:30 a.m.-4:30 p.m.
www.holeygraildonuts.com
@holeygraildonuts