35 local sweet and savory treats for Halloween 2020
Support local while celebrating safely this Saturday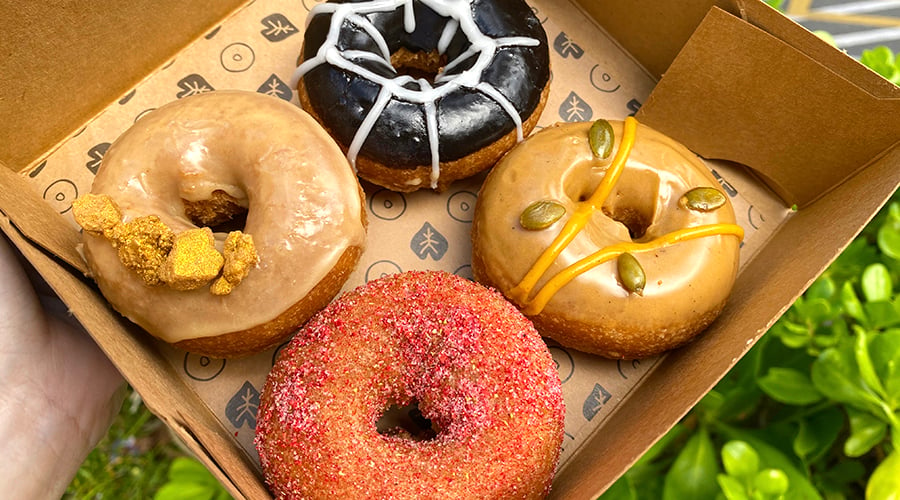 Who says we have only one day to celebrate Halloween? We're not just talking sweets — local businesses are making a whole gamut of spooky treats, including savory dishes and boo-zy cocktails. Some are only available the day or week of Halloween, others for longer. Click on the Instagram photos to find out more.
53 By The Sea: Spooky pastry box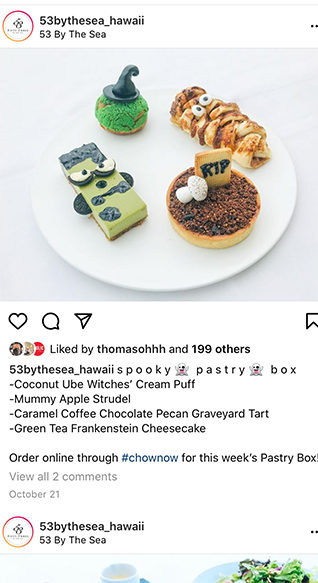 This Spooky pastry box costs $27 and contains the following:
Coconut ube witches' cream puff
Mummy apple strudel
Caramel coffee chocolate pecan graveyard tart
Green tea Frankenstein cheesecake
Order online; available while supplies last.
A Cake Life: Assorted Halloween treats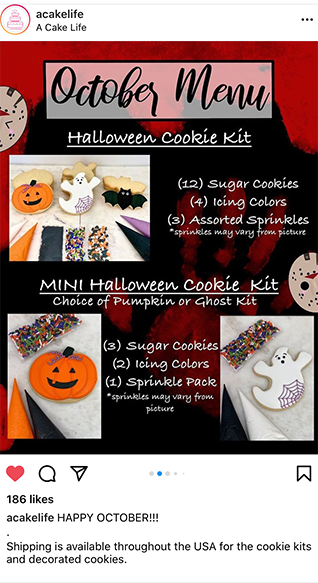 The Moiliili cake shop's specials include
Halloween cookie kit, $30: 12 sugar cookies, 4 icing colors, 3 assorted sprinkles
Mini Halloween cookie kit, $10: Choice of pumpkin or ghost kit with 3 sugar cookies, 2 icing colors, 1 sprinkle pack
Monster Dough bucket, $30: 24 Monster starters (dough balls), pack of sprinkles, pack of eyes
Rice Crispy monster kit, $9: 2 Rice Krispies squares, 2 colors of decorating chocolate, pack of sprinkles
Decorated sugar cookie 4-pack, $10: 4 decorated mini sugar cookies
Individual decorated cookie, $4: Choice of mummy, ghost, bat or pumpkin
Regular Halloween cake, $65: Round 6-inch yellow butter cake with strawberry cream filling, serves 5 to 10
Shortie Halloween cake, $35: Round 6-by-3-inch devils food cake with cookies and cream filling, serves 3 to 5
To order, call or text 542-0131, DM on Instagram or email info@acakelife.com. Payment is via Venmo and pickup is at the bakery through Oct. 31. See @acakelife on Instagram for more info.
Basalt: Spooktacular Halloween charcoal pancakes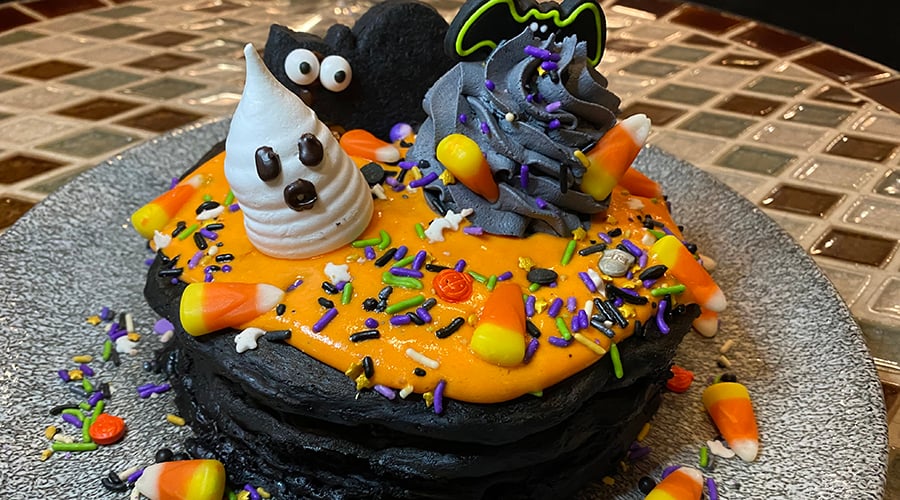 Basalt's signature charcoal pancakes are topped with lilikoi sabayon, ash whipped cream, sugar bats, a charcoal shortbread cookie cat, meringue ghost, candy corn and sprinkles. This is available for dine-in and takeout, the latter either pre-decorated or as a DIY decorating kit. This $15 scary good creation is available only Halloween day from 8 a.m. to 2 p.m.
Cake Works Hawaii: Halloween cookies and cupcakes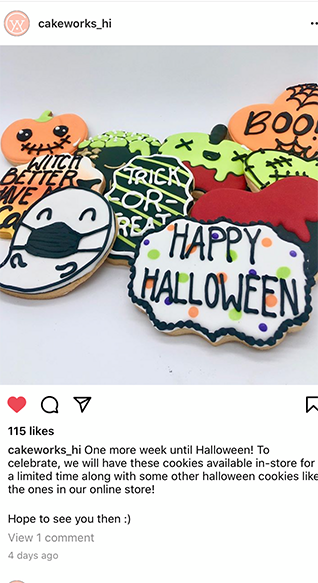 Custom-decorated Halloween bat and pumpkin cookies are $4.95 for small cookies and $6.95 for large cookies; cupcakes are $3.50. Cake Works' seasonal pumpkin crunch cheesecake is also available until the end of the year. Seven-inch cheesecakes are $35 and 9-inch cheesecakes are $49.
Chocolate + Vanilla Bakery: Pumpkin spice bread, Halloween cupcakes
Halloween cupcakes (3 for $10) and pumpkin spice bread with chocolate chips ($7.99 for two pieces) will be available for all of October.
CowCow's Tea: Bloody Zombie Flesh yogurt drink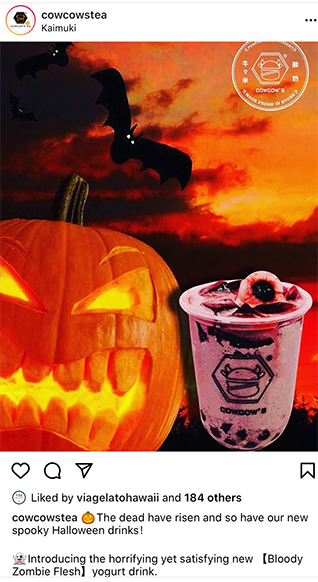 This acai yogurt drink with purple rice, boba and special jelly costs $5.95 and is available until Oct. 31.
Cloud Nine Cafe: Pumpkin spice souffle pancakes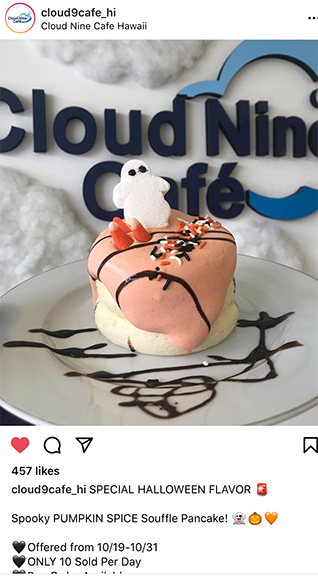 Only 10 are available each day at $13.99 a plate, so it's best to preorder. Available until Oct. 31.
Deck: Halloween happy hour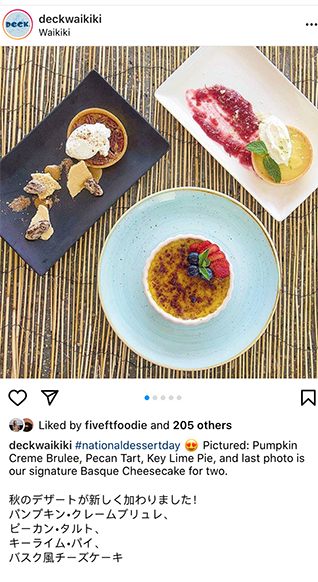 Deck's Halloween happy hour on Oct. 31 starts at 2 p.m. and runs through 6 p.m. Enjoy seasonal cocktails, a pumpkin creme brulee dessert and from 5 to 8 p.m., live music.
Fig & Ginger Honolulu: Halloween Boo Board, Trick or Cheese keiki box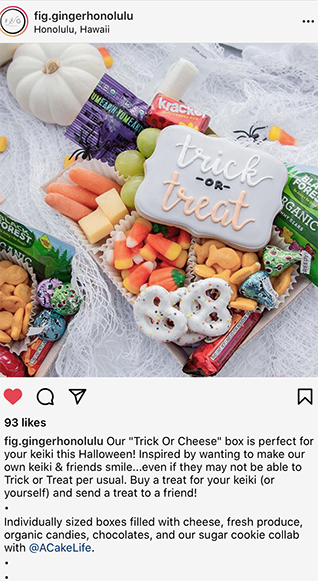 This $22 box comes with string cheese, Babybel cheese, creamy gouda, grapes, carrot sticks, Goldfish crackers, yogurt-covered pretzels, sugar cookies from A Cake Life, organic lollipop, organic gummies, Halloween candy and chocolates. The $70 Halloween Boo Board feeds 4 to 6 people and has three types of cheese, two meats, four accompaniments, fresh fruit, Dalmatia tangerine jam, Nalo Meli honey, assorted crackers and a mini pumpkin from Aloun Farms. Order online from Fig & Ginger Honolulu.
Fooki: Halloween pumpkin mochi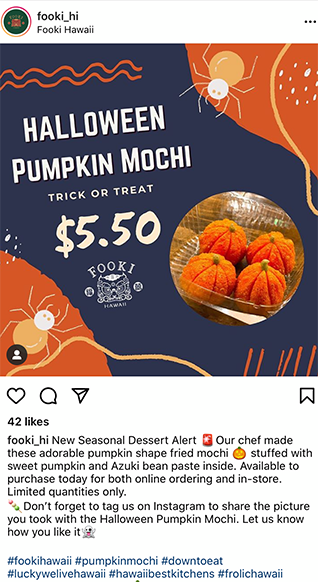 This $5.50 pumpkin-shaped fried mochi is stuffed with sweet pumpkin and azuki bean paste. Limited quantities available for walk-in and online ordering until Oct. 31.
Foodland: DIY cupcake kits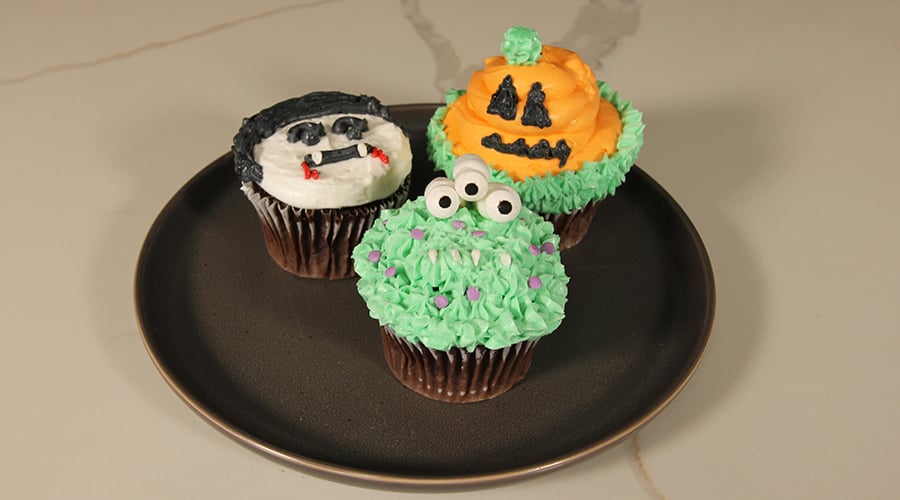 Available at all Foodland Hawaii stores, these $7.99 kits come with four cupcakes and all the frosting and toppings you need to make them spook-tacular.
HB Baking, Inc.: Mummy Meringue, apple crumb pie, pumpkin cheesecake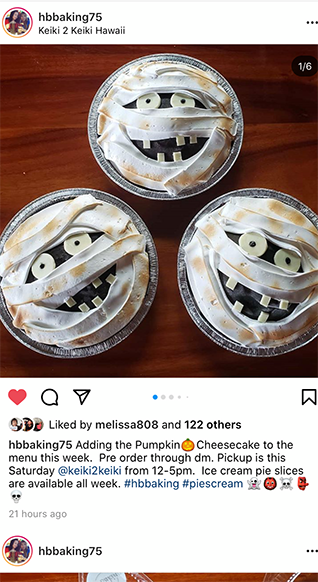 HB Baking, Inc. will feature the following desserts on Halloween:
The Mummy Meringue, $45: Kit Kat and Twix ice cream on devil's food crust
Apple crumb pie, $7 per slice or $35 for whole: Topped with brown butter crumble
Pumpkin cheesecake, $7 per slice or $35 for whole
Preorder via Instagram DM for pickup on Oct. 31 at Keiki 2 Keiki from 12 to 5 p.m.
Hideout at The Laylow: Boogy Boorgeoisie cocktail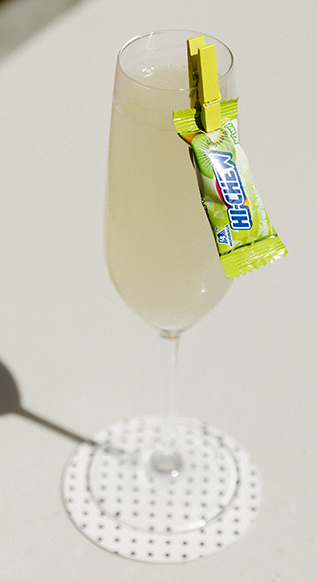 Hideout at The Laylow is featuring this $16 bewitching brew made with Fid Street gin, Velvet Falernum, lemon, champagne and Hi-Chew syrup and garnished with a Hi-Chew candy. Only available Oct. 30 and 31, with live entertainment by Freddy Leone and Evan Khay from 6 to 9 p.m.
Hokulani Bake Shop: Halloween 4-pack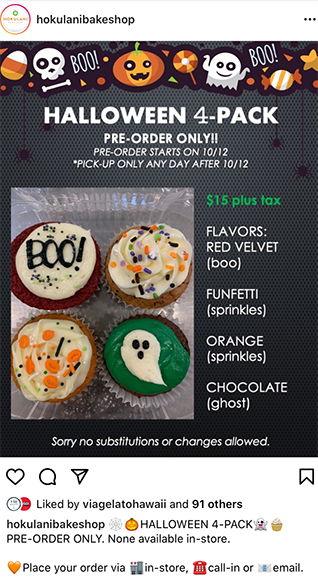 This 4-pack of red velvet, funfetti, orange and chocolate cupcakes is $15 and are available by preorder only.
Holey Grail Donuts: Halloween box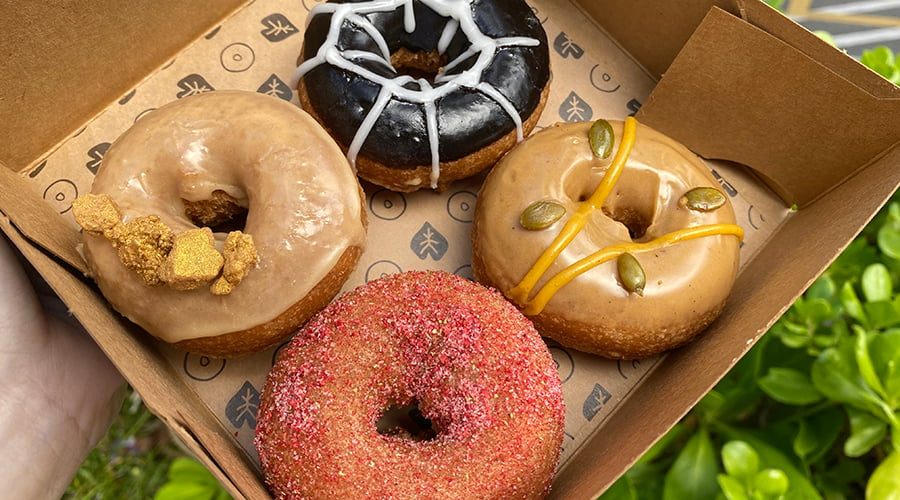 This $15 special box is available until Nov. 1:
Eternal Youth: Strawberry sansho peppercorn
J. Thrilla: Spiderweb design
Hundough: Gold Mountain apple with caramel and sea salt glaze
Kabocha Spice: Kona coffee, kabocha drizzle and toasted pepitas
Honolulu Cookie Company: White chocolate pumpkin cookies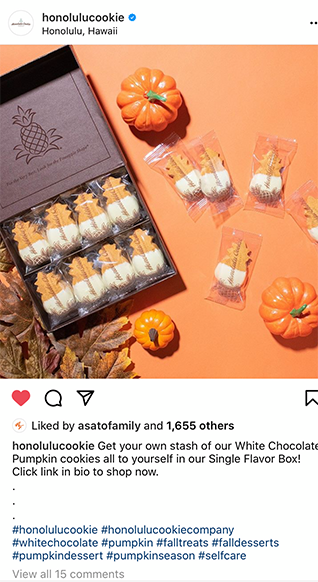 These seasonal cookies feature a pumpkin spice flavor with a coat of creamy white chocolate and are available through December.
Izu's Mochi: Halloween mochi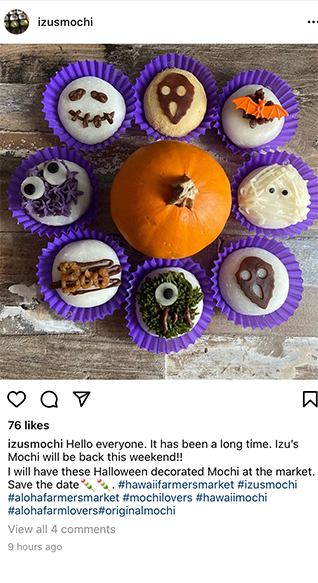 Halloween-decorated mochi in azuki, kinako, Okinawan sweet potato, coconut mac, peanut butter, chocolate cookie, azuki strawberry and matcha flavors will be available for $2 apiece at the Kakaako Saturday farmers market at Ward Village on Halloween morning. Check for updates and pre-order via DM on Instagram.
Kaimana Farm Cafe: Halloween cheesecake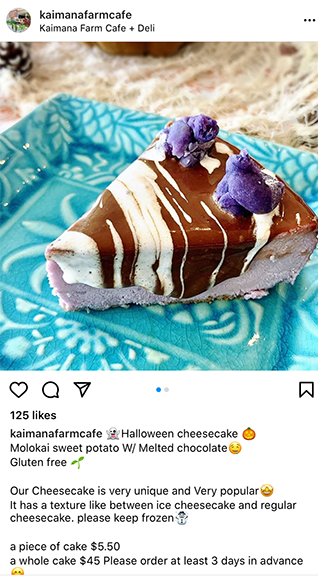 Slices of Halloween cheesecakes made with Molokai sweet potato and melted chocolate are $5.50; whole cheesecakes are $45.
Katsumidori Sushi: Halloween sushi to go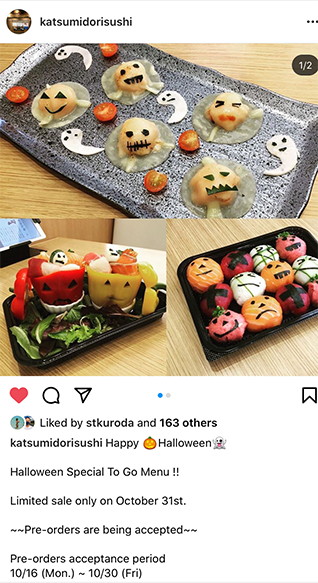 Enjoy the following Halloween takeout specials:
Halloween temari sushi, $36
Halloween sashimi platter, $25
Halloween salmon and cheese, $18
Preorder until Oct. 30 for pickup on Oct. 31. No orders will be accepted on Oct. 31.
Kau Kau Box: Halloween box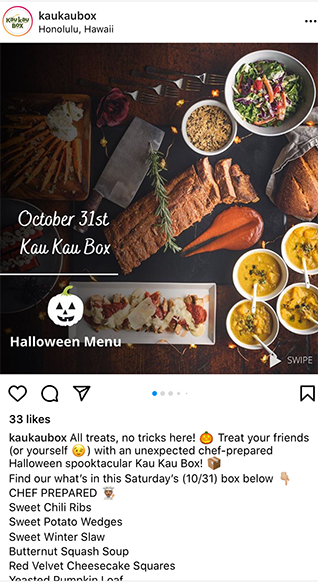 A Halloween Kau Kau Box and Vegetarian Kau Kau Box are available on Oct. 31 for $138 each. The Halloween box includes:
Chicken finger marinara
Sweet chili ribs
Sweet potato wedges
Sweet winter slaw
Butternut squash soup
Red velvet cheesecake squares
Yeasted pumpkin loaf
Aloun Farms fruits and vegetables
Fresh market catch
Wild rice
For more info, visit Kau Kau Box's website.
Kulu Kulu Cakes: Halloween cakes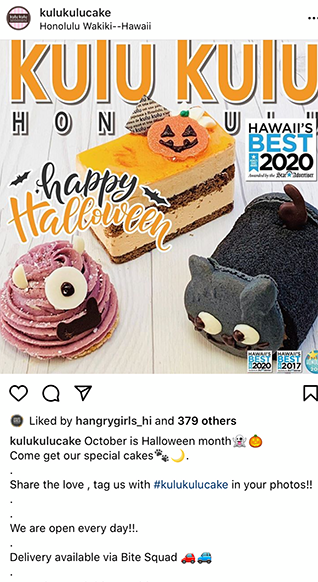 The Japanese bake shop is featuring themed treats through October:
Sweet potato monster, $4.50: Okinawan sweet potato cake with custard cream filling
Jack o' Lantern orange mousse cake, $5.25: Chocolate sponge cake with layers of fresh orange mousse
Black cat Nutella roll, $6.25: Fluffy roll cake with Nutella whipped cream filling
Both Kulu Kulu's Eaton Square and Royal Hawaiian Center stores are open.
La Tour Cafe: Pumpkin cheesecake macarons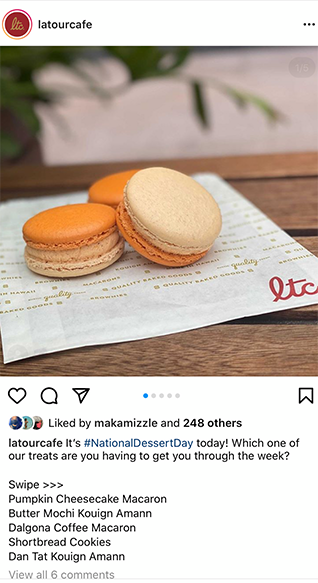 October's flavor of the month macarons are $2.20 apiece and feature cream cheese, vanilla, pumpkin spice and pumpkin spice paste.
Leonard's Bakery: Pumpkin malassadas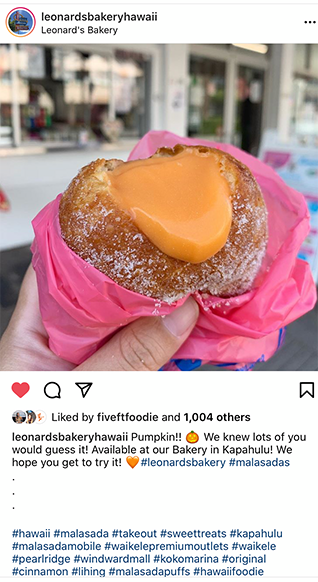 Pumpkin is the flavor of the month at Leonard's Bakery, where pumpkin malassadas are $1.65.
Made by Aliyoko: Halloween trio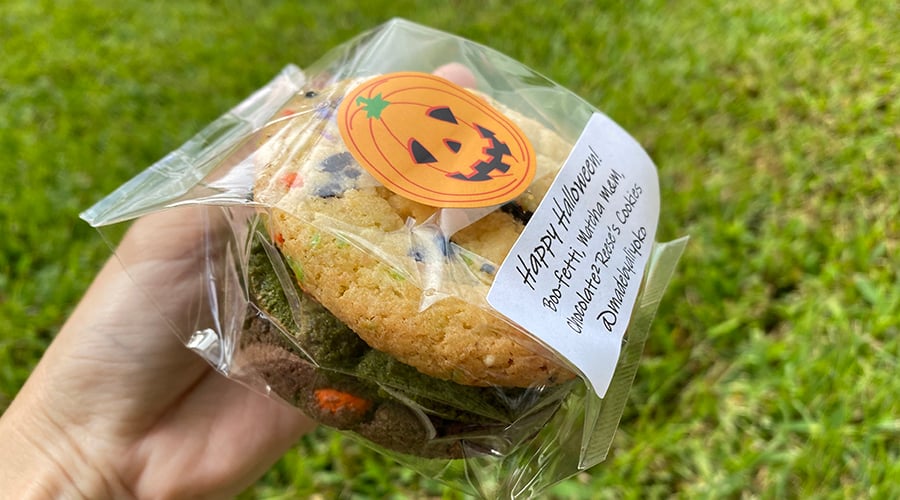 Made by Aliyoko's $4 Halloween three-packs come with Boo-fetti, Matcha M&M and Double Chocolate Reese's cookies. They're available until Oct. 31 at Ethel's Grill in Kalihi.
Malu Honolulu: Spooky pumpkin mousse pie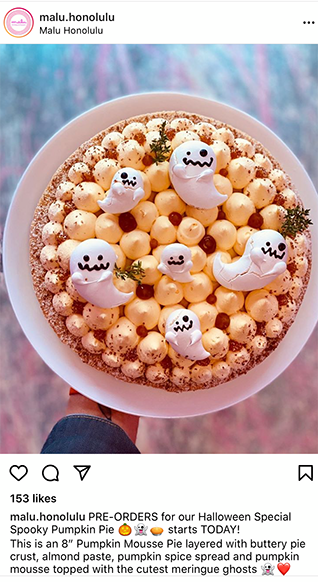 The 8-inch pie is $55 and has layers of pumpkin mousse and pumpkin spice spread on a buttery crust and ghost meringues on top. Pre-order via Instagram direct message or by calling the bakery. Pickups are available through Oct. 31.
MW Restaurant: Halloweekend specials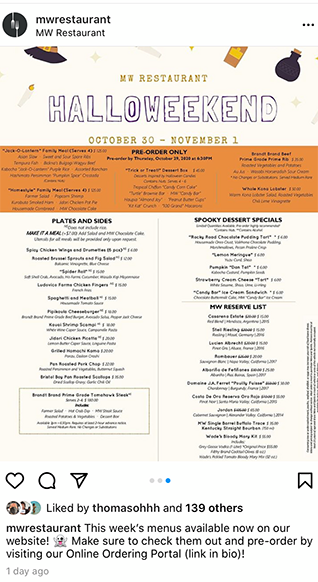 Check MW Restaurant's Instagram or website for a full list of Halloweekend specials; some of them are preorder only:
Rocky Road Chocolate Pudding Tart, $6: Housemade Oreo crust, Valrhona chocolate pudding, marshmallows, pecan praline cup
Lemon Meringue, $6: Yuzu crust, shiso
Pumpkin Dan Tat, $6: Kabocha custard, pumpkin seeds
Strawberry Cream Cheese Tart, $6: White sesame, shiso, ume, li hing
Candy Bar ice cream sandwich, $6: Chocolate buttermilk cake, MW "Candy Bar" ice cream
Otto Cake: Halloween cheesecakes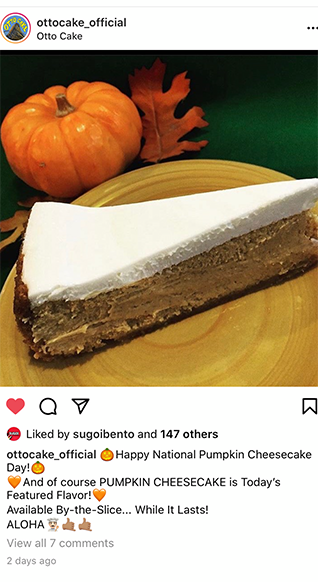 Seasonal cheesecake flavors like pumpkin, candy corn, Butterfinger, orange chocolate cake and chocolate peanut butter shake will be available at the Kaimuki shop. Individual slices are $5, while 6-inch whole cakes are $25.
Pipeline Bakeshop & Creamery: Halloween cake bombs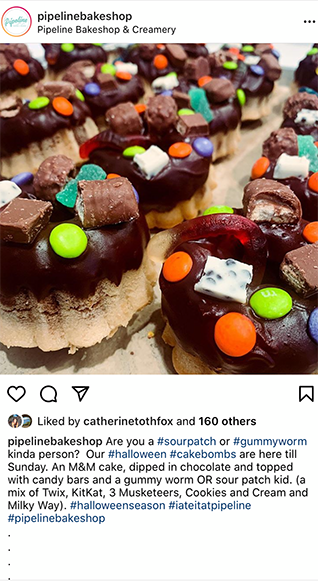 Halloween cake bombs feature an M&M cake dipped in chocolate and topped with a mix of Twix, Kit Kat, 3 Musketeers, Milky Way and Cookies & Cream, and a Sour Patch Kid or gummy worm. Available until Nov. 1.
Side Street Inn: Bu Packs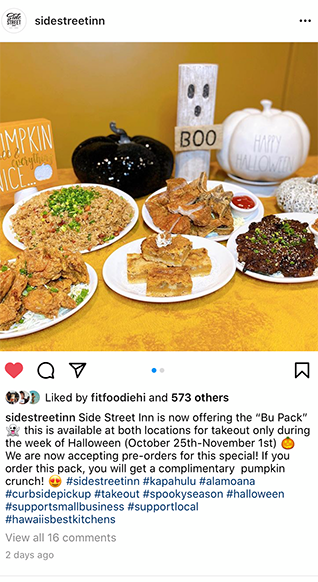 A takeout special through Nov. 1, this Halloween family dinner set is designed to feed 4 to 5 people and comes with Side Street Inn's signature fried rice, garlic chicken, pan-fried pork chops, kal bi and complimentary pumpkin crunch. Order online at www.sidestreetinn.com. Available for curbside pickup only at both Side Street locations.
Sweet Revenge: Halloween pies, mochi bento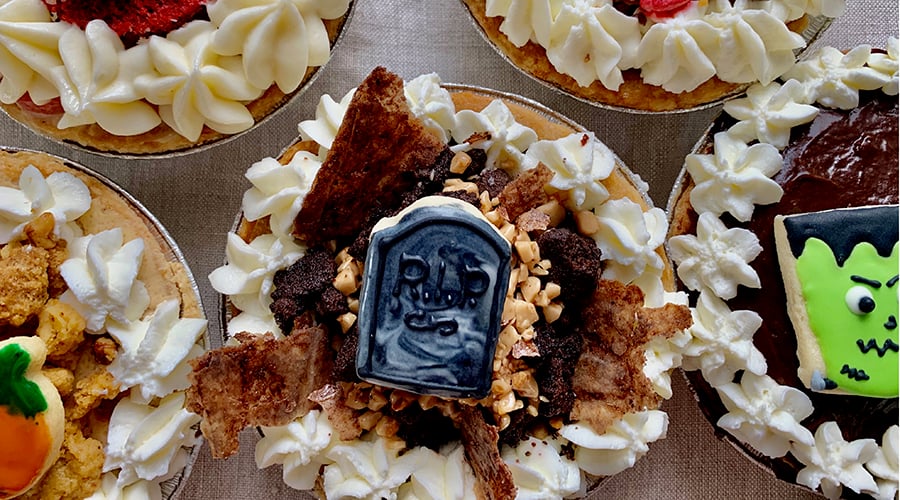 Sweet Revenge's extensive Halloween lineup of sweet and savory treats is available from Oct. 27.
Ghost pepper pie: Cheesecake mousse, bananas, walnuts, ghost pepper honey
Franken pie: Chocolate cake, chantilly mousse, dobash and chantilly frosting
Raven and Toadstool pie: Chicken in white wine mushroom gravy
Pumpkin Patch crunch: Local pumpkin mousse, crunch topping
Something Chocolatey This Way Comes: Chocolate mousse, chocolate sable, chocolate phyllo, chocolate ganache, toffee bits
Worms and Dirt: Chocolate filling, chocolate cookie dirt, gummy worms
Trick or Treat: Peanut butter, Reese's Peanut Butter Cups, Butterfinger bits, M&Ms, chocolate ganache
Mochi bentos contain six pieces of mochi and a mini Halloween butter cookie:
Poison Apple: Caramel apple filling
Blood Velvet: Red velvet crumb and cream cheese filling
Jack O Lantern: Pumpkin crunch filling
Graveyard Dirt: Chocolate brownie with walnut rocks
Monster Munch: Peanut butter crunch filling
Floating Eyeballs: Lilikoi butter with fresh blueberries
Raven Toadstool and Franken Pies are $10; all other pies are $9. Mochi bentos are $15. Preorders are highly recommended by calling 282-0234.
The Cookie Corner: Pumpkin spice snickerdoodle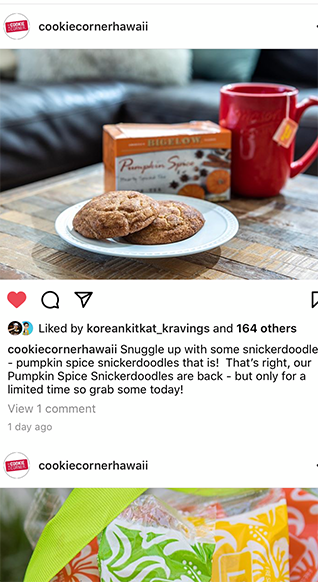 This fragrant, seasonal cookie is available until the first or second week of November, while supplies last. The price depends on the cookies' weight, but individual cookies usually cost around $1.90
The Sugar Hut: Halloween CharBOOterie board, assorted Halloween treats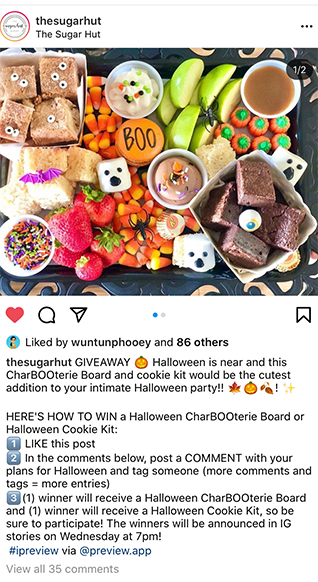 The $35 Halloween CharBOOterie Board is a fun, interactive platter for the whole family:
Black or orange platter
8 snickerdoodle blondie bites
8 eyeball sprinkles
8 chocolate brownie bites
8 Granny Smith apple slices
8 strawberries
8 Rice Krispies bites
1 Boo macaron
Dips: Whipped cream cheese, caramel sauce, chocolate frosting
Toppings: 1 eyeball gumball, 3 decorated ghost marshmallows, 3 spider/bat rings, candy corn, Mellowcreme pumpkins, Reese's Peanut Butter Cups, chocolate chips
The Sugar Hut will also have $15 Halloween sugar cookie kits:
6 sugar cookies: Ghosts, candy corn and pumpkins
3 bags of white, orange and yellow icing
1 container of Halloween sprinkles
6 pumpkin plates
1 reusable Halloween bag
An assortment of Halloween candy
For inquiries call the bakery at 722-7539 or order online via Instagram.
The Surfing Pig: La Bruja cocktail, Poison Apple dessert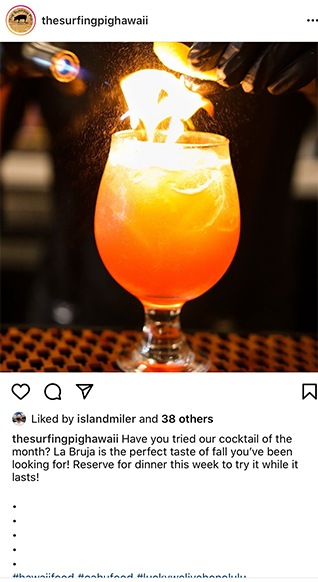 The bewitching cocktail (la bruja means 'the witch' in Spanish) is $16, while the $13 Poison Apple dessert features a spicy apple cake pop with green apple compote and white chocolate glaze. Both seasonal dishes are available for all of October.
Via Gelato: Black vanilla, M&M cookie dough, Ferrero Rocher flavors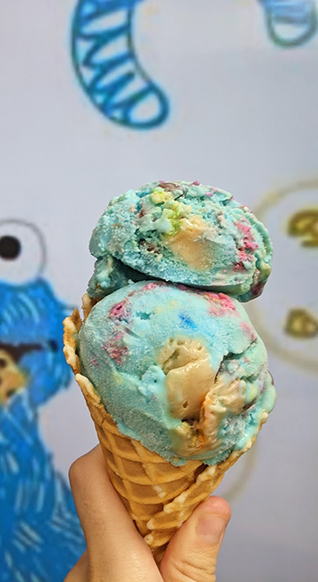 Seasonal flavors are available through Halloween week:
Black vanilla: Spooky vanilla flavor whose color comes from activated charcoal and black food coloring
Cookie Monster: Blue milk base with eggless cookie dough swirls. The cookie dough is completely edible and is mixed with M&Ms
Ferrero Rocher: Inspired by the iconic candy, this is a Nutella gelato with chunks of chocolate ganache, finely diced roasted nuts and homemade feuilletine wafers
Butterbeer: Butterscotch made with real browned butter and a touch of scotch cooked off for that toasty butterbeer flavor from the world of Harry Potter
Matcha and black sesame-flavored cones will also be available.
Via Gelato's subscribers will also receive the following Halloween flavors for October:
Shiso subscription: Lihing shiso, strawberry ume shiso, apple candy shiso
Plant-based subscription: Black vanilla (soy based), Vampire's Kiss (coconut-based chocolate cherry amaretto)
Sugar-free subscription: Reese's Peanut Butter Cup (Magic Chocolate mixed with sugar-free peanut butter cups), Witches Brew (sugar-free black sesame and matcha swirl)​
We Heart Cake Company: Assorted Halloween treats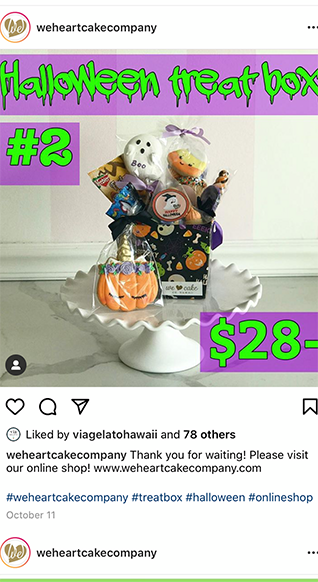 Available for pre-order at We Heart Cake's website until Oct. 28:
Mini/large Halloween Honi Honi cookies, $5.75/$9.50
Ice cream parlor set, $26
Halloween treat box, $28
Halloween cookies set, $28.75
Halloween love letter cake, $48