26 Things to Do on Your Lānai in Hawai'i
Keep keiki busy with these fun, screen-free activities from A to Z.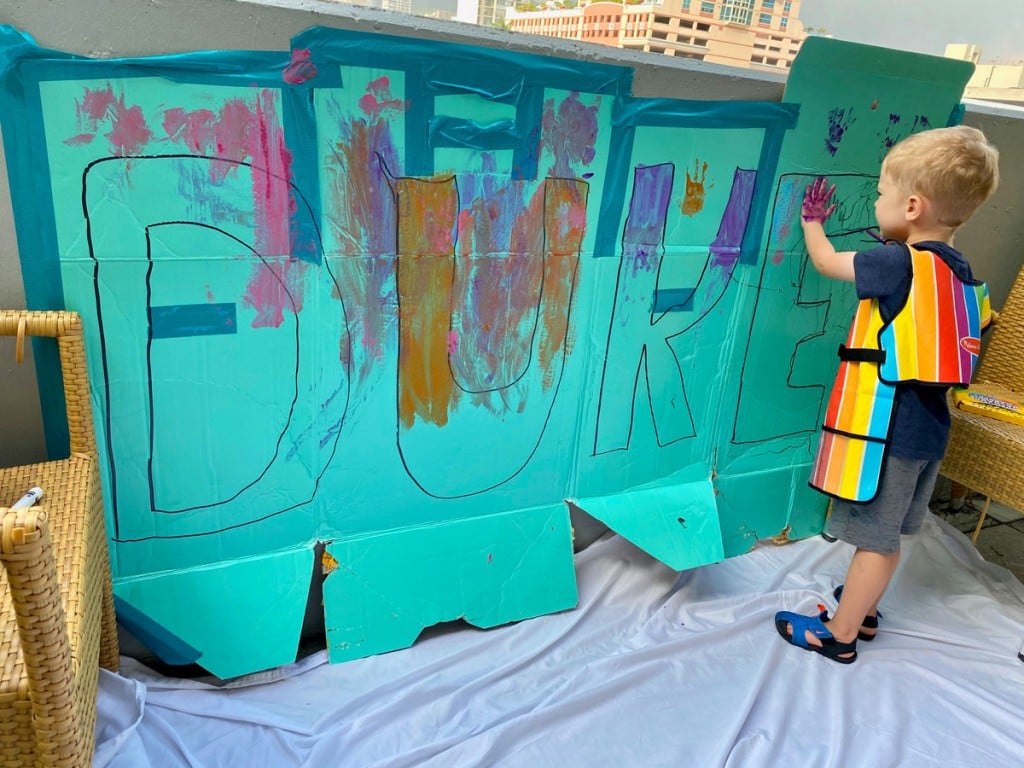 I don't know about you, but I have been going a little crazy being cooped-up in my two-bedroom Kaka'ako condo with my husband and our 3-year-old son, Duke, as we ride out the pandemic. With the ups and downs of stay-at-home orders and beach, park and playground closures, we've spent way too much time indoors on our iPads these past few months.
When Duke is bouncing off the walls (literally), throwing a tantrum or whining due to boredom, our coping method is to change the scenery by sliding open the door to our lānai. There is something magical about fresh air and a sensory stimulation activity to lift the mood (actually, it's backed by science).
To keep busy, safe and sane, I've gotten creative, borrowed ideas from social media and revisited the classics from my childhood. I mean, who doesn't love a kiddie pool?!? Whether you have a balcony, driveway or backyard, I hope that sharing our favorite outdoor activities will help you through this crazy time. Hang in there!
Alphabet Splash
Reinforce letter learning with spray bottles or squirt guns. Here's how to set it up.
Bubble Foam
Whip-up this sudsy concoction with this recipe. Tip: Make more than you think you need, as it loses volume during play.
Crazy String
Whether you call it Silly String or Party String, it's a classic. I found some in the dollar section at Target.
Heads-up
It's better for ages 4 and up, as my 3-year-old doesn't have the hand strength to press the nozzle himself.
DIY Slime
This recipe uses things you already have at home: glue, contact solution and baking soda. Customize your slime with food coloring, glitter or small add-ins like mini shells. Add two more ingredients for fluffy slime.
Edible Finger Paint
Great for the youngest artists! Use food coloring to dye vanilla pudding into a variety of shades to create a delicious masterpiece. Bonus: you get to 'help' by eating the leftovers.
Frozen Dinosaur Excavation
Freeze dinosaur toys and water overnight in a plastic container to create a block of ice. Then let your kids "rescue" the prehistoric creatures with hammers and ice picks. Use your best judgment on appropriate tools for your child's age and abilities.
Glow Sticks
Cheap and loads of fun, we use them to play hide-and-seek outside at dusk and even throw them into the bathtub for a special bedtime ritual.
Helicopter Pinwheel
Print this template to make a spinning science experiment.
Inflatable Swimming Pool
With beaches and pools closed, we beat the heat with the largest kiddie pool we could find. I added a floating swim-up "bar" (a kickboard) for our refreshments.
Jello Dig
Mix-up a 9-by-13-inch pan of instant gelatin with submerged toys inside for an 'ono excavation.
Kitchen Play
Using mud, water and a set of old pots, keiki can mix and cook their own creations.
Lei Making
For a full morning activity, we walked our neighborhood collecting flowers, then strung a lei for Duke's tūtū.
Mural Painting
Our neighborhood is full of street art, so Duke was inspired to paint his own on a collapsed cardboard box.
Nature Cutting Bin
A fun, easy and free activity.
Outdoor Toy Paint
When painting on paper seems boring, change-it-up by using washable paint on plastic toys. Then, see "T – Toy Wash" below to get them sparkling clean.
Plant a Garden
Read our tips for starting a lānai garden.
Quick Sand
Follow this recipe for a fun science experiment.
Ramps for Monster Trucks
Repurpose cardboard boxes into ramps for remote control cars and trucks.
Shaving Cream Cupcakes
Raid Dad's cosmetic case for a pretend-play sensory session with a cupcake pan, paper liners, scoops, and sprinkles.
Toy Wash
Whether your LEGOs, Hot Wheels or Barbies need to be sanitized or refreshed, let your kids do the dirty work. In a large plastic bin, bucket or water table, use a mild soap and water and then air-dry on towels in the sun.
'Ukulele Craft
If you're like us, you have stacks of discarded boxes from online shopping. Follow these instructions to upcycle the cardboard into a musical instrument.
Vehicle Wash
Truck-obsessed toddlers can detail their own ride-on toys with soapy water and a rag in hand. I even convinced Duke to help me wash our stroller.
Water Beads
If you haven't discovered these boba-like gel beads yet, order some now! Heads-up: They are NOT edible, so are best for kids over 3 years old.
X Marks the Spot
Hide a prize outside, draw a map, and play pirates as you search for the hidden treasure. Pirate attire is encouraged.
Yard Bowling
Turn recycled bottles into bowling pins. Here are the instructions.
Zuru Water Balloons
A genius invention for parents: you can fill 100 balloons in 60 seconds.
5 Tips to Avoid a #FAIL Activity
So, if you've made it to the end of this list you may be thinking, "Ha. I don't have time to prep these activities," or "Sista, no way! That's a mess waiting to happen." But hear me out with these tips to make the experience simple and successful.
Don't prep in advance. Let's face it, we don't have time for that. Instead, enlist your keiki to help you gather supplies from around the house and set up the activity. They'll be so excited for the upcoming fun that they won't notice that they're doing "work."
Assume a mess. Each parent has their own threshold for mess. Mine happens to be a lot greater than my husband's. Remember, you are outside, so it's OK. But, I've also found that laying down an old beach towel or sheet under the workspace helps ease my husband's anxiety.
Sneak some 'me' time. Start off by playing alongside your little one, but once they are engrossed, you've earned a few moments to check emails or social media (but realistically, maybe only a few minutes).
Leave it out. Don't feel crushed if your keiki only engage in the activity for a few minutes. They have short attention spans. I like to leave the activity open for a few hours and they may want to circle back to it later.
Keiki can clean. Just like the set-up, treat clean-up as part of the activity, so you are not stuck doing it while they nap. Plus, they'll learn an important life skill.
For more hours of fun at home, check-out these crafts and activities from HONOLULU Family and tons of outdoor play ideas from brilliant mom blogger, Busy Toddler.