250+ Oahu restaurants are reopening for dine-in from Sept. 24
Yes, Oahu, we can eat out again! Is your fave eatery on the list?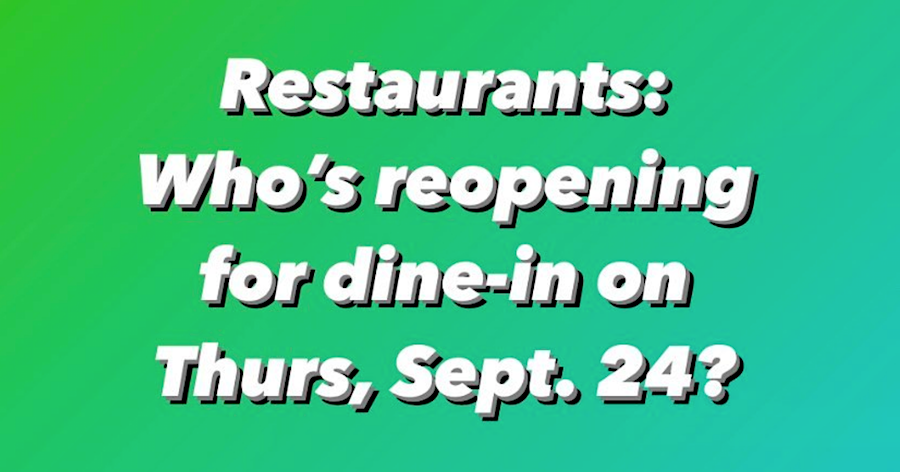 Not only are lockdown restrictions being eased starting tomorrow, we can eat out again, Oahu! That is resounding good news for eaters and restaurants islandwide that have been surviving on takeout orders for the last four weeks.
Officially we'll be in Tier 1 of Oahu's new system that ties all kinds of activities to islandwide COVID metrics. For the next four weeks, that means
Restaurants will have to operate at 50% seating capacity
Up to 5 diners from the same household can sit at one table
Customers will have to provide contact details for contact tracing
Reservations will be required so call ahead or book online!
When the word came down Tuesday afternoon we immediately put out a call on Instagram to see which restaurants plan to reopen. Response was overwhelming. Click on restaurant names to see their latest Instagram posts for details. Restaurants are still contacting us so we'll keep updating this list.
1938 Indochine, Kakaako
22 Kailua, Kailua, reopening Sept. 25
53 by the Sea, Kakaako
8 Fat Fat 8, Keeaumoku
Aburiya Ibushi, Kapahulu
Alii Coffee Co., Downtown
Aloha Beer Co., Kakaako, Oct. 1
Amuse Wine Bar, Ala Moana
Angelo Pietro, Kaimuki, reopening Sept. 25
Arvo, Kakaako
Asuka Nabe + Shabu Shabu, Kaimuki
Atsushi, Kakaako
Baci Bistro, Kailua
Basalt, Waikiki, reopening Sept. 25
Banzai Sushi Bar, Haleiwa
Beer Lab, University, Waipio, Pearlridge
Bernini, Ala Moana
Bevy Bar, Kakaako, Sept. 29
Big City Diner, Kaimuki, Kailua, Pearlridge, Waipio
Blind Ox, Kaimuki
Bogart's Cafe, Monsarrat
Boiling Crab, Kakaako
Bozu Japanese Restaurant, McCully
Breakers Restaurant & Bar, Haleiwa
Brew'd Craft Pub, Kaimuki
Brick Oven Pizza, Kapolei and Kaneohe locations
Brug Bakery, all locations
Butcher & Bird, Kakaako; outdoor seating only
Cafe Asia, Niu Valley
Cafe Haleiwa, Haleiwa
Cafe Kaila, Kapahulu
Cajun King Aiea, Aiea
Carp Dori Hawaii, McCully
Cinnamons Restaurant, Kailua
Coffee Talk, Kaimuki
Conversations, Liliha
Coquitos Latin Cuisine, Waianae
Cuu Long II, Chinatown
DK Steakhouse, Kakaako
Deck, Waikiki, reopening Sept. 30
Dixie Grill, Aiea
Doner Shack, Downtown
Dowon Chinese Restaurant, Ala Moana
Easy Que, Kailua, outdoor seating only
EbiNomi Shrimp Eatery, Waikiki, outdoor seating only
Egghead Cafe & Espresso Bar, Kalihi location only, reopening Sept. 26
Eggs 'n Things, Ala Moana and Express location
Encore Saloon, Chinatown, late September/early October
Espresso Bar at Neiman Marcus, Ala Moana
Fete, Chinatown
Five Guys, all locations
See also: We ate out at restaurants and here's what it was like
Forty Niner Restaurant, Aiea
Fujiyama Texas, McCully
Gen Korean BBQ, Ala Moana and Pearlridge
Ginza Sushi, Ward
Ginza Won, Waikiki
Giovanni Pastrami, Waikiki, reopening Sept. 25
Goen Dining + Bar, Kailua
Golden Pork Tonkotsu Ramen, Makiki
Goma Tei, all locations
Growler USA, Kapahulu
Guava Smoked, both locations
Guieb Cafe, Kalihi
Gyu-Kaku, Kalihi, Kapolei, Mililani, Windward Mall
Ha Long Pho Noodle Bar, Kalihi
Hachibei Hawaii, Chinatown
Haleiwa Joe's, Haleiwa and Kaneohe
Hana Koa Brewery,
Harbor Pub, Waikiki
Hau Tree Lanai Restaurant, Waikiki
Hideout at The Laylow, Waikiki, reopening Sept. 25
Highway Inn, all locations
Hihimanu Sushi, Kaimuki, reopening Sept. 25
Himalayan Kitchen, Kaimuki
Honolulu Beerworks, Kakaako
Hot Pot Heaven, McCully and Kapolei
House of Wong Restaurant, Kapahulu
Hy's Steak House, Waikiki, reopening Sept. 25
Ichiriki, all locations
IHOP Hawaii, Waikiki and airport locations only
Il Lupino Trattoria & Wine Bar, Waikiki
Imanas Tei, Moiliili
I-naba, McCully
Indochine, Kakaako
Island Vintage Coffee, all locations
Island Vintage Wine Bar, Waikiki, reopening Sept. 25
Istanbul, Kakaako
Izakaya Danji, Makiki
Izakaya Matsuri, Keeaumoku
Izakaya Nonbei, Kapahulu
Izakaya Torae Torae, McCully
J. Dolan's, Downtown
Jade Dynasty Seafood Restaurant, Ala Moana
Jagalchi Korean Restaurant, Makiki
Jane's Fountain, Liliha
Japanese BBQ Yoshi, Makiki
Jolene's Market, Chinatown, reopening Sept. 28
Joy Cup Noodles Mean, Pawaa
Junpuu, Ward
Kahai Street Kitchen, Moiliili
Kalapawai Market, all locations
Karai Crab, Makiki
Katsumidori Sushi, Waikiki
Kickin Kajun, all locations
Kikue, Kaimuki
Kizuna Japanese Sushi & Grill, Kaneohe
Knots Coffee Roasters, Waikiki
Kona Coffee Purveyors, Waikiki
Kuru Kuru Sushi, Kahala and Pearl Kai
La Vie, Waikiki, reopening Sept. 30
Lanikai Brewing Co., Kailua
Liko's Tap & Table, Hawaii Kai
Liliha Bakery, Kuakini and Nimitz on Sept 24, Ala Moana location Sept. 28
Little Italy Hawaii, Kakaako
Little Joe's Steakhouse, Nimitz, reopening Sept. 29
Livestock Tavern, Chinatown
Lobster King, Keeaumoku
Lucky Belly, Chinatown, Sept. 28
Mad Bene, Kapolei
Maguro-Ya, Kaimuki
Mahiai Table, Kapolei
Maile's Thai Bistro at Ward, Kakaako
Malu Honolulu, Keeaumoku
Mangiamo by 604, Moanalua, reopening Sept. 25
Manichi Ramen, Ala Moana
Marukame Udon, Waikiki
Maui Brewing Co., Kailua location
Mei Sum Dim Sum, Chinatown
Merriman's Honolulu, Kakaako
Miro Kaimuki, Kaimuki, reopening Sept. 30
Mitch's Fish Market & Sushi Bar, Mapunapuna
Moani Island Bistro, Kapolei
Moena Cafe, Hawaii Kai
Moke's Bread & Breakfast, Kaimuki
Moku Kitchen, Kakaako
Momosan Waikiki, Waikiki
Morton's Honolulu, Ala Moana
Mud Hen Water, Kaimuki
Murphy's Bar and Grill, Downtown, reopening Sept. 28
Nalu Health Bar, all locations
Nana Ai Katsu, Kakaako
Nanzan Giro Giro, Ala Moana
New Kamana Kitchen, Downtown
Nico's Kailua, Kailua
Nico's Pier 38, Nimitz, reopening Sept. 28
Noi Thai Cuisine, Waikiki
Noods Ramen Bar, Kaimuki
Oahu Grill, Kaimuki
Oahu Mexican Grill, Waikiki only, reopening Oct. 3
Odori-ko Japanese Restaurant, Kapiolani
Off the Wall, Kakaako, reopening Sept. 25
Okonomiyaki Chibo, Waikiki
Olay's Thai Lao Cuisine, Chinatown
Olomana Brewing Co., Kailua
Osaka Teppanyaki Kawano, McCully
Over Easy, Kailua, outdoor seating only
Pai Honolulu, Downtown
Palace Saimin, Kalihi
Pho Le, Aiea
Pieology Pizzeria, all locations
Pitch Sports Bar, Kakaako
Qingmu Noodle, Kakaako
Quiora, Waikiki, reopening Sept. 30
RB Sports Bar, University
Redfish Poke, Kakaako
Restaurant Suntory, Waikiki
Restaurant Kuni, Waipahu
Restaurant XO, Kaimuki
Rigo Hawaii, Kapahulu
Rinka Restaurant, Kakaako
Ripple of Smiles, Kaimuki
Rokaru Shabu Shabu, Pearl City
Roy's Hawaii, Ko Olina and Hawaii Kai only
Ruby Tuesday Hawaii, all locations; salad bar not open
Ruscello, Ala Moana
Sakana Grill, Kalihi
Sakura Restaurant, Mililani
Sakura Teppanyaki & Sushi Bar, Kapolei
Sakura Terrace, Makiki
Sansei Hawaii, Kakaako
Scratch Kitchen, Kakaako
Season's Eatery, Chinatown
Seoul Tofu House, Waikiki
Shabuya, Ala Moana
Shiro's Saimin, Ewa Beach and Waimalu
Shokudo Japanese, Ala Moana
ShoreFyre, Waikiki, reopening Sept. 25
Side Street Inn, Kapahulu only, reopening Sept. 25
Sikdorak, Keeaumoku
Sikdorak II and III, Kaneohe and Aiea
Smith & Kings, Chinatown
Sorabol, Keeaumoku
Square Barrels, Downtown
Stage Restaurant, Ala Moana
Stonefish Bar and Grill, Haleiwa
Sura Hawaii, Kapiolani
Surfers Coffee, Wahiawa
Sushi Ginza Onodera, Kapahulu, Sept. 28
Sushi Ii, Keeaumoku
Sushi Izakaya Gaku, Makiki
Sushi Murayama, Keeaumoku
Sushi Sho, Waikiki, reopening Sept. 27
Sweet E's Cafe, Kapahulu
Tai Pan Dim Sum, Chinatown
Tanaka of Tokyo, Ala Moana only
Tanaka Ramen and Izakaya, Kapolei
Tanaka Saimin, Kalihi
Tango Cafe, Kakaako
Taormina Sicilian Cuisine, Waikiki
Taps and Apps Brewpub, Mililani Mauka
Tchin Tchin, Chinatown
Tea at 1024, Downtown, weekends only
Teddy's Bigger Burgers, all locations
Tex 808 BBQ + Brews, Hawaii Kai
The Alley Restaurant at Aiea Bowl, Aiea
The Beet Box Cafe, Kailua and Haleiwa
The Boiling Crab, Kakaako
The Cheesecake Factory, Waikiki and Kapolei
The Nighthawk, Chinatown
The Nook, Moiliili
The Pizza Press Pearl City, Pearl City
The Shack, Mililani
The Signature Prime Steak & Seafood, Ala Moana, reopening Sept. 26
The Social Honolulu, McCully
The Surfing Pig Hawaii, Kaimuki
Tiano's, Kunia
Tipsy Pig, Makiki
Tlaxcalli, Chinatown, Oct. 1
Tokkuri Tei, Kapahulu
Tonkatsu Ginza Bairin, Waikiki
Tori Ton, Moiliili
Town, Kaimuki
Tropics Ale House, Waikiki
Uahi Island Grill, Kailua, reopening Sept. 28
Uncle Bo's Restaurant, Kapahulu
Uncle's Fish Market, Pearlridge
Up Roll Cafe, Kailua and Honolulu
Utage, Kalihi
Vein Kakaako, Kakaako
Vino Hawaii, Kakaako, reopening Sept. 26
Waioli Kitchen & Bake Shop, Manoa, reopening Sept. 25
Wagaya, Moiliili
Waikiki Brewing Co., Kakaako
Wolfgang's Steakhouse, Waikiki, will operate in Il Lupino Trattoria & Wine Bar
Yakiniku Seoul, Ala Moana
Yakiniku Sizzle, Kakaako
Yaki Yaki Miwa, Keeaumoku
Yanagi Sushi, Kakaako
Ya-Ya's Chophouse & Seafood, Kakaako
Yohei Sushi, Kalihi
Yung Yee Kee Dim Sum, Ala Moana
Zia's Caffe, Kaneohe
Zippy's, Maikiki, Vineyard, Kaneohe and Kapolei; Ewa and Nimitz locations from Sept. 25