2021 Hale 'Aina Award Winner: Kapa Hale Named Best New Restaurant in Hawai'i
It's not easy being gold. For Keaka Lee, chef-owner of Kapa Hale, a typical week means 16-hour days, six-and-a-half days a week.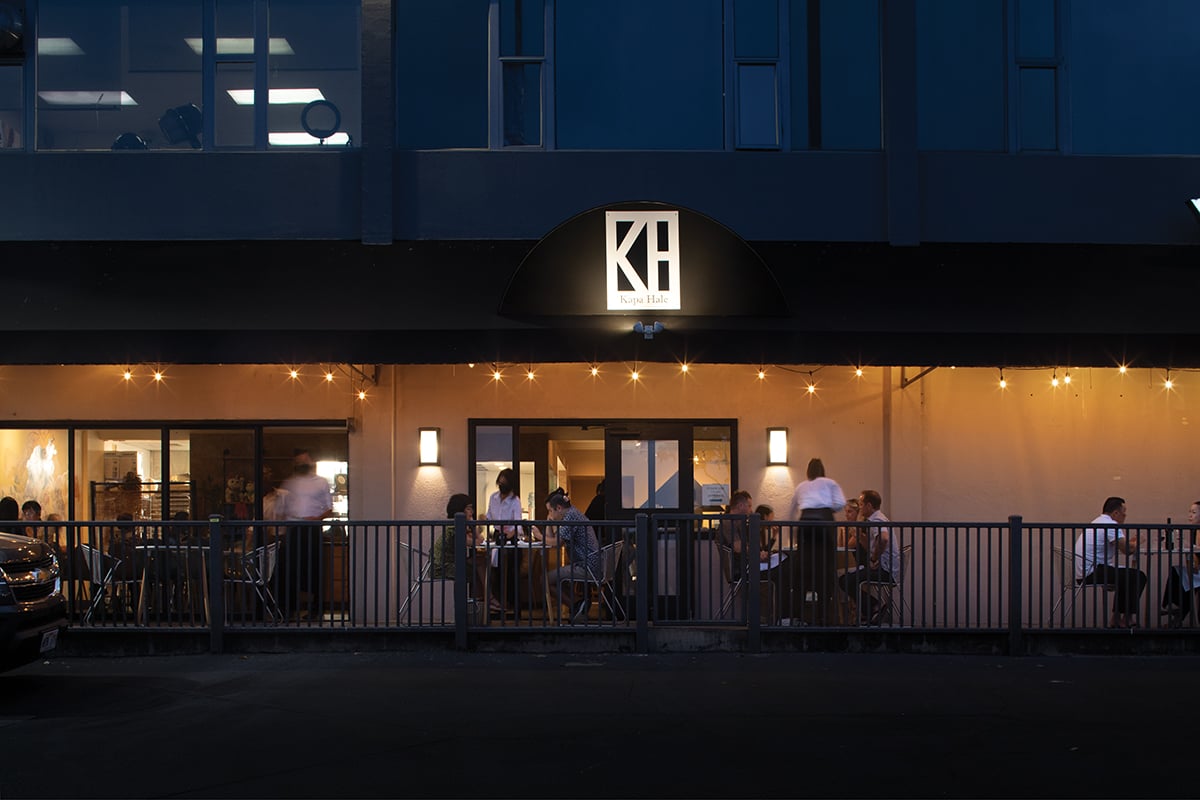 Dinner lights glow at Kapa Hale every night, illuminating a corner behind Kāhala Mall where the previous restaurant served its last customer more than three years ago. Tables that spill from the dining room onto the patio hold plates of local beef tartare with pickled mushrooms and macadamia nuts, grilled tako with lomi tomato and black garlic char siu, and Kaua'i shrimp tagliatelle tossed in a bulgogi Bolognese. Kapa Hale is the restaurant Keaka Lee dreamed about opening for 15 years, as he worked his way from Chuck E. Cheese to Michelin-starred eateries in San Francisco and New York City. It's no surprise to him that his first solo venture, at an address known as a revolving door for restaurants going back three decades, fills up at dinner. "I knew this place when it was a bar, when it was Wahoo's, when it was a bakery. I've been told by a lot of people that it was a mistake to choose this space," he says. "But my time at Pig & The Lady taught me that if you build something that people really want to go to, in Chinatown or wherever, regardless of parking, people will find a way to get to you."
For Lee, the biggest surprise since opening in December has been a unique curveball thrown by the pandemic: The more Kapa Hale caught on, the harder his job became. An upended labor market has meant staff shortages, stretching his titles of chef and owner with additional roles as prep cook, line cook, bread maker, dishwasher, janitor and errand boy. For months at a time Lee opened the restaurant every morning and locked its doors at midnight. For weeks he's been the only one cooking weekday lunch. Until he closed for four days in July to give the staff a break, his last day off was Christmas. Family time with his wife, Heather, and 19-month-old daughter, Astoria, is a half-day on Mondays, when the restaurant is closed for lunch. The night the winners of the Hale 'Aina Awards were announced in a virtual ceremony online, he set up a laptop in the open kitchen. He was calling out an order when he heard the news: Kapa Hale had been voted Best New Restaurant in Hawai'i. The dining room erupted in whoops and applause. A stunned Lee exchanged grinning stares with his jubilant crew. For a moment, he was speechless. Then he got back to work.
" I could see the service, I could see the kitchen, I could see a full dining room. That made me believe in myself to take the space."
7:30 a.m.
Lee unlocks the doors and turns on the air conditioning. The daily act is a symbolic homecoming. He grew up in this neighborhood, as he likes to tell people, going from Wilson Elementary three blocks up Kīlauea Avenue to Kaimukī Middle School, Kalani High School and culinary studies at Kapi'olani Community College just over a mile away. At Alan Wong's, at the urging of fellow chefs Wade Ueoka and Michelle Karr-Ueoka, he left Hawai'i to broaden his horizons at Michelin-starred kitchens: San Francisco's Benu (three stars) and New York's Le Bernardin (three stars), Eleven Madison Park (three stars), Café Boulud (one star) and Gramercy Tavern (one star). When he left his last job as The Pig & The Lady's chef de cuisine, there was never a question about where on the island he would open. By his count, he looked at more than 30 spots from Kaimukī to 'Āina Haina before he laid eyes on the former Central Bakery space. At that point it had been vacant nearly a year and the landlord, apparently giving up on finding a new restaurant tenant, had torn out the kitchen hoods and ceilings. At 120 seats without COVID-19 capacity limits, the space was bigger than Lee envisioned, which meant higher rent, common area maintenance fees, utility costs. But "when I came in I saw something that made me say no to everything else. Something felt right," he says. "I could see the service, I could see the kitchen, I could see a full dining room. That made me believe in myself to take the space."
10:30 a.m.
By late morning, when the restaurant opens to the public, Lee has sliced cucumbers for pickles, washed greens for the Kapa-kahi Salad, cut Kōlea Farm cauliflower and Ho Farms eggplant for vegetable side dishes, made fresh tagliatelle noodles. He'll have chopped green onions and other mise en place, butchered 'ahi belly for the garlic 'ahi, roasted bacon and cooked kālua pork for the Hawaiian Cubano. He'll make dashi broth for the vegan Holy Shiitake ramen. Sometimes he'll start the doughs for focaccia, brioche and naan and leave them to proof before the pastry team comes in. On weekends, when the restaurant opens at 8 a.m. for a brunch service that runs until 2:30, Lee starts prepping at 6 a.m.
He's the first to arrive not because he's the owner of a new business, which was the case for the first few months as he got staffing and operations up to speed, but because in one week in May he lost two of his five cooks. One moved to Las Vegas, then the morning point person quit to make pastries at a Kaimukī coffee shop. Lee was relieved when help wanted ads produced 10 applicants, still hopeful when only one showed up for an interview, elated and then deflated when the lone interviewee accepted the job but never showed up. "It's crazy because it's just about finding people," he says. "It's not even about finding good people. I just want to find people that are willing to learn and believe in what we do." Until May, two chefs worked lunch and Lee handled dinner with two line cooks and a weekend swing shift. With lunch still at times slow, the restaurant filling up at peak dinner hours and kitchen and front-of-house crews going full bore since December, Lee switched his remaining chefs to dinner and weekend brunch and started working every shift himself, 13 a week, including his solo weekday lunch service.
2 p.m.
As lunch winds down, the p.m. team comes in to start dinner prep, giving Lee a few hours for cleanup and errands. On this day he'll sit down for a HONOLULU Magazine interview, then drive out to Chef Zone for compostable takeout containers. He'll get back in time for family meal, a collective effort that happens just before or after dinner service. On Mondays the restaurant doesn't open until midafternoon. "That's when I spend most of my time with Astoria and Heather, just trying to find some small balance and normalcy," he says. "I've thought about closing for a full day, but as the new kid on the block, I decided to take on this challenge for now because my body can handle it. It's about building our brand and making sure we're getting the constant regulars and new customers and giving them a chance to experience Kapa Hale whether it's brunch, lunch or dinner."
5 p.m.
Early birds arrive for light suppers—the median age in swank Kāhala is 55. There are tourists from The Kāhala Hotel & Resort, Instagrammers and Yelpers, Kalani High alums supporting a fellow Falcon. Dinner is when the reality of Kapa Hale matches Lee's vision. The restaurant fills with small celebrations, family dinners, couples on date night and eaters who drive in from all over, tucking into his version of modern Hawai'i Regional Cuisine. The menu is intensely personal—there are hints of cosmopolitan New York (the Shaka-shuka and the tikka masala curry with grilled garlic naan), Southeast Asian flavors from his time at The Pig & The Lady, nods to local comfort foods in the ginger chicken toast, loco moco and house-made takuan. Inspired by Gramercy Tavern's Michael Anthony, whose treatments of cipollini onions outshined a smoked trout entrée they garnished, Lee has devoted an entire menu section to vegetables—including the less common sunchokes. Rather than source lobster meat from outside Hawai'i, he took the trendy sandwich off the menu when he couldn't afford enough Kona lobster to compete against more voluptuous, mainland-sourced lobster rolls.
The specificity of his vision is such that he initially refused to offer gift cards on Kapa Hale's website—he wanted potential buyers to physically come in and experience the spare earth-tone space whose geometric kapa motifs and Mae Waite mural reflect not just Lee's part-Hawaiian heritage, but a flowing continuity in the simple, repeated patterns. "You will never see into a chef's mind and personality as much as at their first restaurant, because we put so much into that first one," says Pili Group and Chef Hui's Mark "Gooch" Noguchi, who revamped He'eia Kea Pier General Store & Deli, opened several more eateries and has known Lee since his return from New York. "Never again will you see a chef take as much risks and cook from their ki (the Japanese word for chi, or life force). Anything after has been tainted by experience with loss, with reality, with everything that goes against cooking from your ki. Restaurant number one is all heart and soul, piss and vinegar."
Midnight
After a busy dinner service, Lee and the waitstaff pitch in to help wash dishes. He finishes up invoices and other paperwork while the front-of-house staff goes home, followed by the kitchen crew. Lee checks that the faucets and ovens are off and the pilot lights on. He turns off the lights, locks up the Best New Restaurant in Hawai'i and heads home.
---
BEST NEW RESTAURANT
–GOLD–
BEST BRUNCH
–BRONZE–
BEST FARM-TO-TABLE
–BRONZE–
4614 Kīlauea Ave., (808) 888-2060, kapahale.com, @4614kapahale