$15 happy hour: Merriman's Honolulu
For $15 you can feast on a burger, quesadillas and Maui onion soup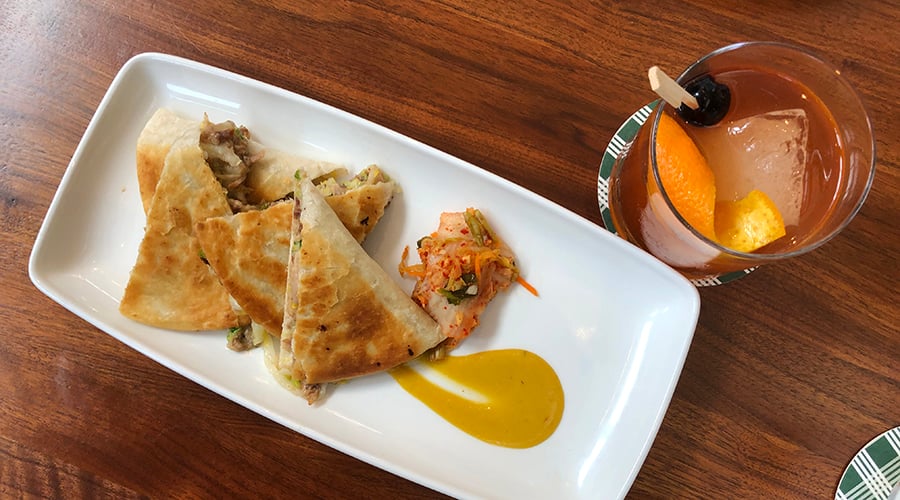 When Merriman's Honolulu opened last summer in Ward Village, it was big news. Mostly because it was Peter Merriman's first namesake restaurant on Oahu. In the fall they started a happy hour menu, but a $5 cheeseburger was the only food item among the 25 percent drink discounts.
Now get this: In recent weeks Merriman's has added more happy hour dishes that are not only droolworthy, but also an insane deal.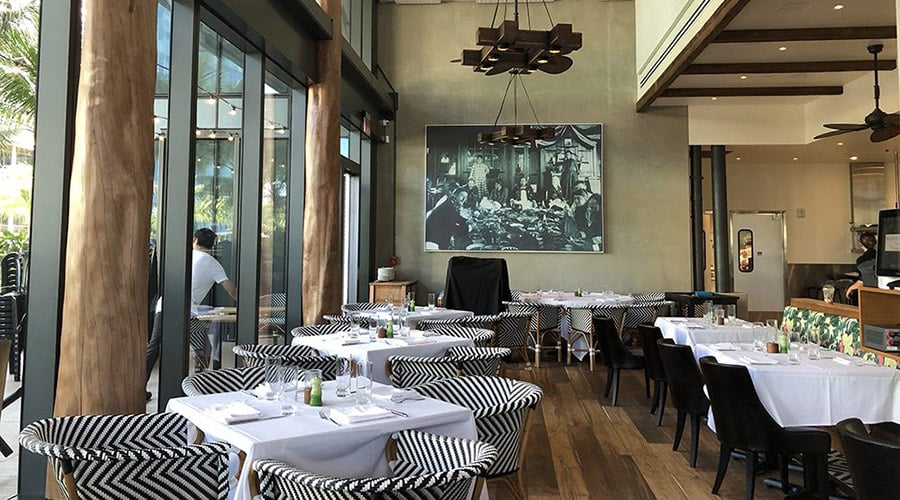 The scene
Imagine sipping a cocktail or a glass of bubbly at the bar or one of the indoor booths or tables. If it's Friday or Saturday there's live music in the background, but happy hour is every day from 2 to 5 p.m. If it seems a little early, at least you avoid the dinner crowd.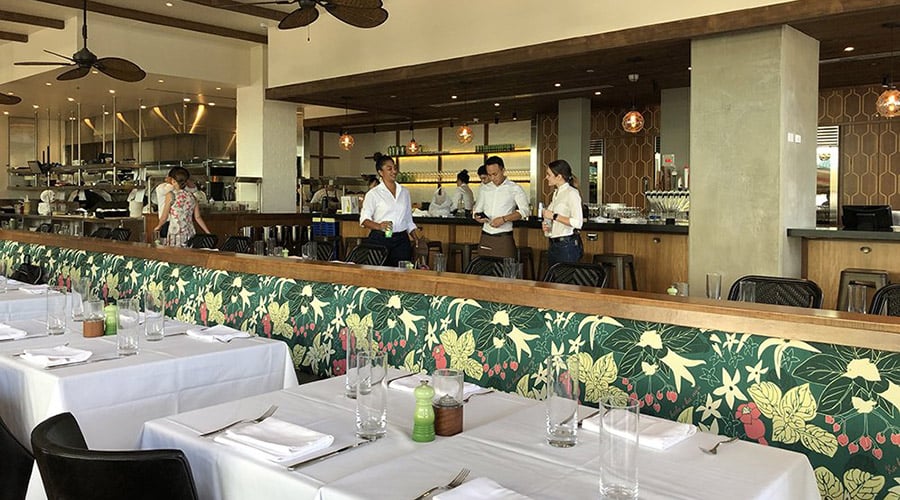 What you can get for $15
Sticking to this $15 budget requires some math when you're applying the 25 percent discount to drinks. The food menu, on the other hand, can't get simpler: The four happy hour dishes are $5 each. Here's the kicker: Happy hour dish portions are the same as full-size portions, except for the ceviche, which is slightly smaller. This means you get a huge discount on food.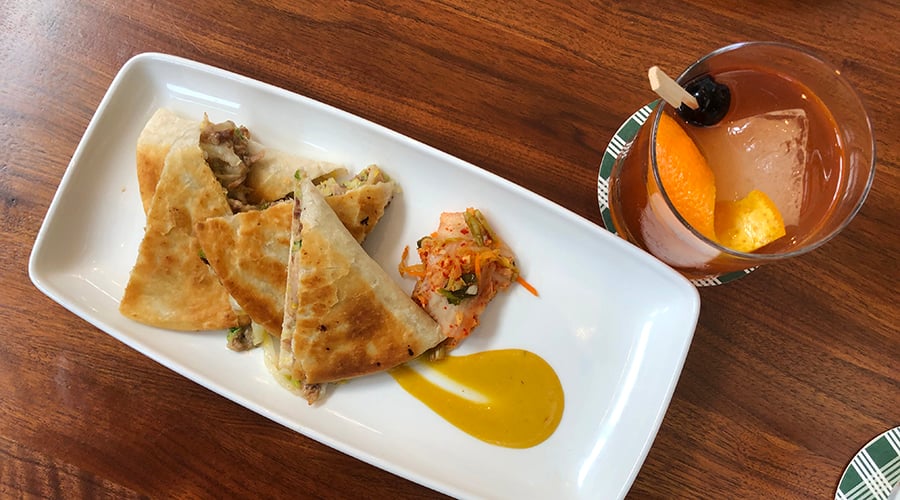 These aren't your ordinary cheese quesadillas. They're filled with ultra savory kalua pork and topped with housemade kimchi and a mango chili sauce. The sticky, sweet sauce packs a one-two punch and a lingering bite, making this dish insanely addictive. And happy hour means a steep discount off the regular price of $14.
Merriman's Old Fashioned is one of the most popular cocktails, with Buffalo Trace Do the Right Thing, single-barrel bourbon, simple syrup, whiskey barrel-aged bitters and angostura bitters.
This pairing puts you 50 cents above our $15 budget, but when a $14 cocktail comes with a 25 percent discount, you don't ask questions — you just order one.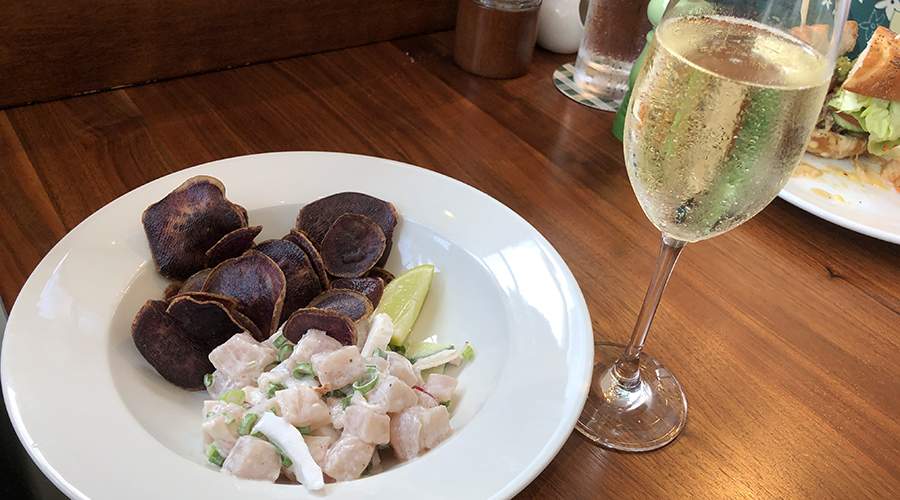 This ceviche is a refreshing medley of the catch of the day (usually ahi or snapper), Tahitian lime, shaved young coconut, jalapenos and cilantro. It comes with either taro chips or sweet potato chips. The coconut flavor is mild and the refreshing taste is heightened when you pair this with a glass of sparkling wine. While the portion is slightly smaller than the regular appetizer, the $11 discount is worth it. If you really like it, you can get two orders and that's still cheaper than the regular price.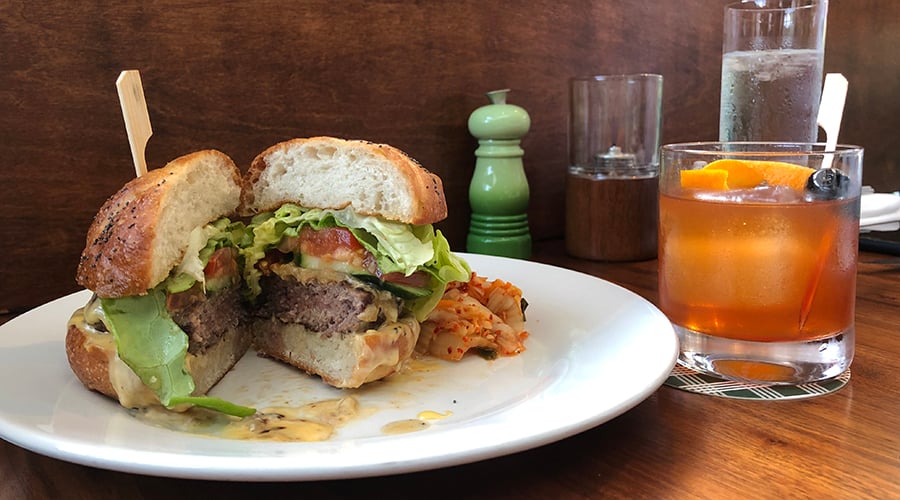 This cheeseburger is the best deal on the happy hour menu, in terms of portion and price ($14 regular). There's no dainty way to tackle it: a succulent 8-ounce patty topped with caramelized onions, tomatoes and cheddar cheese in a house-baked bun. The patty's meaty and juicy, while the caramelized onions add a savory-sweet note. For just $5, you'll actually be full.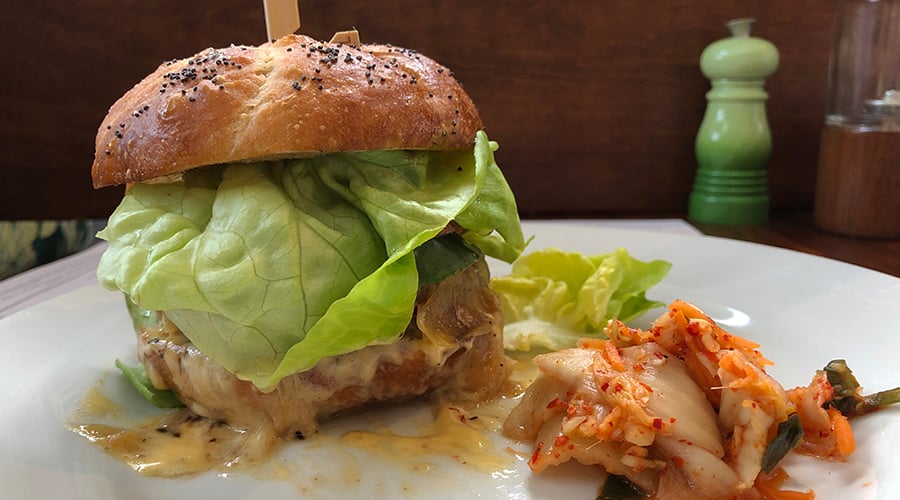 The only happy hour dish I haven't tried is the Maui onion soup with melted gruyere and a toasted baguette. I'm saving that one for another happy hour visit, while the weather's still cool.
Plus tip
If you're at Merriman's for happy hour on Fridays and Saturdays, there's live music from 3:30 to 5:30 p.m. There's also live music nightly from 6 to 9 p.m.
Merriman's
1108 Auahi St.
Kakaako
215-0022
https://www.merrimanshawaii.com/honolulu/
Daily happy hour, 2-5 p.m.
Want more $15 happy hours?
Japanese Restaurant Aki
Brick Fire Tavern
Agu Ramen
Morimoto Asia Waikiki
Dean & DeLuca at the Ritz-Carlton Waikiki