How to Get Your Child Started Bicycling in Honolulu
Everything you need to know to buy a bike, learn to ride and find the best spots to cruise with your keiki.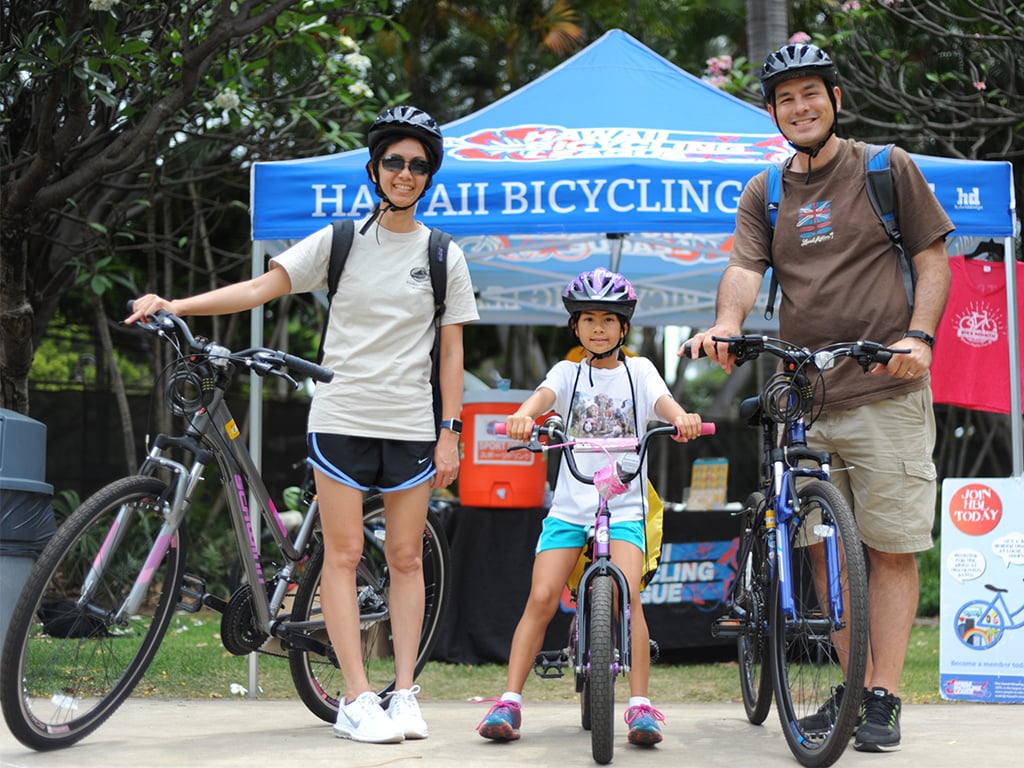 Photo: Hawaiʻi Bicycling League
May is National Bike Month, traditionally filled with fun activities, such as Bike to School Day, but these unusual times have put almost all events on hold.
The good news is that during the stay-at-home order, we can still celebrate this family-friendly activity as long as we practice social distancing.
Whether your 'ohana is experienced or has no clue where to start, there is no better time than now to hit the road or sidewalk, depending on where you are.
So, rally your keiki, buckle your helmets and enjoy the ride!
Choose a Bike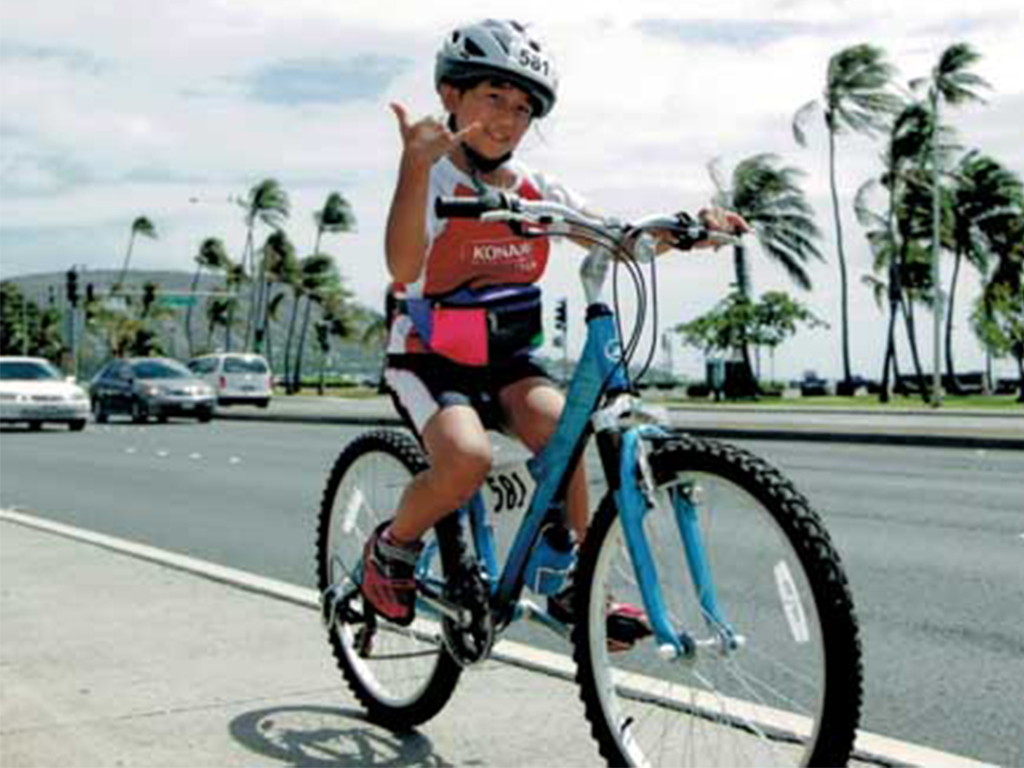 Photo: Hawaiʻi Bicycling League
Are you clueless about what type of bike is right for your child? For first-time riders, the Hawai'i Bicycling League recommends a balance bike instead of training wheels, which give a false sense of stability. Balance bikes have no pedals and are low to the ground so the rider can push himself along using his legs.
To get the whole family on wheels, consider a baby front-mounted seat for your adult bike. The forward positioning will allow you to keep an eye on your child, who'll have a great view.
Heads-up: With extra weight in front, steering and bike control can be a little challenging. For heavier toddlers, try a rear-mounted seat, which makes maneuvering easier.
Another option is a bike trailer attached with a hitch. These are low to the ground, which makes them the safest option for your child. The downside is that your child's view won't be as good from back there, and storing the apparatus takes up a lot of room.
Purchase a Bike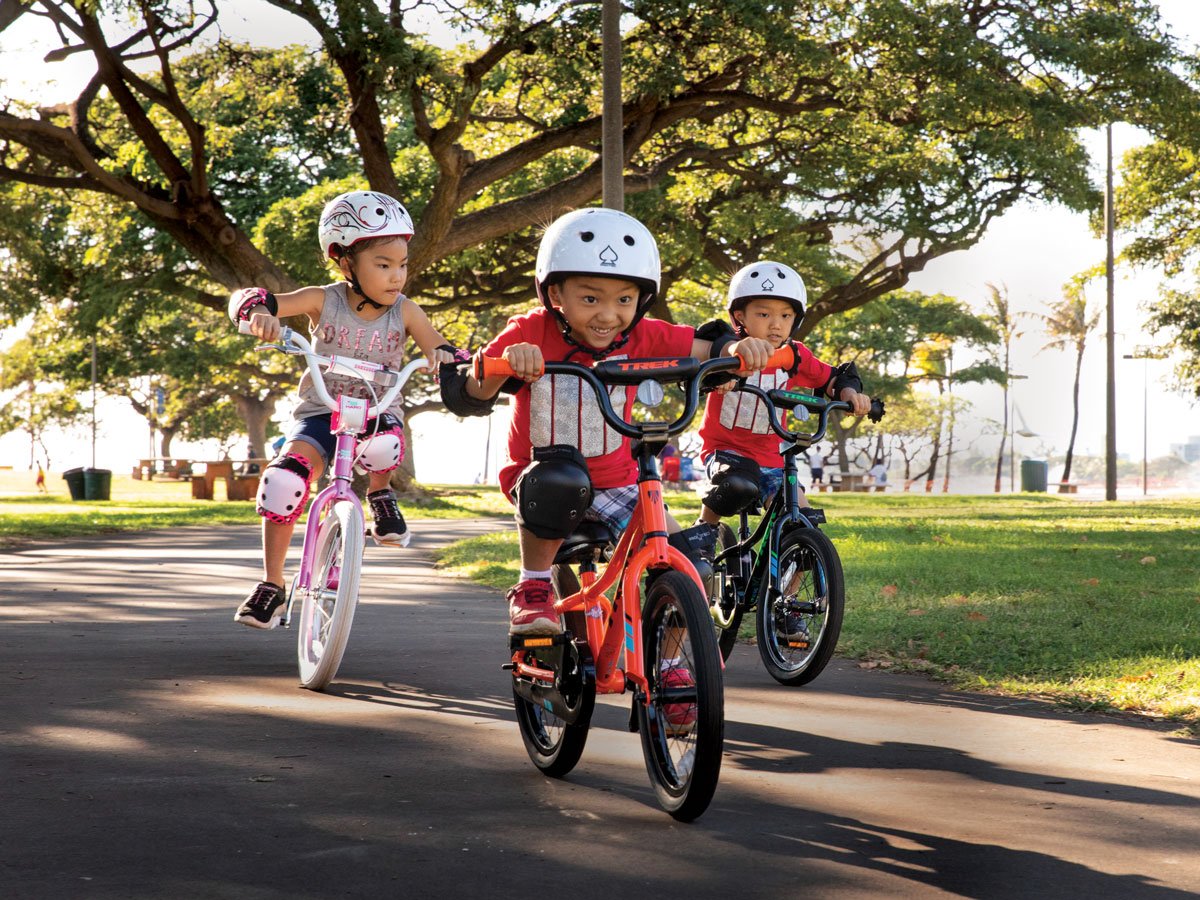 Photo: Leah Friel
You can buy keiki bikes and helmets (such as these) from BIKEFACTORY Hawaiʻi. The store also provides maintenance and repairs.
Since the start of the stay-at-home order in March, local bike shops have seen a boom in business from families with kids who have outgrown their bikes or who are looking for their very first one (you don't have to wait for Christmas morning to celebrate this milestone!).
When shopping, expect that retailers may be operating on shortened hours and adhering to social distancing guidelines, and you may need to place an order for a bike due to high demand. It is a good idea to bring your kids along to ensure a proper fit and even let them take a test ride.
Here are a couple of recommended local bike shops that carry youth and adult bicycles and helmets and offer repair services:
Honolulu location, 740 Ala Moana Blvd., (808) 596-8844
Waipi'o location, 94-1388 Moaniani St., (808) 678-1800
'Aiea location, 98-019 Kamehameha Highway, (808) 487-3615
Honolulu location, 1149 South King St., (808) 596-0588
Kailua location, 767 Kailua Road, (808) 261-1553
Or search for a bike retailer near you with the Hawai'i Bicycling League's shop list, which is updated with shortened business hours and current status during the pandemic.
For a brand-new quality youth bicycle, expect to spend between $175 and $400. If that's not in your budget or you are worried that your child will grow out of the bike too quickly, consider buying a used bike from a friend, Craigslist or Facebook Marketplace (requires a Facebook account).
But beware: Since buying a used bike is like buying a used car, follow these tips:
Inquire about any accidents or crashes the bike may have been involved in
Request the bike registration paperwork so you can transfer ownership
Never buy a used helmet
Register the Bike
Although you hope it will never happen, registering your bike is helpful if it's ever stolen. Bicycles with 20-inch or larger wheels are required to be registered with the City & County of Honolulu. There is a one-time $15 fee to register a new bike; a $5 fee is required to transfer ownership.
Luckily, if you make your purchase at a bike shop or big-box store, the retailer will do most of the work for you: Complete the registration paperwork, collect your fee and submit the paperwork to the City & County of Honolulu. Then, you will receive a decal via mail to attach to the bicycle frame's seat tube.
If you buy a bike online or purchase a used bike, call the Main Bicycle Registration Station at (808) 733-2540 to request the registration paperwork be mailed to you since the office and satellite city halls are closed during the stay-at-home order.
Learn to Ride
Experts recommend learning to ride on a balance bike or, if riding a traditional bike, removing the pedals and adjusting the seat to the lowest setting to practice balance. Once your keiki has mastered balance, it's time to move onto a pedal bike. We love how this video breaks down the process and provides calming advice to parents.
If you are not up for the challenge of teaching your child, the Hawai'i Bicycling League will do it for you!
The two-hour Keiki Learn to Ride classes held in June and July are designed for kids ages 5-16. Don't worry, the classes will incorporate social distancing and cleaning procedures, but register online soon because they're filling up fast.
Ride Safely
Before rolling out, check out these five safety resources:
Give your bike a checkup. Perform a quick ABC Check to ensure your equipment is safe for riding.
Wear a helmet. Although the state of Hawai'i only requires riders under the age of 16 to wear one, everyone in the family should don a properly fitting helmet. Your helmet should cover your forehead, and the chin strap should be buckled and snug under your chin. When buying a helmet, check for the Consumer Product Safety Commission (CPSC) sticker. Similar to car seats, if your helmet is involved in an accident or is over 5 years old, get a new one. Read more helmet tips here.
Quiz your kids. Make learning about bike safety fun with these activity worksheets from the Hawai'i Bicycling League.
Watch an 'ukulele master. Jake Shimabukuro provides safety tips for cars and bikes to share the road in harmony.
Brush-up on the rules of the road. Review bicycling basics and etiquette as a family with this illustration from the Hawai'i Bicycling League.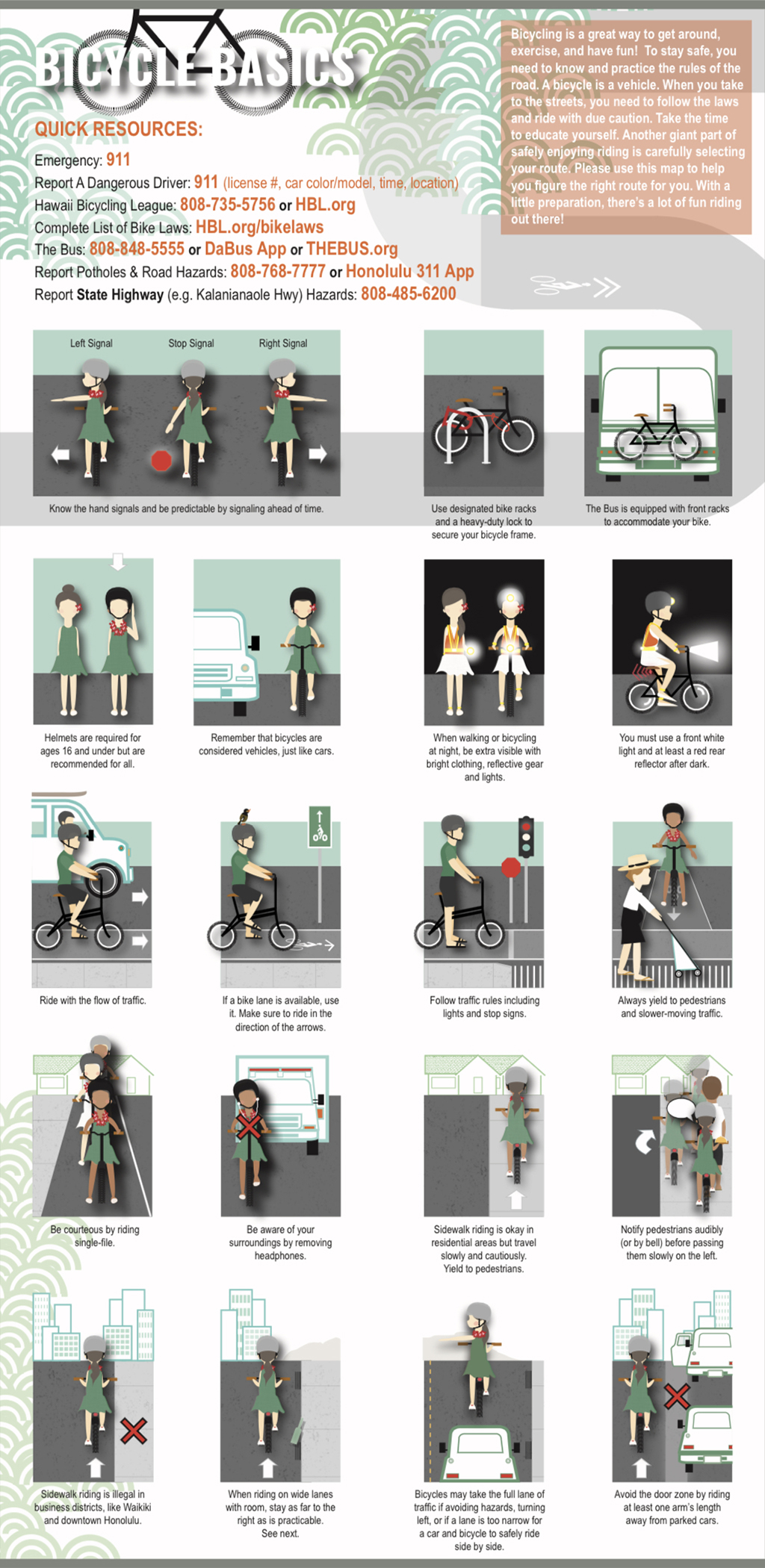 Photo: Hawaiʻi Bicycling League
Where to Ride
The Hawai'i Bicycling League recommends these top three rides for families:
Ala Moana Beach Park and Magic Island (1201 Ala Moana Blvd.) offers long pathways through the park set away from vehicles (and you can't beat the ocean views!). Paths are popular and shared with pedestrians, so just be sure to practice safe bike etiquette.
Kailua Beach Park's (526 Kawailoa Road) multi-use path is another oceanfront route perfect for keiki since it is separated from vehicular traffic.
Kapolei Parkway allows families to cruise for miles along a car-free multi-use path. Start at Geiger Community Park in 'Ewa Beach and ride west toward Kapolei High School.
For more suggested rides, download the O'ahu Bike Map, which is color-coded by route type and stress level.
Not confident yet in your keiki's abilities? Don't worry, sidewalk riding is OK in residential areas as long as your speed is 10 mph or less and you yield to pedestrians.
To get more involved and help out the bicycling community here on O'ahu, consider becoming a Hawai'i Bicycling League member or donate a new or used bike.