Your guide to Comic Con Honolulu 2016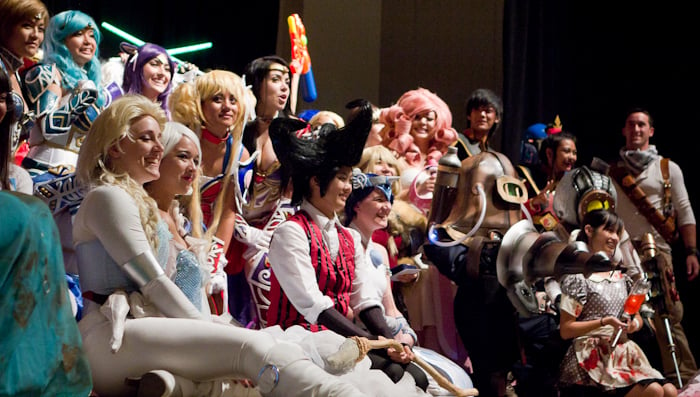 Didn't we just have another convention? Well, you can never have too much of a good thing, can you? While some fans in the local geek community may be feeling the burnout, I welcome our new convention overlords. I'd rather have too many conventions to choose from than too few.
Coming July 29 to 31 at the Hawaii Convention Center, we have Comic Con Honolulu 2016. You'll find more comic book culture than actual comic books here. That's not a bad thing. If you're a fan of geek entertainment and pop culture, there's something that'll catch your interest.
Here's my breakdown of the highlights:
GUESTS

Sean Astin
Goonies never say die, right Mr. Frodo? Back in the day, this 80s icon became famous for his breakout role as Mikey in the timeless classic "The Goonies." He inspired tweens everywhere to question authority and hunt for pirate gold. If that's a bit before your time, you may also recognize him as potato-loving hobbit Samwise Gamgee from the blockbuster fantasy trilogy "Lord of the Rings." Astin has ties to Hawaii, since he played Drew Barrymore's hapless older brother in the locally filmed Adam Sandler flick "Fifty First Dates."

John Barrowman
Putting the comic into Comic Con, John Barrowan plays super-villain Malcolm Merlyn on TV show "Arrow," which is based on the DC comic book Green Arrow. Barrowman played Malcolm Merlyn as such a badass that he went from guest appearances to full-time cast member. I first saw him in famed British TV show "Dr. Who," where he played the flirtatious and sexually fluid Captain Jack Harkness. Captain Jack would later move on to his own sci-fi spinoff series, the darker and more mature-themed "Torchwood."

George Takei
Aye aye, captain! A legend in his own time, George Takei really needs no introduction. Beyond his iconic role as Mr. Sulu in the original "Star Trek" TV series, Takei has built himself a strong and vibrant presence on social media. His is a voice for acceptance and equality, with firm followings in the online geek and pop culture communities. With a pulse on what's current and trending online, Takei's power to influence can't be taken lightly. And he does it with enough humor to keep you laughing and thinking at the same time. Steady as she goes, Mr. Sulu.
COSPLAY
Cosplay Contest
Saturday, July 30, 7:30 – 9 p.m.
Main Events, Room 316
Wondering where to find the best costumes at Comic Con Honolulu? This is where. The cosplay contest gives cosplayers the opportunity to strut their stuff down the runway. If you want to participate, judging is from 1 to 4 p.m. on Saturday at Workshop Room, Lanai 314. Rehearsals happen later that evening from 6:15 to 7:15 p.m. in Main Events Room 316. Just be aware that you'll be walking down the main stage in front of hundreds of cosplay fans, so if you're a little bit shy, the Hallway Cosplay Contest may be better suited to you.
Hallway Cosplay Contest
Friday, July 29, noon – 5 p.m.
Hallway Cosplay Table
The cosplay contest can't showcase every costume, so we have the Hallway Cosplay Contest. It's a nice alternative for those who can't make the main contest on Saturday or aren't a fan of being onstage. To check it out or participate, just visit the Hallway Cosplay table on Friday between noon and 5 p.m. While the cosplay contest has a panel of judges determining the winner, the Hallway Cosplay Contest leaves it up to attendees to vote for their favorite costume. Voting is on Friday from 5 to 9 p.m. You only get one vote, so make it count. Winners are announced at the main Cosplay Contest.
VENDORS
Artist Alley
Map
Get an Artist's Table
Being a geek ain't cheap. A table at Artist Alley gives fans a creative outlet for their artistic abilities and a chance to make some nice change. Vendors offer handcrafted items in limited quantities, giving you a chance to find hidden gems and unique crafts. Since many of the artists are local, you're supporting the local economy. If you have a product you think Comic Con Honolulu fans will want, you might consider getting a table in Artist Alley yourself.
Dealer's Booth
Dealer Info
Dealer's booth is where the big dogs play. Dealers offer more commercial items that are usually licensed and produced in mass quantities. It takes more cash to afford a dealer's booth, but the space is usually bigger than an Artist Alley table. Here's where you might discover rare or hard-to-find swag to complete your collection — with no shipping rates. If you can wait until Sunday, you may even be able to haggle with dealers looking to unload their product before the convention ends.
EVENTS
Gaming
Table Top Games
Video Games
If you're at Comic Con Honolulu, you're mostly likely into some form of gaming. And there's plenty to choose from: video games, collectible card games, tabletop games, role-playing games. Even Live Action Role Playing. If you're the competitive sort, you can enter tournaments to test your skills. You know, like nunchaku, bow-hunting and computer hacking skills.
Panels
Fan Panels
Host a Panel
Fans of geek culture love to discuss comic books, anime, video games and so on. Panels give fans a forum for discussion and interaction. Panels to look out for this year are "LFG: A New Player's Guide to Tabletop Roleplaying Games," where you learn about tabletop role-playing games and where to find people to play with, "Meet the 501st Legion – Costuming in the Star Wars Universe," the local chapter of the worldwide Star Wars cosplay group, and "Who Is Miss Vamp Hawaii?," the annual local vampire beauty pageant. If you have something interesting to share, consider hosting a panel of your own.
PRE-REGISTRATION:
Last day on Friday, July 22 – $60 for 3 days
AT THE DOOR:
3-day pass: $65
Friday pass: $30
Saturday pass: $40
Sunday pass: $30
Comic Con Honolulu
Hawaii Convention Center
July 29 to 31
comicconhonolulu.com