Your best guide to a Kakaako craft beer crawl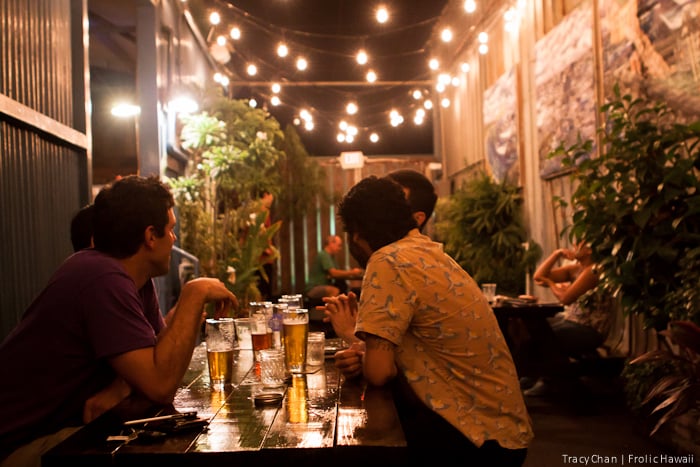 Kakaako is the center of Honolulu's craft beer universe. With four establishments now offering solid selections and different drinking environments within a two-block radius, we put together this craft beer bar crawl – a pau hana plan that hits each spot at the best time.
This guide has you sipping around Kakaako between 5 to 9 p.m. on a weekday. That's largely because tables at Moku, the first spot, fill up early for the popular happy hour, and at the last spot, Honolulu Beerworks, the kitchen closes at 9. And you do not want to miss their beery mac and cheese.
Moku Kitchen
So you've scored street parking or parked in the SALT garage on Keawe Street. Moku is first on our list because their early happy hour runs from 3:30 to 5:30 p.m., with half-off beer and great discounted pupu: Think $4 fries, reasonably priced wings and pizza. You won't find any bottles. Instead there are 36 beers on draft, including a good selection of local brews, and even two nitro taps – all flowing at a cool 29 degrees Fahrenheit. You'll find amber/brown ales, sours, saisons, porters, stouts and ciders at $8 to $12 per glass. They change at least three of the taps out monthly, and they're working on a selection of wines on tap.
Insider tip: Honolulu was thirsty for Moku, iconic Hawaii chef Peter Merriman's first foray into Honolulu. If you don't want to wait, make a table reservation, even for happy hour, or get there before 5.
SALT • 660 Ala Moana Blvd. • 591-6658 • www.mokukitchen.com
Bevy
With a happy hour that runs from 4 to 7 p.m. Monday to Saturday, Bevy is another popular pau hana spot. Despite being known as an excellent cocktail bar, they have four craft beers on tap that change biweekly, plus about 10 bottles selected by the bar manager that change out every month or two and include seasonal brews. Prices range from $7 to $10, but are $5 during happy hour.
Insider tip: The happy hour food menu includes $1.50 oysters and discounted tapas including potato puffs, charcuterie, beet salad and falafel. Wondering about best beer or wine pairings? Just ask your server!
SALT • 675 Auahi St. • 594-7445 • www.bevyhawaii.com
Village Bottle Shop & Tasting Room
It's a bar! It's a craft beer store! It's both in the same room! At Village, you have the option to order one of 16 craft beers and eight wines on tap, including several great local brews and seasonal specialty brews; or pay a small corkage fee to drink one of the 350 bottles from the shop side. Normal prices are $3-$30 for bottles and $6-$11 on tap. Happy hour runs from 11 a.m. to 5 p.m. with $1 off full pours. If you want just a taste, try a 4-ounce pour or ask the staff to custom-build you a flight.
Insider tips: Get one of their amazing pot pies to enjoy with your beer. You won't regret it. Also, you can bring in food from other SALT businesses. The Village mobile phone app shows you how much is left of any beer on tap. Finally, this place closes relatively early: 9 p.m. on weekdays, 11 p.m. on weekends, 6 p.m. on Sunday.
SALT • 675 Auahi St., Suite 121 • 369-0688 • www.facebook.com/villagebeerhawaii
Honolulu Beerworks
You'll end your crawl a block away at this no-frills, chill spot with a rustic feel. Beerworks brews their beer in the back of this converted warehouse, and it's amazing. They use a custom-built seven-barrel system that delivers the beer straight from the tap to the customer, with limited releases every two months and some that stick around just because everyone loves them. A full pour is $6.75, tasters are $2 and 64-ounce growlers are $16. Bottles of cider and a few cans from a third party are available on a limited basis. Grab some beer cheese and pretzels to munch on, but be aware that the kitchen closes at 9 p.m. sharp.
Insider tip: Try their best-selling Hop Island IPA or the deliciously tropical Cocoweisen, which is a traditional Bavarian Hefeweisen with hand-toasted coconut, banana, pineapple and clove flavors.
328 Cooke St. • 589-2337 • www.honolulubeerworks.com
Also don't miss:
Paradise Pedals Hawaii
If you're looking for something different and fun, grab some friends and start pedaling on Paradise Pedals' 2.5-hour Bar Tour. The guided party bike is made for 15 people and looks more like a trolley with barstools. It travels to three, sometimes four nearby Kakaako drinking spots that may include The Brewseum, Honolulu Beerworks, Village Bottle Shop, Cafe Duck Butt, REAL a Gastropub and Doraku, with special seasonal tours depending on what events are going on.
Bar tours are $40-$55, and guests are responsible for their own tabs at each location. And just so no one's drunk-pedaling, the party bike comes with a driver.
Kewalo Basin Harbor • 1011 Ala Moana Blvd. • 397-7066 • paradisepedals.com
The Brewseum
Learn about beer and history at The Brewseum, a family-run watering hole and museum. Brewseum's two buildings are filled with WWII war memorabilia, while a vintage-feeling speakeasy features six domestic microbrews including their proprietary Home of the Brave beer, plus a few bottles.
901 Waimanu St. • 799-2796 • www.brewseums.com