You'll Want to Dip Everything into Ichifuji's Oxtail Hot Pot
The new Mōʻiliʻili spot grand opened on March 10, 2020 above sister restaurant Tori Ton.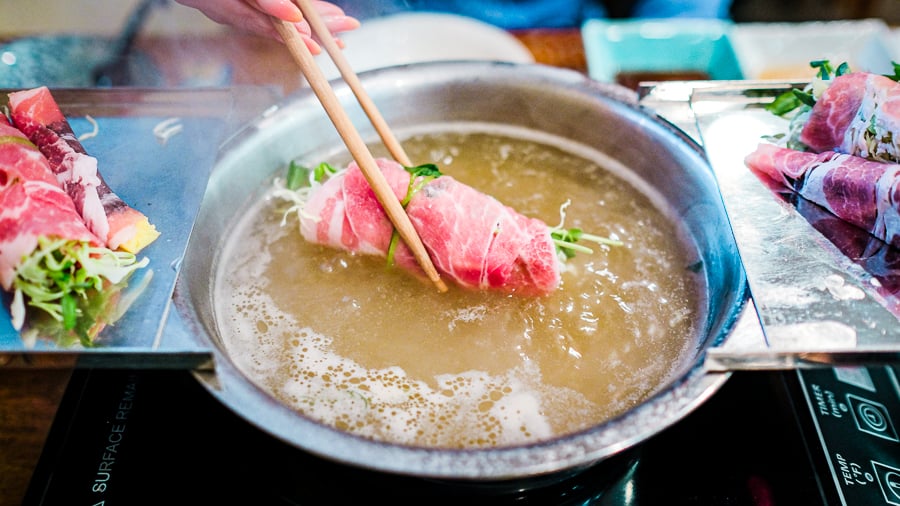 Is it pure luck that a cold front rolls in this week or have the stars finally aligned for Ichifuji? Three years in the making, the restaurant grand opens today with a focus on a luxe hot pot that transports you to a ryokan in the Japanese Alps.
Yukata-clad staff, soothing wood finishes and fish from Tsukiji? It almost goes without saying.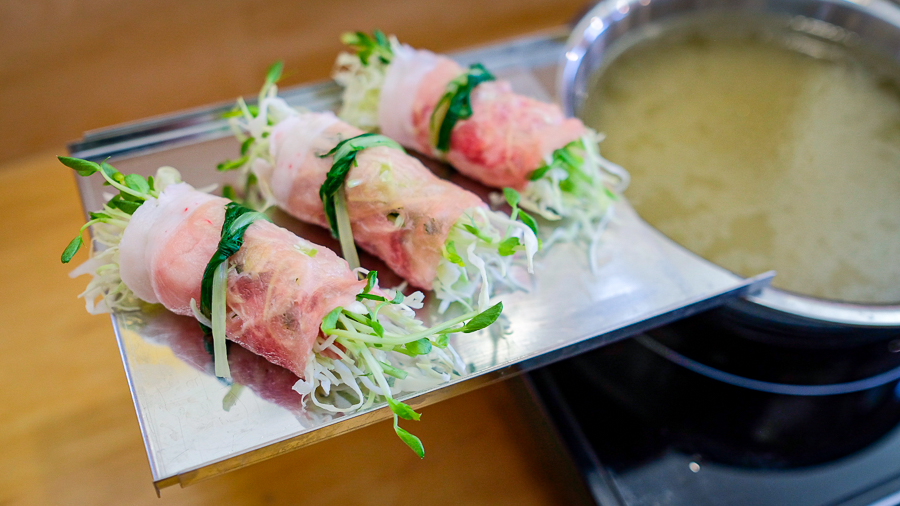 Otoshi nabe is the specialty here, where instead of swishing thin slips of beef and pork, you dunk bundles of vegetables rolled with beef tongue and pork belly into a 24-hour-simmered oxtail dashi broth that rivals the best beef consomme.
---
SEE ALSO: Budget on a stick: Tori Ton
---
It's different from other hot pots, so although a bit spendy, it's worth ordering one of the course menus for the full experience (six-course $39.50, nine-course $49.50, 10-course, $55.50). The 10-course menu upgrades your appetizer course with uni-topped kuruma ebi shrimp and adds a delicious chawanmushi custard. The jury is still out on whether the American wagyu beef rolled with sprigs of ong choi is worth the splurge.
You may also order a la carte, starting with the oxtail nabe ($12.80) and adding on rolls of beef tongue (four pieces, $9.80), kurobuta pork belly (four pieces, $9.80), American wagyu (four pieces, $16.80) or tai snapper (four pieces, $12.80). The pork-belly-wrapped dashimaki tamago (four pieces, $7.80) is a surprising bite that balances sweet and savory with restraint.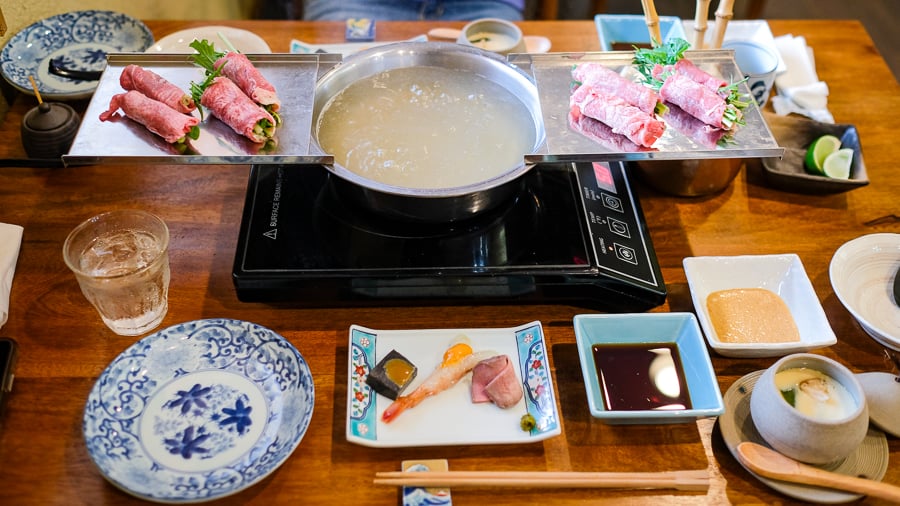 The 10-course menu is a long journey that can take upwards of three hours. It begins with a chilled appetizer plate with beef tongue, tiger prawn sashimi and black sesame tofu. Next, an earthen pot of chawanmushi arrives permeated with notes of shiitake and chicken—it's possibly one of the best savory custards I've dipped into. A total of eight rolls and mixed vegetables are then coursed out. My favorite bundle is the pork belly with sprouts that soak up the dashi; I make a mental note to order them a la carte in the future.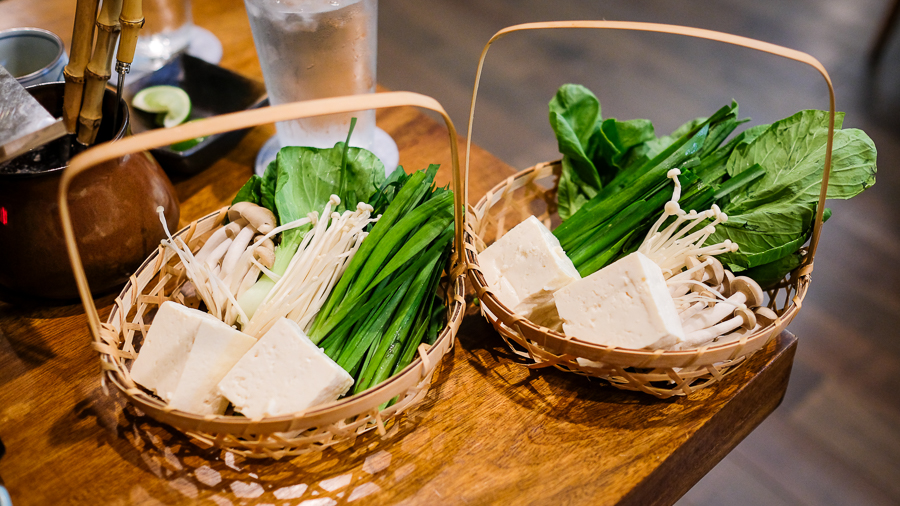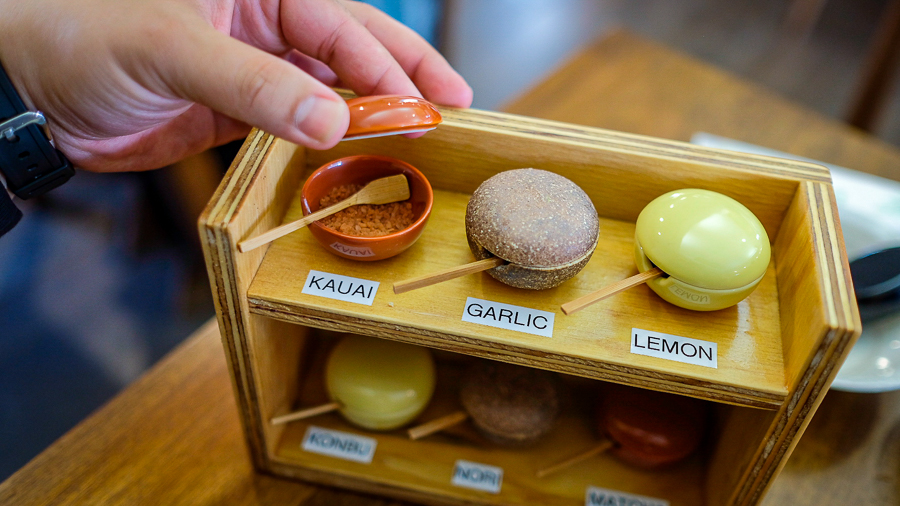 Dipping sauces include ponzu with lime and goma dare (sesame sauce); however, you'll want to direct your attention to the adorable rack of eight salt boxes. Each macaron contains a custom-flavored salt: Use garlic salt on the beef tongue, konbu salt on the pork belly and so on. Our server strongly recommends the coarser Kauai salt, which is a red salt that takes on its color from alaea volcanic clay, for most courses.
---
SEE ALSO: Our go-to: Bubbling hot pots
---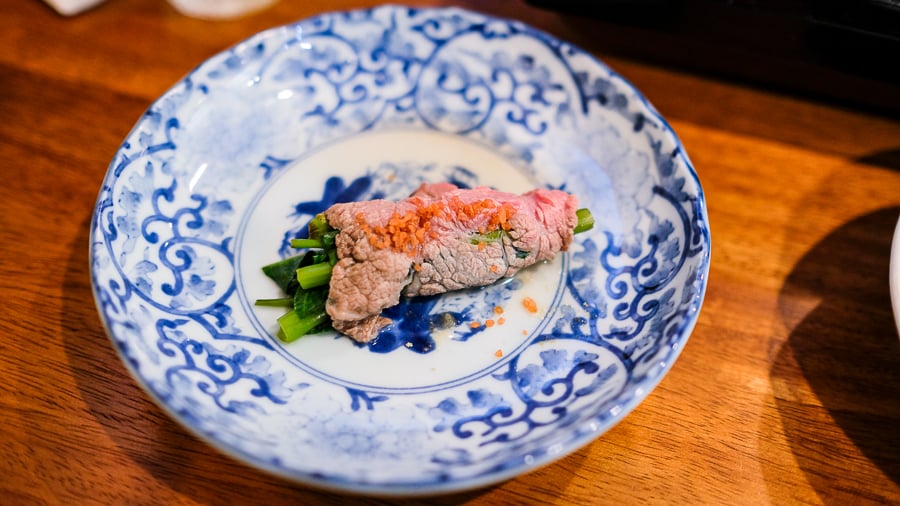 If your bubbling pot runs low, more dashi is added. Just when you think you've shabu-ed everything there is to shabu, you receive a plate of tai snapper sashimi that takes two blinks to cook in the hot broth. Finally, you have a choice of soba or Hakata-style straight ramen noodles which arrive cooked firm – just a minute in the pot warms them up. They add a silky texture to the broth, enhancing it before the final element of barley rice porridge with beaten egg and grated mountain yam goes in.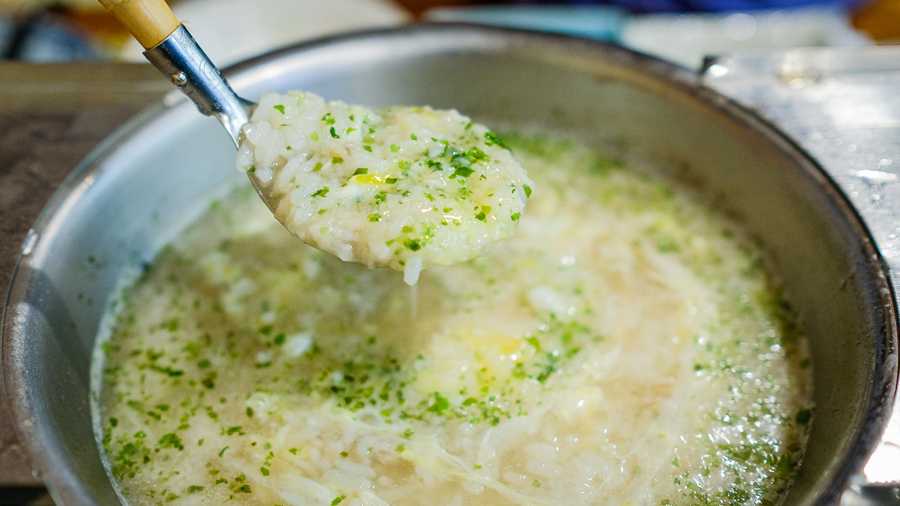 The whole mixture is sprinkled with nori flakes that add a verdant quality to the final course. After a spoonful, I sink fully into my chair. My friend and I opt to take the remainder home because we are way too stuffed at this point.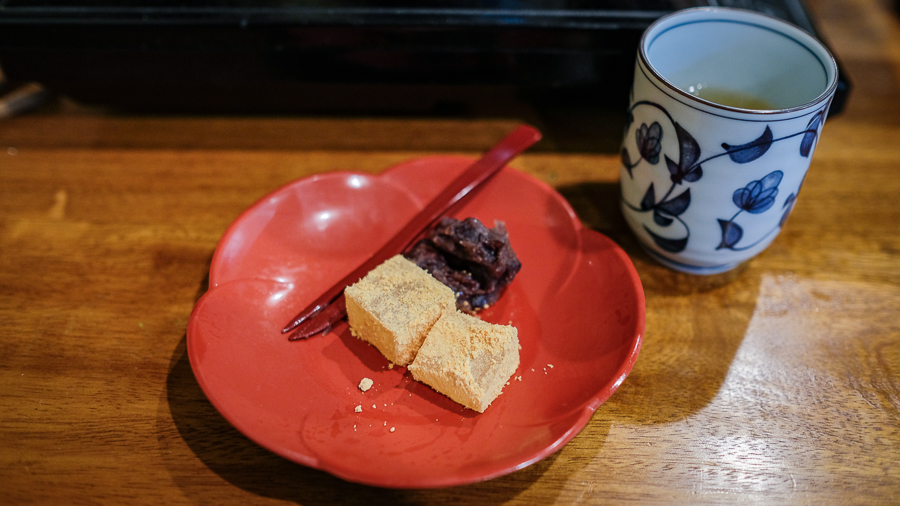 Dessert is simple: two cubes of bouncy warabimochi and anko sweetened red beans with hot green tea. I ask where futon is because I'm ready for bed.
If you're expecting a pot of broth with trays of meat and sliced vegetables, perhaps you should look elsewhere. If throwing those expectations to the wind sounds appealing, add Ichifuji to your shortlist.
Open Tue–Sun, 5–10 p.m. 2334 S. King St. Suite C, 2nd floor, Mōʻiliʻili, (808) 367-0012.