You can't buy Hawaiian Shochu … but you'll taste it at Something New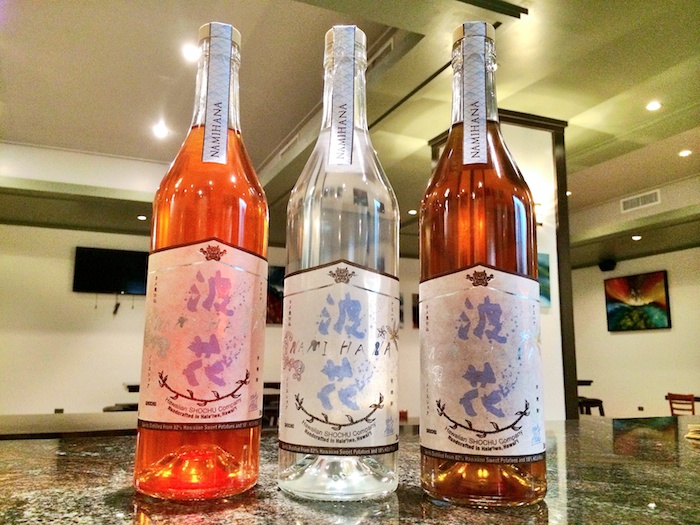 Something New is a food fest with a twist: Nine of Honolulu's craziest chefs were paired with local ingredients and challenged to create something new. Savory chefs got sweet ingredients. Pastry chefs got savory. One got a whole cow. Another got awa. Ed Morita, the Off the Wall Craft pastry chef who wrote the blog below, got Hawaiian Shochu.
Our only request? Go crazy, and keep it delicious. Join us to taste the results next Wednesday from 6-8:30 p.m. at M Nightclub at Restaurant Row. Tickets are at frolicsomethingnew.eventbrite.com.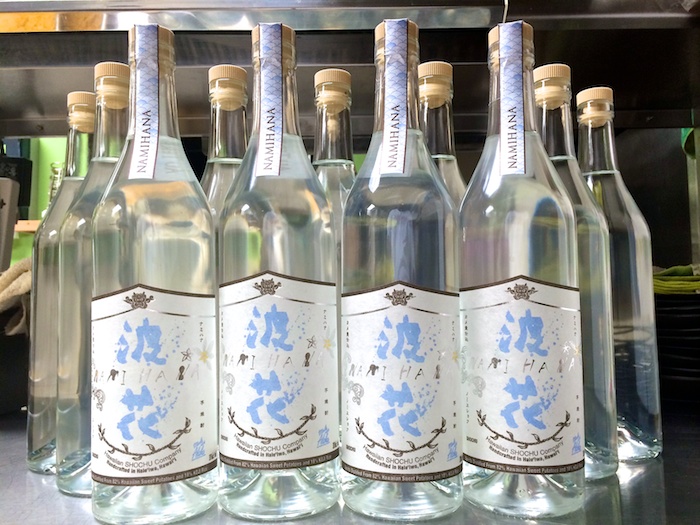 I admit to being a little envious when I heard what ingredients the other chefs at Frolic's Something New event were paired with. I have no idea what I would do with an entire steer, but I still want one.
Still, shochu gives me myriad possible directions for my dish, which is why I leaped at the opportunity to visit Ken Hirata's Hawaiian Shochu distillery in Haleiwa. I had one major question: "How far can I take this ingredient?"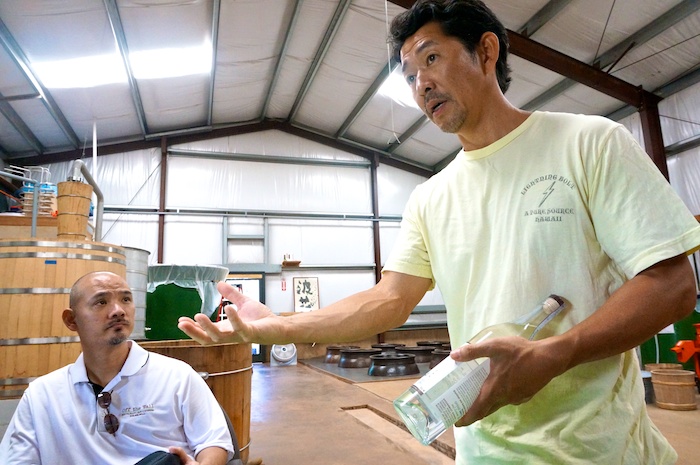 Whatever I created, I wanted to be respectful of Hirata's craft, which it is very evident he loves.
Hirata makes two runs of shochu a year – one in the spring and one in the fall. Each yields approximately 600 bottles, and while most distillers cut their shochu to 25 to 28 percent alcohol, Hirata bottles at 30 percent.
Add to this the locally grown sweet potatoes that he uses, and it is easy to see why Hirata doesn't need retailers to sell his shochu. Even though he sells to only a few restaurants and aficionados who hear about him and stop by, every batch of Hawaiian Shochu has sold out. In fact, a group of tourists arrived while I was there to pick up bottles that they had ordered months prior.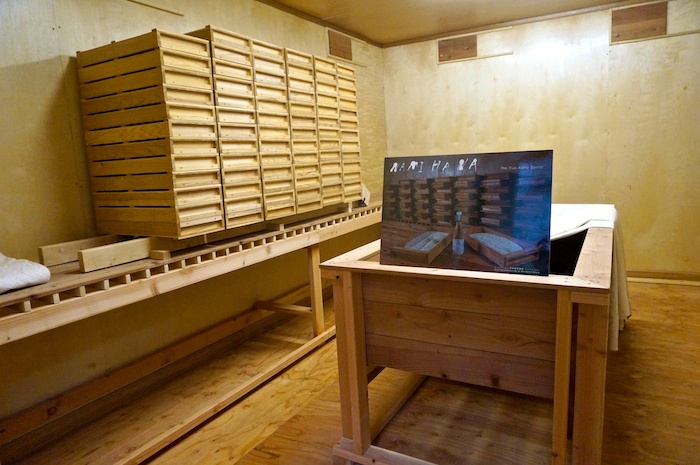 To say that making shochu is a labor of love is an understatement. The ingredient that makes shochu distinct from other clear distilled spirits is koji, a mold that Hirata and his wife cultivate. The koji is sprinkled on steamed rice that must be tended to every three to four hours for three days.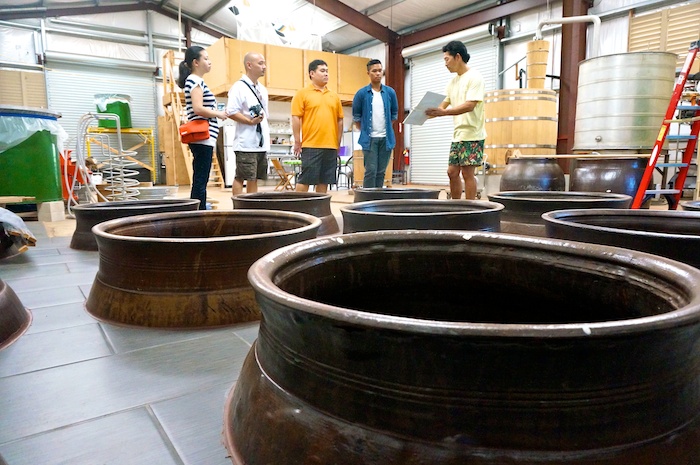 The koji rice is added to large pots with a mash of Okinawan sweet potatoes, water and yeast. During fermentation, starches in the rice and sweet potato turn into sugars, which the yeast feeds on to create alcohol. Hirata distills the shochu and ages it in a tank, yielding the clear liquor that remarkably retains much of the aroma and flavor of the sweet potato.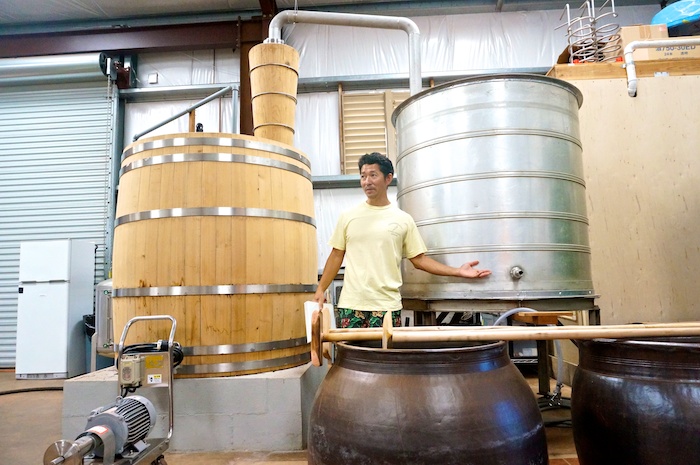 After seeing how much work goes into making Hawaiian Shochu, I asked Hirata how much liberty I could take with it. I explained that I wanted to push the limits of his shochu while highlighting the flavor and keeping true to what comes out of the still.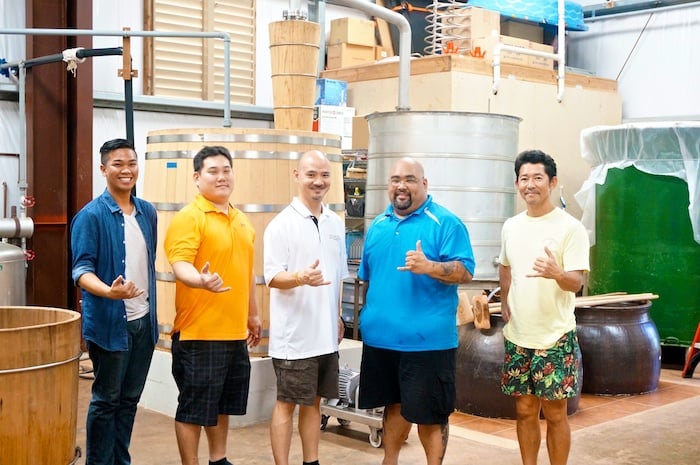 The shochu that my Off The Wall Craft co-workers and I tasted was cask strength, straight from the vat with an alcohol content of 40 percent. It had an earthy aroma of sweet potato skin that gave way to caramel notes. The flavor mirrored the nose, starting with sweet potatoes, giving way to alcohol and finishing again with sweet potato. Hirata's shochu is unfiltered, so sipped over ice, it has a creamy mouth feel that makes it even smoother.
I explained to Hirata that to really take my dish "off the wall," I was going to make a cocktail with his shochu and then pair my dessert(s) to the cocktail. Hirata looked dumbfounded when I said that I planned to barrel-age some of his shochu to turn it into a whiskey, and flavor some with strawberries, limoncello style.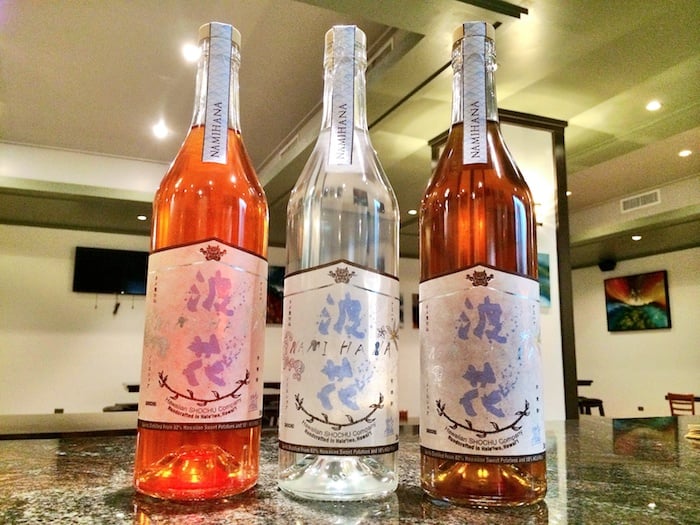 From left to right: my strawberry-cello, original Hawaiian Shochu, barrel-aged shochu.
After weeks of tinkering, the question now is what dessert(s) am I going to make to go with the shochu cocktails?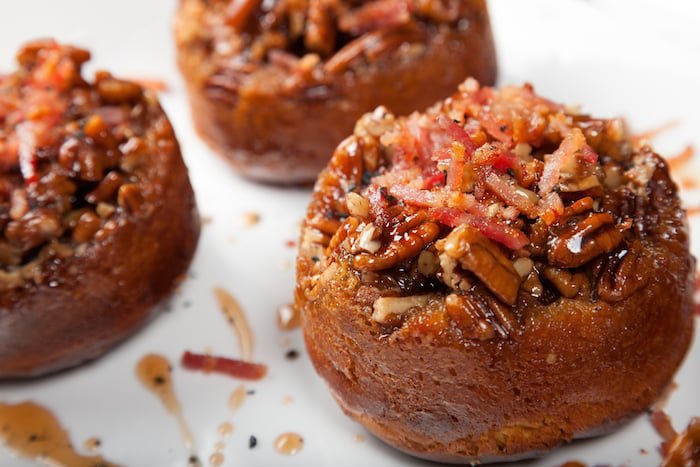 To highlight the flavor and aroma of sweet potatoes, I'm creating a variation of my bacon sticky bun with Okinawan sweet potato instead of kabocha squash, topped with a spiked honey syrup made with the barrel-aged shochu. As for what I have in store for the strawberry-cello? That will be a surprise.
See you at the M on March 25!
Something New
Wednesday, March 25 from 6 to 8:30p
M Nightclub @ Restaurant Row
Tickets: $75 online including all food and two drinks
***
The Bank of Hawaii MyBankoh Rewards card is the official card of the Something New event. To learn more about the card visit boh.com/mybankohrewards. At the event, show your Bank of Hawaii MyBankoh Rewards Credit card at the door to receive special access to the MyBankoh Rewards Lounge and an exclusive tasting, featuring Hawaiian Shochu Company shochu and an appetizer pairing.