World premiere of Kealoha's 'The Story of Everything'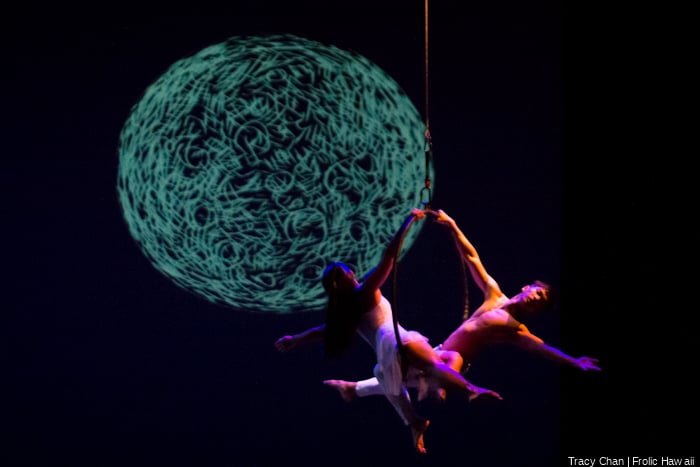 "The Story of Everything" took root in Kealoha Wong's mind four years ago, when his then-girlfriend told him he was going to be a new father. Sent into "future father freakout mode," the internationally acclaimed poet laureate of Hawaii started thinking about all the knowledge he should pass on. How could he tell his child how everything began, making all the scientific details interesting and easy to understand?
Kealoha was captivated by this origin story. In late 2014, he was commissioned by the local nonprofit Native Arts and Cultures Foundation to write an hour-long performance piece to help youth understand where we come from, using musicians, performers and visual artists. The culmination of his efforts made its world premiere at the sold-out Mamiya Theater Saturday evening. In a nearly three-hour visual, spoken word and musical journey, the audience was transported from the beginning of the universe to where we are now.
"I don't subscribe to any particular religion," Kealoha says. "The thing I ascribe to is science." The poet/physicist strongly believes that science and indigenous culture don't have to be at odds with each other. "The Hawaiian creation chant, the Kumulipo, reads like evolution theory," he says. "So many Native Hawaiian stories are based on the science of what people observed around them."
Regardless of the observer's personal beliefs, "The Story of Everything" is a beautiful, passionate fusion of science and art, an origin story told in an original way that pays respects to current scientific theories and ancient Hawaiian lore.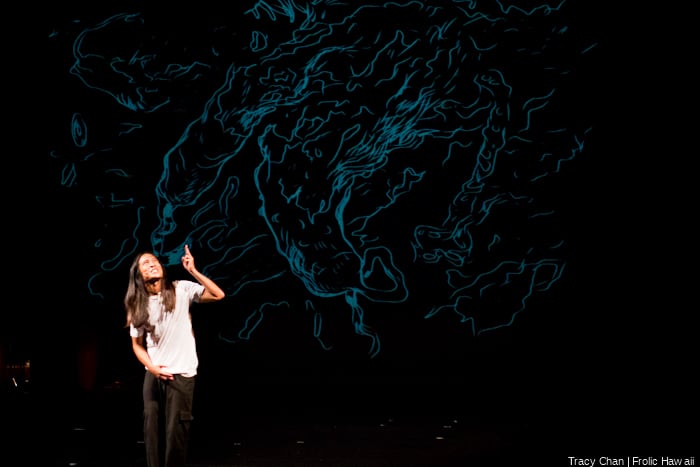 A large part of the story is narrated by Kealoha in pidgin (using cultural icon Rap Replinger as a model), giving a nod to Hawaii's cultural past and the vernacular of its people, while at the same time comparing the epic subject of the birth of our solar system to a local family in often hilarious ways.
One of the most brilliant and poetic parts is the comparison of elements coming together to a disco dance club, where near infinite variations of men and women pair off and come together in a representation of every element on the periodic table. "We come from dances, discos across the universe," Kealoha says. "All the elements are created this way, life as one crazy dance that will last an eternity."
One of the strengths of the performance is its variety and the talented artists, all friends, with whom Kealoha has collaborated: The incredible visual art projections drawn by artist Solomon Enos and converted for projection by Joseph Pa'ahana of The Drop Shadows, music by ukulele star Taimane Gardner and the Quadraphonix, oli (Hawaiian chant of the Kumulipo) done with precision and skill by Kaui Kanaka`ole, and dancing by Jamie Nakama, Jonathan Clarke Sypert and Lorenzo Acosta in collaboration with Wailana Simcock. The production is co-directed by Cristian "See" Ellauri (former owner of Ong King Arts Center) and poet, dancer and playwright Marc Bamuthi Joseph of The Living Word.
Unfortunately, the musicians especially aren't used to their full potential; we'd like to see more and better use of the collaborating artists interspersed throughout the production. One of the more impressive moments was when Taimane and her backup guitarist blended their melodies with that of the Kumulipo chant, creating an increasingly complex wall of sound.
The bottom line: This epic has the potential to be stunningly beautiful and profound if combined with the right visual technology, timing and production tricks. As is, it's well on its way there, and does a great job of making us feel paradoxically insignificant and inspired. It's at once an origin story and a sociopolitical call to action: Where do we go from here? What's next? What future scenario will we choose to act upon?
So what's next for the show? The organizers plan to take it on the road as a touring production and a collaboration to inspire and enlighten communities beyond Hawaii. it's unknown whether they will do a hana hou in Honolulu, but if the interest in Saturday's show is any indication, they definitely should!
More photos from the world premiere of "The Story of Everything":