Why Klout scores are irrelevant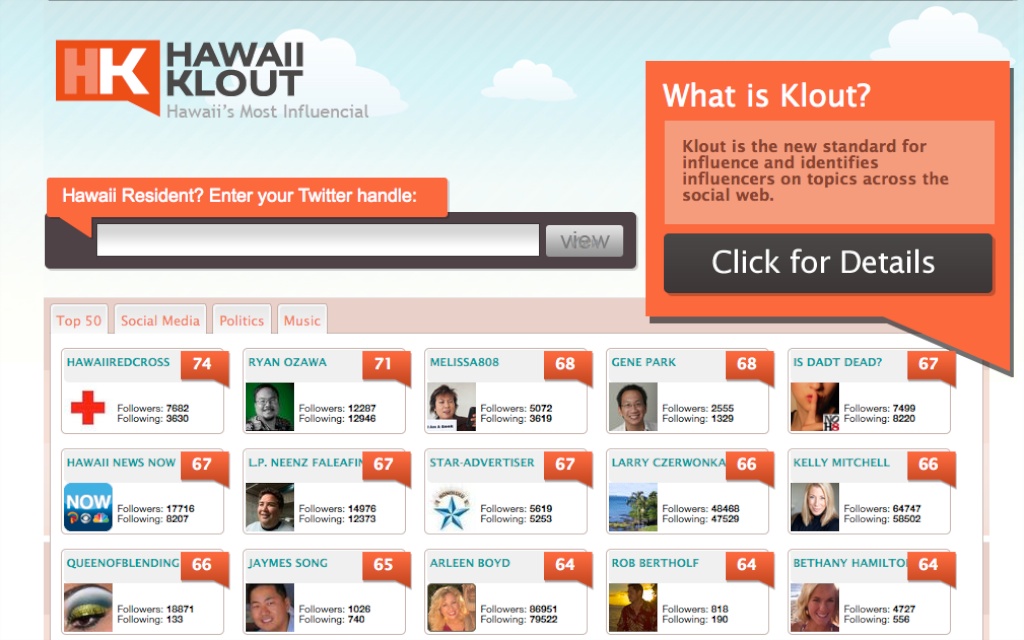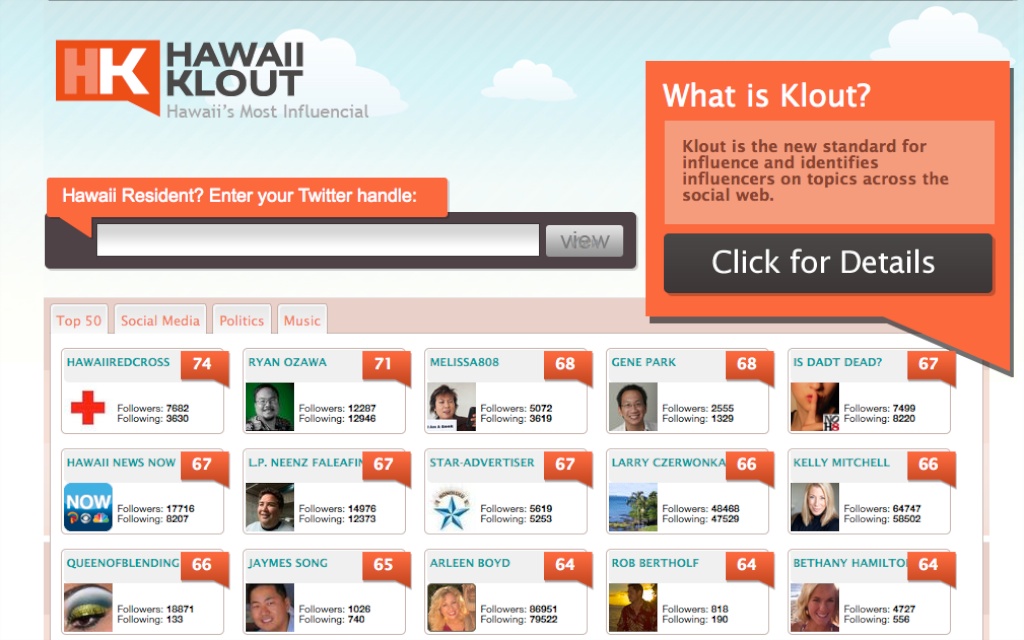 Recently, local web developer and Hawaii Social Media Club member Rob Bertholf launched Hawaii Klout, a website that aggregates Hawaii social media users with the highest Klout scores.
Although I periodically check my Klout score, I do it mostly out of curiosity. The site touts itself as the "The Standard for Influence," but I personally don't put any weight on it, nor try to improve my score, because I believe the criteria Klout uses is flawed. Too much emphasis is placed upon followers, @replies and retweets, rather than actual engagement.
Followers
To see how the number of followers can affect a Klout score, look at Beyonce Knowles. The account has 1,077,321 Twitter followers, follows only 11 people and has a Klout score of 50. According to Klout, this account has had over 1,000 retweets and over 500 original retweets. But the account (I call it that because it's not verified, so most likely, someone is just squatting on the user name) has no tweets.
Retweets
If you examine the list on Hawaii Klout, you'll find all sorts of anomalies that reveal flaws. Local news agencies Hawaii News Now, Star-Advertiser and KITV4 are on the list, but they generally don't interact with their community. Their Twitter feeds publish news content, which gets lots of retweets. Although they provide an excellent service, for the most part, it's a one-way conversation. Hawaii News Now does a good job of reaching out by asking a question of the day, but one could argue that it's not true engagement because no discussion is involved. They mention the best responses they get on the evening news, but the conversation ends there.
@Reply mentions
Klout scores can also be affected by Twitter traffic. The Klout scores of Hawaii Red Cross and Bethany Hamilton have skyrocketed due to recent events. The Hawaii Red Cross has been getting a lot of attention in recent weeks because of the troubles in Japan. Fundraisers like Eat the Street Japan and the upcoming Kokua for Japan both benefit the Red Cross, but these and other events weren't organized by the Hawaii Red Cross. Still, the online chatter raised its Klout score. In the case of Bethany Hamilton, her Twitter account has been getting a lot of attention because of the premiere of "Soul Surfer," a movie based on her life. It's not because anyone is conducting an effective social media campaign.
The Klout algorithm also doesn't take into account the lurker factor. Many people use social media as a means to stay informed, rather than to communicate. There's nothing wrong with that, but lurker behavior is not tracked by Klout. Just because people don't comment doesn't mean that they're not paying attention. Often times, links can have a lot of clicks, or photos can have a lot of page views, but no one comments. The lack of comments doesn't mean an individual is not effective. Sometimes, being able to drive traffic is all that matters. In the case of an event, just because people do not @reply you when you share a link to Eventbright, Facebook, Plancast or Twtvite, doesn't mean they won't show up. Influence means you can get people to take action. Comments are great, but they mean nothing if people don't show up to your event.
Going offline
My primary problem Klout is that it's not a accurate indicator of how people engage with their community offline. The algorithm doesn't factor in what's done on a personal level. It only evaluates information from Twitter and Facebook.
The Klout algorithm can't take into account the reach of individuals like Toby Tamaye, who organizes networking mixers that easily can attract sometimes 200+ business professionals, or Roxanne Darling, who is a founding member of the national Social Media Club and organized Podcamp Hawaii in 2008.
Then there are those who didn't make the the Hawaii Klout list like Tracy Chan, a fixture in Honolulu's nightlife scene. She shows up at a club, and everyone knows her. She is well connected with every club owner and promoter in town. If there's an event going on in Honolulu, she knows about it. Klout can't factor in Tracy's offline network just like it can't factor in my offline network or yours.
Playing the game
The thing that most makes Klout scores irrelevant is how easy it is for one to game the system. All you have to do to raise your Klout score is increase your follower count and get retweeted a lot.
Klout places emphasis on having more followers than you are following. Although Twitter has put limits to try to hinder aggressive following practices, it's still possible. Just follow a bunch of people. wait for them to follow you back, then unfollow them. In order to increase your number of retweets, simply subscribe to a newsfeed so that your Twitter account will syndicate stories that other people will find interesting. Are these practices illegal? No. Unethical, perhaps. Yet these are things that you should take into consideration the next time someone boasts about a Klout score. When you look at a Klout score, you should ask yourself, is that person really influential?