Why Foursquare?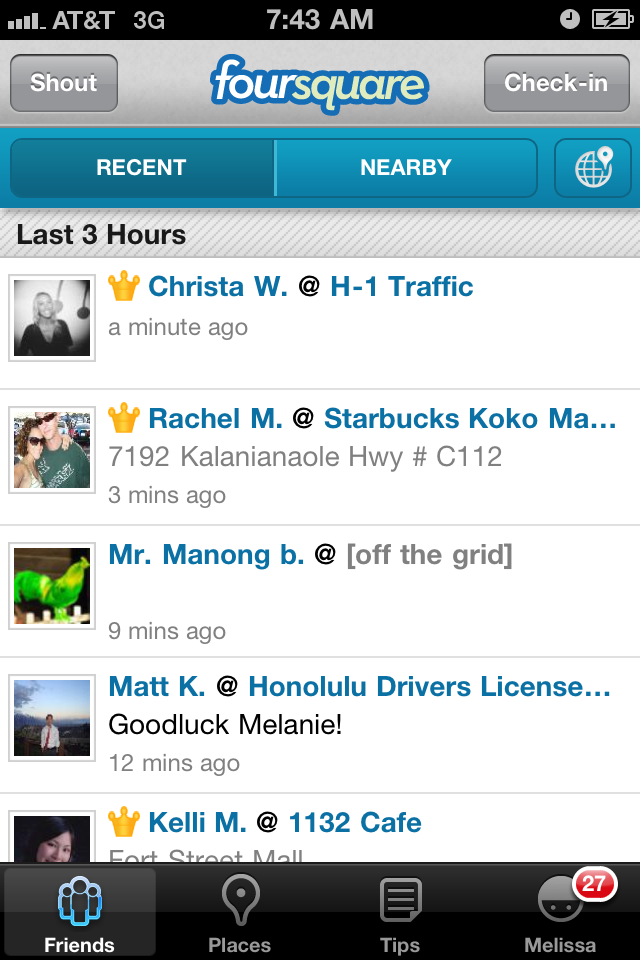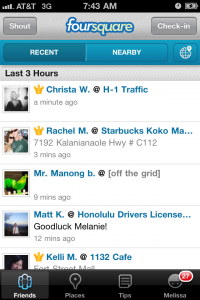 Last night, Twitter friend @Kamaka_Hawaii joined Foursquare, then asked what I like about it. I said my answer is too long for 140 characters, so I decided to turn it into a blog.
When I first started using location-based programs to enhance my social networking, I used Bright Kite. Then Foursquare and Gowalla burst onto the scene, and many of my friends moved into one or both of these new platforms.
Foursquare recently announced that it has passed 3 million users, thus beating out Gowalla. Now, I have nothing against Gowalla, but here are a few reasons why I'm one of the 3 mil:
Gowalla is for iPhone only. I have an iPhone, but I want to interact with all phones, not just my kind.
When I open the app, it tells me what's trending nearby and how many people are there. If I want to be at the most happening place, I can head there.
I'm not sure about Gowalla, but Foursquare gives businesses the opportunity to provide offers to people who check in at their place. For example, when you use Foursquare at Wow Bao in Chicago, it says you can buy one bao and get one free with the check in.
On a related note, you can find out about specials nearby.
In yesterday's article by Alex Salkever, Gowalla does have, arguably, better technology. He says it has "features up the wazoo, like allowing users to build tours, drop prizes, and do other things that made for improved game mechanics and user interface." This is true. My Gowalla friends insist it's better, and I'm often jealous that they can post a photo with each check in, amongst other things. I'm signed up, but not active.
So that's why I Foursquare, in a nutshell. Some of my friends are active on both platforms! No matter which one you choose, though, this is the future of mobile marketing. It's hot on the mainland, but hopefully more Hawaii businesses take note and start using these programs to promote specials and coupons.
p.s. Some of you have heard the stories about people who post their locations — away from home — and get burglarized. As with any online tool, exercise common sense. You shouldn't post your address for the world to see. Some people check in to spots only if they're in a group, and others don't check in till they're ready to leave. These online tools are meant to bring people together for positive reasons!
======
<i>You can read all of Melissa's blogs at www.nonstophonolulu.com/urbanmixplate. Follow Melissa on Twitter@Melissa808, on Foursquare as Melissa808, or email at Melissa@nonstophonolulu.com.</i>