Why Do Smart Parents Do The Same Dumb Things?
That's the question local clinical psychologist Rosalie Tatsuguchi asks in her book.
A new book with a catchy title, Why Smart Parents Do the Same Dumb Things-A Parent's Manual for Change, recently hit local bookstores and online retailers. Its author, Rosalie Tatsuguchi, is a Honolulu-based clinical psychologist who has been helping local families for nearly 40 years. Also known as "Dr. Rosie," she sends three key messages to parents: Be a teacher, not an enabler. Making mistakes is OK. And perfection shouldn't be a goal.
HONOLULU Family spoke with Tatsuguchi about her new release.
---
HF: Your new book has a unique title. Given that, what are the "dumbest" mistakes that many parents make?
Tatsuguchi: Parents can learn to admit their own mistakes and make corrections in front of their children. Parents need to be consciously aware of respecting the ki (life forces of) their children. Children are always changing—like life.
HF: As a clinical psychologist, you've helped local children, their parents and guardians since 1983. What major changes have you seen in families over the past 36 years? 
Tatsuguchi: The biggest change has been that seeing a psychologist today doesn't mean you're crazy. There's no shame in seeking counseling or therapy.  Psychologists are seen more and more as part of a health team.
I'm also seeing more men of all ages, coming to see me for counseling for themselves. When I started, I saw one or two men a month. Now, men make up more than a third of my clients. Most men start seeing me because of problems with their relationships, either with their families, partners or their children. Sometimes, they start because of relationships at work—either as a supervisor or as a worker.
HF: What's causing these shifts in families? 
Tatsuguchi: The culture has changed. Emotions are a necessary and a natural part of assessing and solving life's problems. This started changing when men started seeing the value and necessity of including emotions or feelings in their understanding of themselves and others.
When men see how emotional information helps in solving problems with relationships, they embrace the knowledge. Men control and can change most cultural institutions. They lead the way for cultural acceptance—health insurance, approval and support for users.  Their own acceptance allows participation in child rearing by men. More men change diapers, talk and read to their children and help with household chores. More men become willing to change their thoughts, feelings and actions about feelings.
HF: In your book, you write that "parenting is hard." Has it always been that way? Can you please explain? 
Tatsuguchi: Parenting has always been hard because some things have remained unchanged. First, whether or not parents realize it, the biological goal is to prepare offspring to survive on their own. Second, everyone has to learn to handle certain problems. No one is excused. According to Buddhist belief, the life tasks everyone has to deal with, remain unchanged: poverty, disease, other people, old age, death and change. Third, each child is different and learns differently; there is no one way to teach these things. Fourth, parents do not have control over every important factor children will encounter.
HF: You also say, "It's OK to make mistakes."
Tatsuguchi: Making mistakes is part of learning. It's okay to make mistakes as long as you admit them, make corrections and learn from them. It's not okay to hurt others or yourself by lying, ignoring responsibility, ignoring mistakes and not making corrections and not respecting other people's needs and wants. Perfection is a logical impossibility. There is always something you could have done better, faster, cheaper or more efficiently.
If you achieve perfection, there was probably luck involved. Something over which you had no control was working in your favor. Therefore, it's unlikely that you will be able to repeat that perfect act.
HF: What compelled you to talk about mistakes and perfection? 
Tatsuguchi: The need for perfection seems to be the source of so many problems for most people. Even academic mistakes are usually accepted as proof of total worthlessness, stupidity, incompetence, lack of caring and sometimes of evil.
When children and adults believe they lack perfection, this leads to lack of self-confidence, self-worth and self-esteem. This leads to the lack of optimal social, mental and physical achievements.
I found that demystifying mistakes helped clients overcome their self-confidence, self-worth and self-esteem problems.
HF: Let's look ahead, 10 to 20 years from now. What will future families in Hawaiʻi be like?
Tatsuguchi: Changes will be in information distribution. I can't imagine what technical changes will affect cultural rules! On the other hand, I do believe children will still need to prepare for survival on their own. They will need to deal with poverty, disease, other people, old age, death and change.
HF: What other message do you have for families in Hawaiʻi?
Tatsuguchi: Do the best you can, with whatever you have at the particular time it is.  It'll be different at different times.
---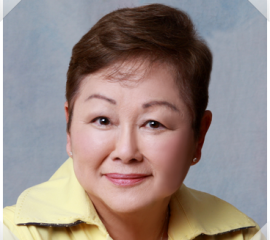 Rosalie Tatsuguchi, aka "Dr. Rosie," will be at Barnes & Noble bookstore at 6 p.m., Friday, Sept. 27, 2019 to speak about her new book, Why Smart Parents Do the Same Dumb Things. The event is sponsored by aio Foundation, a local nonprofit owned by the same holding group as HONOLULU Family. The book is published by Watermark Publishing, a subsidiary of aio Group and a sister company of HONOLULU Family.