Who's coming: Eat the Street Mililani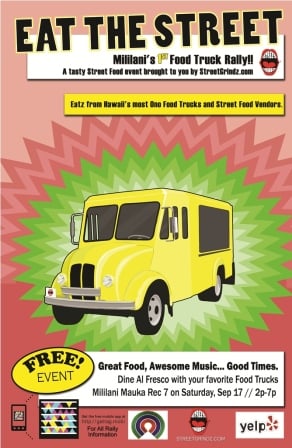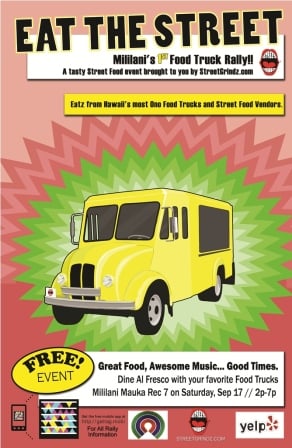 Eat the Street heads to the burbs this weekend, for a daylong eating event in Mililani. Saturday's afternoon food truck rally features many familiar vendors from the monthly Eat the Street Kaka'ako, as well as some newcomers, including All Kine Ice Cream Truck, Braddah's Wagon, Pt. Suisse Crepes and Ultimate Burger.
A total of 31 trucks and vendors are participating in this family-friendly event, and all will be serving special keiki plates. So come out if you can. Even if you're a townie, the drive's not so bad.
If you can't make it, we'll see you at the next Eat the Street Kaka'ako, which happens on Friday, Sept. 30, from 4-9 p.m. at 555 South St.
When: Saturday, Sept. 17 from 2-7 p.m.
Where: Mililani Recreation Center 7, 95-1333 Lehiwa Drive
Admission: Free
Parking: Park at elementary school
Here's the lineup:
Achilles Grill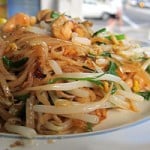 Contact: 808-387-0554; Achilles Grill on Facebook
On the menu: Pad Thai; yellow curry; Thai tacos (beef or chicken, lettuce, mint, tomato and roasted rice kernels, lime juice and fish sauce on a corn tortilla)
Special keiki dish: Four-piece Thai fried chicken with one-scoop rice
All Kine Ice Cream Truck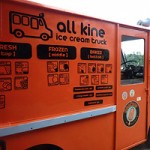 Contact: 808-635-9987; @allkine (Twitter); All Kine Ice Cream Truck on Facebook
On the menu: Sweet Bread Stack (waffled and toasted sweet bread ice cream sandwich with mango or chocolate ice cream and dulce de leche sauce); Waffle Scream Sandwich (vanilla ice cream, toasted mac-nuts and chocolate sauce mashed between two coconut waffles); Marshmallow Devil (warm brownie with homemade marshmallows, vanilla ice cream, chocolate sauce, whipped cream and toasted mac-nuts)
Special keiki dish: Keiki scoop and cone with vanilla or chocolate ice cream
Aloha Ice Cream Tricycle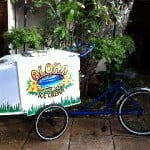 Contact: 808-286-4699; @AlohaTricycle (Twitter); alohatricycle.com
On the menu: Homemade Aloha Pops (pineapple li hing mui, strawberry lemon drop, pineapple coconut)
Special keiki dish: Watermelon Aloha Pop
Alonzo's Lunchwagon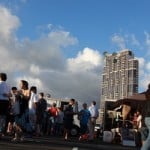 Contact: 808-216-7828
On the menu: TBD
Baja Style Mexican Food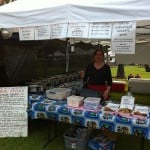 Contact: 808-291-2096; @bajastylehi (Twitter)
On the menu: TBD
Keiki dish: El Ninos Plato (choice of keiki burrito or keiki quesadilla, rice or beans, chips and guacamole and Hawaiian Springs bottled water); keiki burrito; keiki quesadilla
Beyond Burgers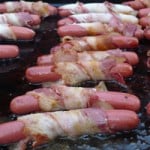 Contact: beyondburgers@gmail.com; Beyond Burgers Honolulu on Facebook
On the menu: Bacon-wrapped hotdog, topped with our home-seasoned, grilled, onion-bell pepper medley and our garlic aioli spread; gourmet slider (1/4-lb burger topped with Swiss cheese, grilled onions, sauteed mushrooms, avocado and our garlic aioli spread); strawberry or watermelon lemonade
Keiki dish: Junior hot dog combo (plain hot dog with chips and Capri Sun beverage); junior cheeseburger combo (plain cheeseburger topped with our homemade garlic aioli, served with bag of chips and Capri Sun beverage)
Bobalicious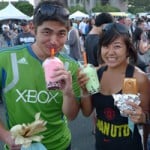 Contact: 808-591-7711; Bobalicious Boba Drinks on Facebook
On the menu: Original waffle dog and four flavors of our bubble drink (honeydew, strawberry, li hing pineapple and mocha)
Braddah's Wagon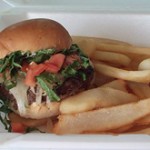 Contact: Braddahs Wagon on Facebook
On the menu: Teriyaki beef and chicken (marinated in Braddahs original teri sauce); kiawe-smoked meat with a guava glaze or Hawaiian chili glaze; kalua pig burrito with roasted pepper sauce
Keiki dish: Homestyle bacon macaroni and cheese with drink; kids' sliders with fries and drink
Chicago Eatz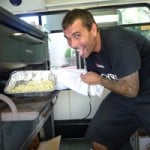 Contact: 808-482-0493; @ChicagoEatz (Twitter); Chicago Eatz on Facebook
On the menu: Gyros; Italian beef sandwich; Mix-and-match Cubbie: Two for $5 (choose from hot dog, gyro, super taco or Italian beef sandwich)
Keiki dish: Two Cubbies (keiki-sized hot dogs and keiki cheese and pepperoni pizza)
Cooking Fresh For You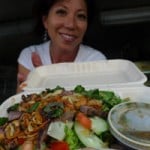 Contact: 808-594-8224; cookingfreshforyou.com
On the menu: Seared sirloin steak with cilantro-black pepper butter (served with a scoop of Genji Mai brown rice and watermelon); Michi's Thai Beef Salad; Tex-Mex Quinoa salad
Keiki dish: Sweet 'n Sticky Wings with a Side of apple sausage mac & cheese
Elena's Home of Finest Filipino Foods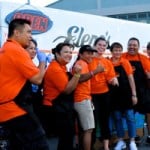 Contact: Elena's Restaurant in Waipahu 808-676-8005; www.ElenasRestaurant.com; @ElenasFilipino (Twitter), www.facebook.com/ElenasRestaurant
What's on the menu: Pork adobo fried rice omelet; Lechon Special; Shanghai lumpia
Keiki dish: Mini adobo fried rice with two Shanghai lumpia
Fairycakes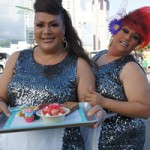 Contact: www.fairycakeshawaii.com; @fairycakes808 (Twitter)
On the menu: Whoopie pies, Monster Brownies, lemon bars, Gooey Bars and Reese's Cake
Keiki dish: Sprinkle party with rainbow cupcakes
Grandma G's Kitchen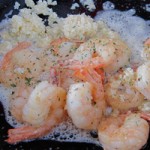 Contact: 808-542-2042; has booth at various farmer's markets around Oahu; see Melissa Chang's blog about Grandma G's
On the menu: TBD
Hawaiian Waffledog Company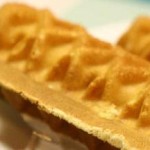 Contact: hawaiianwaffledogcompany.com
On the menu: Original Waffledog with specialty sauces (garlic mustard, spicy BBQ, maple syrup and standard toppings)
Keiki dish: Waffledog with powdered sugar
Hawaii's Fried Musubi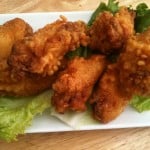 Contact: 808-391-3835; @friedmusubiHI (Twitter), Hawaii's Fried Musubi on Facebook; see Catherine Toth's blog about Hawaii's Fried Musubi
On the menu: Hawaiian-style ahi musubi; Mama's Fried Chicken Combo
Keiki dish: Fried peanut butter and jelly sandwich
Hula Shrimp Co.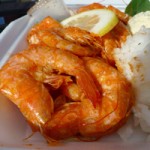 Contact: Hulashrimp@yahoo.com
On the menu: TBD
Inferno's Wood Fire Pizza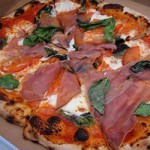 Contact: 808-375-1200; infernospizzahawaii.com; @infernopizzahi (Twitter)
On the menu: Pizza with local baby portabella mushroom, white truffle oil and fresh mozzarella; pizza with BBQ guava-smoked local pork with Maui onions, mushrooms and fresh mozzarella
Keiki dish: Slice cheese pizza
Jus' Right Kettle Corn Popcorn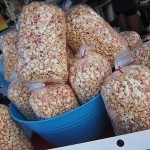 Contact: 808-351-8024; @Jusrightpopcorn (Twitter)
On the menu: Li-hing-infused kettle corn; multi-colored kettle corn
Lickety Split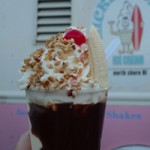 Contact: 808-227-6499; Lickety Split Oahu on Facebook
On the menu: Creamy vanilla soft serve; sundaes; cones; floats; banana splits; brownie sundaes
Keiki dish: Keiki cup with topping
Liquid Pleasure
Contact: 808-780-9288 or email streetgrindz@gmail.com
On the menu: Smoothies; espresso
Keiki dish: Tutti Frutti lollipop-flavored smoothie; Worms in Dirt
Local STOP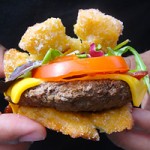 Contact: @localstop (Twitter); Local Stop on Facebook
On the menu: Malasada Burger
Keiki dish: TBD
Na 'Ono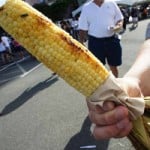 Contact: 808-690-2705; Na Ono on Facebook
On the menu: Fresh-roasted corn with our signature butters and seasonings; blue crab and scallop stew; Hawaiian vanilla bean rice pudding with a triple berry compote or caramel and apple banana; plantation iced tea with lilikoi black tea and pineapple
Keiki dish: Li hing-dusted, fresh-roasted corn on the cob
Onopops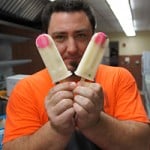 Contact: 808-354-2949; www.onopops.com; @OnoPops (Twitter); OnoPops on Facebook
On the menu: Various flavors of Onopops
Paul's Poppers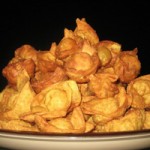 Contact: 808-351-7583; Paul's Poppers on Facebook; paulspoppers.com
On the menu: Ultimate macaroni and cheese popper, as well as house popper flavors such as spinach & artichoke, pepperoni pizza, pork jalapeno and cheddar cheese
Keiki dish: Keiki meal includes four macaroni and cheese poppers and drink
Pt. Suisse Crepes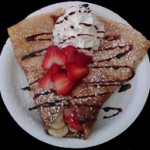 Contact:808-351 5871; @PtSuisseCrepes (Twitter); Pt Suisse Crepes on Facebook
On the menu: Savory and sweet crepes (Just Nutella and Gone Bananas)
Keiki dish: Cheezy pizza crepe
Shogunai Tacos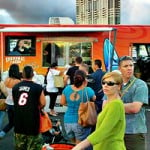 Contact: shogunaitacos.com; @Shogunai_Tacos (Twitter); Shogunai Tacos on Facebook
On the menu: Osaka Jo
Keiki dish: Lego Chicken Taco
Simply Ono
Contact: 808-728-0441
On the menu: TBD
Keiki dish: Mac and cheese
Soul Patrol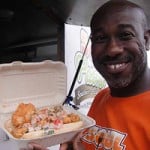 Contact: 808-735-7685; pacificsoulhawaii.com; @pacificsoul (Twitter); Soul Patrol on Facebook
On the menu: TBD
Tats Shaved Ice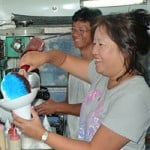 Contact: 808-221-7525; @TatsShavedIce (Twitter); whereistats@gmail.com
Special garlic dish: Traditional, Hawaiian-style shave ice
Keiki dish: Fifty cents off each regular-priced shaved ice
Ultimate Burger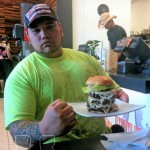 Contact: 808-329-2326; ultimateburger.net; @ultimateburger (Twitter); Ultimate Burger on Facebook
On the menu: Fresh-cut fries seasoned with organic thyme, parsley and kosher salt; house-made lemonade
Keiki dish:TBD
Xtreme Tacos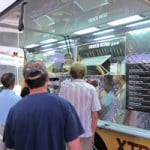 Contact: 808-954-5477; www.xtremetacos.com; @xtremetacos (Twitter); Xtremetacos on Facebook
On the menu: Taco sampler plate; fried hand-held burritos
Keiki dish: TBD
See our past Eat the Street coverage:
Eat the Street Spicy
Eat the Street Garlic
Eat the Street Pig Out!
Eat the Street May
Eat the Street April
Eat the Street Japan
Eat the Street Kaka'ako
Eat the Street debut