Whisky Wednesdays at Avenue's Bar & Eatery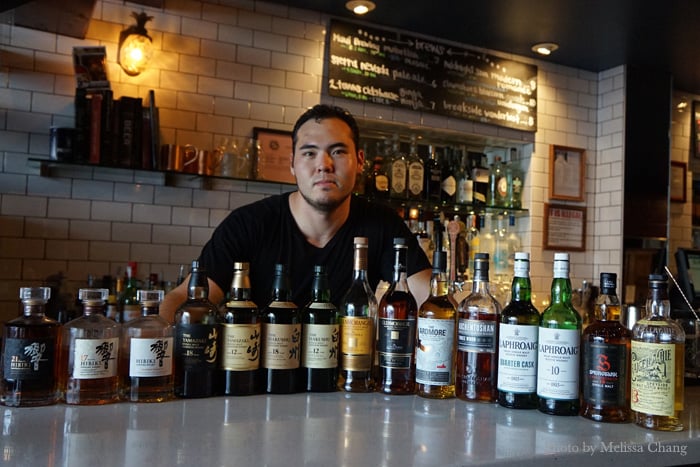 I'm still very much a novice at drinking whisky, but I have learned to appreciate it nonetheless. After last November's visit to Suntory's Hakushu distillery in Japan, I have a new appreciation for Japanese spirits and the range of aromas and flavors they offer.
Whether you're a novice or an aficionado, you'll find something new for your palate in tastes, pairings, or simply learning facts when you go to Whisky Wednesdays at the new Avenues Bar & Eatery. Note, it's only the second Wednesday of every month right now. The first one is this week, on June 8, with the theme of Japanese vs. Scotch whisky. Brian Concagh from Jim Beam/Suntory will also be on hand to talk you through the various spirits.
One good reason to go: These are the last of the Japanese single malt whiskies. In the next year or two, the single malts will gradually disappear and they'll only be producing blends, so they can meet the high demand.
I got a little preview from bar manager Joe Arakawa and chef Robert Paik to see what they're serving up; you can see the live tasting of the whiskies with the food on Frolic's Facebook. Although I've had it before, you'll see on the video that I actually felt a burn from the Hibiki 17 because I drank it after the 2016 world champion Hibiki 21 — which was smooooooove.
You can drink whatever you want, but the featured items for June 8's Japanese vs. Scotch Whisky Wednesday will be:
Japanese Flights
Hibiki Harmony, Yamazaki 12 year, Hakushu 12 year – $25
Hibiki 17, Yamazaki 18, Hakushu 18 – $35
Japanese vs. Scotch Flights
Hibiko Harmony, Yamazaki 12, Hakushu 12, Glenmorangie , Springvank, and Laphroaig – $35
Hibiki 17, Yamazaki 18, Hakushu 18, Ardmore Legacy, Laphroaig Quarter Cask, and Glen Quinta Ruban – $45
Regions and Impressions
Glenmorangie 10, Laphroaig 10, Springbank 12, Craigellachie 13, and Auchentoshen 3 wood – $35
Ardmore Legacy, Glenmorangie Quinta Ruban, and Laphroaig Quarter Cask – $30
You can also opt to add the 2016 world champion Hibiki 21 for $10 to any flight.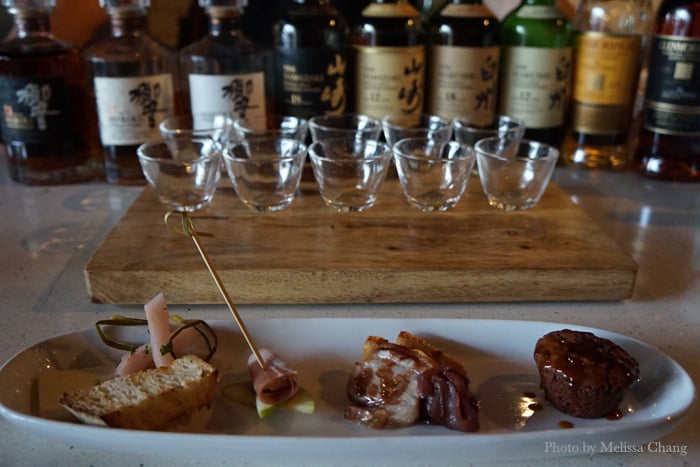 All of the above flights include these whisky tasting bites, from left:
Chef Robert's artisan sourdough bread, butter, and house pickles (mountain apple and onion blossom)
Proscuitto-wrapped stilton, balsamic reduction, green apple
Roasted crispy pork belly, port and pear sauce, pear chutney
Chocolate brownie (63 percent bittersweet Valrhona chocolate), bourbon caramel, Himalayan salt
By the way, how do you spell it? Is it whisky or whiskey? Well, here's an easy way to remember the proper spelling: Countries that have E's in their names (like UnitEd StatEs and IrEland) spell it whiskEy — plural whiskeys. Countries without E's in their names (Canada, Scotland, and Japan) spell it whisky — plural whiskies. See? You learned something already.
If you want a taste of something sweet after everything is done, I highly recommend the two new seasonal desserts.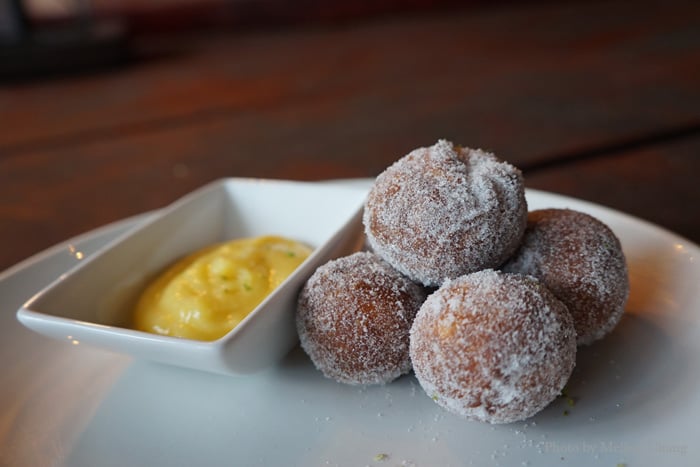 Robert is a savory chef but developed these bite-sized, homemade malasadas with kafir lime-lemon curd. Very OMG, but also the perfect size so you don't get too full.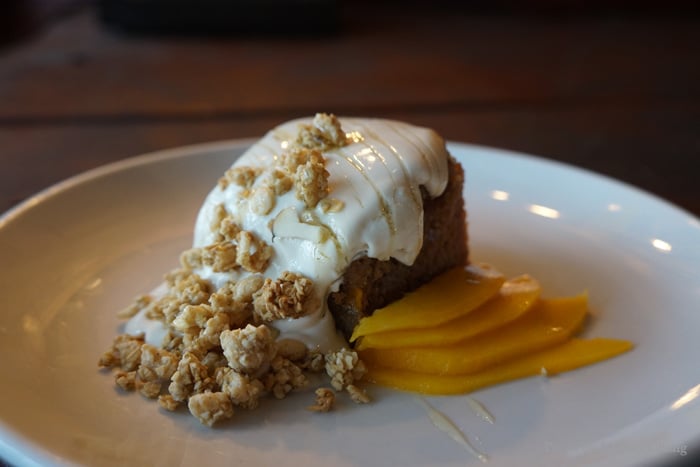 He is also into seasonal fruits, so made his version of mango bread. I have never liked the chopped walnuts that people put into "traditional" mango bread, so I love that Robert's is simply a cake, covered in a vanilla-sour cream topping drizzled with local honey and has granola for crunch. I like this better than my mother's. There, I said it.
Whisky Wednesday at Avenue's Bar & Eatery
5:30 p.m. to closing; reservations recommended
3605 Waialae Ave.
808-744-7567