Where to go for Edgar vs. Penn 2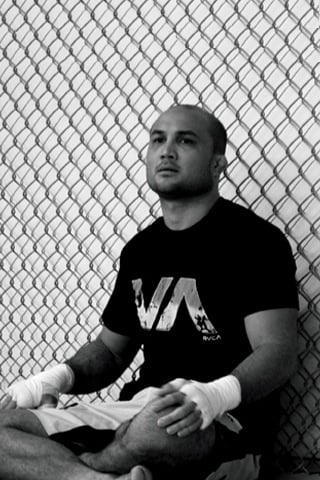 Since last April's MMA fight, where Frankie Edgar defeated Hilo's BJ Penn to become the new Lightweight Champion at UFC 112, Hawaii MMA fans have been eagerly awaiting a rematch. Analysts say, when motivated, Penn is one of the most dangerous fighters in the world. Driven to avenge his loss and regain the UFC Lightweight Championship, Penn's sure to make Saturday's clash one of the best of the year, whether he wins or loses.
Are you going to be watching the fight? Not only do we want you to tell us about your plans, but we'd like you to share your party pics that night by e-mailing them to ed@nonstophonolulu.com. (Make sure everyone in the photo gives you consent to allow us to post it on the site, and don't forget to tell us who took the picture so we can give the appropriate credit.)
Where to go…
Here are places around town showing the pay-per-view fight, which starts at 4 p.m. (Hawaii time) on Saturday. These venues fill up fast, so arrive early to make sure you get a spot. Some of these places offer pre-sale tickets, so be sure to take advantage of that if you can.
Oceans 808
Free cover (two drink minimum), free t-shirts to the first 30 people, and get your picture taken with a real UFC championship belt and the Tequila Cazadores girls. Doors open at 2 pm. What to eat: Ocean's Barrel Maki roll with crab, shrimp and scallops ($18) or the kalua pig sliders ($5 during happy hour). —500 Ala Moana Blvd., 808-531-8444
Ige's 19th Puka
The $20 cover includes the fight and live band after the fight. Miss MMA Hawaii 2010, Heather Hernandez, will sign autographs in exchange for donations to benefit the Wounded Warrior Project. Doors open at 3 pm. What to eat: Yama's croissant bread pudding ($2.95) or the baby back ribs (13.99). — 98-761 Oihana Place, 808-486-3500
Regal Dole Cannery Stadium & Imax
If you can't watch the fight live, you may as well do the next best thing. Watch the fight live on a 20-foot-tall movie screen. Tickets are $20, but if you think about it, that's only $1 for every foot of the screen. Tickets available online at fandango.com. — 735 B Iwilei Road, 808-528-3653
Hooters
No cover, $14.99 special on pitchers of Heineken & Heineken Light. What to eat:The tater tots ($7.99), which come topped with bacon, and smothered with cheese, sour cream and chives. — 1 Aloha Tower Drive, 808-524-4668
Giovanni Pastrami
No cover, but reservations only and they're filling up fast! $3 Coors Light draft special during the fight. One thing we like about this place is that they have remote speaker boxes for the tables, so you'll be able to hear every punch and kick no matter how noisy the restaurant gets. What to eat: Chelsea's Treat ($15.95), a double stack of corned beef, pastrami and Swiss cheese. — 227 Lewars St., 808-923-2100
The Shack Waikiki
A $10 cover, with happy hour prices during the fight. What to eat: "Da Sleepah" (market price), ahi poke on rice topped with three over-easy eggs. If you're in the mood for something more beefy, try The Shack cheeseburger ($7.25), a quarter pound Angus burger with a grilled Louisiana hot link and cheese. — 2255 Kuhio Ave., 808-921-2255
Kanpai Sports Bar & Grill
$10 cover, $1 off draft beers and 50 cents off bottle beers for the fight. What to eat: Braised short rib loco moco ($12) or the Wafu ribeye steak with Kabayaki braised Mushrooms and Onions ($17 for 12 oz., $23 for 16 oz.). — 404 Ward Ave., 808-593-9202
TJ's Sports Bar & Grill
$10 cover, $E11 imported beer pitchers, $8.50 domestic beer pitchers and $4 shots. What to eat: Spam & egg sandwich for $10 or fried rice for $9. You can get garlic or kim chee fried rice for $11 or shrimp fried rice for $13. —
600 Kapiolani Blvd., 808- 45-2424
Buffalo Wild Wings
$10 cover, $4.50 for regular and $5.25 for tall Miller draft beers, $5 regular and $5.75 tall Killian's draft beer special. We dare you to take the Blazin' Wings Challenge, where you have to eat 12 wings smothered with Buffalo Wild Wing's hottest hot sauce in six minutes or less. — 1778 Ala Moana Blvd., 808-983-3933
2 Rande Vuu
$15 pre-sale ticket includes 2 free drinks (pre-sale only), 20 at the door the day of the fight. You can also reserve a booth for $60 (4 person minimum). — 197 Sand Island Access Road, 808-847-5001
Champions Sports Bar & Grill
$10 cover, happy hour prices during the fight. — 1108 Keeaumoku St., 808-593-4464
Oceans Sports Restaurant & Bar
$10 cover, happy hour prices during the fight. — 2012 S Beretania St.
808-944-3491