Where to Get Shinsato Farm Rabbit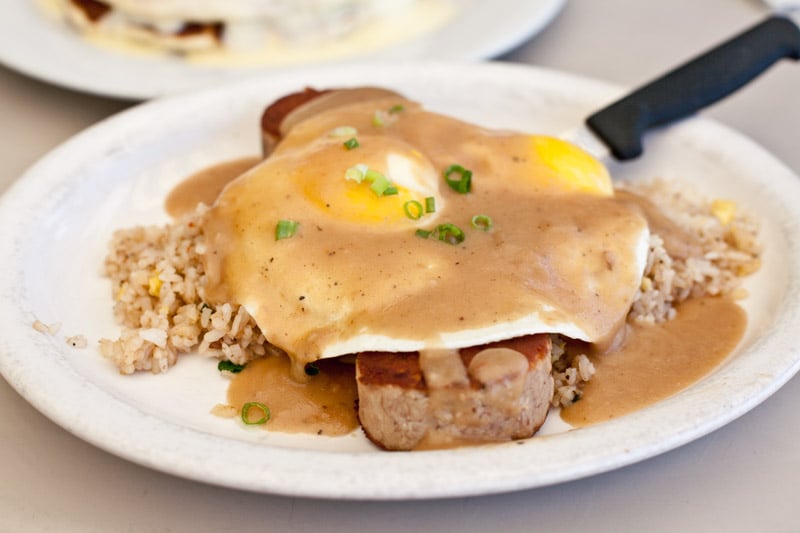 "When people say 'they breed like rabbits,' that's not true," says Amy Shinsato of Shinsato Farm. "When it gets over 85 degrees, they have a harder time. With all that fur, I think they're meant for colder weather."
Raising rabbits in Hawai'i isn't as easy as Shinsato expected. A few years ago, the farm, best known for its pigs (one nuzzles Lee Anne Wong's neck on the cover of our current Restaurant Guide), started raising rabbits for restaurants, mostly "to keep everyone interested in our pork" so that people might say, "did you hear that Shinsato has rabbits?!"
Turns out, rabbits have more delicate constitutions than the pigs, so there's a lot of maintenance keeping the rabbits' living quarters dust-free. Shinsato also gives them "a lot of treats: whole oats, bananas, maybe a little grass, just to keep them happy." As she tells me this, I'm beginning to think they sound more like fussy infants than bunnies.
Still, she keeps raising them because, for now, it's profitable enough. She currently sells them to Town, 12th Ave Grill and Salt, Real a Gastropub and Moke's Bread and Breakfast in Kailua. It's Moke's rabbit loco moco that renewed our interest in Shinsato rabbit. In our latest feature, Chefs Recommend, Shaymus Alwin of Azure said one of his favorite dishes is Moke's rabbit moco: "I don't know who else has a rabbit moco on their menu," he says. "Not only are you supporting a local farm, it's a great idea and a delicious dish." And indeed, the rabbit moco is a terrific take on a local favorite, with a rabbit rillette (shredded rabbit braised in fat) and bunny gravy.
Not that everyone at the table was enthralled. A friend at the table shrieked in horror when she found out what I was ordering. "The demand [for rabbit] goes up and down a bit," says Shinsato. "It's a little harder sell [for diners]. I think what they don't understand is that it's a really clean meat. They're not fed any antibiotics and their fat is supposed to be the best, healthiest fat."
Shinsato Farm also sells rabbit (dressed and cleaned) direct to the consumer, whomever or whatever that may be: Shinsato says she once sold bunny meat destined for a dog on an all-natural, all-raw diet. "Lucky dog," she says.
For rabbit orders, call or email Amy Shinsato, 342-9211, queenbee@lava.net
Find the rabbit moco at Moke's Bread and Breakfast, 27 Hoolai St, Kailua, 261-5565, mokeskailua.com