Where to Get Black Friday Deals in Honolulu
Here are details on sales, extended shopping hours and special perks at malls and local boutiques on Friday, Nov. 26.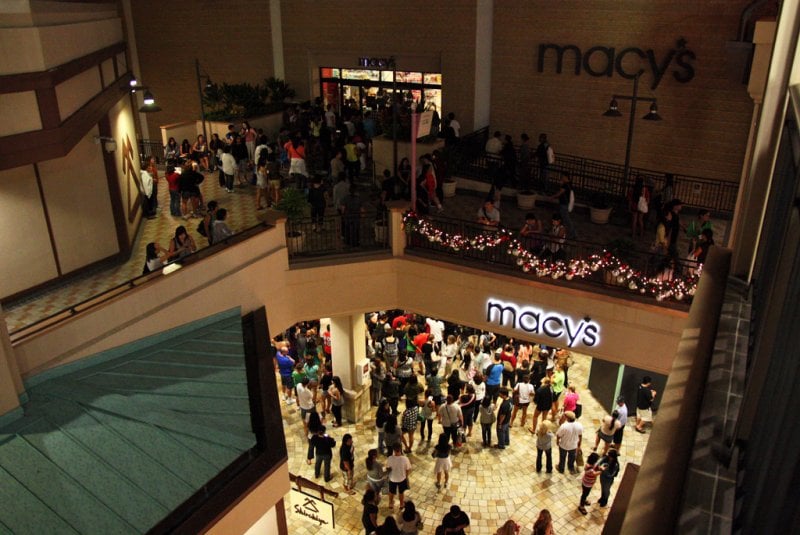 The biggest shopping day of the year is almost here—are you ready? For our part, we're limbering up our shopping muscles, making our lists and checking them twice, because this is the day the deals are worth fighting for. And while a whole lot of the fun is the surprise (expect a lot of local boutiques and vendors to finalize their Black Friday deals just before the day itself!), a little prep never hurts. So, we compiled a list of some go-to, can't-miss and favorite shops, stores and centers to keep an eye on this holiday season for great deals and, of course, the perfect holiday gifts. Hey, if you play your cards right, maybe you'll even get all your Christmas shopping done before December hits.
Check back throughout the week as we add more Black Friday deals as they come available.
Shopping Centers
Ala Moana Center
Black Friday hours are 8 a.m.to 9 p.m.
Sales and promotions are still being updated but some to look forward to include:

25% to 50% off everything at Kay Jewelers.
20% off all full-priced items at L'Occitane.
Buy one, get one 50% off at Skechers.
Buy one, get one 50% off at Barnes and Noble.
1450 Ala Moana Blvd., (808) 955-9517, alamoanacenter.com, @alamoanacenter
---
International Market Place
Black Friday hours are 11 a.m. to 8 p.m. generally, with some stores (like Mitsuwa Marketplace) opening earlier.
2330 Kalākaua Ave., (808) 921-0536, shopinternationalmarketplace.com, @intlmktplace
---
Kāhala Mall
Normal Black Friday hours are 8 a.m. to 4 p.m., but some stores open as early as 5 a.m.
Shop and earn six times HawaiianMiles for every dollar when you spend a combined minimum of $100 and up to $400 at Apple, GameStop, Lenscrafters, Longs Drugs, Macy's, My Wireless AT&T, Ross Dress for Less, Sephora, T-Mobile, Verizon or Whole Foods Market. At Fun Factory, it's a combined minimum of $100 and up to $200.
One-day-only promotions up to 75% off.
4211 Wai'alae Ave., (808) 732-7736, kahalamallcenter.com, @kahalamall
---
Ka Makana Ali'i
Black Friday hours are 6 a.m. until 9 p.m.

The party starts early with 102.7 Da Bomb outside of Hawai'i's Finest from 5 to 7 a.m. and Island 98.5 in Center Court from 1 to 3 p.m.
Royal Insiders get a special gift on Black Friday and Small Business Saturday, while supplies last. Sign up to be a Royal Insider at kamakanaalii.com/RoyalInsider.

Support local on Small Business Saturday, Nov. 26, from 8 a.m. to 9 p.m. with special sales and promotions from local retailers, plus sidewalk sales throughout the mall.

Party with Hawaiian 105 KINE from 1 to 3 p.m.

Spend $200 or more throughout the center and receive a $20 gift card to Adore, Jeans Warehouse or Lavish Spa & Nail Lounge when you present your combined, same-day receipts at the redemption station between noon and 6 p.m. on Saturday, while supplies last. Exclusions apply.
91-5431 Kapolei Parkway, Kapolei, (808) 628-4800, kamakanaalii.com, @kamakanaalii
---
Pearlridge Center
Black Friday hours are 6 to 9 p.m.
Once-a-year centerwide sales.
Live music and giveaways from noon to 3 p.m. with DJ Anit and DJ Jem.
Pearlridge Express Train rides and photos with Santa available all day.
98-1005 Moanalua Road, 'Aiea, (808) 488-0981, pearlridgeonline.com, @pearlridge
---
Waikele Premium Outlets
Black Friday hours are 5 a.m. to 11 p.m.
Sign up for the VIP Shopper Club and unlock VIP digital coupons here.
Check the website for details on updated sales for individual shops leading up to the big day. So far though, some promotions you won't want to miss include:

70% off the entire store for "Bright Friday" at Vera Bradley.
At least 50% off storewide at Tory Burch.
40% off at Tumi.
Buy one, get one 50% off at Skechers.
50% off storewide at Adidas, plus special deals on footwear, graphic tees and fleece. And save $20 when you spend $120; get $50 off $200; and $100 off $300.
94-790 Lumiaina St, Waipahu, (808) 676-5656, premiumoutlets.com/outlet/waikele, @waikelepo
---
Ward Village
Black Friday hours vary, but many stores open earlier and close later than usual, with hours from 10 a.m. to 7 or 8 p.m. (at Always A.Line, for example)  instead of the typical 11 a.m. to 6 p.m.
Deals and promotions vary by shop and are still being finalized but here are some standout ones to take note of for the big day:

25% off the entire store at We Are Iconic.
Buy one, get one 50% off the entire store at Rock Candy Hawai'i, plus a free crystal with every purchase, and a limited edition reusable tote bag free with purchase of $100.
For clothing, shoes and jewelry at At Dawn O'ahu: Buy two, get 15% off; buy three, get 20% off; or buy four, get 25% off.
Up to 20% off your total purchase at Island Olive Oil Co., plus special offers, including holiday six-pack mini sampler gift sets for $46.95, featuring the brand's most popular oil and vinegar pairings.
wardvillage.com/shopping, @wardvillage
---
Windward Mall
Black Friday hours are 6 a.m. to 9 p.m.
Each of the first 500 shoppers in line receive a complimentary offer (a restaurant, retailer, services or entertainment gift card with a value between $5 and $500).
Live radio DJ with with special raffle prizes.
Retailer promotions include special hourly incentives and offers for the first customer to enter their store, restaurant, or service, so come early!
Gift with purchase promotion: Shoppers will receive a $20 restaurant gift card with a minimum of $150 spent, when you show same-day receipts. The redemption table will be located in Center Court.
46-056 Kamehameha Highway, Kāne'ohe, (808) 235-1143, windwardmall.com, @windwardmall
Boutiques
Adore Clothing
Tiered sales start at 50% off from 6 a.m. to 10 a.m., 40% off from 10 a.m. to 1 p.m., 30% off from 1 to 9 p.m. All sales are final and gift receipts are available for items with 30% discount or less.
Kāhala Mall, (808) 737-0608, adoreclothing.com, @adoreclothing
---
Allison Izu
Buy two pieces, receive 20% off everything, including already marked down items.
2752 Woodlawn Drive, Suite 5-215, (808) 349-1013, allisonizu.com, @allisonizu
---
Always A.Line
30% off all online and in-store purchases exclusively until Monday, Nov. 28. Visit www.alwaysaline.com and apply promo code: BF302022. Extended store hours on 11/25-11/26 from 10 a.m. – 8 p.m.
Ward Village South Shore Market, (808) 744-1212, alwaysaline.com, @alwaysa.line
---
Fighting Eel
Two exclusive prints at discounted prices; from 7 a.m. to 9 a.m., get 25% off Sprinkles and Banana Leaf exclusives; from 9 a.m. to close, get 20% off Sprinkles and Banana Leaf exclusives; all day, 15% off regular-priced merchandise (some exclusions); save an additional 30% off already marked-down merchandise.
Multiple locations, fighting eel.com, @fightingeel
---
Ginger13
9 a.m. to 6 p.m.
Storewide discounts will be announced the day before on the shop's social media accounts.
22 S. Pauahi St., (808) 531-5311, ginger13.com, @ginger13
---
Island Boy Shop
From Friday through Sunday, score a kamaboko hair clip with a purchase of $100 or more.
307C Kamani St., (808) 221-3676, island boy.shop, island boy.shop
---
Jana Lam
20% off the entire store and online starting Monday, Nov. 21, through Monday, Nov. 28. Also, check out the Super Sale Section in-store and online, with markdowns up to 75%.
South Shore Market, 1170 Auahi St., (808) 888-5044, janalam.com, @janalam
---
Kealopiko
3128 Monsarrat Ave., (808) 784-0033, thekealopikoshop.com, @the_kealopiko
---
Laine Honolulu
25% off all clothing and jewelry in-store. For online purchases, score 25% off jewelry from Black Friday to Cyber Monday.
Ala Moana Center, lainehonolulu.com, @lainehonolulu
---
Mai Hawai'i
The first 20 people in the door receive a swag bag with the value of $60+ (no purchase necessary). Score 30% off from Mahina Made, excluding holiday and store exclusives; 40% off Mo'o excluding new products; 25% off  select styles from Mohala Eyewear; 40% off select styles from Yireh.
Located 2nd floor of International Market Place next to Banana Republic. Open daily 11-6pm through 12/24.
---
Mikinola
Sign up for a private shopping appointment that includes a 30-minute-time slot to snag incredible discounts throughout the whole store.  From now until Sunday, visit shopmikinola.com to book your appointment.
Koko Marina Center, (808) 394-6666, @mikinola
---
Mōno Hawai'i
Receive 20% off the entire store.
2013 S. King St., (808) 955-1595, monohawaii.com, @monohawaii
---
Olive Boutique
15% off all clothing in-store.
43 Kīhāpai St., Kailua (808) 263-9919, oliveandoliverhawaii.com, @olive_hawaii
---
Oliver Men's Shop:
15% all clothing in-store.
49 Kīhāpai St., Kailua, (808) 261-6587, oliveandoliverhawaii.com, @oliverhawaii
---
Roberta Oaks
Opens 9 a.m. – 6 p.m. with storewide sales throughout the day.
1152 Nu'uanu Ave., (808) 526-1111, robertaoaks.com, @robertaoakshawaii
---
Ten Tomorrow
Starting Monday, Nov. 21, get up to 30% off past collections.
Local brands Jules + Gem, Misha Hawai'i, Tidal Theory and Auds & Ends will be hosting deals through Ten Tomorrow starting Monday, too. Get a sneak peek at Ten Tomorrow's holiday collection while you shop.
1114 11th Ave., (808) 591-6219, tentomorrow.com, @tentomorrow
---
Valia Honolulu
Up to 50% off in-store and online from Nov. 21–28.
Customers who spend $100 or more will receive free totes.
1140 Bethel St., (808) 208-8585, valiahonolulu.com, @valiahonolulu