Where to find craft beer on Kauai
The island's beer scene may be small, but it punches far above its weight class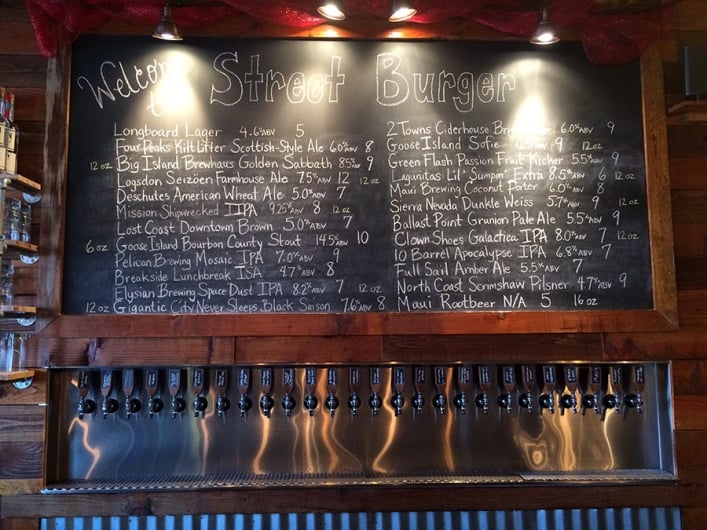 Looking for a craft beer on Kauai? Though the scene on the Garden Isle may be small, it is not without a solid foundation. Two breweries call the island home, and bars are beginning to increase the size of their beer lists. Here's where to start on your next trip: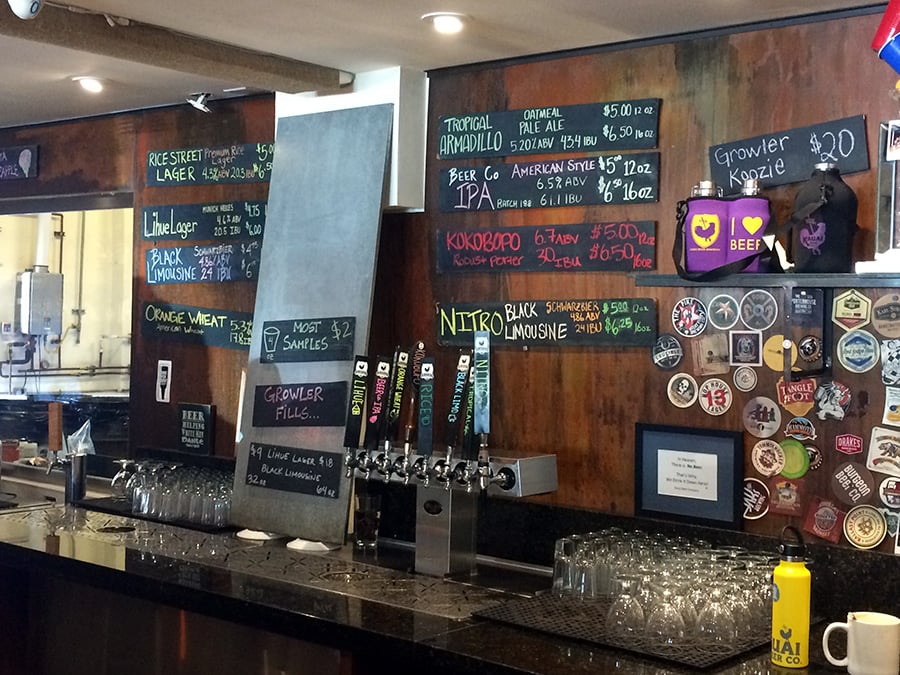 Located on Rice Street in Lihue, Kauai Beer Company is one of two breweries on the island. It's the island's crown jewel, and in my opinion one of the top breweries in the state. Its flagship beers include Lihue Lager, Black Limousine Lager, Beer Co IPA and Tropical Armadillo Oatmeal Pale Ale, among others. The brewpub has that microbrew feel, the beer tanks visible through a small window just beyond the bar. The menu is small but solid with a collection of sandwiches (like the Rice Street Reuben) and specialty fries (poutine-style). We like the filling and reasonable house-made macaroni and cheese ($9). When in search of beer on Kauai, start here.
4265 Rice St., Lihue; 11 a.m. – 10 p.m., closed Sunday and Monday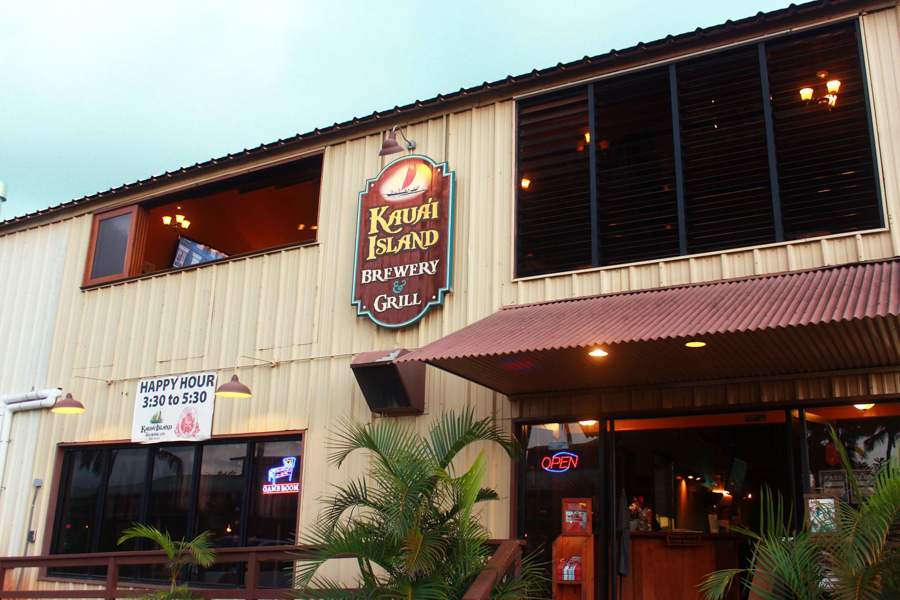 Kauai Island Brewery is the island's other brewery. It was originally owned and operated as Waimea Brewing Company, but in 2012 moved to its current location at Port Allen, where it was rebranded and has been rocking ever since. Just a short drive from Hanapepe town, the brewery is within eyeshot of the water, but the draw is its industrial feel, with 35-foot high ceilings and open layout (i.e. there are no ocean views). There are usually 10 house-brewed beers on tap, including favorites like Captain Cook's IPA, Na Pali Pale Ale and Waialeale Golden Ale. It's a great place to go for lunch or dinner, as the menu features Kauai beef burgers, kalua pork sandwiches, fish and chips and other solid bar food options. Though I like Kauai Beer Company's beers better in a blind taste, Kauai Island Brewery has a more extensive beer list and food menu, and I appreciate the greater variety (KBC usually only has a half dozen beers on tap). For beer lovers, it's the place to be on the south side.
4350 Waialo Rd., Port Allen Marina Center; daily 11 a.m. – 9 p.m.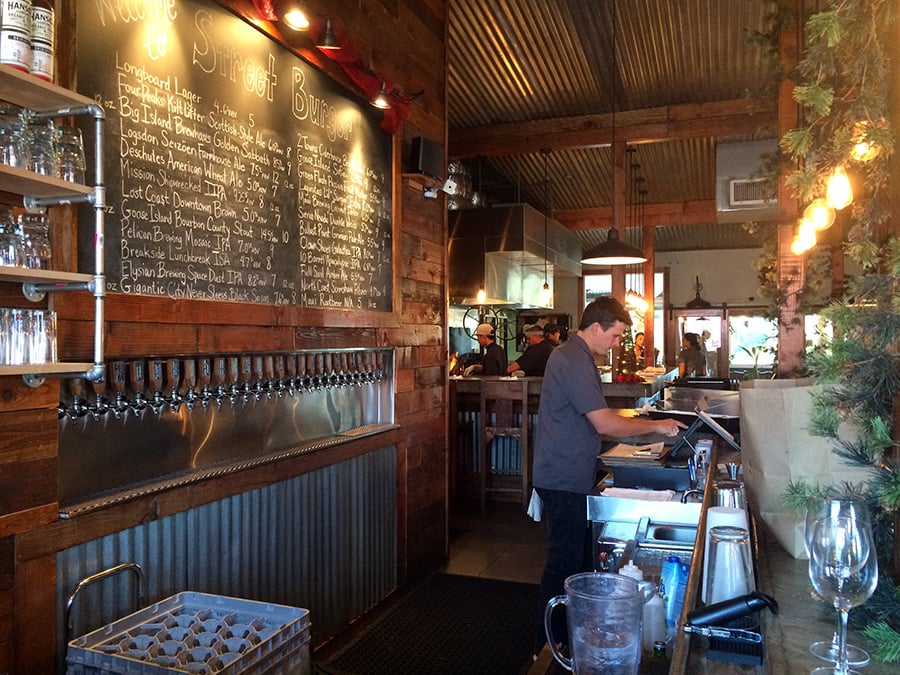 Top-notch burgers and beer variety: If that's what you're after, this is the place. It's the chicest burger joint on Kauai, very modern in design, on par with a gastropub you might expect to find in Honolulu. But the staff keeps it down to earth, and a chalkboard menu of two dozen local and mainland beers on tap will help you wash down those gourmet Kauai-beef burgers and the hand-cut fries. The restaurant features two bars – one traditional and one chef's table, with barstools surrounding the open-flame kitchen where you can watch the cooks in action – as well as normal seating. This place would be worth the visit if you just wanted a burger or just a beer. The fact that they do both so well makes it a must-try.
4-369 Kuhio Hwy, Kapaa; 11 a.m. – 10 p.m., closed Sunday and Monday
If you're looking for a more traditional sports bar that carries more than Bud Light, Rob's Good Times Grill in Lihue is your spot. They don't carry KBC or KIB beers, but they do have a chalkboard full of state-brewed beers (Kona) as well as a mix of mainland craft beers. Happy hour is every day from 3 – 6 p.m. with $2 off all drinks.
4303 Rice St., Rice Shopping Center, Lihue; daily 11 a.m. – 2 a.m.