Where to buy lychee in Honolulu now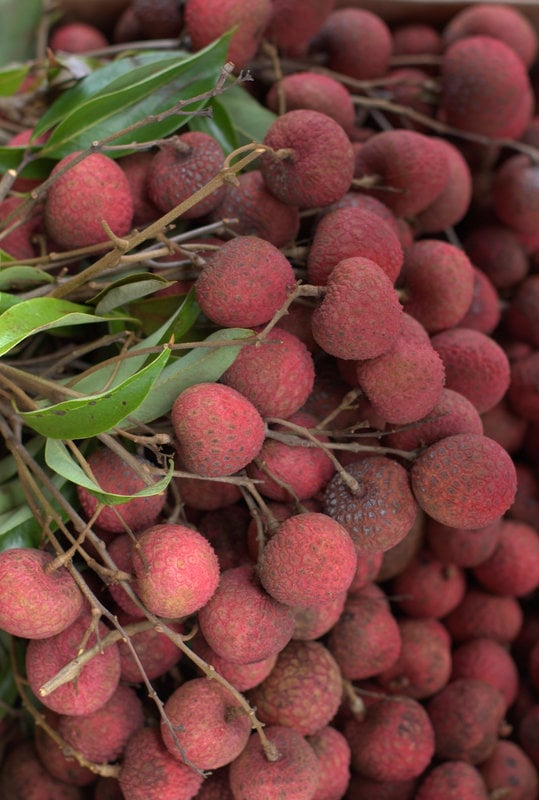 It is an amazing lychee year. I know this because I've visited three stands around Chinatown, hip-checked a few pushy popos, reserved lychee shipments at The Wine Stop, and more importantly, eaten seven pounds of lychee, all so I can tell you: It's an amazing lychee year.
Last year, we had hardly any. The year before, I found that lychee sweetness varied from fruit stand to fruit stand. This year, every lychee I've had has been sweet and juicy.
Ken Love, president of the Hawaii Tropical Fruit Growers, says "Lychee is never consistent from year to year. It's a combination of weather:
both rain and dry times plus hot and cold. When we get a perfect combination, we have a great year."
Love has detailed at least twelve lychee cultivars (see below) with their brix, a measurement of sweetness. The Chinatown stands can't tell you what variety they're selling, but The Wine Stop has been bringing in Kaimana lychee every few weeks. Just get them soon—lychee season is fleeting.
Places to buy:
Chinatown (fruit ranges from $4.50 to $4.99 a pound):
Chau's Fresh Fruit, at the makai entrance to Maunakea Marketplace
Mai, 1120 Maunakea St.
Market at the makai and Diamond Head corner of Kekaulike Mall.
The Wine Stop. Follow on Twitter to find out when the lychee shipments arrive. $6.99/pound.
Links to lychee varieties, cross section and brix (percent sugar):
http://www.hawaiifruit.net/lycheebrix2/pages/lychee2_brix.htm
http://www.hawaiifruit.net/Lychee/pages/%20Guide%26Brix.htm