Where the food trucks are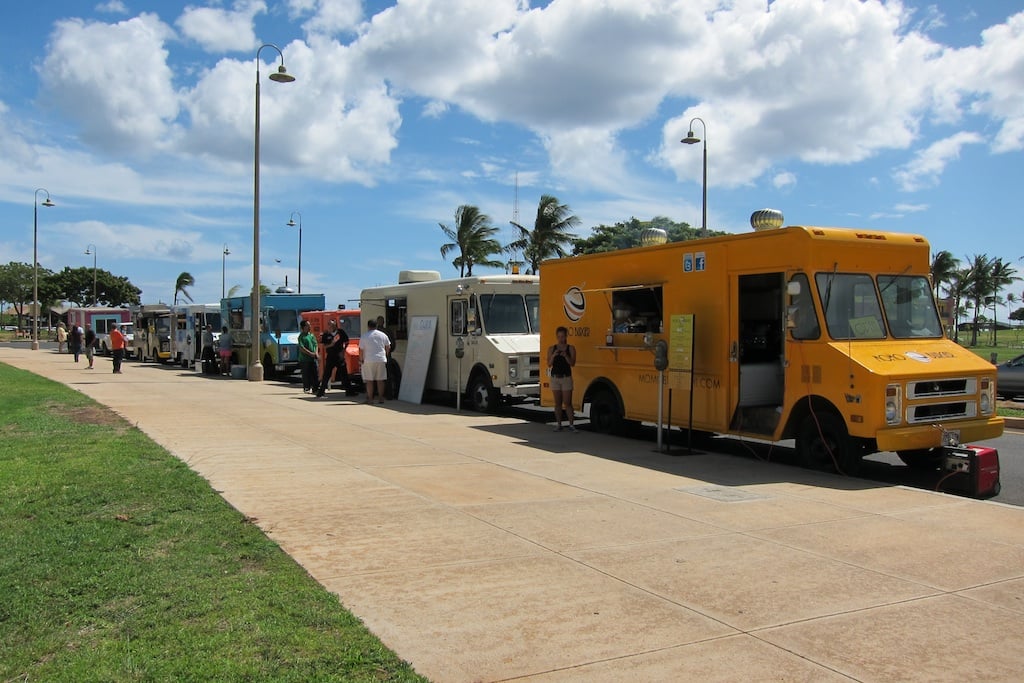 I stopped by Tacoako Tuesday a couple days ago. If the name's not familiar, it's a lunchtime gathering of food trucks launched earlier this year by Flipt Out Eats, the Filipino fusion taco truck that started out by itself on a lonely stretch across the UH Medical School in Kakaako. After some slow first weeks, Flipt Out's Jesse DeRamos invited Shogunai Tacos, Camille's on Wheels and other taco trucks to park alongside his, and slowly the numbers started growing.
So on Tuesday I count 11 food trucks and Inferno's Pizza lining the Ilalo and Cooke street sides of the grassy block. One vendor tells me there were 14 last week (commitments, engine trouble and other issues keep the number fluctuating). See here? That's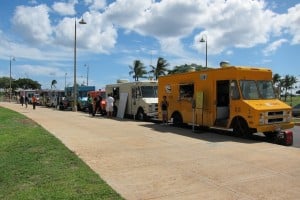 Momo Burger (by a chef from the Modern Honolulu/Trump)
Curb Truck (coffee drinks, Italian sodas, shave ice)
All Kine (ice cream creations)
Camille's on Wheels (fusion tacos, pot pie, baked desserts)
Tiki Truck (fusion tacos, sliders and dogs)
Puffettes (eggy waffle puffs)
Kai's Pasteles (pasteles, chimichangas, gondule rice)
plus (not pictured on Cooke Street):
Inferno's Pizza (made to order in a wood-fired oven)
Lox of Bagels (from the eatery on Sand Island)
Da Ala Cart (grilled-to-order yakitori and musubi)
Ronnie's (kalua pig nachos and plate lunches)
Shogunai Tacos (Japanese and other tacos)
People are eating at the park's two picnic tables, in the shade of trucks or trees, carrying lunches back to the medical school, even eating in the bed of a pickup truck. It's become a thing, Tacoako Tuesdays from 11 to 1.
That's Part 1 of this blog: a good developing story for food truck hunters whose only other chance at a major truck confab is Eat the Street on the last Friday of every month. Part 2 is that starting this Friday and every Friday night (except ETS nights), seven or more trucks are converging on the tiny, struggling Kakaako Makai Farmers' Market in a bid to boost customers for both sides.
"Farmers and food trucks: Why can't they come together? Food trucks can buy their produce from the farmers, and maybe more farmers will sell at the market," says Inferno's Jonathan Wong, who's organizing the Friday thing. "We haven't got a single no yet, so I think this has potential."
Lined up for this Friday:
All Kine
Camille's on Wheels
Da Ala Cart
Inferno's Pizza
Koi
Puffettes
Ultimate Burgers
Don't go looking for the Friday night trucks on the Tacoako block. Kakaako Makai Farmers' Market is a block Diamond Head, at Ilalo and Ahui streets. Easiest route is to follow Ward Avenue to the bottom, on the makai side of Ala Moana Boulevard; there it veers and the name changes to Ilalo. You'll find the trucks and market there from 4:00 Friday afternoon until about 8.
10/13 UPDATE: TOSS (Trucks on Sheridan Street) launched today, pulling together Tiki Truck, Da Ala Cart, Curb Truck and Puffettes near the corner of Rycroft in the Ala Moana/Keeaumoku area. Plans are for these four to park here for lunch every Thursday from 11 to 2. Credit for this idea goes to Tiki Truck's Abe Jazzmin. Here's their introductory first-week special:
"For $8 you will get a taco of your choice from Tiki Truck (2011 Nonstop Honolulu Best New Truck nominee), a chicken stick from Da Ala Cart (also 2011 Nonstop Honolulu Best New Truck nominee), a drink of choice from The Curb, and finish it off with the original egg puff from Puffettes."
Also, a different group of four has a daily spot in the parking lot at the corner of Ward and Kapiolani (entrance on Ward past HECO): Achilles Grill (Thai), Chicago Eatz (gyros and Chicago-style dogs), Koi (upscale plate lunches) and Hawaii's Fried Musubi (fried chicken, musubi and sweets).