Where should your out-of-town guests eat?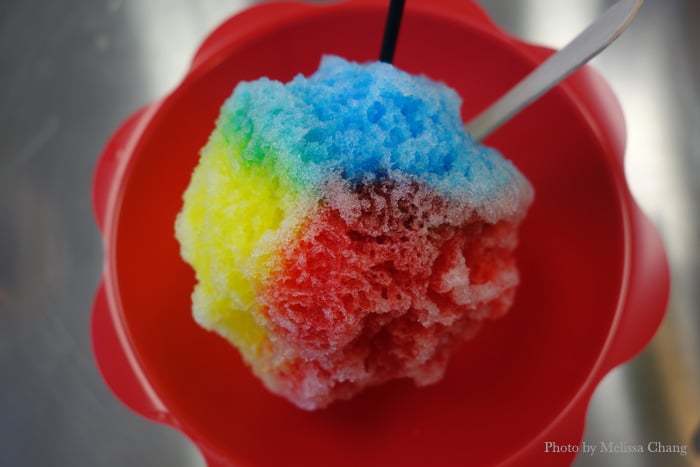 This time of year, many of you have visiting family and friends, and you want to impress them with the food Oahu has to offer. Well, I once did a list of recommended places for first-time visitors; I still stand by most of them. But what about people who once lived here, or have visited many times?
I had to come up with some suggestions for my cousins, who were visiting from all over the world last week. Celia Lines and Yolanda Griffiths grew up here and still visit every so often, but now one lives in Singapore and the other, in Nebraska. My California cousins spent their entire summer vacations here when we were kids, so that was another group to please. In all cases, they wanted to try new things, but also wanted to have their old favorites. What to do?
Pretty much if you look up anything we blog about here, it's good. So I don't mean to shaft any of my old favorites, but these are suggestions based on affordability, group-friendliness and easiness to find, in addition to the food being so darn good.
Breakfast
Even if they weren't my client, I would still suggest Tucker & Bevvy. All of their breakfast choices are solid, reasonable and they have ample free parking. Oh, and a bottomless cup of good coffee. Two sets of cousins, in fact, found Tucker & Bevvy on their own and went without me (harumph) and reported that the Tim Tam waffle was excellent. Yes, I know! I was going to take you! The other nice thing is that their menu has something for everyone, from meatless and gluten-free to decadent or savory. I always recommend everyone order something different, and plan to pass your plates around.
Tucker & Bevvy Breakfast
449 Kapahulu Ave.
808-732-0050
Most of the time Koko Head Cafe is a home run for brunch. I love that Lee Anne Wong takes local ingredients and local dishes, and puts her own fusion-y twist on them. One of my favorites is the congee; if you want to splurge on calories, the cornflake French toast with billionaire bacon is a must. After my cousin Kristen Connors ate there for the first time, she decided she would keep going back until she'd tried everything on the menu.
Koko Head Cafe
1145 12th Ave.
808-732-8920
Where else my family went without me: Liliha Bakery, Moke's Bread & Breakfast, and Cinnamon's.
Lunch
Normally for lunch I would suggest Hawaiian food, so although my usual first choice would be Helena's Hawaiian Food, for out of towners I would have to recommend Highway Inn in Kakaako. Parking is quite a gamble unless we are all carpooling to Kalihi. My relatives wanted loco moco, too, and their eyes lit up when they saw the "Smokin' Moco" — a plate of rice topped with smoked meat and mushroom sauce, plus an egg.
Highway Inn
680 Ala Moana Blvd.
808-954-4955
Yolanda wanted to eat local grindz (beyond Hawaiian) and really wanted Side Street. The problem is, they aren't open for lunch — at least, not the full menu. In fact, all the local spots she wanted to eat at are only open from 2 p.m. Not to fear, Holoholo Bar & Grill is my new favorite for all-day local kine food, with lots of free parking. While they have new creations, like the smoke meat kale salad, you can get super old school items like "coco 'n' crackah." Maybe next time, Lan.
Holoholo Bar & Grill
2494 S. Beretania St.
808-369-7297
Shave Ice
I knew I was on the right track when my niece Morgen Chang came home a few months ago and I took her to Lemona. She liked it so much, she excitedly texted her mother, who replied, "Great. Now you ruined my surprise." If you already grew up with local shave ice, you're ready for something different. Lemona's ice is fine and their homemade syrups use real fruit, so eating their dessert is like biting into a fresh, ice-cold pear. Or lemon. Or whatever they're featuring today. (My favorite is pear.)
Lemona Hawaii
421 Lewers St.
808-922-9590
If it's too hard to get to Lemona, I recommend Ailana (again, home made syrups) or Shimazu (at the Hawaii's Favorite Kitchen location) for both classic and contemporary flavors. These spots offer the best-tasting shave ice and have ample free parking. Where my family went without me: Jung's Shave Ice.
Ailana Shave Ice
1430 Kona St.
808-955-8881
Shimazu Shave Ice ~ In Hawaii's Favorite Kitchens
3111 Castle St.
808-744-0465
Dinner
No question, I think every out of town guest should try MW. Michelle and Wade Ueoka serve truly elevated local comfort food, like the mochi-crusted opakapaka and house-made tonkatsu. Heck, even the spam in their lunch bento is home made. No matter what you order, always save room for dessert — even if you have to stop yourself and just box up the rest of your entree. My favorite sweets are usually a shave ice anything or a brûlée anything. On the night we went, we demolished eight desserts, with cousin Megan Griffiths yelling that she wanted to eat 1,000 of the ice cream sandwiches. The family declared it the best meal of the trip.
MW Restaurant
1538 Kapiolani Blvd.
808-955-6505
From there, I have a couple of recs in different directions: For my relatives who now live in Asia, I would say get a very American meal using local ingredients at 12th Avenue Grill. I went there with cousin Patrick Chu after his 16-year stint in Tokyo and he loved everything we had, especially the pork chop and the Irish whiskey. For everyone else, I'd steer them to The Pig & The Lady, which is also very consistent and perfect for sharing. Aunty Helen Charette commented that although they have Vietnamese in California, The Pig & The Lady offers fusion flavors that they don't have, plus various local ingredients. We loved the mazemen, which is a dry noodle dish with soup on the side, and the crab fat pot pie.
12th Avenue Grill
1120 12th Avenue
808-732-9469
The Pig & The Lady
83 N. King St.
808-585-8255
If you have time, get more local fusion at the Food Company Cafe (Kailua), Sansei, Lucky Belly, Grondin, HASR, Uncle Bo's and Livestock Tavern.
That's my short list! If my cousins ever get to spend the entire summer with me again, of course we'll go out to the North Shore for the shrimp trucks, Opal's Thai, Waialua shave ice and more. Where do you take your guests?
Here's the coverage on KHON2's Wake Up 2Day! Click here.