Where Can You Vote Early, Before the Nov. 4 General Election?
Walk-in voting begins this week for registered voters in Hawai'i.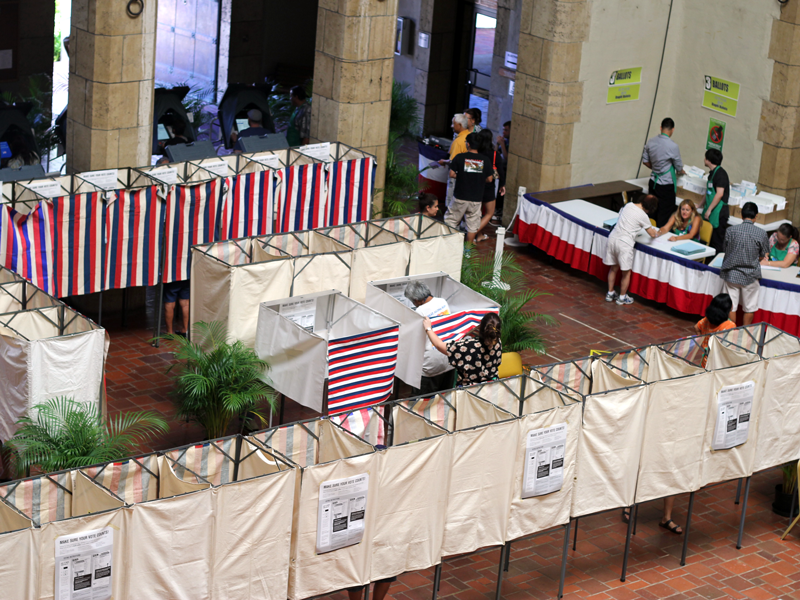 Hawai'i registered voters can walk in and vote early beginning Tuesday, Oct. 21 through Saturday, Nov. 1, rather than wait to vote on the Nov. 4 general election day.
An additional site has been added for the County of Hawai'i for residents of Pāhoa district affected by the lava flow.
Here's the info for each county:
City and County of Honolulu
Honolulu Hale
8 a.m.-4 p.m.
Monday through Saturday
530 S. King St., Honolulu
Kapolei Hale
8 a.m.- 4 p.m.
Monday through Saturday
1000 Uluohia St., Kapolei
Big Island of Hawai'i
Aupuni Center Conference Room
8 a.m.-4 p.m.
Monday through Saturday
101 Pauahi St., Hilo
Pāhala Community Center
Monday through Friday
9 a.m.-noon and 1 p.m.-3 p.m.
96-1149 Kamani St., Pāhala
Waimea Community Center
8 a.m.-4 p.m.
Monday through Friday
Saturday
8 a.m.-noon
65-1260 Kawaihae Road, Kamuela
West Hawaii Civic Center Community Room (Building G)
8 a.m. – 4 p.m.
Monday through Saturday
74-5044 Ane Keohokalole Highway, Kailua-Kona
Nanawale Community Center
8 a.m.- 4 p.m.
Monday through Saturday
(From October 21 – 31 only)
14-855 Kehau Road, Pāhoa
Maui County (including Moloka'i)
Kalana O Maui Building
8 a.m. – 4 p.m.
Monday through Saturday
200 South High Street, Room 708, Wailuku
State Building, DAGS BLDG. #1
Monday through Friday
8 a.m.- noon and 1 p.m. – 4 p.m.
Saturday 8 a.m.- noon
65 Makaena Place, Room 104, Kaunakakai
Kaua'i
Historic County Building Annex Basement
8 a.m.- 4 p.m.
Monday through Saturday
4386 Rice Street. Līhu'e