What's up with the knee high socks?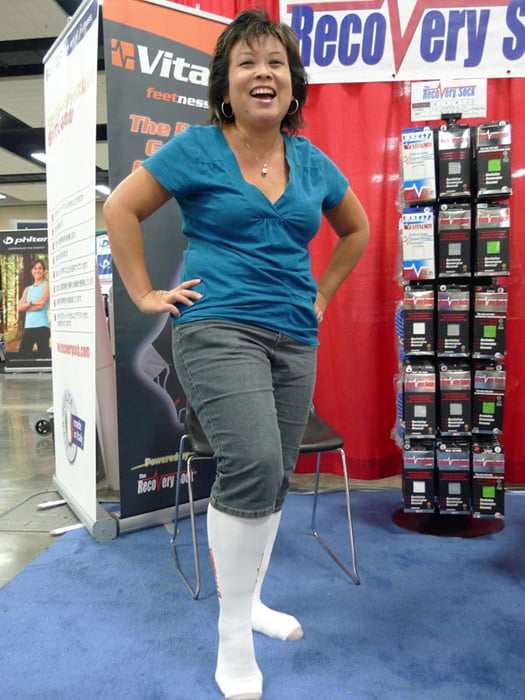 In the last few weeks leading up to this Sunday's Honolulu Marathon, people — me included — have been getting their long runs in. Most serious runners are doing anywhere between 16 to 20 miles in one crack as part of their training. During the last month, though, I noticed more people were wearing knee-high socks to run. Have you seen this?
It's obviously not for fashion purposes, so I figured there was a functional reason. At the 16-mile turnaround point one Sunday, some people told me about the trend: these are special compression socks. Like the compression stockings that some people wear on airplanes to help circulation, these socks are designed to help support the muscles and blood flow during long runs and in recovery. By enhancing and stimulating circulation in the lower leg, the socks also help reduce swelling and muscle stiffness and provide relief from cramping.
"That's fantastic!" I thought. "I must have a pair, right now!" So I went to the Running Room to get a pair, and almost fainted when I saw the price. Sixty bucks for a pair of socks? These better be magic socks! As it turns out, runners' compression socks have been around for years, but used mostly by triathletes. People who do triathlons tend to have more money (or are willing to spend more money), given that their equipment is so expensive, so they buy the latest and greatest things that help them enhance their performance. Runners (and I can vouch for this) tend to be more … frugal, so they wait till triathletes test out the new technologies before they buy them.
Well, the Honolulu Marathon Expo opened yesterday, and PR diva Jocelyn Collado asked me to try her client's, Vitalsox, compression socks. What great timing! Even if she didn't let me try them, I would buy them, as they are much more affordable — $35-36 for the knee highs, and $12-15 for the anklets. I was so enamored after trying them on, I bought anklets for all my running friends.
Vitalsox are the only socks to ever be tested and validated by a university or medical research company, and they use a patented wicking and antibacterial fiber called Silver DryStat®, which keeps feet dry and protects them from bacterial growth (in other words, no toe jams). Since they're designed to fit like a second skin, the socks also keep blisters from forming. Many of the socks feature an exclusive "extreme cushioning system," which provides constant shock absorption. Many of you know that I've had foot problems this year in training. Combined with my new shoes, I hope these socks bring me a less-painful marathon than expected.
P1110600
Picture 1 of 7
Marco from Vitalsox instructing me on how to put the socks on. All brands with full-foot compression socks require a little extra time to put on, as you need to turn them inside out and roll/slide up. This is because compression socks are tighter than regular socks. Vitalsox are thinner than other brands, so I didn't break a nail putting them on.
One of the concerns by runners is that the socks will be too hot to wear in Hawaii. Everyone I know who wears knee-high compression socks says this is not a problem. I gave the socks a test run last night and found that they actually feel kind of cool to the skin. Marco said that this is because of the wicking technology. He also pointed out that the part closest to the ankle and feet will be tighter, and the sock is less snug as you go up the leg. So when I removed the sock, there wasn't any mark — not like the other socks, which are much tighter.
You can find Marco and his Vitalsox at the Honolulu Marathon expo this weekend. Later this month, you can buy them online at www.vitalsox.com; they're also available on amazon.com, shoebuy.com and runningwearhouse.com, among other sites. Right now no Hawaii stores carry them. Yet.
I'm really looking forward to using my Vitalsox this Sunday. I'll also be wearing a running skirt, so I imagine I might look sort of like a schoolgirl in uniform. Watch for my live tweets!
========
You can read all of Melissa's blogs at www.nonstophonolulu.com/urbanmixplate. Follow Melissa on Twitter@Melissa808, on Foursquare as Melissa808, or email at Melissa@nonstophonolulu.com.
My recent blog posts:
I want a Bit of Sugar!
Terry's Place and the Underground Chefs
What's your passion?
Hawaii: In Real Life at Padovani's Chocolates
Black Friday aftermath
Happy Thanksgiving
Introducing Hawaii: In Real Life
Visiting the Waialua cacao farm
It's super sake week!
Breakfast at Eggs n' Things
Stewing for a good cause
Sushi Surfer Sliders and more