What's Jidori Chicken?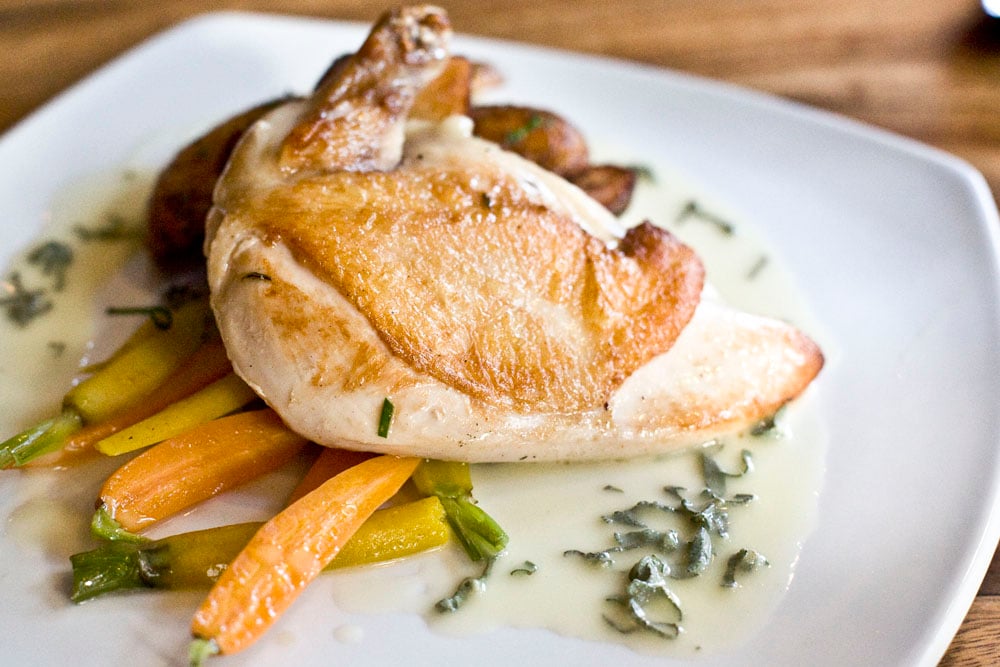 If you've dined at some of Honolulu's buzziest restaurants—MW, Salt, Grondin, to name just a few—you've seen Jidori chicken on the menu.
What is it?
The shortcut answer is that it's the Kobe beef of chicken. It's also the wrong answer.
Maybe in Japan, where Jidori chickens are of a certain breed, but not so in Hawaii, where it comes from California company Mao Foods, which has trademarked the term "Jidori Chicken."
"It's not a breed," says Dennis Mao, who founded the company about 20 years ago. "The story is, it's my brand … It's a free-range chicken that I would bring you (chefs) fresh." For a lot of his LA chefs, the chickens are delivered within 24 hours of slaughter. Mao contract farms the chickens, giving the farmers general parameters of how the chickens should be grown: "feeding them nice healthy things," Mao says. "That's basically it."
Four years ago, The New York Times wrote about Mao's Jidori chickens, the darling of posh LA restaurants. And that's when Todd Oda, sales manager at Higa Foodservice, a Hawaii meat distributor, took notice and started bringing Jidori chicken here. "I was looking for something different from what everyone was selling," Oda says. "The product tastes pretty good, if you compare it to run-of-the-mill chicken."
It's also more expensive, up to 50 to 100 percent more, depending on the cut.
Andrew Pressler, chef at Grondin, thinks it's worth it. He says, "Once you see the difference between a decent bird and the commodity that the larger industrial companies produce, you can't use that kind of thing any more. Luckily, our guests understand the importance of responsibly sourced ingredients and are willing to pay just a couple dollars more to eat better and healthier."
Once confined mostly to LA restaurants, Jidori chicken has flown the coop and is now available across the country. Since The New York Times article, Mao Foods has almost doubled its production of Jidori chicken, processing about 8,000 to 10,000 chickens a day, still a tiny amount compared to chicken industry giants. Many restaurants in California still get their Jidori chickens fresh, but not so in Hawaii. Here, a lot of it comes in frozen. Higa, which is the biggest distributor of the chicken in the food service industry, brings it in "minimally processed and flash frozen," says Oda. In addition to selling whole birds, Higa also sells it in parts—from breasts to thighs to livers.
Want to try it for yourself? Some of my favorite Jidori chicken dishes, which showcase the skills of the chefs as much as the chicken itself, are Grondin's pan-roasted chicken and its killer chicken sofrito sandwich (available at lunch), a definite upgrade from your usual chicken salad sandwich. Also try Salt's "SFC," aka Salt fried chicken. So good.
For home cooks, frozen Jidori chicken is available at Kokua Market, for you to make up your own mind on its flavor.