What's happening for Halloween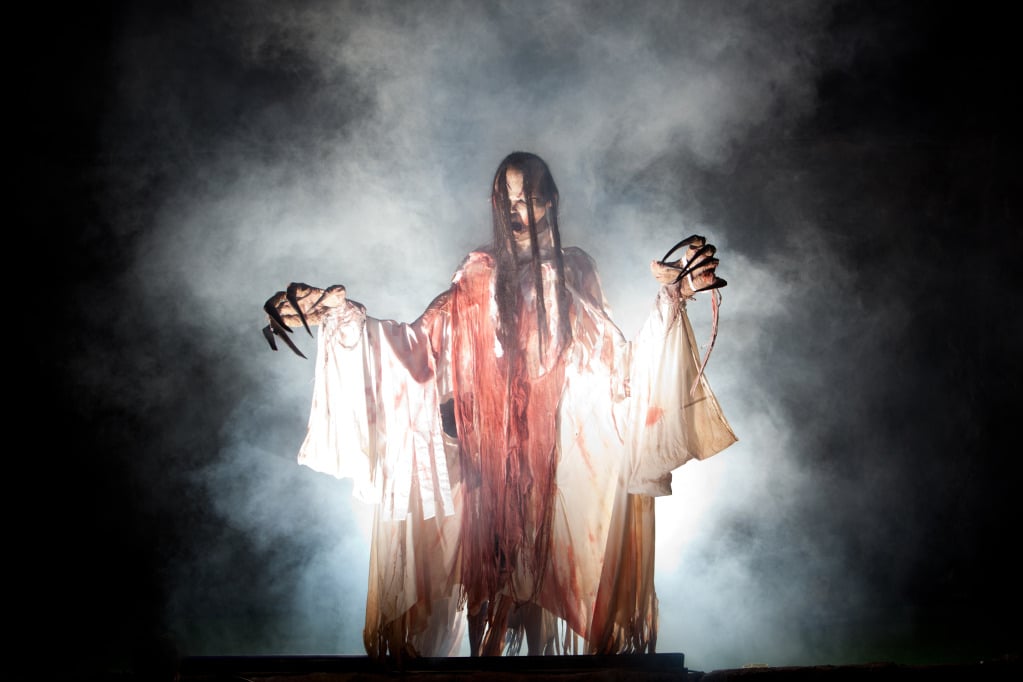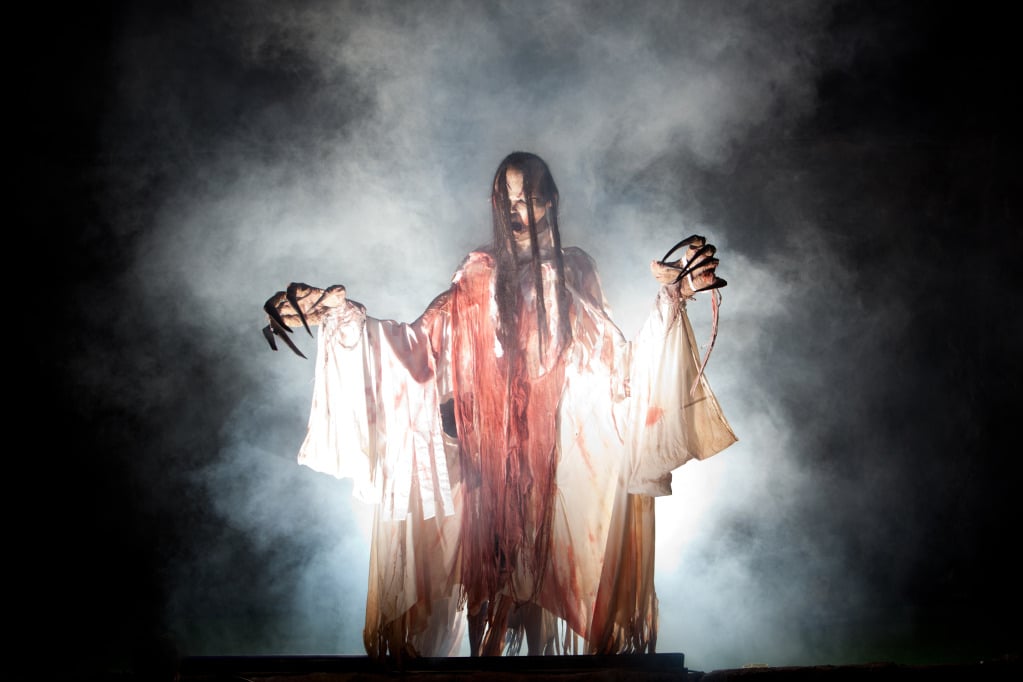 There's a lot happening in Honolulu for Halloween. Get in on the fun, from haunted houses to club parties to block parties and music festivals. — Haunted Lagoon photo courtesy of Polynesian Cultural Center
Halloween parties
Hallowbaloo
Oct. 29 at The Waterfront at Aloha Tower, Oct. 30 in Chinatown — Everyone's excited about the third annual Hallowbaloo, which kicks off with a concert by Edward Sharpe and the Magnetic Zeroes on Friday, Oct. 29 at The Waterfront. On Saturday, Oct. 30, the festivities move to Nuuanu Avenue, for a giant, off-the-hook costume party, street festival and club crawl. Look for live entertainment on five outdoor stages (including The Budos Band and Dengue Fever) and party all night in eight participating clubs for one cover ($10 before 7:30 p.m., $15 after and $20 without costume). More info: www.hallowbaloo.com
Haunted Wonderland
Oct. 30, 8 p.m.-4 a.m. at Wet 'n' Wild Hawaii — This huge costume party at the waterpark features dance and electronica DJs on three stages, including Corey Ferren, local duo Astronauts by Night, Miko Franconi from Soundsex, Techmarcher and many others. More info: Tickets available for $30-$50 at Butigroove, Prototype, Hungry Ear Records. wetnwildhawaii.com.
Eyes Wide Shut
Oct. 30, 10 p.m.-2 a.m. at Bonsai — Tantriq, Architechs and Profound Entertainment team up for an indoor/outdoor party with live video DJs, a late night menu and drink specials. More info: 21+, free, dress in costume or dress to impress, bonsaihonolulu.com.
Halloween at the Hyatt
Oct. 31, 9 p.m.-2 a.m. at the Hyatt Regency Waikiki — Every year, Architechs, Tantriq, Vertical Junkies and Double-O-Spot team up to throw this huge poolside Halloween party at the Hyatt Regency Waikiki's Ciao Mein restaurant. More info: Tickets available for $13 at www.groovetickets.com or e-mail hyatt.vip.tables@gmail.com for VIP reservations.
'Rocky Horror Picture Show's' 35th Anniversary: TIME WARP HAWAII 2010
Oct. 31 from 5-10 p.m. at Waikiki Shell — If you're a Rocky fan, you don't want to miss this huge event at the Shell, to celebrate the 35th anniversary of the cult classic. The show will be kicked off by a naughty lingerie fashion show and a costume contest. The movie will be played on a giant screen, joined by Derek Daniels' live theatrical team. More info: $20 Lawn, $30 Terrace, $40 Pool, $15 students, seniors and under 16. Please be advised that the movie is rated R. Tickets available at ticketmaster.com. Part of the proceeds go to support the Hawaii Cat Foundation.
'The Halloween Party That's Actually on Halloween' Party
Oct. 31, 4 p.m.-midnight at Fresh Cafe — Presented by FLUX Hawaii, SuperCW and Fresh Cafe. Bob for apples, try pumpkin bowling, make caramel apples, try out some hot buttered bacon rum and Tuaca Apple Pie liquor, bring your pets down for a pet costume contest, and indulge in the craziness at this Halloween night party. More info: www.freshcafehi.com
Bite Me
Oct. 31, 7 p.m.-4 a.m. at Pearl Ultralounge — Beware of vampires this Halloween as Pearl throws a scary cool party with a costume contest, drink specials and lots of prize giveaways. More info: $10 cover, $20 if not in costume; www.pearlhawaii.com
Teach Me How to Wiggie
Oct. 30, 10 p.m.-2 a.m. at Ka Restaurant & Lounge — Come dressed in your costume plus your favorite wig for this wig-themed party with a costume contest, a dance contest to the song "Teach Me How To Dougie." More info: 21+, karestaurant.com.
Prestigious Halloween
Oct. 30, 10 p.m.-2 a.m. at Paparazzi Nightclub —
Paparazzi, along with Furious Styles, Level H, Artist Groove Network and Hawaii Pacific Entertainment, hosts a glitzy costume party Saturday. More info: 21+, dress in costume or dress to impress.
Halloween at Zanzabar
Oct. 31, 9 p.m.-4 a.m. at Zanzabar Nightclub — Party at Zanzabar with costume contests for best and sexiest costume. More info: 18+, zanzabarhawaii.com.
Tsunami Mansion
Oct. 31, 6 p.m.-2 a.m. at Tsunami — Tsunami's Halloween party is "Playboy" themed, and all the workers will be dressed up in kind. There's a costume contest at 8:30 p.m., so stop by Tsunami's before heading out for the night. More info: 21+, free. For table and bottle reservations call 808-596-0700.
SPOOKED!
Oct. 30 from 8 p.m.-4 a.m. at The Warehouse — This Halloween rave features DJ tag-team sets all night, with DJs G-Spot, Tom-E, Trancis, The Hard-E Boyz and many more getting into the mix. More info: $9 presale on groovetickets.com, $13 at the door, $25 cover + a ticket to Saturday Night Sessions. A limited number of $20 tickets to the Mushroom Music Festival will be available too, 16+; Oospot.com.
All Ager Halloween Rager
Oct. 31, 4 p.m.-10 p.m. at Pipeline Cafe —
Party with DJ Audissey at Pipeline, and make sure to dress up for the costume contest!. More info: All ages, $15, pipelinecafehawaii.com.
Disko Erotecha with Justin Martin: Halloween Edition
Oct. 30 from 6 p.m.-2 a.m. at Loft Gallery and Lounge — San Francisco-based electronica DJ Justin Martin is the special guest at this month's Disko Erotecha, which occurs during the Hallowbaloo street festival. A heavyweight in the underground scene, his original mix with Ardalan, "Mr. Spock," hit the top of the Beatport charts. Also spinning: Local DJs Miko Franconi, Willis Haltom, Zane, Fathom, Trigg and others, visuals by Vizual Cortex. More info: $5 til 8 p.m.,
$10 til 11 p.m., $15 after 11 p.m.
Silent Scream: F. W. Murnau's 'Nosferatu'
Oct. 31 at 2 p.m. at Hawaii Theatre — This classic silent version of "Dracula" remains F. W. Murnau's unparalleled masterpiece of horror. This 1922 silent film will be underscored throughout by the Hawaii Theatre orchestral organ. $10 general admission (pre-sale); $12 at door. $5 off for seniors, students, youth, military at HTC members. www.hawaiitheatre.com
Tricks 4 Treats
Oct. 30 from 11 a.m.-5 p.m. at Fresh Cafe — The Lightsleepers 'ohana is back with a Halloween event, featuring Hawaii's best break-dancers, emcees, and artists as they battle for cash prizes. More info: $10, all ages welcome, lightsleepers.net.
Spooky Lau: Pre-Halloween Thriller
Oct 30 from 9pm -4 am at Oceans 808 — Dance to throwbacks from the '80s and '90s, and don't forget to dress up for the costume contest and Michael Jackson dance-off. More info: $15, 21+; presale tickets available at islandtix.com.
Hawaii Bachata Festival Halloween Celebration
Oct. 28-Nov. 1 at the Prince Kuhio Hilton Hotel, 2500 Kuhio Ave. — A Latin dance celebration in Waikiki on Halloween weekend, with a costume contest, scavenger hunt, dance performances and more. www.bachatavacation.com
Haunted Houses
Haunted Lagoon
Through Oct. 30 at the Polynesian Cultural Center — Brave souls are invited to get into the Halloween spirit early this year on Hawaii's most popular haunted canoe ride, featuring a ghostly cast of over 100. Daring passengers may even catch sight of the otherworldly Laie Lady. More information: Call 808-293-3333 or visit www.hauntedlagoon.com Booking tickets in advanced is strongly recommended as limited space is available and seats often sell out. Tickets for kama'aina are $19.50 per adult and $14.50 for keiki. Non- kama'aina tickets are $25.00 per adult and $19.50 for children.
Haunted Plantation
Oct. 30, 31 from 7-11:30 p.m. at Hawaii's Plantation Village, 94-695 Waipahu St. — Touted as Hawaii's scariest and largest haunt, Haunted Plantation will be open for eight nights, including on Halloween night. Be chased and taunted by spirits of old Hawaii. Not for children under 13. $10 admission; $15 fast pass. More information at www.hawaiihauntedplantation.com
House of Madness
Oct. 30-31 at 1680 Kapiolani Blvd. — From the creators of "Mayjah Rayjah, it's a storage facility turned haunted house that's open from 7 p.m. to 2 a.m on Oct. 29, and 6 p.m. to 2 a.m. on Oct. 30-31. Presented by Island Fire Productions and Ray Jr. at 1680 Kapiolani Blvd. (under Hawaiian Brian's). Tickets available at www.groovetickets.com and at Sensually Yours, EcoSystems Clothing and In4mation Clothing Stores. Visit www.islandfirehawaii.com for more information.
Nightmares Live
Nightly through Oct. 31 from 7 p.m. to closing at 805 Ala Moana Blvd. — Find your way through a haunted maze and watch scenes from iconic horror movies come to life. This year, an old abandoned warehouse at 805 Ala Moana Blvd. has been transformed into a living horror movie. Tickets are $10 in advance, $13 at the door; more information at www.hauntedhousehawaii.com
The Valley of the Dead
Oct. 30, 31 from 7 p.m. to 10 p.m. at Ko'olau Center, 47-388 Hui Iwa St. Kaneohe — When darkness falls over Ko'olau Center, the lost souls of the valley of the dead arise. Admission: $10 for adults and $5 for children 12 and under. $1 off coupon can be printed out at www.koolaucenter.com
'Spookapalooza' train rides
Oct. 30 at Hawaiian Railway Society train yard (91-1001 Renton Road, Ewa Beach) — Take a half-hour ride through darkness while listening to ghost stories. Departures at 7 p.m., 7:45 p.m., 8:30 p.m. and 9:15 p.m. Admission: $5; 681-5461;
www.hawaiianrailway.com
Oahu Ghost Tours
Oct. 30, 31 from 7-11:30 p.m. Special Halloween tour on Oct. 31 from midnight to 4 a.m. — Driving tour of scary sites, including Nuuanu Pali, Morgan's Corner and Manoa Chinese Cemetery. $66.60 includes t-shirt; 524-4944; www.oahughosttours.com
Other events
Waimanalo Pumpkin Patch and Corn Maze
Oct. 30 from 9 a.m. to 5 p.m. at Waimanalo Country Farms, 41-225 Lupe St. — Come spend a day at this pumpkin patch and corn maze, with tours, hayrides, games and food. 808-306-4381
Ghoulish Family Fun at Royal Hawaiian Center
Oct. 31 at 3:30 p.m. at the Royal Grove — Juggling, entertainment and a costume contest, along with trick-or-treating at select merchants; 922-2299; www.royalhawaiiancenter.com
Aloun Farms Pumpkin Patch Festival
Oct. 30-31 from 8:30 a.m.-5 p.m. at Aloun Farms (91-1440 Farrington Highway, Kapolei) — Select a pumpkin, tractor rides, food, more; 677-9516; www.alounfarms.com
What else is happening for Halloween? Let us know of events we missed in the comments section.